This Vanilla Rainbow Cake is a showstopper of a cake with 6 layers of colored vanilla cake with vanilla cream cheese buttercream frosting.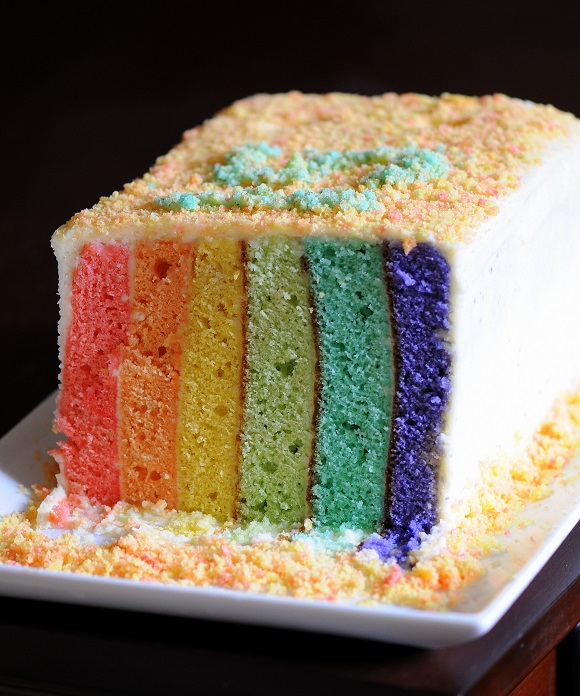 15.
It's seems like a lifetime ago and yet just like yesterday all the same.
It was a big year for me.
My birthday was in the summer so I was 15 as a sophomore (most of my friends were older and getting to drive…not that I am bitter or anything).
Fifteen was the year of my first real boyfriend.
He was a senior.
He looked like Goose from Top Gun.
I'm still surprised that my parents let me date him.
Though in their defense I was a really good kid.
Never got into trouble, didn't drink or do drugs, and always had good grades.
The only time slipping in Geometry to get a boy I like to tutor me (Hi B…he reads the blog).
That ploy didn't work so I went back to just getting good grades in that class. 😛
I have to say he was the worst kind of boyfriend to have as a first boyfriend.
Why?
Because he was actually a good boyfriend.
We went out on fun dates like horseback riding, nice dinners, tons of movies, and skiing.
He bought me flowers and stuffed animals and called me from pay phones when on vacations (yes I'm so old cell phones and text messaging was not around).
After that for years it was all a downhill battle…until I started to date him again in college. 🙂
Then I got jewelry. 😀
He's married now with a lovely wife and family and I, of course, am friends with him on Facebook.

My husband's kiddos turned 15 yesterday.
He feels old.
Since he has one boy and one girl it is often hard to find a cake that will kind of fit them both.
I love them Muppets.
Their Dad loves the Muppets.
The kiddos like the Muppets.
So when I came across a Vanilla Rainbow Cake called The Lovers, The Dreamers, and Me cake I knew I wanted to make it.
In my family for special occasions you made recipes that took a little time to show that you really cared.
Let me tell you that if this cake represents how much I like those kids….I REALLY like them.
I figured on this taking about 2 hours to make.
It took twice the time and twice the frosting to get this cake done.
It got to the point where I started to call it the beast as I had to keep taking it in and out of the freezer plus flipping it around, layering, you name it.
Oh and my hand went numb while making it too.
This cake is proof that I probably shouldn't make my own wedding cake. 😛
But the kids appreciated the effort and when we first cut into it they thought it was really cool.
And that made any amount of time spent on it worth it.
That and it tastes good….or so I was told.
And since they keep eating it I am feeling comfortable that they meant it.
The original cake called for lemon extract but they aren't big on lemon so we went for good ol' vanilla!
The wow factor this cake provides is well worth it.
So here is to 15…I hope it's their best year yet!
P.S. It's a great day to buy my cookbook Holy Sweet!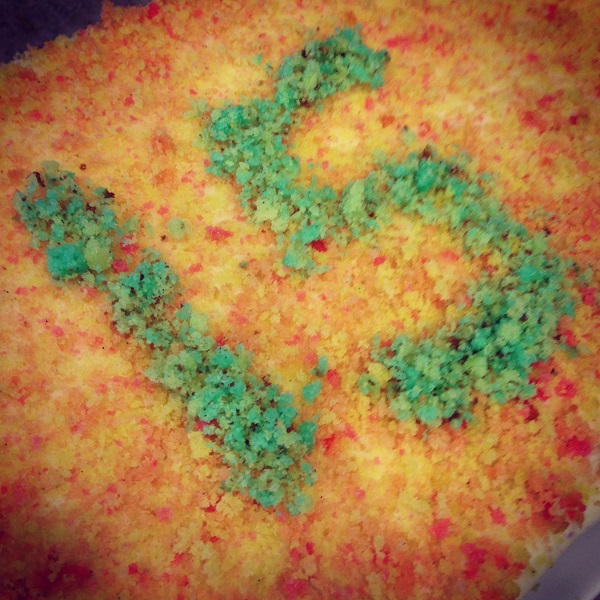 Want More Cake Recipes?
Cookies and Cream Birthday Sprinkle Overload Cake
Circus Animal Cookie Layer Cake
Strawberry Mascarpone Buttermilk Layer Cake
Chocolate Salted Caramel Popcorn Layer Cake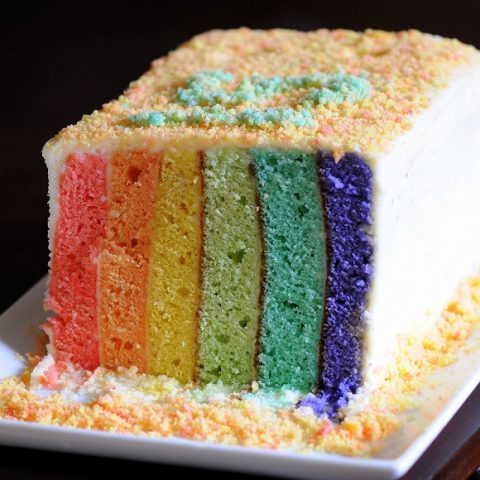 Vanilla Rainbow Cake
Ingredients
For the cake:
1 pound (4 sticks) room temperature, unsalted butter
4 cups granulated sugar
10 eggs
2 tsp. salt
2 TBSP baking powder
2 tsp. vanilla extract
6 cups all-purpose flour
2 1/2 cups nonfat buttermilk
For the frosting (this is single serving but I ended up making it twice):
4 cups powdered sugar
8 oz. cream cheese, at room temperature
1 cup unsalted butter, at room temperature
1 tsp. vanilla extract
Instructions
For the Cake:
Preheat the oven to 350°F (175°C).
Line two half sheet pans with parchment.
Using a ruler, measure along the shorter sides of the half sheet pans and mark the parchment paper in thirds, so the pans are split 3 ways lengthwise.
Flip the parchment paper over so the marks are visible but do not transfer to the cakes during baking.
Using a stand mixer with a paddle attachment, cream together the butter and sugar until light and fluffy, about 3 minutes.
Add eggs, one at a time, scraping down after each addition. Add vanilla extract.
Sift together the flour, baking powder and salt into a small bowl and set aside.
Alternating starting with the dry ingredients add flour mixture, buttermilk, flour mixture, buttermilk, and end with flour mixture.
Divide the batter between 6 bowls, with a little over 2 cups in each bowl.
The recipe said 2 ½ but I got just about two.
Mix and match drops of the food colorings in each bowl to come up with the following colors: red, orange, yellow, green, blue, and purple.
Two drops of food coloring should be enough for each bowl.
Transfer the red batter to a pastry bag fitted with a large open tip.
Pipe the batter onto one-third of the sheet pan. (You'll use all the red batter.)
Clean the tip and bag (unless you are using disposable bags), then fill the clean bag with the orange batter.
Pipe the orange batter onto the middle third of the sheet pan.
Clean the tip and bag again, then fill the clean bag with the yellow batter and pipe it onto the last third of the sheet pan.
On the second sheet pan, repeat the process with the green, blue, and purple batter (in that order).
I found that the piping bags helped but also if I was careful I could just spoon and spread with the spoon evenly.
Bake the cakes for 25 to 30 minutes, until the tops of the cakes spring back lightly when touched.
Allow the cakes to cool completely.
While cooling make frosting.
In the bowl of a stand mixer fitted with the whisk attachment, combine all the ingredients and whisk until smooth. Refrigerate for 1 hour to set.
To Assemble the Cake:
Trim each colored panel of cake to a strip approximately 5 inches wide by 16 inches (mine was shorter because of the trimming).
Trim the ends of the cakes as well.
Transfer the red layer to a clean sheet pan lined with parchment paper.
Apply a very thin, even layer of frosting over the red layer.
Carefully place the orange layer on top of the frosted red layer and press gently to adhere.
Repeat the frosting and layering process with the yellow, green, blue, and purple cake strips (in that order).
Cover the assembled cake with plastic wrap and freeze for 30 minutes to stabilize it.
Using a very sharp serrated knife, trim the sides and ends of the cake. The sides need to be perfectly level, so be slow and steady.
Apply a very thin coat of frosting on all sides of the cake and freeze again for 30 minutes.
Carefully transfer the cake to a serving platter, turning it over on its side so the layers are now vertical.
Apply a thin layer of frosting to the newly exposed side of the cake and freeze for 10 minutes, or until the frosting has set. (You can leave the cake with the layers lying horizontally, if you prefer.)
Apply a finishing coat of frosting over the entire cake.
Preheat the oven to 225°F (107°C).
Take some of the extra pieces of trimmed cake (I like to use the red), place them on a sheet pan, and bake until the pieces have dried (but not browned), about 10 minutes.
Cool the pieces completely, then pulse in the food processor to fine crumbs.
Coat the cake with the cake crumbs.
They used a stencil but I just free handed the 15 with a different color of cake crumbs.