This Apple Pie Caramel Butter Pecan Milkshake is made with caramel butter pecan ice cream and chunks of apple pie topped with apple pie.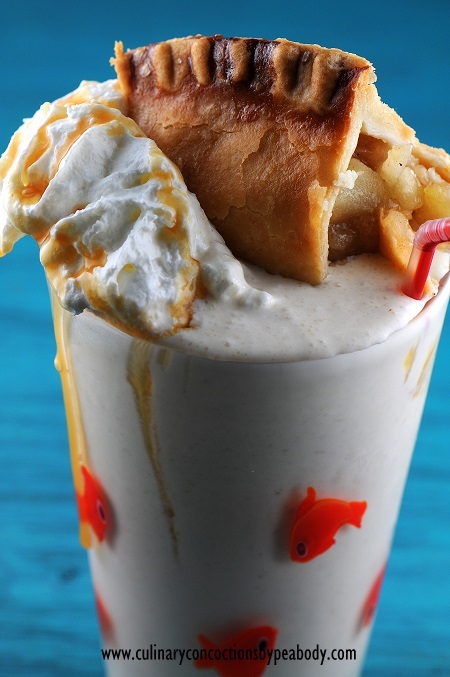 So one of the highlights of our Philly trip was me experiencing the Peach-Butter Pecan Pie Milkshake that Franklin's Fountain made.
I knew I had to try and recreate it.
And yes they really do serve it with a whole piece of pie on top…not to mention the pie in the actually milkshake as well.
Pure genius.
Evil genius, but genius nonetheless!
It's not exactly peak peach season right now and I never like to make things exactly how I had them anyway…. so I switched the peach out for apple because I love me some apple pie.
And instead of butter pecan I added caramel to it because caramel makes everything better.
Well it doesn't make clean up better.
Apple Pie Caramel Butter Pecan Milkshake is what I came up with.
Now I made the ice cream and I made the pie for this.
As I mentioned on FB I have been wanting to bake/cook big time just haven't had the time.
This weekend is my first time where I didn't have anything!
Don't you just love those weekends? I don't get them often so I am relishing that big time.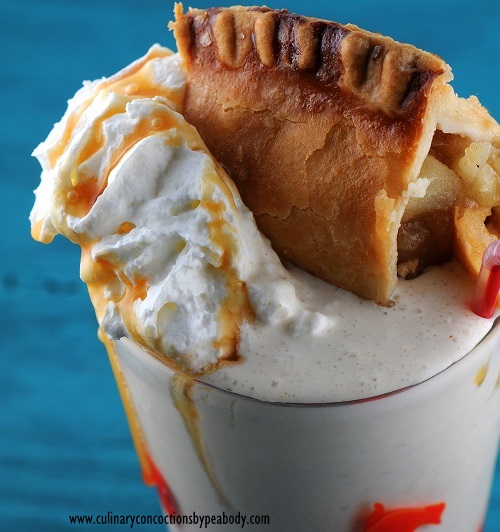 While it might seem like overkill adding the extra piece of pie I can assure you it is the best kind of overkill.
It taste as good as you would imagine ice cream and pie swirled together with a little milk then topped with whipped cream, caramel sauce, and more pie would taste.
FREAKING AWESOME!
If you want to be lazy feel free to go buy the ice cream and buy the pie.
But if you go that route at least splurge on the higher quality stuff.
Also if you buy the pie try really hard to get a tart apple pie.
Since it's going into a milkshake the tart apples really do help cut the sweetness.
I have to say that no offense to Franklin's Fountain but I like my creation a little more than theirs…not by much but it does win out. 😀
Want More Milkshake Recipes?
Thin Mint-Oreo Bailey's Irish Cream Milkshake
Boozy Cinnamon Toast Crunch Milkshake
Glazed Donut Strawberry Shortcake Boozy Milkshake
Boozy White Chocolate Peppermint Oreo Milkshake
Apple Pie Caramel Butter Pecan Milkshake
Ingredients
1/2 tart apple pie (you can buy one or make the one I did…just eat the left overs)
1 recipe Caramel Butter Pecan Ice Cream (or you can just buy Butter Pecan Ice Cream)
caramel sauce for drizzle
milk to thin
whipped cream
For the Caramel Butter Pecan Ice Cream:
1/2 cup unsalted pecans, chopped
1 TBSP unsalted butter
1-1/2 cups heavy cream
1 cup packed brown sugar
2 eggs, lightly beaten
1/2 cup caramel sauce (use a thicker sauce…I used Frans)
1 tsp. vanilla bean paste or extract
For the All-Butter Easy Pie Dough:
Makes enough dough for 1 9-inch double-crust pie.
2 cups all-purpose flour, cold (I learned you need to chill your flour for pie in this book)
1 tsp. salt
1 Tbsp. sugar
1 cup unsalted butter, cut into small pieces and chilled in the freezer for 10 minutes*
½ cup ice water (Don't add the ice to the pie dough, just the water.)
1 tsp. lemon juice
For the Granny Smith Apple Pie:
13 large Granny Smith Apples (since this is going in a milkshake you want a more tart apple)
juice of 1 lemon
3 Tbsp. all-purpose flour
1 cup granulated sugar
1 tsp. vanilla bean paste (or extract)
½ tsp. salt
2 Tbsp. unsalted butter
¼ cup heavy cream
1 9-inch Pie crust
Instructions
For the Ice Cream:
In a small saucepan, toast pecans in butter for 5-6 minutes or until lightly browned. Cool.
In a large saucepan heat cream to a low boil and then stir in the brown sugar until dissolved.
Temper the eggs by adding a small amount of hot cream mixture into the eggs; return all to the pan, whisking constantly.
Cook and stir over low heat until mixture coats the back of a metal spoon.
Remove from the heat.
Cool quickly by placing pan in a bowl of ice water; stir for 2 minutes. Stir in caramel sauce and vanilla bean paste. Press plastic wrap onto the surface of custard. Refrigerate for several hours or overnight. Stir in toasted pecans.
Once chilled pour into your ice cream maker and follow the manufacturer's directions.
When finished place into a freezer friendly container so that the ice cream can get solid…about two hours.
For the Pie Crust:
In the bowl of a food processor fitted with the blade attachment, pulse together the flour, salt, sugar and butter, until the mixture resembles cornmeal.
In a small bowl, stir together the ice water and the lemon juice. Slowly add the liquid to the flour mixture, pulsing, until the dough just comes together. Squeeze a small piece of dough between your thumb and index finger to make sure it holds its shape.
Turn the dough out onto a lightly floured surface and divide it in half. Gently turn over each piece of dough a few times so that any dry bits are incorporated. Form each piece into a loose disk, cover the dough with plastic wrap and let it rest in the refrigerator for at least 20 minutes.
For the Apple Pie:
Divide the dough into 2 pieces, one slightly larger than the other. Roll the larger portion into a rough 11-inch round. Line the bottom of a 9-inch pie pan with the dough, tuck the edges under and crimp them, then dock the bottom. Refrigerate the dough for 20 minutes.
Roll the second piece of the dough into a rough rectangle, about 1/8- to ¼-inch thick. Place in fridge while preparing apples.
Peel, core and cut the apples into slices ¼-inch thick. Toss the slices in a bowl with the lemon juice and zest, to keep them from browning.
In another bowl, whisk together the flour, sugar, and salt. Sprinkle this over the apples and toss until the fruit is evenly coated.
Melt the butter in a large heavy-bottomed pot. Add the apple mixture and saute for 5 minutes.
Add the cream and vanilla bean paste and continue to cook the apples, stirring often, until the juices thicken and the apples are just tender. Make sure not to overcook the apples, or they will become mushy. Transfer the cooked apples to a large bowl, and set them aside to cool completely.
Preheat the oven to 350F.
Spoon the filling into the crust and top with crust. Make vents with a sharp knife. Brush the egg wash over the top crust, and then sprinkle the crust with sugar.
Bake for 45 minutes, or until the filling is bubbling and the top and bottom crusts are golden brown.
To Make The Milkshake:
To make the milkshake place three scoops of ice cream and a slice of pie into the blender. Add a little milk to thin. Blend in your blender until you reach desired consistency.
Pour into a glass with a wide top…I used a pint glass.
Top with whipped cream and then add a whole slice of pie to the shake. Add some caramel sauce if you would like (and why wouldn't you like that?).
Yes, it's bad for you. But wow is that some good eats. 🙂 And what a different way to serve pie to your dinner guest or a fantastic way to fight PMS or a bad day.