This Boozy Cinnamon Toast Crunch Milkshake has all the flavors of the cereal in this yummy spiked milkshake treat. Breakfast of champions.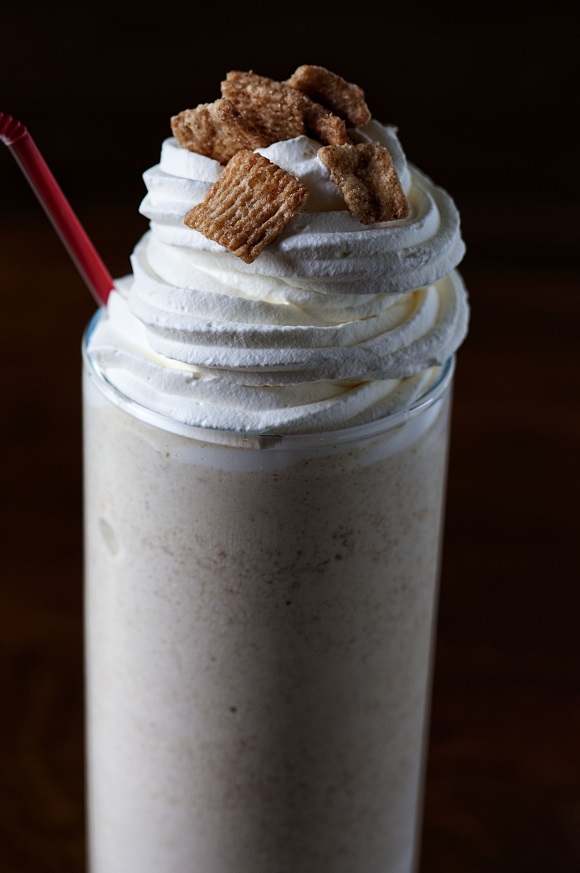 One of the things I love most about Las Vegas is the people watching.
Not many places have completely down and out drunk people forgetting their $3000 purse while buying a new purse at Fendi and not noticing until the store clerk hunts you down.
This happened in front of me…and no I was not shopping at Fendi just walking by.
And not many places give men and especially women the confidence to wear whatever the heck they want and not really give a crap.
Perhaps it's the alcohol.
Or perhaps it's the "what happens in Vegas, stays in Vegas" mentality.
Whatever it is, people have confidence in Vegas that they don't seem to have at home.
Oh you are wearing a 1980's Madonna inspired tube skirt with a leopard see thru top?
Of course you are.
Want to just wear your bikini while in the high end shopping center at age 60?
Why the hell not?
Skin is everywhere in Vegas (mostly because it's too hot to want to wear clothing, which is a great marketing scheme if you ask me 😉 ).
Bold prints are everywhere.
Picture just about any outfit and you will find it in Vegas.
While there is certainly things I wish would stay in Vegas (like people handing you flyers of naked women as you walk down the street) one thing I wish all people would take back with them, and not keep in Vegas, is the confidence.
Too bad we can't have the confidence we have when we have liquid courage…without the liquid courage.
Because I'm pretty sure that your boss will not appreciate you coming hammered to work with the excuse of "I was having a fat day so had a few shots of tequila in order to feel good about myself in my work uniform".
I mean I guess you could try it but I have a strong feeling I would see you down at the unemployment line. 😛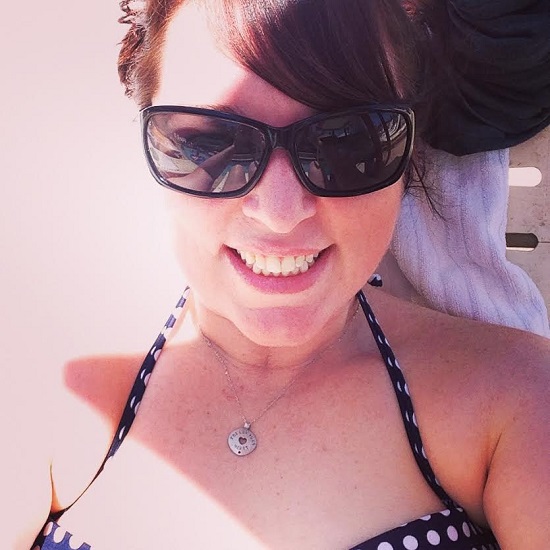 But I do encourage you to find your inner Vegas self…especially this time of year (swimsuit season).
I spent several days at the pool, surrounded by a sea of tan, fake (and some real) breasted women and I just rocked my polka dot swimsuit with my pasty white skin…and no one cared.
Including me.
So rock that suit.
Go play in the water with your kids.
Don't let a swimsuit fear keep you from enjoying the summer!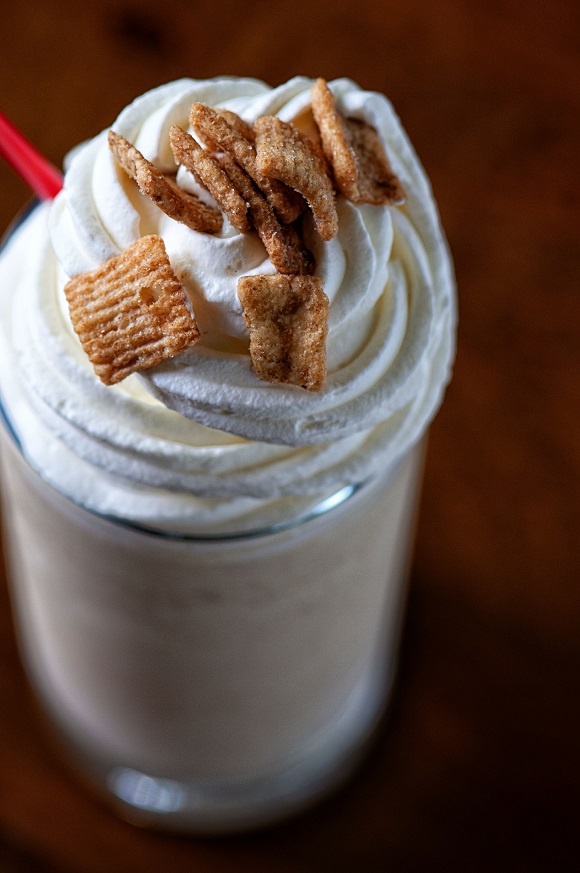 My week in Vegas had me searching for the perfect burger as well as the perfect shake.
And because you are in Vegas you need to have that shake spiked (which any place will do).
Though I was inspired by all of those in Vegas, this idea for this Boozy Cinnamon Toast Crunch Milkshake comes from a local place.
I've never had it there but I had Cinnamon Toast Crunch in the pantry and thought it sounded good.
It was.
I used Fireball, White Chocolate Liqueur, and a Splash of Butterscotch Schnapps…because why not?
So add a little fun to your milkshake…just don't let the kids have any of mommy's special milkshake. 😀
P.S. It's a great day to buy my cookbook Holy Sweet!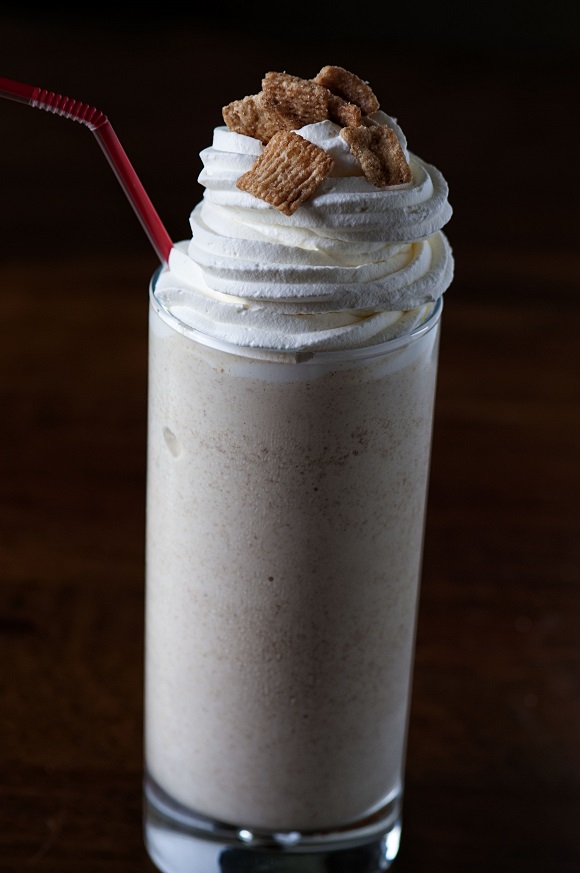 Want More Cinnamon Toast Crunch Recipes?
Gooey Cinnamon Toast Crunch Sticky Buns
Cinnamon Toast Crunch Apple Slice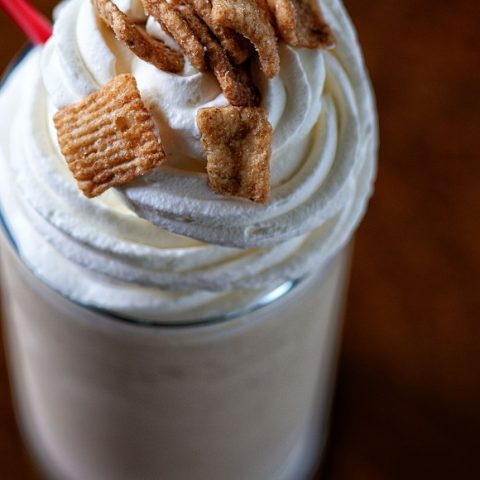 Boozy Cinnamon Toast Crunch Milkshake
Ingredients
2 cups vanilla ice cream
¼ cup Fireball (or any cinnamon flavored whiskey)
2 TBSP White Chocolate Liqueur (like Godiva)
1 TBSP Butterscotch Schnapps
¼ cup heavy whipping cream (you can use milk but cream makes thicker shake)
1/3 cup Cinnamon Toast Crunch Cereal (with more for garnish)
Whipped Cream (for garnish)
Instructions
Place all the ingredients into a blender.
Blend until smooth and creamy. If too thick, thin with more cream or booze. If too thin add a little more ice cream.
Garnish with whipped cream and extra Cinnamon Toast Crunch Cereal.