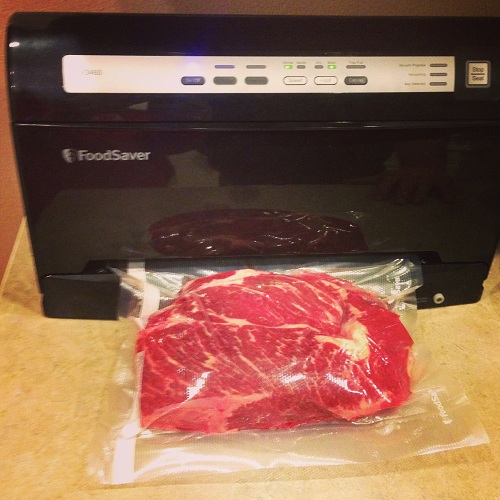 So before Christmas FoodSaver Canada asked me if I wanted to get a FoodSaver from them. I have always wanted one but I just never pulled the trigger because of the price. Well after having it for almost 8 weeks now I can tell you that was a dumb move on my part because it's probably saved me already in money what it would have cost me. (FYI yep FoodSaver Canada did give me a free one but I bought myself the marinate attachment and was given no money to pimp out their product). The exact model I got was FoodSaver T000-08004 V3460 SmartSeal Vacuum-Sealing Appliance, Black
just in case you want one too.
You are probably thinking what an odd post to on to Valentine's Day but it is the day of love and I love my FoodSaver. And you know who loves it more…MDP. He volunteers every time to be the one that does the food saving…it's fun to watch it suck out the air. 🙂
I was truly in awe of how well it keeps meat…and cheese. Just look at the steaks down below. Granted they are two different cut of meat but one was put into a freezer storage bag on January 8th and the other was put into the FoodSaver bag on the same day. Clearly the one in the FoodSaver bag is kicking the butt of the now brown covered in ice crystals piece of meat that the freezer bag left me with. The only other thing we have really tried it with is cheese but it keeps it for so much longer in the fridge.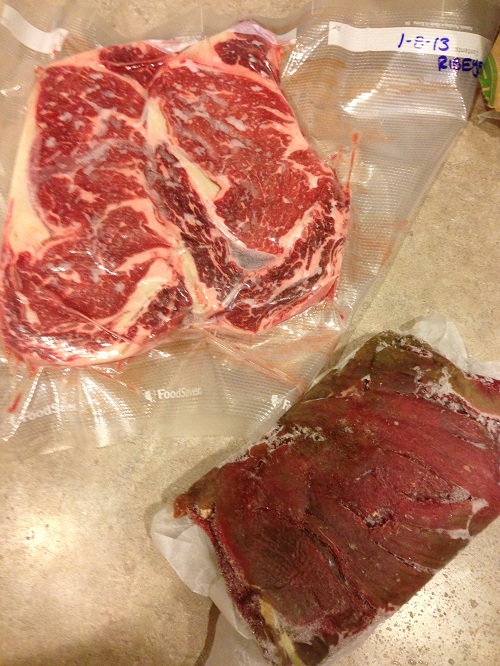 We now are saving so much money because we can finally buy in bulk and not worry about it going to waste. I also ended up buying myself the marinate attachment. I haven't used it yet but when I do I will let you know how it goes.
In all seriousness, next to my Kitchen Aid Mixer this is the most used appliance in my kitchen now. Who knew? I really wish I would have gotten one MUCH sooner. But now I have one and I may hurt someone if they try and take it from me. 😛
And since it is Valentine's Day just another quick shout out to MDP…I'm looking forward to our exciting Valentine weekend of cleaning the house honey…at least it's cheap and we will be together. 😉 Love you.