I have had the WORST case of insomnia as of late. As in not being able to fall asleep until 5-6am and then only getting a few hours of sleep, then spend the day being totally useless (more so than usual 😛 )yet the very next night the same thing…no sleep. The silver lining in all of that if you will is that I've gotten to catch up on a lot of blogs I just never have the time to read anymore. And while I didn't really leave too many comments (typing and the hand don't play well together) one thing I saw on a blog made me feel the need to leave a comment…a GIANT one…right here.
Jenna is a blogger whom I don't know personally but have always read her blog. She is wildly popular having her own book White Jacket Required: A Culinary Coming-of-Age Story
and contributes to PBS Food. I follow her on Instagram and Twitter but she probably doesn't know me from a hole in the wall (or in my sweats as my case may be). But I was really bothered not by her post but by the reaction to her post. For while Jenna is a writer and a chef she is first and foremost a Christian, and when I think of Jenna I think of Christian first. Apparently more and more she has been weaving this into her blog and a couple days ago she did a post about 5 books that changed HER life. She listed the 5 books and a blurb about why she liked them. I hardly read anymore so I would have normally just skipped to the food but due to insomnia I read…and then in horror I read the reactions.
I don't talk religion on here. I fall into the category of not feeling the need to get into those things on my blog but that doesn't mean others can't. She is getting quite backlash for mixing religion and food. Some even went so far to suggest they might stop reading her blog if she didn't stop getting all Jesus on them. Readers come and go. I lost a bunch when I said I hate running and even more than that I hate runners always telling me how far they ran…hence my 0.0 I don't run bumper sticker on my car. 😛 But that didn't make me change. It's my blog. I share a good 87.53% of my life on here. There are two big chunks I don't. One because I'm totally going to write a book about it because that will be quite the best seller. The other just because I don't. I run a food blog but rarely actually talk about food. 😀
Jenna's blog is her blog as well. HER blog. She has the right to say whatever she wants. Those of us bloggers who actually share our beliefs and true feelings on things often lose readers because of it…but sometimes we gain them. I'm hoping she has tough skin. I have enough crazy emailer/readers that my skin is as tough as a 72 year old woman who has lived in Miami her whole life tanning but not using sunscreen. Teaching Jr. High can do that to a person. If she's changing direction that is her right. Since I have been reading her blog she has slightly changed directions a few times. Ok. I've even changed directions. This used to be an all baking blog and my tagline was gaining weight one pastry at a time. Then it went to a baking blog with humor and my tagline was where baking and humor meet. Then I realized I'm not really funny and changed the tagline to where baking and life collide. Which I should even change that because I have a lot more than baking on here. My point is…people change and so does what we want out of their/our blogs.
Give bloggers a break. Especially those of us who are willing to share our lives with you. We are human. Or at least I think I am…the mother ship hasn't shown up yet so I am leaning on the human side. She loves God. She likes to tell people she loves God. Good for her. I love hockey, bacon, malted milk powder, and Funfetti and tell people I love all that. Good for me. The world would be a much better place if people were so strong in things they believed. So Jenna don't change a thing and from one newly engaged girl to another happy planning.
This ice cream is another one of my infused ice creams like the candy corn and peppermint ones. I am lover of the flavor of captain crunch but anti the roof of my mouth being shredded when I eat it. So I decided to infuse the flavors without removing the top of my mouth. Throw in some malted milk powder (yes, I'm obsessed), peanut butter, peanut butter and chocolate chips and you have yourself some damn fine PMS food.
BTW- if you read this blog and you make my recipes I highly suggest you get an ice cream maker. One thing I discovered is that making ice cream doesn't hurt my hand as long as I do the non-egg kind. So you are going to need one. You can use one like my old Cuisinart ICE-21 Frozen Yogurt-Ice Cream & Sorbet Maker, White
one OR be completely ridiculous like me and get the one with it's own compressor so you can make ice cream whenever the heck the mood strikes… I have this one: Cuisinart ICE-100 Compressor Ice Cream and Gelato Maker
.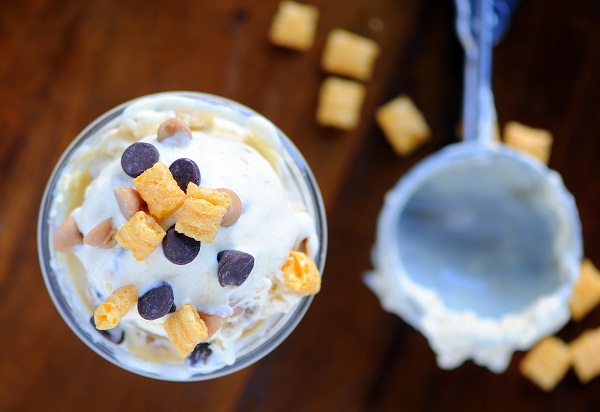 Captain Crunch Peanut Butter Swirl Chocolate Chip Ice Cream
2 cups heavy cream
4 tsp. cornstarch
1 1/4 cups milk
2/3 cup sugar
1 ½ cups Capt'n Crunch Cereal
¼ cup malted milk powder
2 tbsp. light corn syrup
1/4 tsp. salt
3 tbsp. cream cheese, softened
1 cup peanut butter (creamy but whatever works for you)
1 cup chocolate chips
½ cup peanut butter chips
Take the milk and the Capt'n Crunch and place in an air tight bowl and let sit overnight in the fridge. Shake it up now and then to get the cereal moving.
Once 8 hours or overnight have passed, run it through the blender. So that it makes a thick mixture kind of milkshake like in texture.
In a bowl, stir together 1/4 cup cream and the cornstarch; set slurry aside.
In a 4-qt. saucepan, whisk together remaining heavy and the cream, sugar, malted milk, syrup, and salt; bring to a boil over medium-high heat. Cook for 4 minutes; stir in slurry. Then add the Capt'n Crunch Milk mixture.
Return to a boil and cook, stirring, until thickened, about 2 minutes. Place cream cheese in a bowl and pour in 1/4 cup hot milk mixture; whisk until smooth. Then whisk in remaining milk mixture.
Pour mixture into a plastic bag; seal, and submerge in a bowl of ice water until chilled. Pour mixture into an ice cream maker; process according to manufacturer's instructions.
Mix in the peanut butter trying to form a ribbon (I used a piping bag to try and do this). Fold in the chocolate and peanut butter chips.
Transfer ice cream to a storage container and freeze until set.
Adapted from Jeni's Splendid Ice Creams at Home