This Valentine Vanilla Heart Pound Cake is a vanilla pound cake with a heart in the middle covered in strawberry milk glaze.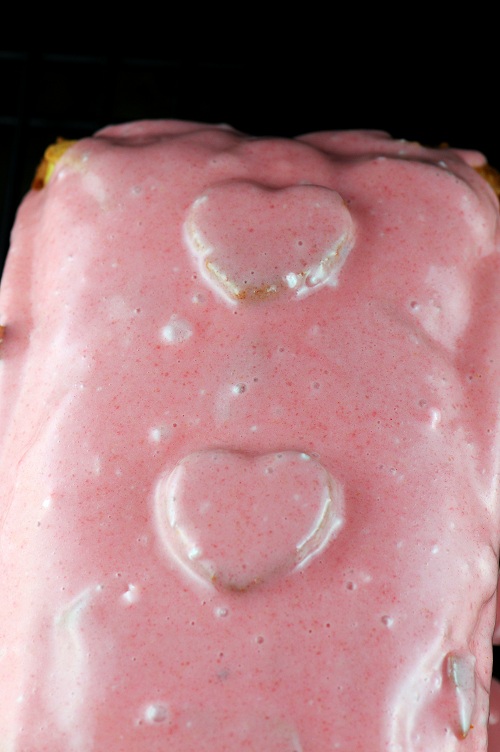 I'll admit I was never one for Valentine's Day as a general rule.
I don't think it's fair to men (it's not) and it is a made up holiday.
Guys usually are very happy to hear that you are not that into Valentine's Day because it saves them money.
I figured I would always be that way.
Turns out I was wrong.
It's not the my fiance is into Valentine's Day by any means.
But he is quite a sap and is very much a romantic at heart just not the typical shower you with flowers kind of way.
For starters he hugs like no other man I have ever known.
It does not matter if I haven't seen him for 8 hours or 8 minutes when he hugs me he hugs me as if I he hasn't seen me for years.
Like he was lost on a deserted island.
The kind of hug that makes you feel loved, missed, safe, and desired.
Same thing with how he tells me he loves me.
Sure a random 'love you too" comes out but 95% of the time when he tells me he loves me he says it with such meaning behind it.
And so I have become more of a sap.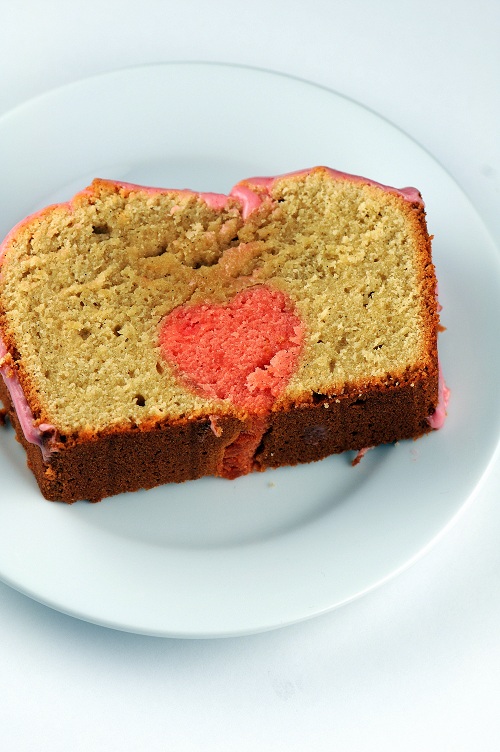 Not in the we should make a jar and tell each other how wonderful we are like some Pin on Pinterest I saw in my feed kind of sap.
We don't need things like that.
We love and respect each other and when you do that you don't need to be reminded why you love each other.
Unless we start to lose our minds…then maybe we need one of those. 🙂
Life is complicated…today in fact my life was a complicated drinking game 😛 (not really I turned to ice cream…but still) but love at the root of all of it should not be complicated.
Situations can be complicated but love itself is really not hard.
This cake looks a little complicated but it's not too bad…just a few steps but the cake itself is a simple vanilla cake (with a strawberry milk glaze).
I've said before that my fiance is not big on chocolate flavored stuff and I will always choose vanilla over chocolate.
But of course I made sure to use Plugra butter and a ton of vanilla beans for this Valentine Vanilla Heart Pound Cake.
*Warning* Run and get your wastebasket to puke into.
Because while this may be a simple cake it holds my heart and each vanilla bean dot I like to think represents every nice and loving thing that my fiance has done for me.  
So happy soon to be Valentine's Day to all of you celebrating it…and if you're not then Happy Arizona Statehood Day.
P.S. It's a great day to buy my cookbook Holy Sweet!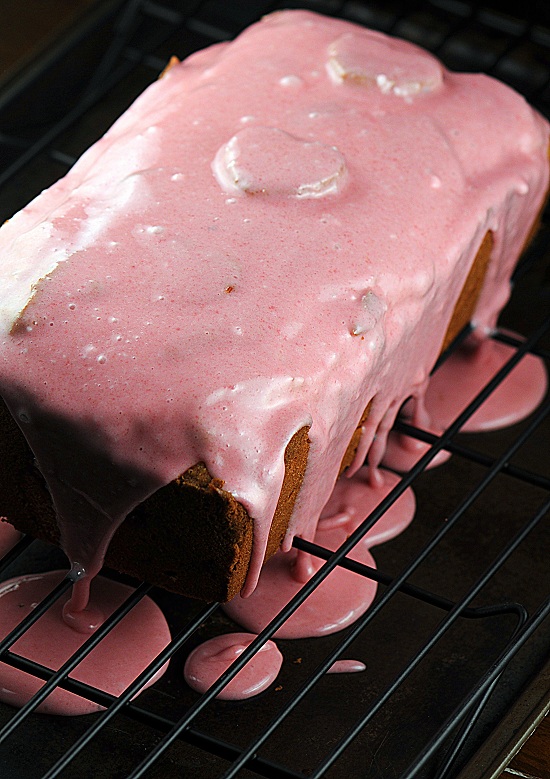 Want More Strawberry Malted Milk Recipes?
Strawberry Malted Milk No-Bake Cheesecake.
Strawberry Milkshake Whopper Marshmallow Cake.
Spiked Strawberry Nesquik Cocoa.
Strawberry Malted Milk Cupcakes
Strawberry Oreo Cookie Valentine Bark.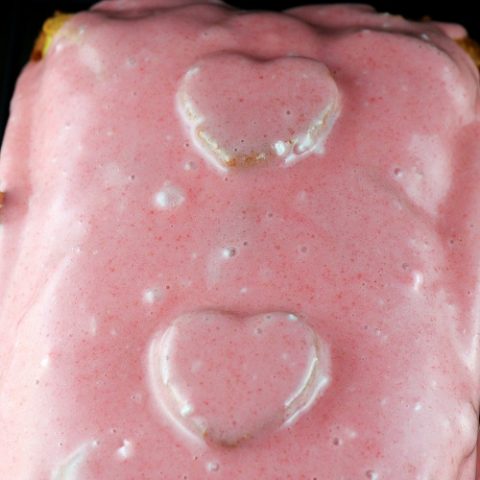 Valentine Vanilla Heart Pound Cake with Strawberry Milk Glaze
Ingredients
For the Cake:
1 cup unsalted butter (I used Plugra), at room temperature
1 cup granulated sugar
2 cups all-purpose flour
1 tsp. vanilla extract
4 eggs, at room temperature
1 tsp. vanilla beans, pods scraped and discarded
1/4 tsp. salt
pink food coloring
For the glaze:
½ cup Strawberry Powdered Milk (like Nesquik)
1 ½ cups powdered sugar
¼-1/3 cup milk (depending on how thick you want your glaze)
Instructions
For the Cake:
***You will end up making this twice: once with the pink food coloring and once without. You make the pink first so that you can cut out the hearts to lay into the second cake. ***
Preheat oven to 350F.
Grease a loaf pan.
Using a stand mixer with paddle attachment beat together the butter and sugar on high for 3 minutes.
Add eggs one at a time, scraping down after each addition.
Add vanilla, vanilla beans, and pink food coloring.
Add salt and flour and beat for about a minute until everything is fully combined.
Pour into pan and bake for 50-60 minutes or until a knife comes out clean.
Let cool on a wire rack. Then using a serrated knife cut 3/4 inch slices. Using a heart cookie cutter, cut out heart shapes. Feed your dog the scraps she will love you extra for it.
Set the hearts aside.
Make the second pound cake batter minus the pink food coloring…and I threw in more vanilla beans since MDP has done a lot of nice things for me. 😉
Using another loaf pan (or clean the first one) spray with baking spray.
It's best to turn the pan vertical and layer the hearts that way. There is a nice tutorial here.
Then carefully put it so that the bottom is on the counter. CAREFULLY spoon the batter over the hearts. It's a thick batter so things should stay. Fingers crossed…it worked for me. 🙂
Bake cake about 20 minutes less this time around due to the fact that there is cake already in there.
For the Glaze:
Whisk all the ingredients together. If you want a thicker glaze add more powdered sugar. Thinner glaze…more milk.
Pour glaze over cake and enjoy.