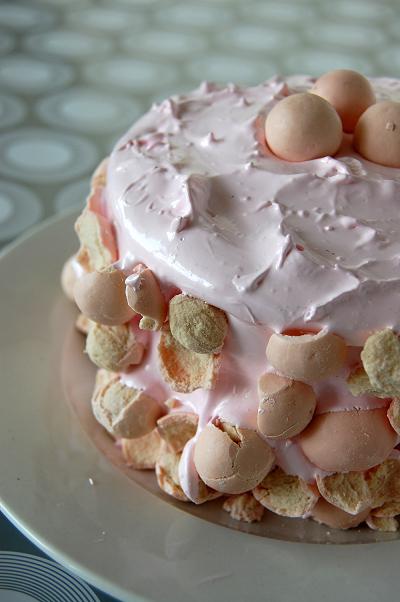 I have a friend with a 9 year old daughter…who is going on 40. She is far more mature than me and I sometimes forget she is a kid. Until I watch her eat. She loves candy. Lots and lots of candy.
One day when I was there giving her mom some cooking tips, she was sitting at the table eating Strawberry Milkshake Whoppers. I had seen them out at Easter time in a giant bag. And though I did want to try them as I love the original Whopper I didn't want to buy a whole bag because if I didn't like them I would be stuck(it was like a 64 ounce bag!). So I asked A if I could have one of those Whoppers and of course she gave me one(well 5 to be exact). Darn tasty, but I knew it was the type of candy you could easily make yourself sick on…unless of course you are 9. 🙂
More importantly it got me thinking about a cake. For the last year or so I toyed with making a chocolate cake with chocolate marshmallow frosting and chocolate Whoppers. But this got me thinking about Strawberry. So off I went to make it. The original one I made was with pink and white polka dots. I spent much time getting those dots just right, only to have the cake destroyed by 9 and 10 year olds in a matter of minutes…I should have known better. I didn't take any pictures of the cake for the blog because I wanted to bring them a whole cake.
But when I wrote about the cake in my Live Journal I had several friends who had interest in the recipe and to see pictures. So I went to make it again. I didn't do polka dots as Helen(my less evil twin) made polka dots the very same day I made the first cake…we really do share the same brain cell some days(she seems to get it more than I do though :P). This time I just marbled the cake that way if it was destroyed I would not be so distraught.
This cake is sweet as you can guess it but actually tasty if you take it in small doses…kids on the other hand will eat a giant piece no problem.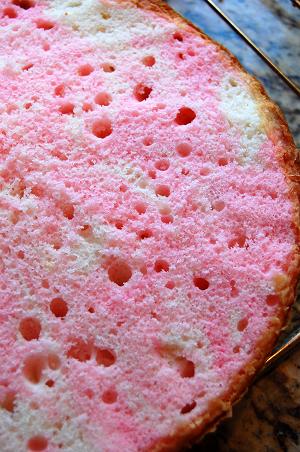 Strawberry Milkshake Whopper Marshmallow Cake
Classic White Cake(recipe follows)
Marshmallow Frosting(recipe follows)
Strawberry Milkshake Whoppers(two 6 ounce boxes)
Classic White Cake
12 tablespoons (1 1/2 sticks) unsalted butter, softened
1 1/2 cups sugar
2 cups all purpose flour
2 teaspoons baking powder
1/4 teaspoon salt
6 large egg whites (3/4 cup)
3/4 cup milk
2 teaspoons vanilla extract
pink food coloring
Set rack at the middle level in the oven and preheat to 350 degrees.
Butter the bottom of two 9-inch round. Line bottom with parchment or waxed paper.
In a large bowl, beat butter and sugar for about 5 minutes, until light and fluffy. Stir together flour, baking powder and salt. Set aside. Combine egg whites, milk and vanilla extract. Add 1/3 of the flour mixture to the butter mixture then add half the milk mixture. Continue to alternate beginning and ending with flour mixture. Scape the bowl and beater often. Take 1/2 of the batter out and place into a separate bowl and set aside. Add 3 drops of pink food coloring to the remaining 1/2. Blend until the batter is pink in color.
Divide the white cake between the two pans. Then add the pink. Using a knife swirl the cake batters together for a marbled effect.
Bake for 30-35 minutes, OR until the center comes out clean. Remove from oven and let cool in pan for 15 minutes. Flip cake over onto a rack and remove parchment or waxed paper. Let cake cool completely before frosting.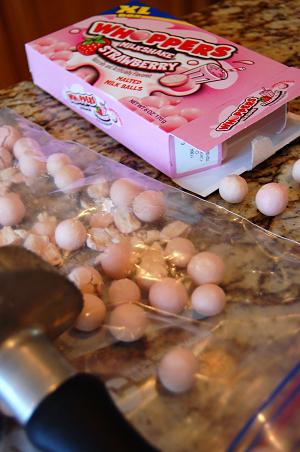 Marshmallow Frosting:
4 egg whites
1 ½  cups sugar
½  cup light corn syrup
pinch of salt
2 tsp vanilla
6 drops pink food coloring
Using a large bowl, preferably the top of a double boiler, mix eggs, sugar, corn syrup ans salt until combined. Place the bowl over simmering water ans whisk until the sugar dissolves and the mixture is hot, about 3 minutes(be careful to not make it too hot since you are using eggs and don¢â¬â"¢t want them to scramble). Remove heat and beat 5-7 minutes until frosting is cool and stiff peaks form. Beat in vanilla. Add food coloring and beat until all the color is incorporated.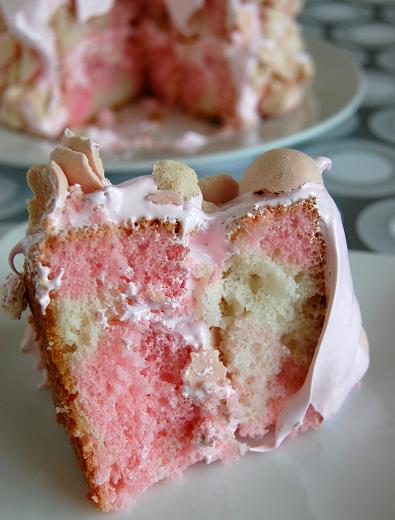 Place Strawberry Milkshake Whoppers(I used two XL boxes found at Target) into a large sealable plastic bag. Keep a couple out for decorating. Taking either a pan or a meat pounder, smash them up into pieces. Set aside.
Place one cake layer on cake plate. Take one cup of frosting and spread it out evenly onto the layer. Sprinkle Whopper pieces onto the frosted portion of the layer.
Place the second layer on top of the frosted layer. Use remainder of frosting to frost top and sides of cake.
Use the remaining Whopper pieces to decorate the sides of the cake.
Serve the day of, as the marshmallow frosting will get very stiff if it sits around.
Source: Cake recipes adapted from Food Network.com, frosting recipe adapted from Cupcakes Galore by Gail Wagman