This Strawberry Malted Milk No Bake Cheesecake is guaranteed to make anyone 4 or 40 smile. I mean just look at it!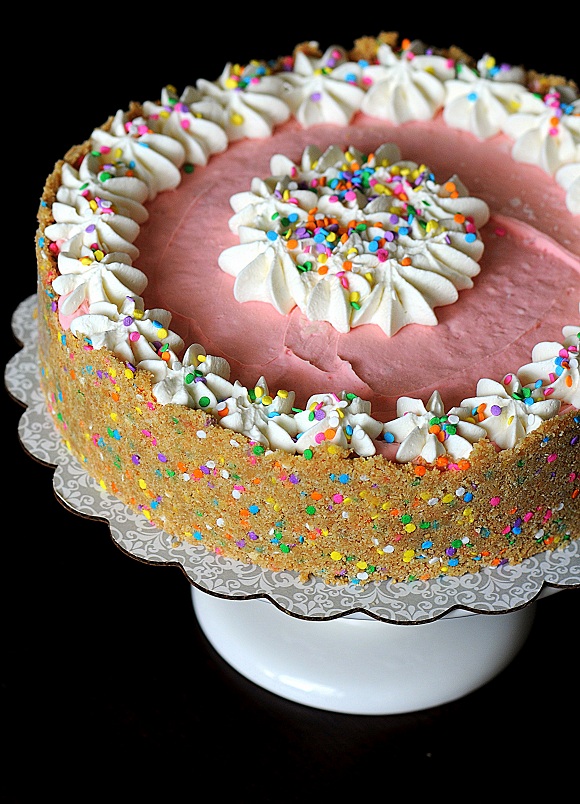 Now you are probably looking at this cake and thinking aww how sweet Peabody made a cake for a 6 year old girl.
Nope.
That cake is for a 40 year old man. 😛
I know it seems silly for a grown man to be getting a pink cake with sprinkles for his birthday but my. husband is pretty confident in his sexuality (as am I 😉 ) so he can handle it.
When I was trying to figure out what to make my husband for a birthday cake (he is not a big fan of chocolate) I asked for suggestions on Facebook.
Boy did I get a lot suggestions (yay!).
Other than making me hungry for cake, someone put a link to a Strawberry Malted Milk No Bake Cheesecake that Sprinkle Bakes made.
I had it pinned already but forgot about it as I often do.
I knew immediately that would be the cake.
After all it's way too festive and my hubby LOVES Strawberry Milk.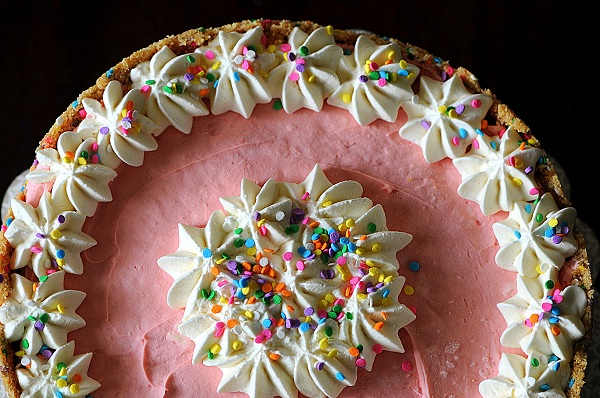 Problem is that Heather (Sprinkle Bakes) excels at decorating.
And Peabody excels at knowing people who are good at decorating.
So I feared my cake would not look like hers.
While hers is still way prettier than mine I think I did a darn good job of coming close to it!
Yay!!!
I changed this recipe a little as there were no graham crackers in the house and so vanilla wafers got use.
Oh how I love those stupid cookies so they were a good choice.
Also added a little more strawberry milk powder as well as the addition of malted milk.
And my topping I added custard powder and more malted milk.
A lot of bakeries add vanilla pudding mix or powdered custard to their whipped cream frosting FYI so that it is more stable and keeps it shape.
The bakery I worked for used custard powder and so I just always have for some reason.
P.S. It's a great day to buy my cookbook Holy Sweet!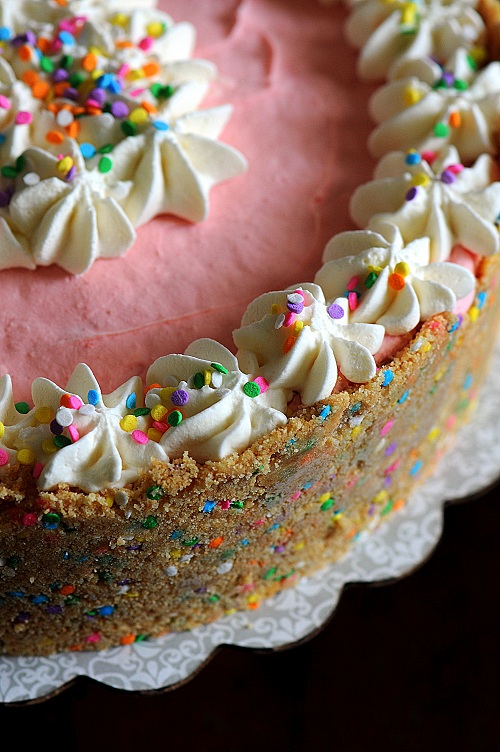 Want More Strawberry Malted Milk Recipes?
Strawberry Milkshake Whopper Marshmallow Cake.
Spiked Strawberry Nesquik Cocoa.
Strawberry Malted Milk Cupcakes
Valentine Vanilla Heart Pound Cake with Strawberry Milk Glaze.
Strawberry Oreo Cookie Valentine Bark.
Strawberry Malted Milk No Bake Cheesecake
Ingredients
Vanilla Wafer Sprinkle Crust:
2 cups fine vanilla wafer crumbs
1/2 cup sprinkles (can be found in the ice cream toppings aisle )
1/2 tsp. salt
2 TBSP granulated sugar
8 TBSP unsalted butter, melted and slightly cooled
Strawberry Malted Milk Cheesecake Filling:
2 ¼ cups heavy cream
1 pound (two 8 oz. packages) cream cheese, at room temperature
1/3 cup malted milk powder
1 ¼ cup strawberry milk drink mix (such as Nestle's)
For the Topping:
1 ¼ cup heavy whipping cream
1/4 cup granulated sugar
¼ cup malted milk
¼ cup Bird's Custard Powder (use instant vanilla pudding powder if you can't find)
Sprinkles
Instructions
For the Vanilla Wafer Sprinkle Crust:
Combine vanilla wafer crumbs, sprinkles, salt and sugar in a large bowl.
Whisk until thoroughly combined and jimmies are evenly dispersed.
Make a divot in the middle of the crumb mixture and pour in the melted butter.
Mix together using a rubber spatula; turn mixture over from the bottom of the bowl to the top until all the crumbs are moistened.
Pour crumbs into an 8 or 9-inch springform pan; press tightly and evenly into the bottom and up the sides of the springform pan. Set aside.
For the Strawberry Malted Milk Cheesecake Filling:
Using a stand mixer with a paddle attachment add cream cheese and beat on medium-high speed until fluffy about 2 minutes.
Add heavy cream and beat on slow until it's fully incorporated and then move speed to medium high and beat until mixture is fully incorporated and fluffy, about 4 minutes.
Sift strawberry milk powder and malted milk powder over the whipped cream/cream cheese mixture and mix again until well incorporated.
Pour mixture into the prepared crust. Cover springform pan in plastic wrap and place in the freezer for 4-6 hours, or overnight.
For the Topping:
Using a stand mixer with the whisk attachment beat cream until soft peaks form.
Gradually add sugar and beat until stiff peaks form. Add the malted milk and custard powder and beat for another 30 seconds.
Transfer mixture to a piping bag fitted with a large star decorator tip.
Pipe whipped cream stars around the outside edge of the cheesecake, and in the center. Sprinkle with sprinkles.
Put back in freezer for the whipped cream to freeze up after decorated.
To unmold, remove from freezer and place a dishcloth soaked with hot water and wrung dry around the outside of the pan. This will warmth will help loosen the frozen crust from the pan.
Let cheesecake partially thaw in the refrigerator before serving.
Slice cheesecake while still partially frozen and serve.