This Strawberry Oreo Cookie Valentine Bark is made with white chocolate, Strawberry nesquik, Double Stuff Golden Oreos, and M&M's.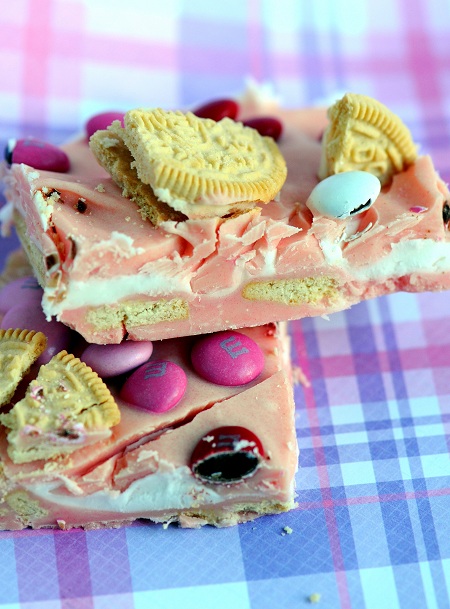 My uncle's advice to me when I was in college and in love was to go on a road trip that was more than 8 hours in a car and that will tell you if you are compatible with someone or not.
It's actually a really good indicator he is right.
So is spending 5 straight days with someone in a city you've never been too…and a 6 ½ hour flight home when you are both tired.
When you can spend 5 days with someone and enjoy them the whole time and not at some point wish they would go away…that's a good indicator.
In fact you leave the vacation wishing you had more days together…and we've spent the last 4 days discussing how we miss not spending all day together (feel free to vomit at this point).
Being in mushy minded mode has reminded me that Valentine's Day is fast approaching.
I'm not the biggest fan of this day as I feel men get screwed but since I have a valentine I will be doing something.
In other good news I normally get my dieting readers back at that point as well. 🙂
Did I mention I went to Philly and ate all that food and lost 2 pounds that weekend…seriously people…eat food (and then walk everywhere like we did).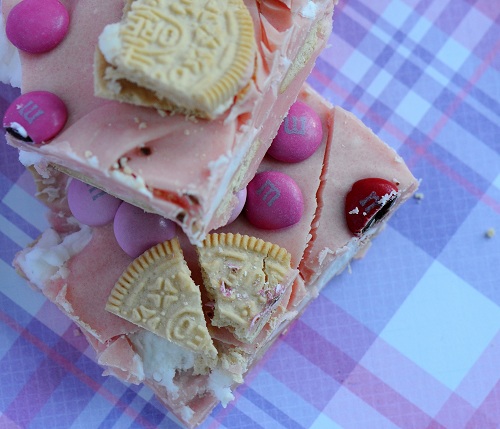 I had seen Oreo Bark on Cookies and Cups and decided to Valentine it up.
My fiance has a secret (not so secret now :P) love of Strawberry Nesquik.
Not exactly a manly drink but it makes me giggle that my strapping hockey player when drinking a milk product goes for the pink stuff. 🙂
So with that in mind I added it to a beyond sweet Strawberry Oreo Cookie Valentine Bark.
Made with white chocolate, Strawberry nesquik, Double Stuff Golden Oreos (seriously why do they make the original kind anymore?), double stuff filling, and M&M's (they keep running ads on my site and keep making me crave them darn it all).
If you have Strawberry Nesquik fans on your hands this is a valentine sweet you should treat them too.
P.S. It's a great day to buy my cookbook Holy Sweet!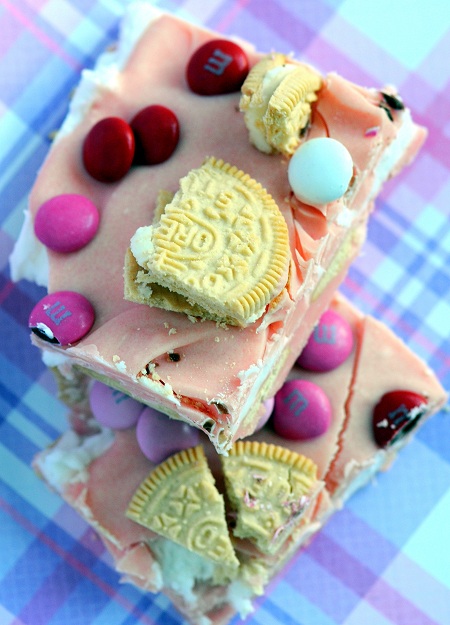 Want More Valentine Recipes?
Conversation Heart Marshmallows
Spiked Chocolate Strawberry Quik Cocoa
Cheerwine Chocolate Glazed Pound Cake
Creamsicle Conversation Heart Cupcakes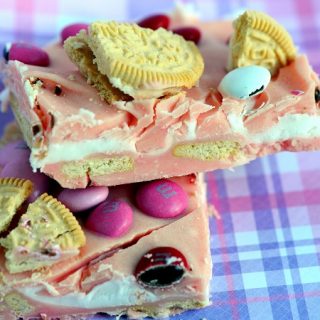 Strawberry Oreo Cookie Valentine Bark
Ingredients
16 oz white chocolate, chopped and divided in half
¼ cup Strawberry Nestle Nesquik (powdered) divided
Couple drops pink food coloring
14 Golden Oreo Cookies (double stuff), crushed and divided in half
1/2 cup vegetable shortening
1 ½ cups powdered sugar
½ cup Valentine M&M's
Instructions
Line a baking sheet (9×13) with aluminum foil.
Crush 7 Golden Oreo cookies, set aside.
Chop 7 oz. white chocolate and melt in microwave or over a double boiler.
When chocolate is melted stir in Strawberry Nesquik and food coloring. Mix until the color is even throughout. Fold in the crushed Oreos. Spread evenly in a thin layer on your prepared pan.Place in freezer to set, approx. 15 minutes.
While in freezer make the double stuff filling. Using a stand mixer with a paddle attachment add the vegetable shortening. Turn mixer to low and slowly add in powdered sugar. When all sugar is added, turn mixer up to medium-high and beat for 1 more minute.
Remove bottom layer from freezer and spread the filling on top of the chocolate. Place back in freezer for another 15 minutes.
Repeat steps 2-5 with remaining white chocolate, Strawberry Nesquik, food coloring, and Oreo cookies. Add more crushed Oreos (if you like) and M&M's to top. Then freeze for another 10-15 minutes until top layer of white chocolate is set.
Refrigerate until ready to serve.
Cut into pieces.
Cut when chilled. Store in refrigerator for up to 5 days.