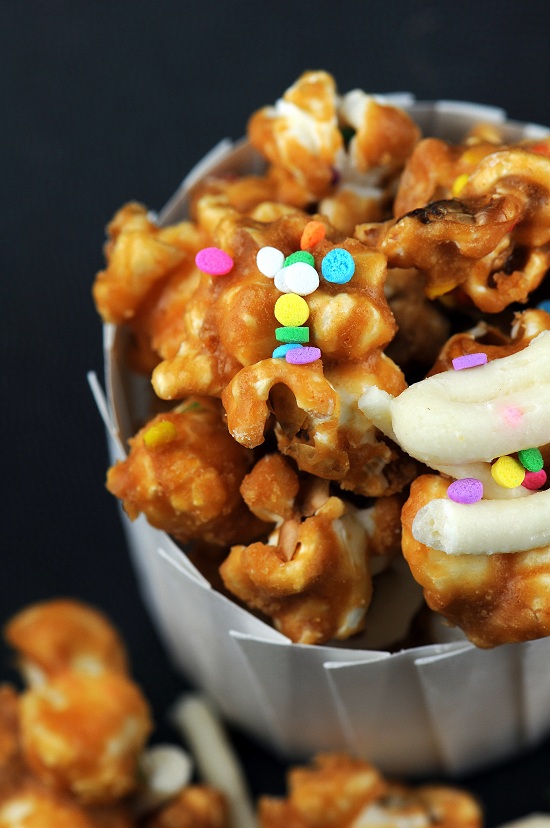 We had a CRAZY busy weekend this weekend. Friday was MDP's 40th birthday. The skids came over and we took him to our new favorite place to eat and inhaled food (I had the Peanut Butter Bacon Burger which may sound gross to you but is totally awesome). Then we were off to hockey to burn that burger off. 🙂
Saturday was of course Groundhog's Day which if you are a long time follower of this blog you know it's my favorite holiday of all time. So I got my well wishes and had my traditional sprinkle donut and Chinese food. We also very excitingly got to run errands and took in 9 year old basketball.
Sunday while everyone else was getting excited about football we went and played an hour and 45 minutes of pick up hockey and then off to a Super Bowl Party. I didn't spend any time watching the game. I mostly chatted people's ears off especially the guy who was named after Star Wars! His sister too. That is so what would have happened to my kids. He couldn't dispute my genuine excitement for his name as I was wearing an Empire Strikes Back t-shirt. 😛
Since it was MDP's birthday all the food (well all the sweet food) I made for Super Bowl had a birthday theme. And so came along Birthday Cake Caramel Corn. It's addictive and bad for you and I didn't care because I had skated a bazillion calories away at hockey. It's today when I have no hockey that it sticks to my hips. 😀 Oh well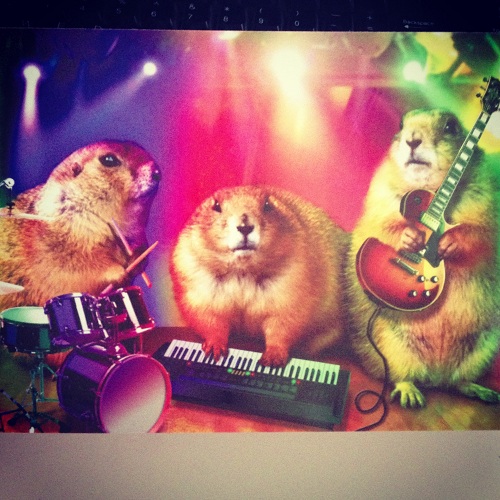 Isn't my Groundhog Day card cute? The skids got me that. 🙂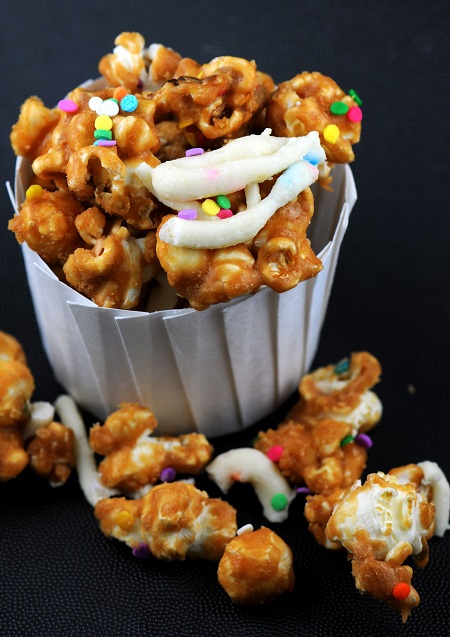 Birthday Cake Caramel Corn
16 cups popped popcorn (unsalted)
1 cup unsalted butter
1 cup granulated sugar
1 ½ cups brown sugar
½ cup Lyle's Golden Syrup (if can't find use corn syrup)
1 tsp. lemon juice
1 tsp. salt
1 tsp. vanilla extract
½ tsp. baking soda
½ cup cake batter mix (I used Funfetti)
Sprinkles
Preheat oven to 250F. Spray two baking sheets with nonstick baking spray and set aside.
In a large bowl (the largest heat safe bowl you have in the house) put popcorn in it. Set aside.
In a large saucepan over medium-high heat, combine the butter, sugars, golden syrup, lemon juice and salt. Cook, stirring occasionally, until the butter and sugars melt together.
Increase the heat to high and bring the mixture to a boil. Boil gently until the mixture reaches the hard crack stage (300F on a candy thermometer) 6-9 minutes.
Remove from the heat and stir in vanilla and the baking soda. They syrup with bubbles and foam with the baking soda is added, simply stir until it subsides. Then add in the cake batter mix.
Immediately pour the caramel over the popcorn mixture and stir with a large wooden spoon until a caramel glaze completely coat all the popped corn and then add some sprinkles (however many you want)and mix until all the popcorn is covered.
Divide the caramel corn between the prepared baking sheets and bake for 20 minutes. Remove from oven and stir and flip (I use a heat proof spatula) the caramel corn. Bake for another 20 minutes. Do the same again.
Let caramel corn cool completely. Store in a tightly covered container for up to a week.
Adapted from Sticky, Chewy, Messy, Gooey: Desserts for the Serious Sweet Tooth
For added cake batter flavor you can pipe on 1/2 cup white chocolate (melted) mixed with 1/4 cup cake batter. Then add more sprinkles.