Saturday was game day and the whole reason we came. We started off by going to brunch back at Khyber Pass Pub. We loved it so much on Thursday night and noticed that they offered brunch on the weekends. I had the praline bacon and pork belly corn dog. Yes you read that right…I had pork-fest 2013 and once again OMFG incredible!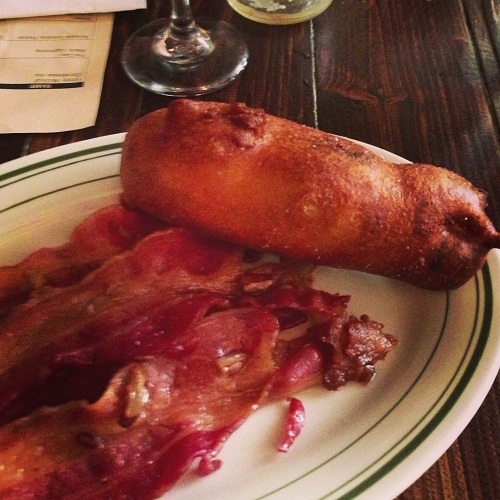 We then headed to the arena. It was a day game and we arrived to a parking lot full of tailgating fans. To say the Philly fans are intense is putting it mildly but I can't help but love their passion. We had such a great time and even though the Flyers lost the experience will stay with me and MDP. And you have to love that their pretzels are in the shape of the Flyers symbol!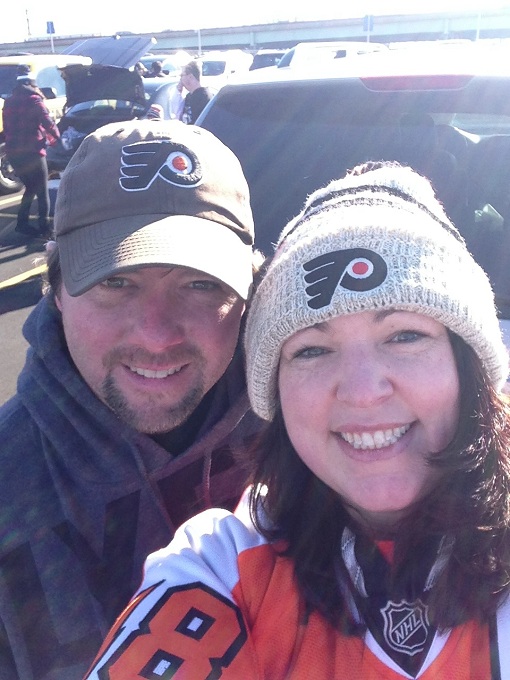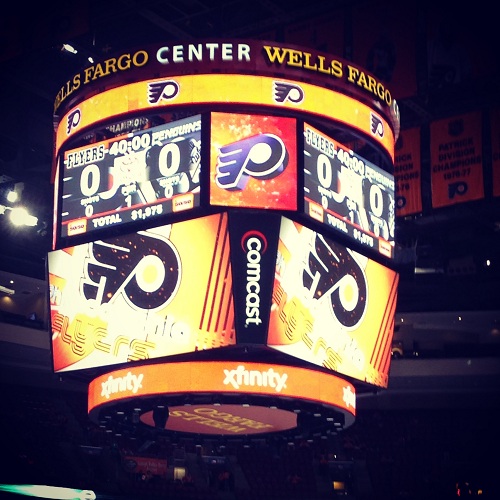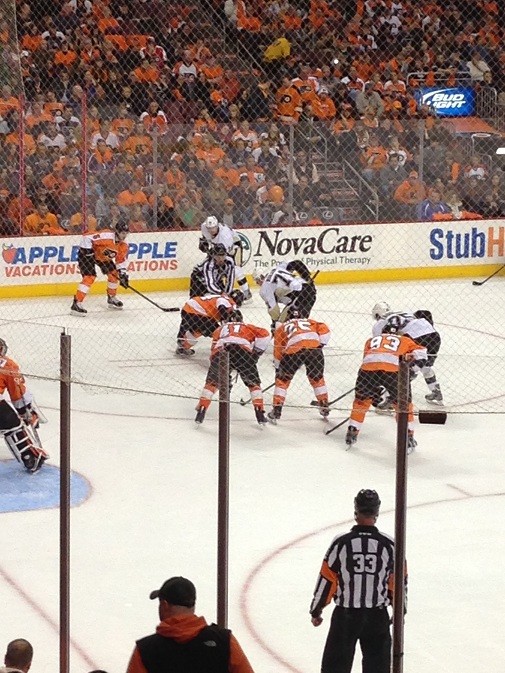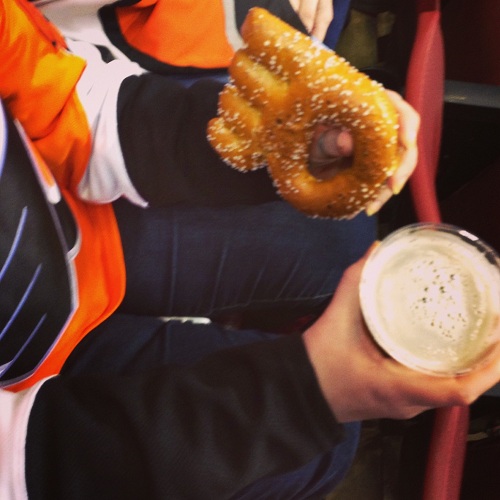 That night we met up with Kita (Pass the Sushi) and her man and tried Eulogy Belgian Tavern which had an amazing selection of beers! The food was good too but it was super hot in there and so we headed across the street to you guessed it Khyber Pass Pub (I finally just broke down and bought the $12 t-shirt from the place since we went there sooo much). We had the bacon grease popcorn and apple and bacon hand pies as well as beignets. All yum!
Sunday we intended on seeing the Liberty Bell and Independence Hall but it was crazy crowded. Since we were staying across from both we had already technically seen both and chose to just skip it and go meet up with Cakespy.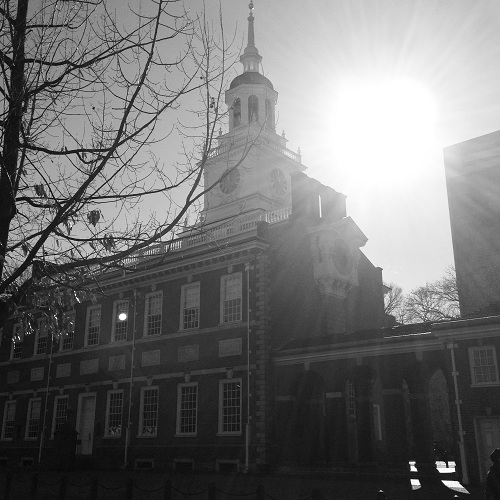 MDP was hungry and so Cakespy suggested a place for a pork sandwich and we sat and chatted. We enlightened her on a Philly "thing" that she didn't know about and pretty much made her day. It's about the William Penn Statue…see if you can figure out why it's so popular?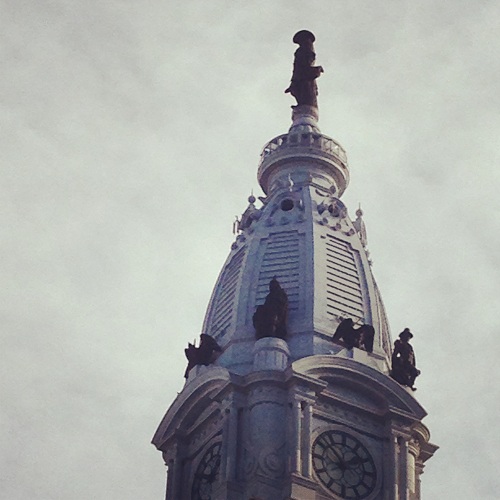 We walked around and took more photos (we walked a ton that day) and decided just to head home for a nap. We got up craving cheesesteaks and I wanted to try a place called Franklin Fountain that tons of people recommended. So we waiting in the line to get what was another OMFG moment and something I will be recreating on the blog ASAP and that was their Paul Goddard Peach Praline Pie Shake…butter pecan ice cream and peach pie…with pie on top! Yes, I ate my dessert first BEFORE we went for cheesesteaks. The cheesesteaks this time were awesome as we had to travel a bit to get them at the suggestion of T our doorman. Yes, I had ketchup on mine…don't judge. 🙂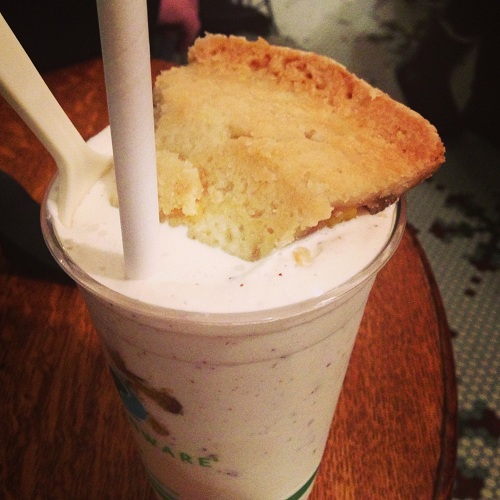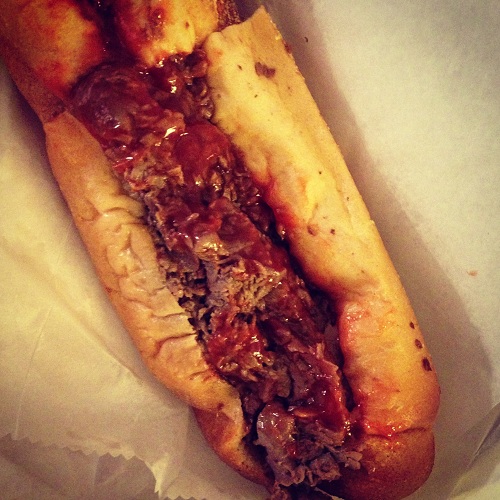 Monday we woke up smelling smoke and seeing fire trucks.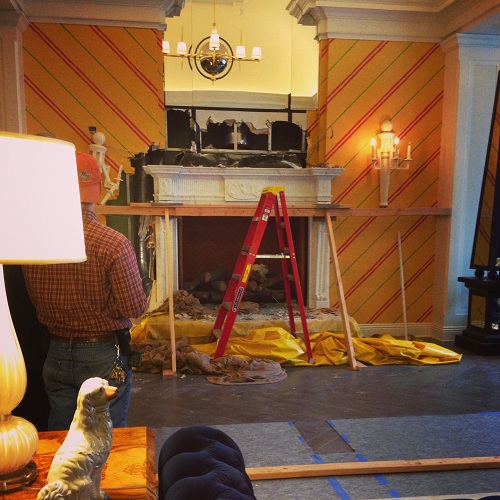 We weren't evacuated as they found what was the cause right away and apparently was just smoking and not on fire but yikes all the same.
We headed for breakfast at Honey's Sit and Eat. We had to wait a bit (always a good sign) and I started off with S'mores Hot Chocolate that was beyond yum.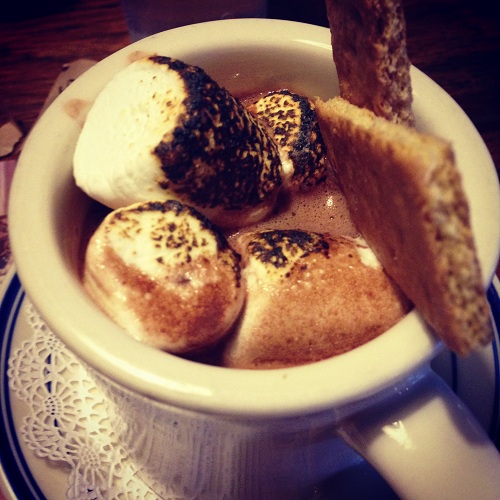 MDP threw out his back (this happens about every 6 months) and so our plans changed for the last day. We ended up seeing the Rocky statue (anti-climatic) and pretended to have culture by visiting the Art Museum. I mostly liked the impressionist, Joan Miro (had to do a report on him in high school), and the variety of fat, naked chicks laying of stuff. 🙂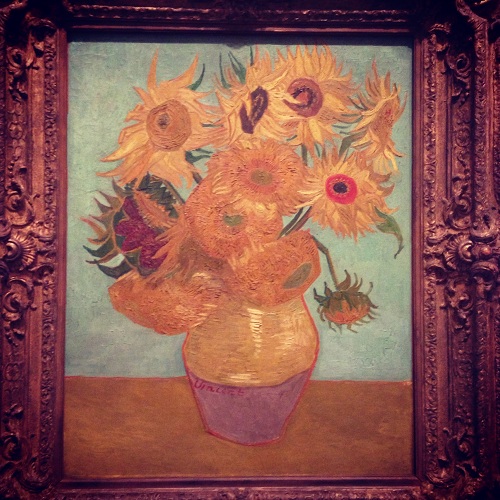 And then it was time to leave Philly and go on our painstakingly long ride back home. Philadelphia is a wonderful city. Every person we met was friendly, helpful, and LOVED that we were crazy people who flew from Seattle to Philly for a hockey game.
MDP's take on Philly is the same with the addition of "same hipsters, different coast" added in…which was kind of true.
But what I loved about the people is that everyone and I mean EVERYONE has a strong opinion there and they weren't afraid to be real. It was quite refreshing from the everything is wonderful, we are so happy, just look at our Facebook pages that our suburbs tend to be. So thanks Philly…you Rocked.