These Creamsicle Conversation Heart Cupcakes have a orange vanilla cupcake base all topped with creamsicle cream cheese frosting.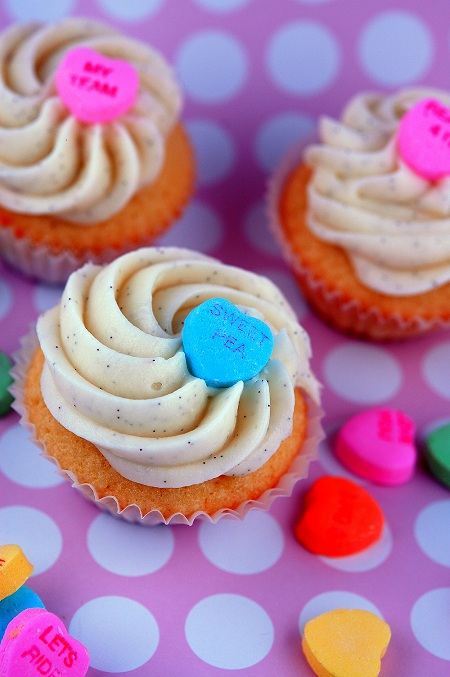 It's Valentine's Day.
Joy.
It's not quite as fun as back in the days of Elementary school where you built a little Valentine box and you passed out Valentines to everyone in the class, even the kid no one liked (because your mom made you).
If you were lucky it came with a sucker and sometimes Conversation Hearts.
Now, I 'm not big on Conversation Hearts, but when you are 10, sugar is sugar.
And you don't turn down free candy…unless it's black licorice.
Which isn't candy…it's just evil.
I tried and tried to do something with Conversation Hearts for this blog.
I made ice cream….the color was well…interesting.
I think that bag had too many blue and green hearts or something.
Then I tried to make Whipped Cream Frosting using cream infused with the hearts.
Umm, fail.
So all you get are Creamsicle Cupcakes topped with a Conversation Heart, to start a conversation.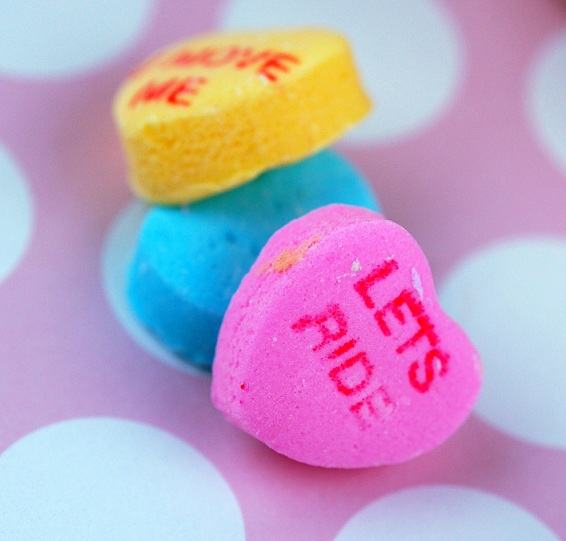 I'm not sure who comes up with some of these but let's review some from my bag.
Sweet Pea: Aw, isn't that nice. I am so special; they have me on a candy. 😛
Reach 4 it: Hmmm, this could really go a lot of ways.
But really I just see some teenager in a movie theater trying to do the reach around for the boob.
Text Me: Clearly a sign of the times.
And yes, I must admit that I do most of my communication this way.
Friend Me: Another sign of the times.
Almost everyone has a Facebook page…including this blog.
Crazy 4U: That's for all you stalkers out there.
Remember to keep your 500ft distance this holiday.
U Move Me: Again, you could go a lot of places with this.
What exact part of you is being moved?
Soul Mate: Awww
Marry Me: Which if you are going to ask…this is not the way to do it.
Boogie: What does snot have to do with Valentine's Day?
My Team: Which is either some sort of stance on which team you bat for ( 😉 ) or in my case, love for my hockey team.
The team is my Valentine's this year.
And last but not least, pictured below….Let's Ride: I'm just going to leave that one up to your imagination. 😛
These Creamsicle Conversation Heart Cupcakes are in honor of the first man to ever give me flowers for Valentine's Day….my dad. 🙂
Whenever my mom got flowers, my dad would send me pink carnations with a little bee (not live, because that's just messed up if it were) inside.
My dad loves creamsicles and so I thought these would be fitting for him.
Perhaps if I sent him some he would go back to sending me flowers.
On a side note, a kind reminder to the men out there: girls like Valentine's Day.
Even if all you do is write something about her that you like on a sticky  note (at least cut it in the shape of a heart) it is a least something.
A  little something can often get you a little something. 😉
P.S. It's a great day to buy my cookbook Holy Sweet!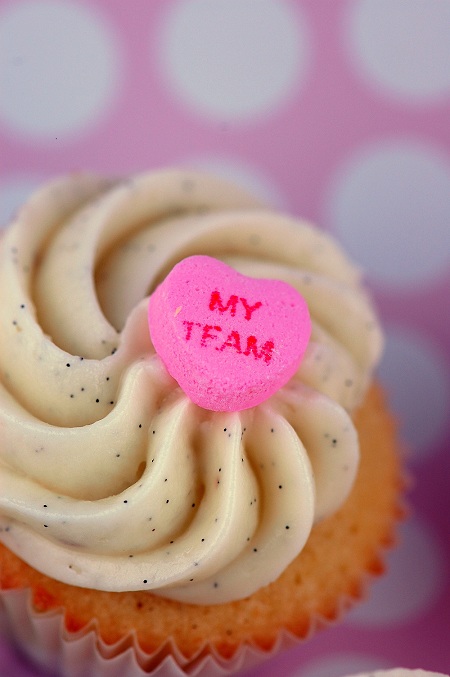 Want More Cupcake Recipes?
Dark Chocolate Butterfinger Cupcakes
Strawberry Buttercream Neapolitan Cupcakes
Key Lime Toasted Coconut Cupcakes
Strawberry Malted Milk Cupcakes
Chocolate Glazed Rocky Road Cupcakes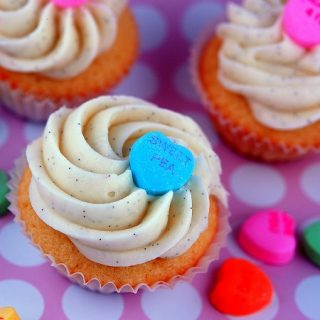 Creamsicle Conversation Heart Cupcakes
Ingredients
For the Orange Cupcakes
1 cup (2 sticks) unsalted butter, at room temperature
2 cups granulated sugar
4 large eggs
2 ¾ cups all-purpose flour
1 ½ tsp. baking powder
1/8 tsp. salt
¾ cup whole milk
¼ cup orange juice
1 tsp. orange extract
1 vanilla bean, seed scraped, pod discarded
For the Creamsicle Cream Cheese Frosting:
2 sticks (1 cup) butter, at room temperature
12 ounces cream cheese
3-4 cups sifted powdered sugar
1 ½ tsp. orange extract
2 vanilla bean, seed scraped, pod discarded
Conversation Hearts for garnish
Instructions
For the Cupcakes:
Preheat oven to 375F.
Line three mini muffin pans, mine hold 24 each.
You will get about 58 of these.
Beat butter on high until soft, about 30 seconds.
Add sugar.
Beat on medium-high until light and fluffy, about 3 minutes.
Add eggs one at a time; beat for 30 seconds between each.
Whisk together flour, baking powder, and salt in a bowl.
Add about a third of the dry ingredients to the mixing bowl and beat to combine.
Add about a half of the milk and beat to combine.
Continue adding, alternating between dry and wet and finishing with the dry.
Add the orange juice, orange extract, and vanilla bean, beat to combine.
Scoop into cupcake papers about half full.
Place cupcakes in the oven and turn the oven down to 350 degrees.
Bake for 13-15 minutes until a cake tester comes out clean.
For the Frosting:
Beat butter at medium speed until creamy.
Add cream cheese and beat until combined.
Sift 3 cups of the powdered sugar into the butter and cream cheese.
Add the vanilla beans and orange extract.
Beat until combined.
Add more sugar until you get to the consistency and sweetness you like.
Pipe frosting onto cooled cupcakes.
Add a conversation heart as garnish.