This Crab and Corn Chowder celebrates the summer in the Pacific Northwest with lots of Dungeness Crab and fresh corn.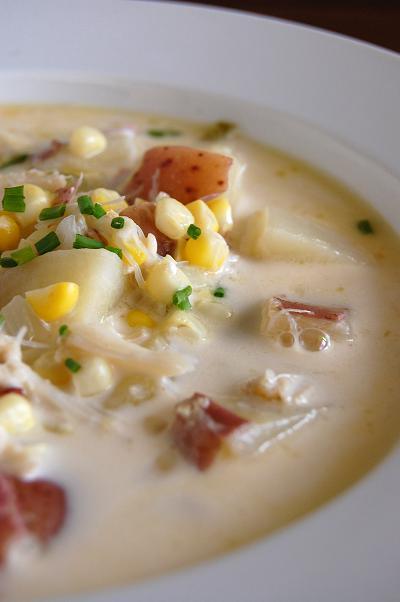 We went to my husband's work party this weekend. His workplace like many other workplaces that are busy during the holiday (end of year) choose to have their work party after the holidays.
Before I got any hi nice to meet you (though I have met quite a few of the guys already) I had a shout out requests. 🙂
"Can you do pulled pork again?"
I asked what kind of pulled pork and I got anything you do is great.
"You owe me a peanut butter and chocolate cheesecake…I've been waiting patiently (and he really has…he said that a while ago)."
Then the table kind of lighted up with realizing that I was the girl who was always sending food.
And lots of people were kind enough to tell me that they loved my food.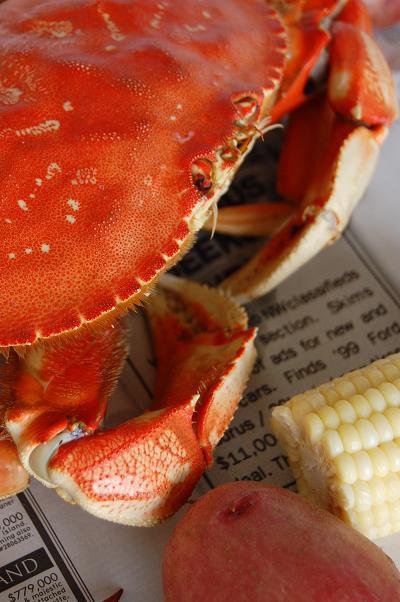 And then there is the guy to whom I am pretty much known as the Crab and Corn Chowder girl.
He asks all the time for me to make it and every time I say the same thing…not cost effective.
Which he always says he will pay for it but I don't think he truly realizes how much just the crab cost.
Or maybe he just has way better finances than me. 😀
Anyway I told his girlfriend and him that I would put the recipe up on the site so that they could make it at home.
Obviously this is going to be at its best when it is corn season but I do eat this all year round.
One of our local farms freezes corn that does not taste like frozen corn.
It's great for times when I want corn chowder and it's not the right season.
Some may argue that just means that I am to wait until it's corn season.
Try and tell that to my tummy…it doesn't follow seasons and neither do my cravings.
It's a great day to order my cookbook.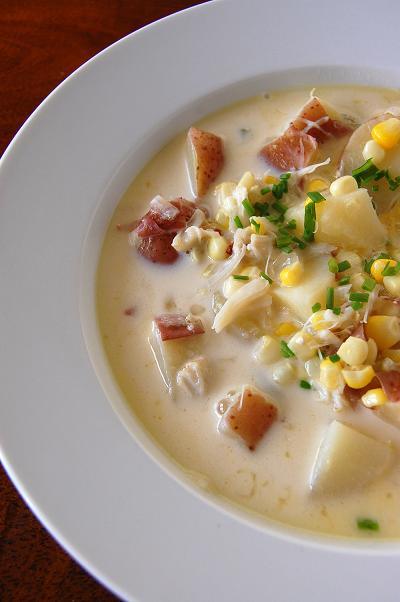 Want More Soup Recipes?
Vegetarian Vegetable No-Beef Soup
Chickenless-Chicken Noodle Soup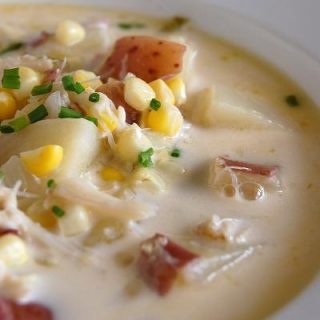 Crab and Corn Chowder
Ingredients
¼ cup diced celery
¼ cup diced onion
1 garlic clove, chopped
¼ cup of butter plus one TBSP
2 cups red potatoes, peeled and chopped
a dash of white pepper
sea salt to taste
4 cups of lobster stock(or fish stock if you don't have lobster stock)
1 TBSP chicken flavor base
2 ½ cups heavy cream
¾ pound Dungeness crab
2 cups fresh corn, cut off of the cob
chopped chives for garnish
Instructions
In a large stock pot, cook celery, onion and garlic in 1 TBSP of butter.
Saute for about 5 minutes, until tender.
Add potatoes, white pepper and lobster stock.
Bring to a boil.
Cover and reduce to a simmer.
Simmer for about 30 minutes, while the stock reduces.
Add chicken base, cream and ¼ cup butter (bad I know but really good).
Simmer another 20 minutes.
Check soup to see if it needs salt, it might not.
Stir in the corn.
Cook another 15 minutes.
Add the crab and cook another 5 minutes.
Ladle into bowls and sprinkle with chopped chives if desired.