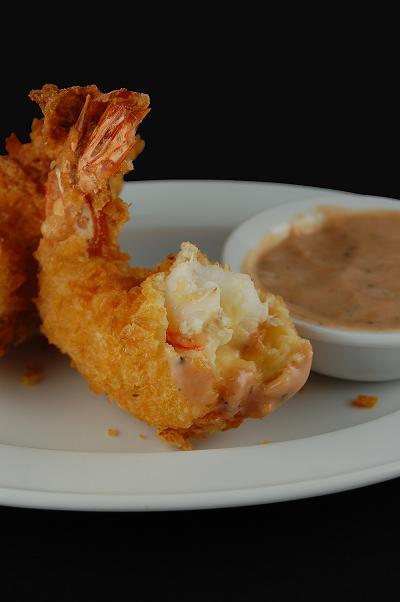 Yes those are mashed potatoes. Yes in shrimp. Yep they are rolled in potato chips. Yes these are also the most requested appetizer that I make. An unusual combo for sure but then again consider the source of who's making it. 😛
Yes this is another recipe brought over from my other blog. The recipe was originally written for the folks at Tillamook as an ode to their cheddar cheese (which I do so enjoy). It might work well with pepper jack cheese as well but I like the flavor profile that the sharp cheddar provides.
Despite the fact that this does take quite a few steps you can do most of it ahead of time (you can stuff the shrimp they night before). So that when party time starts you just have the deep frying to do. Which if you have a little deep fryer you could totally bust these out quickly. Sadly I don't own one of those…so a large pot it was.
So if you are wanting to do a little something different this year for a party this may be the way to go. Or just fry up a bunch for yourself and sit around with a beer in one hand and a shrimp in the other…not that I have ever done that. 😀


Potato Chip Crusted Cheesy Mashed Potato Stuffed Shrimp
1 large Russet potato, peeled, boiled, and then cubbed
1 heaping cup Sharp Cheddar Cheese (shredded)
1 tsp horseradish sauce (or more depending on how much heat you want)
1/3 cup sour cream (hey, guess what, Tillamook makes that too)
12 jumbo shrimp, peeled and de-veined
2 eggs, beaten
1 ½ cups rice flour
2 cups finely crushed potato chips (I used Ruffles because that is what was in the house)
oil for frying (I used canola)
In a deep fryer or deep pot, heat up oil to 375 degrees.
Place potato into a mixing bowl (I used my stand mixer). Using the paddle attachment, beat on low for about 30 seconds. Add cheese, horseradish sauce and sour cream. Beat on medium until completely combined. If your potatoes don't seem creamy enough you can add more sour cream. Set aside.
Butterfly shrimp.
Using your hands (so make sure they are clean ) stuff and mold the potato mixture into the back of the shrimp. It holds about 2 TBSP of filling depending on your definition of jumbo shrimp. Do this to all of the shrimp.
In three shallow bowls, place the beaten eggs in one. Place the rice flour in another. Place the crushed potato chips in another.
Carefully dip shrimp into eggs, then into rice flour. Back into egg, then back into rice flour. One last dip into the eggs and then finally coat with crushed potato chips. Repeat with all of the shrimp.
Fry in batches, making sure not to overcrowd the pot. Fry for about 1 minute then flip over shrimp with thongs to see if it is browning. When one side is brown, flip over and let the other side brown.
Remove shrimp from oil with both sides are brown, about 2-4 minutes depending on how hot your oil has gotten.
Place on paper towels to soak up the grease. Serve hot so that the cheese is oozy inside the shrimp. Serve with BBQ Ranch dip or sauce of your choice.
BBQ Ranch Dip
1(1 ounce) envelope of Ranch dressing mix
1 1/2 cups sour cream
4 TBSP barbecue sauce
Whisk together all three ingredients. Place in bowl and serve.