This addictive Fried Pickle and Ranch Dip is made with cream cheese, sour cream, ranch mix, pickle juice, and deep fried pickles.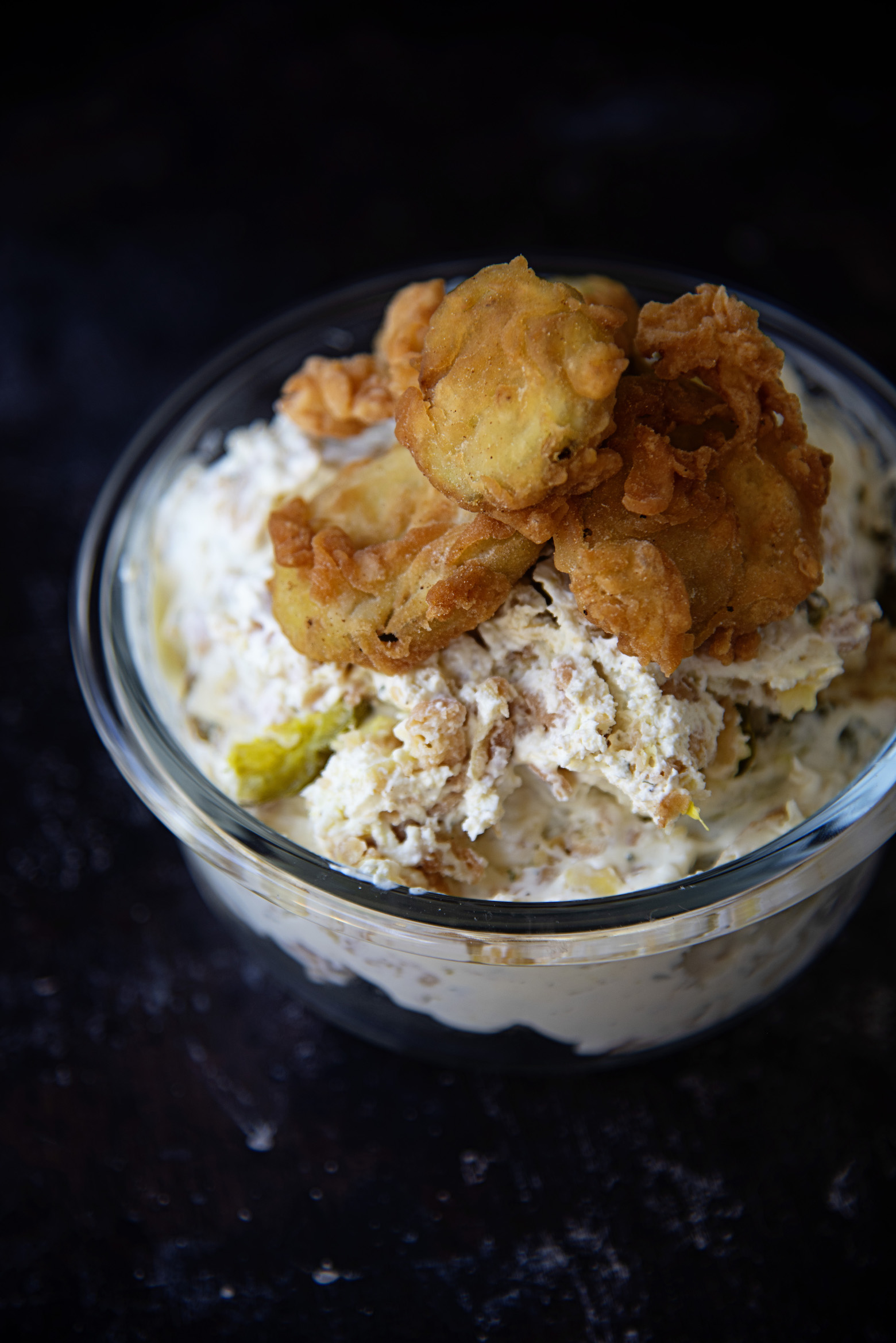 I kept seeing all over social media people talking about this Fried Pickle and Buttermilk Ranch Dip.
And I was excited and intrigued.
Because we love us some pickles and love fried pickles.
Once again we were let down to find out that this dip was only sold at Sam's Club.
We don't have a Sam's Club card…because we don't have a Sam's Club in our state.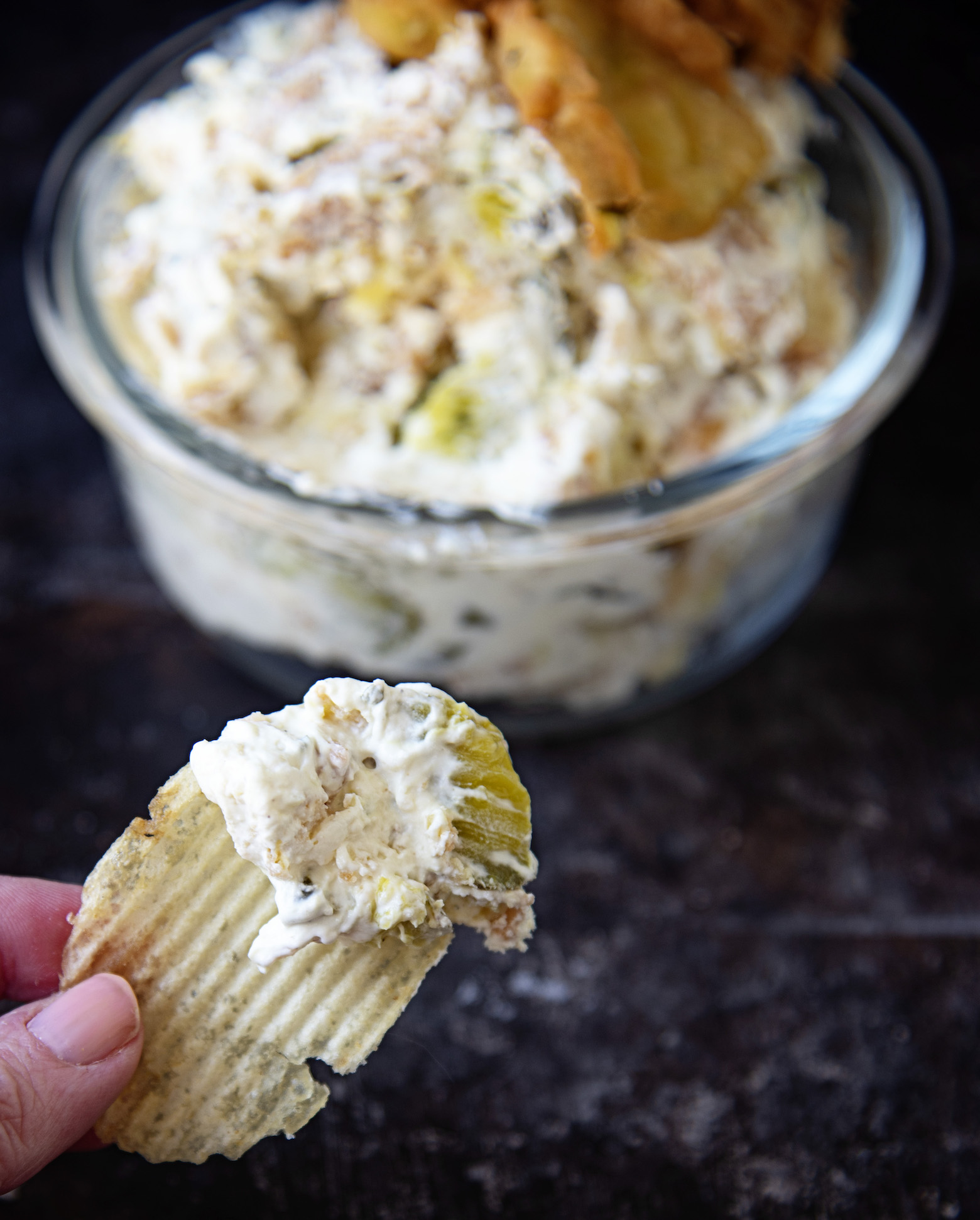 This happens a lot.
It's why I hate when products are only exclusively at one store.
Walmart and Target do this all the time too.
My Funfetti coffee creamer that I'm addicted to is only at Walmart.
Which we don't really have one that close.
So my poor husband has to trek on out to Walmart every couple of weeks to get me creamer. 🙂
He's not a fan.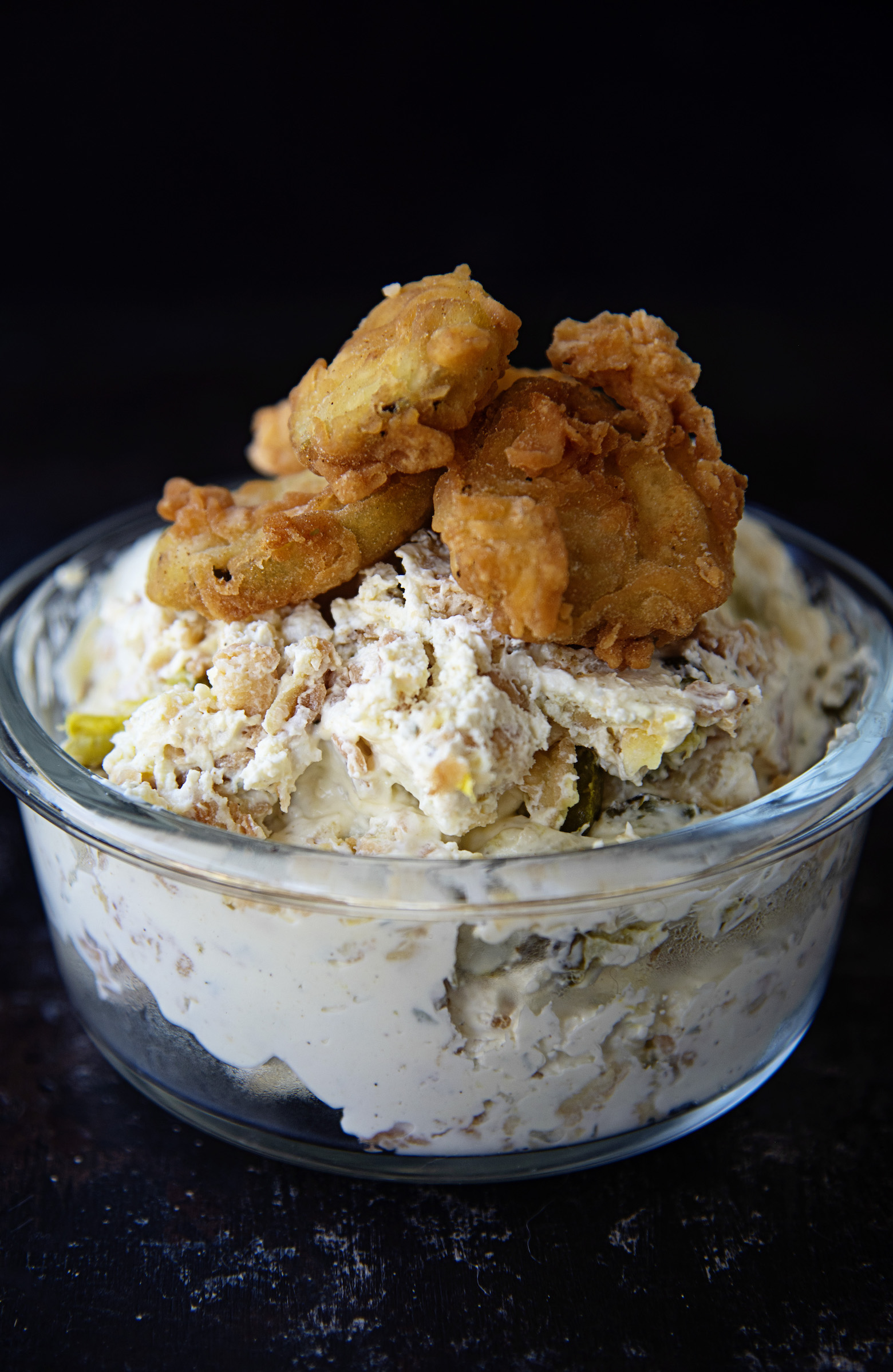 There is a store called Aldi that so many food bloggers get cool stuff at that store.
We don't have one of those.
I think the closest one is maybe California?
Definitely get grocery store envy that's for sure.
I'm sure there are things I can get that others can't so I know you all feel my pain on this one.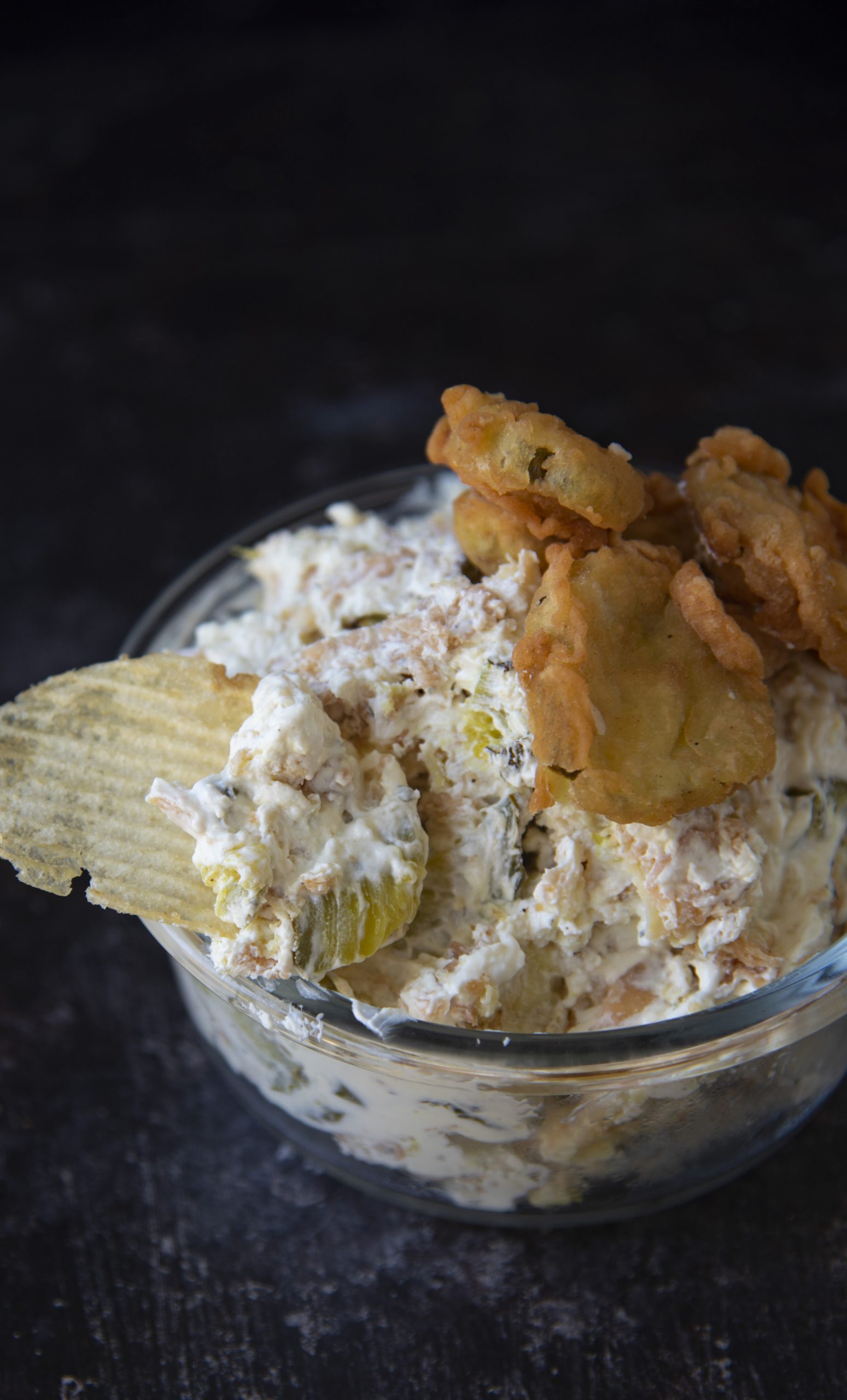 No Sam's Club meant I needed to figure out how to make a Fried Pickle and Ranch Dip of my own.
And so I did.
Having never gotten to taste the dip I just had to guess based on the label.
So we fried up some pickles.
Mixed up some cream cheese, sour cream, Ranch mix, and pickle juice.
And then threw in the fried pickles.
Quite tasty.
If you are a pickle lover you will be a big fan of this dip.
And last but not least it's a great day to buy my cookbook.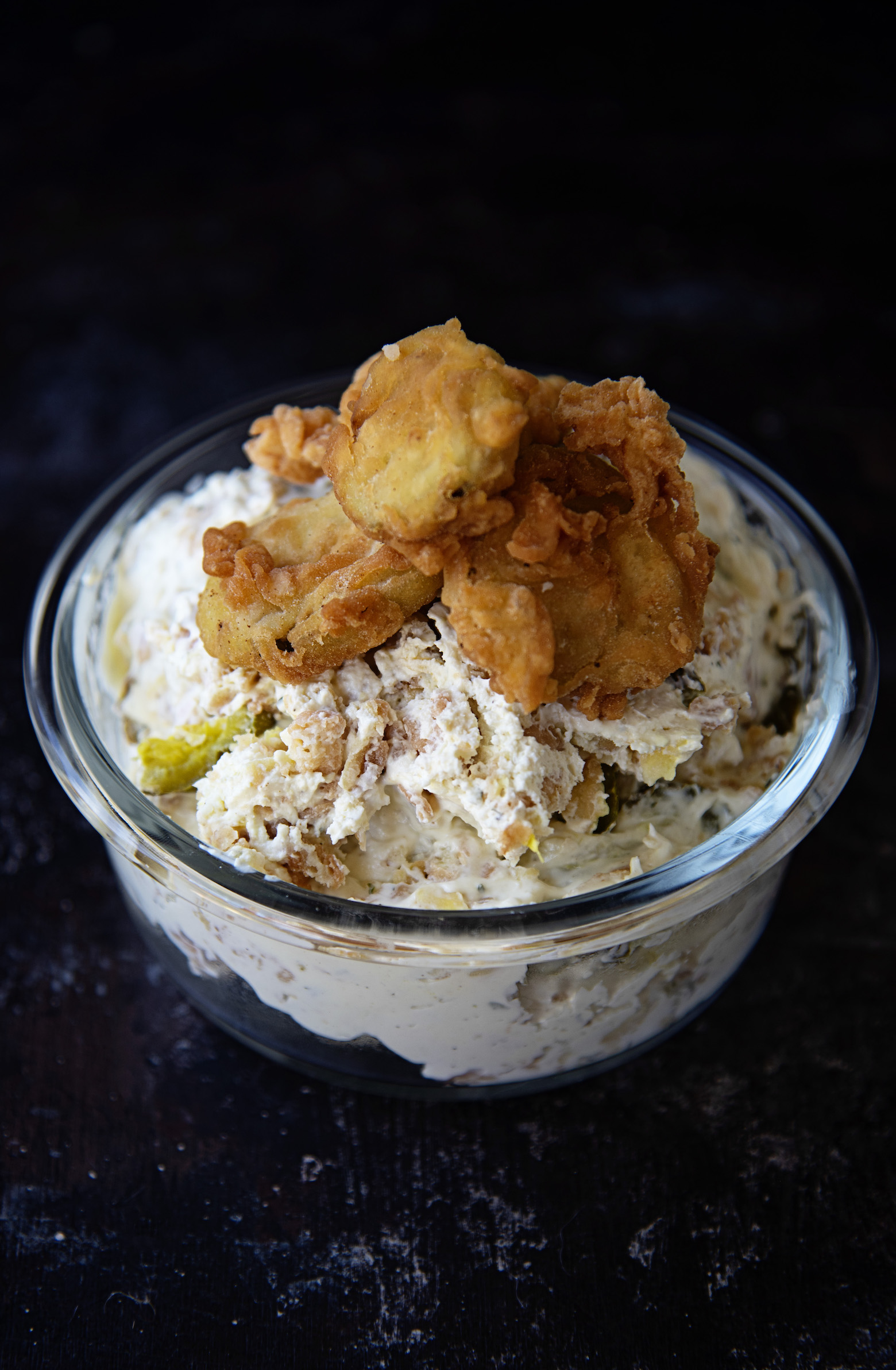 Want More Dip Recipes?
Blue Cheese Spread with Onion-Pear Jam
Bacon Cheddar Ale Cheese Spread
Caramelized Onion, Bacon, and Gruyere Dip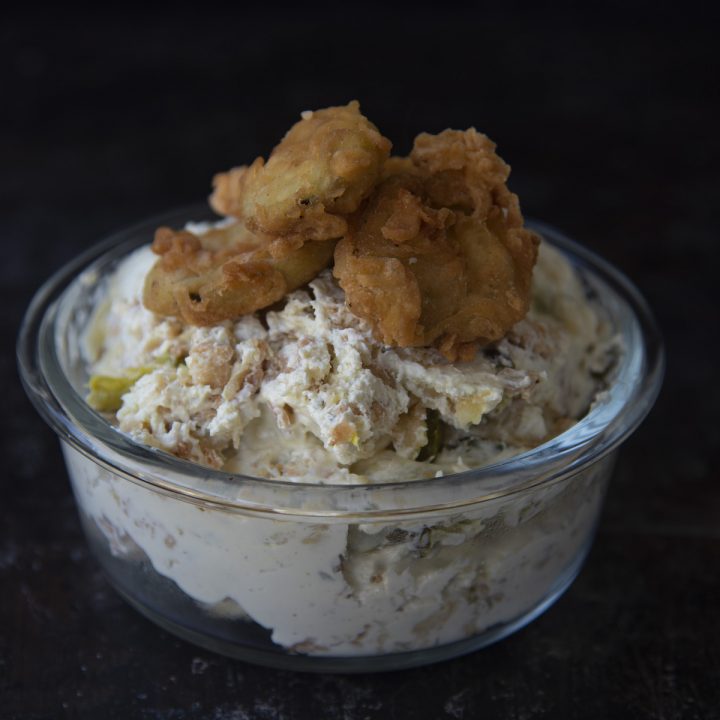 Fried Pickles and Ranch Dip
Ingredients
For the Fried Pickles:
16 oz. jar dill pickle chips or 4 large whole dill pickles sliced
1 1/2 cups buttermilk, divided
1 cup all purpose flour 
1/2 tsp salt
1/2 tsp pepper
1/4 teaspoon paprika
1/4 teaspoon garlic powder
1 large egg
For the Dip:
2 cups cream cheese, at room temperature
1 1/2 cups full fat sour cream
1 packet Ranch Dressing Powdered Mix
1/2 tsp salt
1/2 cup pickle juice
25-30 deep fried pickles, chopped
Instructions
For the Fried Pickles:
Drain the pickle juice from the pickles. Save the pickle juice.
Add one cup buttermilk to the pickles and let the pickles sit in the buttermilk for 3 hours.
Fill a Dutch oven or large saucepan 2-3" deep with oil for frying or set up your deep fryer with oil.
Fix a candy thermometer to the edge (make sure it is in the oil but not touching the bottom of the pan) and set your heat to medium. Oil will need to reach 375F before you can begin frying, but this will take 10 minutes or so.
Mix together flour, salt, pepper, and garlic powder. Set aside.
In a separate bowl, whisk together buttermilk and egg.
Once oil has reached 375F, prepare pickles for frying in batches of 3-4 slices.
Coat slices in flour mixture, gently shake off excess, dredge in buttermilk/egg mixture, then coat with flour mixture again.
Transfer to oil and fry 3-4 pickle slices at a time for 90 seconds on each side or until golden brown.Use a slotted spoon or strainer to remove from oil and transfer to a paper towel lined plate. Make sure oil returns to 375F (190C) before frying your next batch of pickles.
For the Dip:
Using a stand mixer with the paddle attachment, beat together the cream cheese and sour cream until nice and smooth.
Add in the Ranch mix and salt and mix until incorporated.
Add in the pickle juice and mix until fully incorporated.
Remove from mixer and fold in the fried pickle pieces.
If you want a thicker dip do less juice. If you want a thinner dip add more juice.
Cover and leave in fridge for at least 4 hours...overnight is the best. You want the flavors to really sink into the dip.