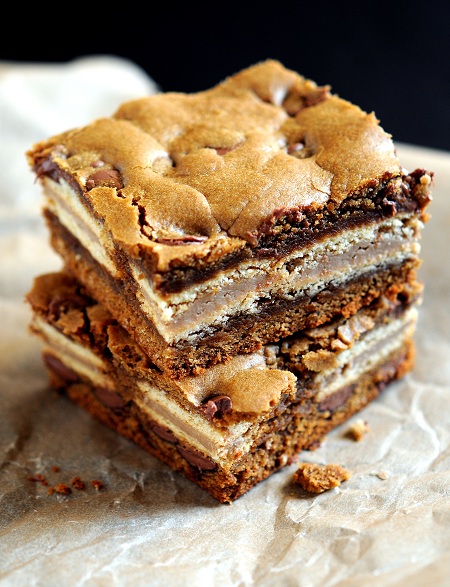 So I'm a little in denial about how quickly the holidays are coming upon us. Less than two weeks and Thanksgiving will be happening and then the blur begins. I'm still trying to figure out where the tree is going to go in the house. And then there is the whole looming idea of dragging all the holiday stuff out. Don't get me wrong I love it but the unpacking and packing up of it all is no fun.
The other thing I have to start thinking about is holiday baking. While most people do it in December, us food bloggers have to pretty much be doing it now…so that you all have ideas for when you want to bake. Heck when I used to do magazine work I would have to have my holiday stuff done in August!
I braved Wal-Mart the other day…and yes brave is the correct word. I know some people love that store…I am not one of those people (like the prices the people scare the crap out of me). I went in search of the Gingerbread Oreo and Peppermint Marshmallows. Which I found both at. Which I bought a ton of because I figured I would like them and did not want to go back to Wal-Mart in the near future.
This bar cookie is a play on one of my more popular Pinterest recipes, White Chocolate Topped Gingerbread Cookies. I had originally planned on making them with white chocolate chips…only to go to the cupboard and realize I didn't have any. So milk chocolate it was. You can try it either way. If you can't find the Gingerbread Oreos just use the golden ones. But if you can order them through Amazon.com Gingerbread Flavor Creme Oreos ~ Limited Edition!!
.
These are plenty yummy and would be a great treat to bring to a holiday party or cookie exchange if your exchange allows for bar cookies. Speaking of cookie exchanges I have a new Pinterest board if you would like to follow that is dedicated to cookie exchange ideas.
Anyway whether you are ready or not the holidays will soon be here!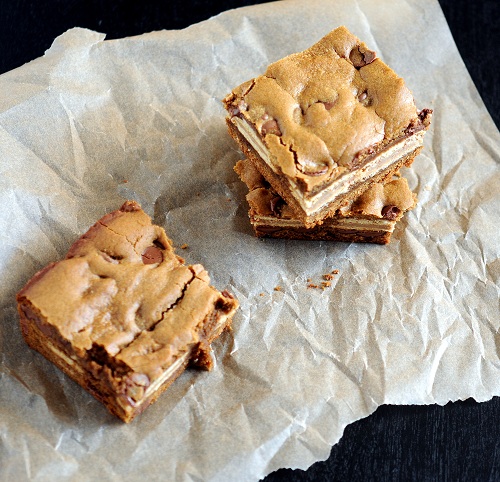 Milk Chocolate Chip Gingerbread Oreo Bars
4 ½ cups flour
3 tsp. Ginger, Ground
1 ½ tsp. Cinnamon, Ground
1 ½ tsp. baking soda
1/2 tsp. Nutmeg, Ground (I used fresh)
1/4 tsp. salt
1 1/8 cup unsalted butter, at room temperature
1 1/8 cup firmly packed brown sugar
¾ cup molasses
1 egg
1 egg yolk
11/2 tsp. Vanilla Extract (or vanilla bean paste)
12 oz milk chocolate chips
24 Gingerbread Oreos (Golden Oreo's if you can't find Gingerbread ones)
Spray a 9-x-13-inch baking pan with baking spray.
Mix flour, ginger, cinnamon, baking soda, nutmeg and salt in large bowl.
Beat butter and brown sugar in large bowl with electric mixer on medium speed until light and fluffy.
Add molasses, egg, egg yolk, and vanilla; beat well. Gradually beat in flour mixture on low speed until well mixed.
Fold in the chocolate chips.
Press half the mixture into the prepared pan. Making an even layer.
Place Oreo cookies on top of that. Six rows of 4 cookies.
Top with remaining cookie dough. You will have to press down on this as spreading will not be easy. Make even as possible.
Preheat oven to 350°F.
Bake 25-30 minutes or until edges of cookies just begin to brown. Remove to wire racks; cool completely. Store cookies in airtight container up to 5 days.
Adapted from McCormick and Company Inc.