Snickerdoodle Angel Food Cake: Light and fluffy angel food cake filled with snickerdoodle cookie crumbs and cinnamon cereal all baked in a cinnamon sugar mixture.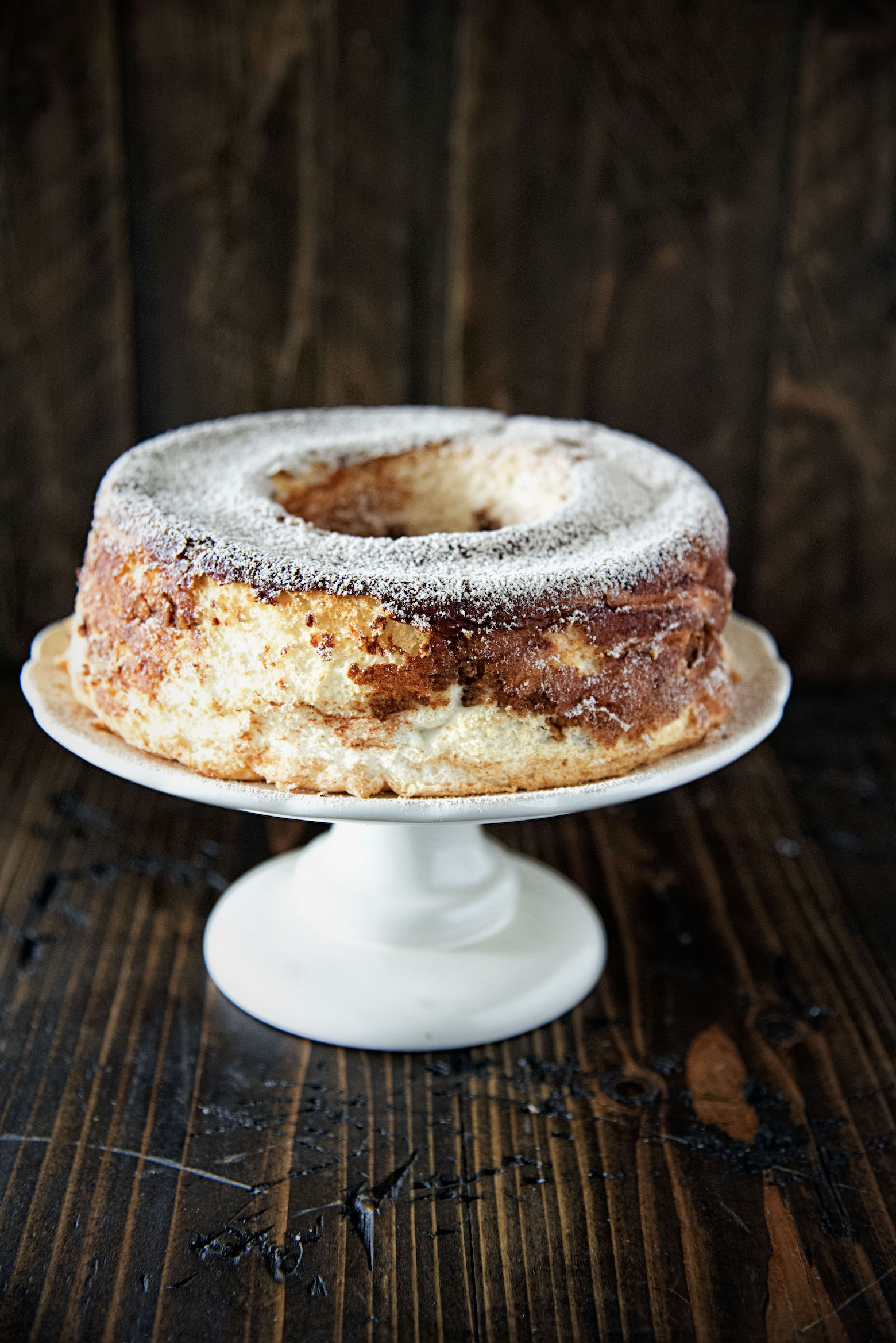 I turn 46 today.
Normally I would not make a big deal out of 46.
Forty-six is a relatively benign birthday.
But by gosh, I feel like I have had to crawl and scrape to make it 46 over this past year.
So I'm going to make a big deal about 46!
When you run a baking blog no one wants to bake a cake for your birthday.
In fact, other than my mother there have only been two people in my life who have made me a cake.
One was a former student and one was a local friend here that made it for my 35th birthday.
So I used to have to make my own birthday cake until I stopped a few years ago and just switched to going and getting cake batter ice cream at Cold Stone.
But this weekend it was cool and rainy and I sort of was in a baking frenzy.
If you follow me on Instagram I posted in stories a list of all that I had made.
And so I made myself a birthday cake.
Birthday pie as well (key lime).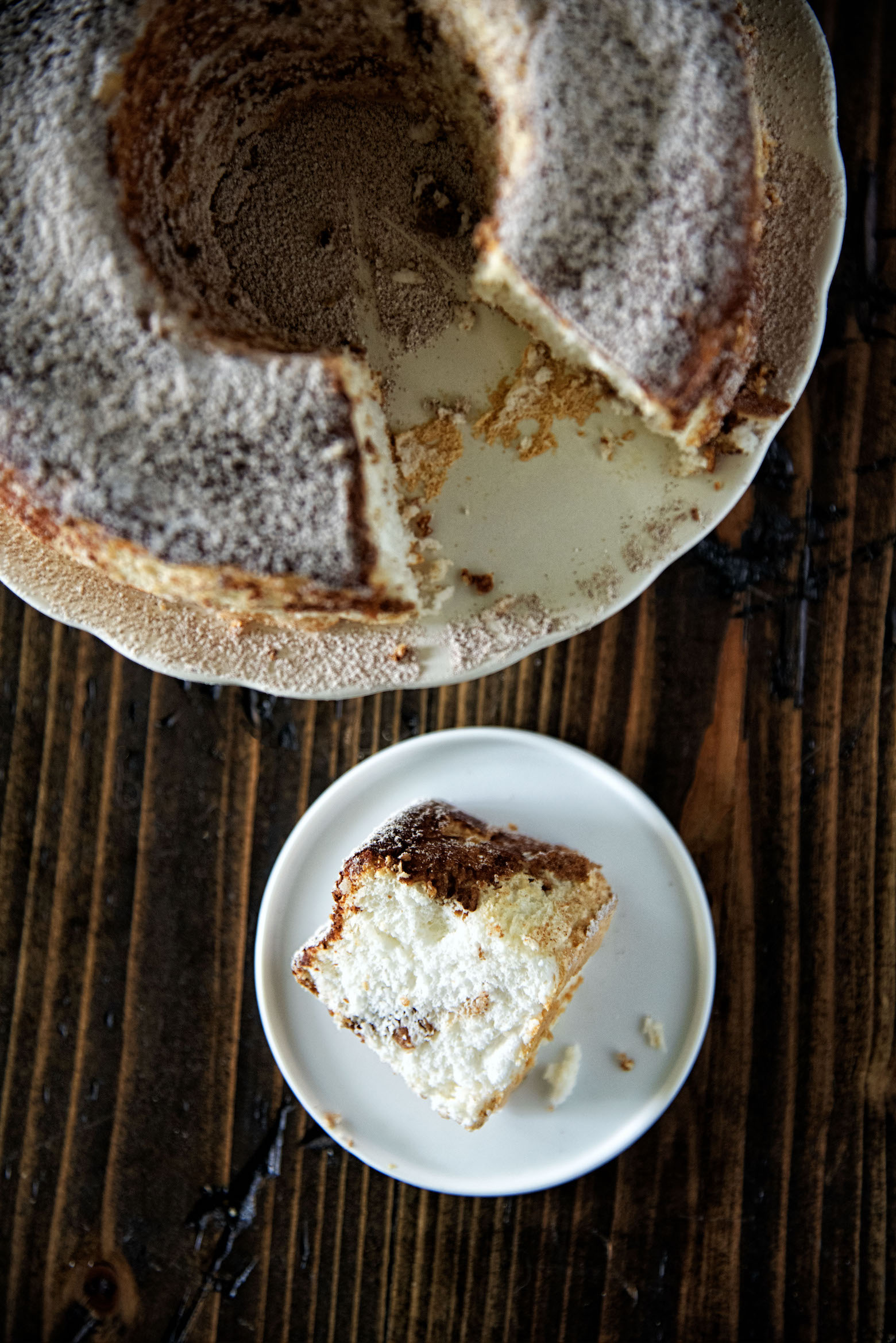 This cake came about because I had 12 egg whites just sitting around from all my baking during the weekend.
I thought about making a meringue but it's too humid and therefore would not dry out well.
If the cake seems on the smaller side it is.
But yours won't be.
The batter was split between a smaller tube pan and a loaf pan so that I could make Angel Food Cake French Toast yesterday for breakfast.
Some of the cinnamon sugar mixture on the side will fall off.
Collect those crumbs and eat them because they are super good.
Since Angel Food Cake does not have butter in it, I use a butter flavoring (you can get it at Michaels or order online HERE) to help give it the more rich flavor.
It's definitely a fun way to make Angel Food Cake.
Today is a great day to buy my cookbook Holy Sweet!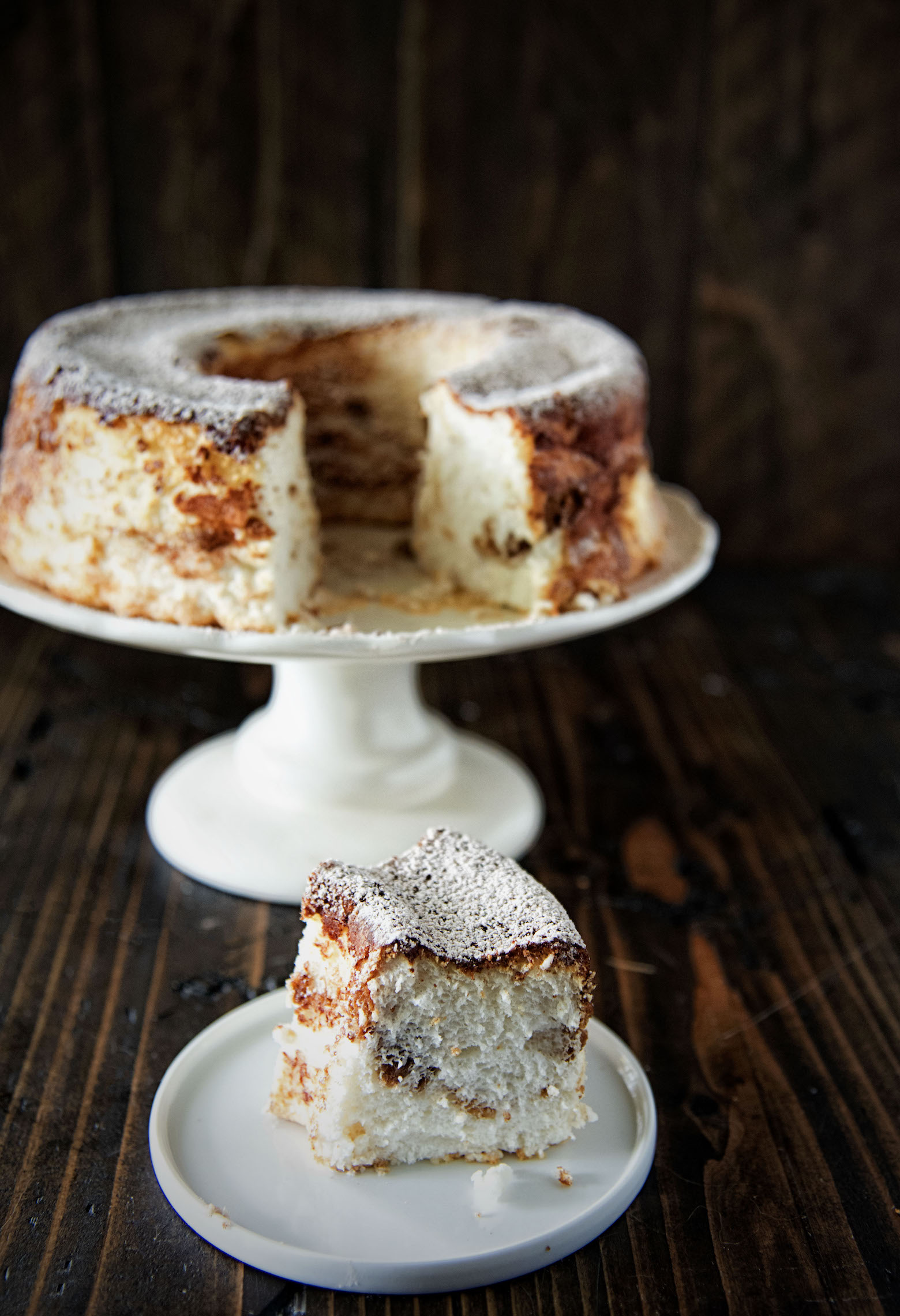 Want More Angel Food Recipes?
Cherry Cheesecake Angel Dessert
Angel Food Cake and Strawberry Cheesecake Cheeseball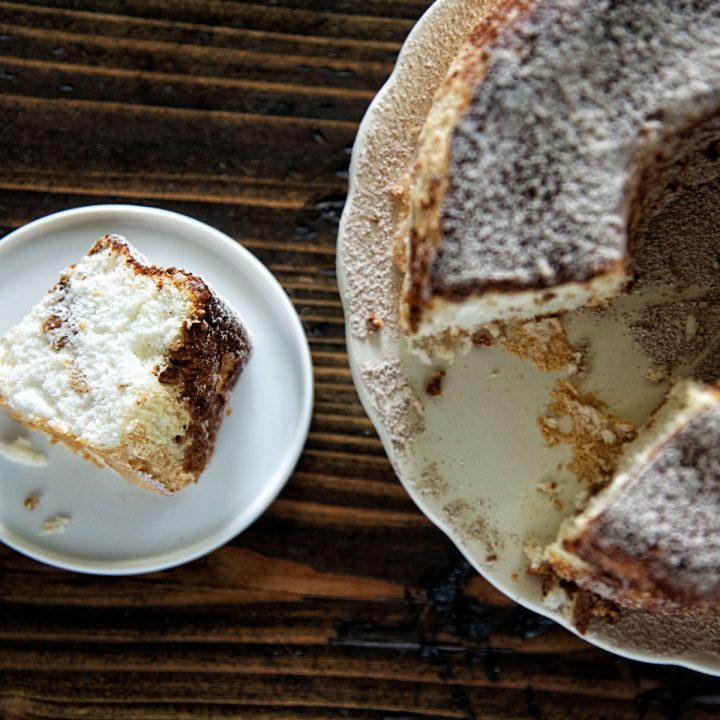 Snickerdoodle Angel Food Cake
Ingredients
1 3/4 cups superfine granulated sugar
1/4 tsp. salt
1 cup cake flour, sifted
12 egg whites (the closer to room temperature the better)
1/3 cup warm water
3/4 tsp. Fresh ground nutmeg
1 tsp. butter vanilla flavoring (see post to find where to buy)
1 1/2 teaspoons cream of tartar
1/2 cup finely crushed snickerdoodle cookies
1/3 cup finely crushed Cinnamon Toast Crunch
1/2 cup cinnamon sugar
2 TBSP unsalted butter, at room temperature
Instructions
Preheat oven to 350 degrees F.
In a small bowl mix together the Cinnamon Toast Crunch and Snickerdoodle cookie crumbs. Set aside.
Prepare the tube pan but spreading the 2 TBSP of unsalted butter around the bottom, sides, and middle of tube pan.
Add the cinnamon sugar and slowly rotate the pan so that the cinnamon sugar clings to the butter.
Do you best to cover the whole tube pan.
Set pan aside.
Sift half of the sugar with the salt, ground nutmeg, and cake flour in a medium bowl and set aside.
Set the remaining sugar aside.
Using a stand mixer with the whisk attachment whip egg whites, water, butter vanilla extract, and cream of tartar and medium-high speed.
After 2 minutes, slowly sift the reserved sugar, beating continuously at medium speed.
Once you have achieved medium peaks, sift enough of the flour mixture in to dust the top of the foam.
Using a spatula fold in gently.
Continue until all of the flour mixture is incorporated.
Carefully spoon 1/2 the angel food cake batter into the prepared tube pan.Sprinkle the Snickerdoodle Cookie/Cinnamon Toast Crunch mix on top of the first layer of angel food cake batter.
Carefully spoon the remaining angel food cake batter over the cookie/cereal mix.
Smooth top with a spatula.
Bake for 35 minutes before checking for doneness with a wooden skewer. (When inserted halfway between the inner and outer wall, the skewer should come out dry).
Cool upside down on cooling rack for at least an hour before removing from pan.