Caramel Cream Filled Snickerdoodles: Caramel Cream candies wrapped in Snickerdoodle cookie dough and rolled in cinnamon sugar will surely up your cookie game.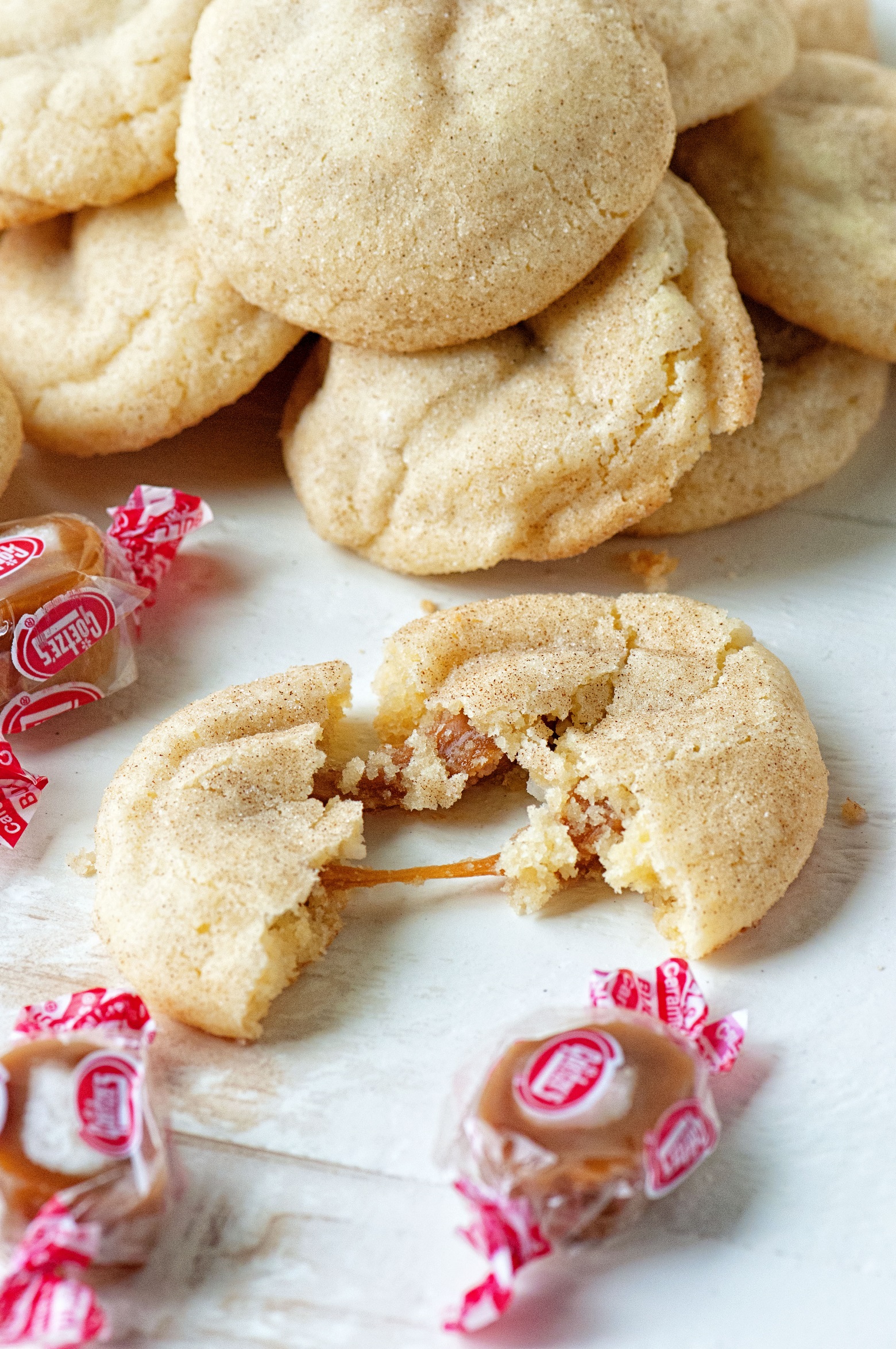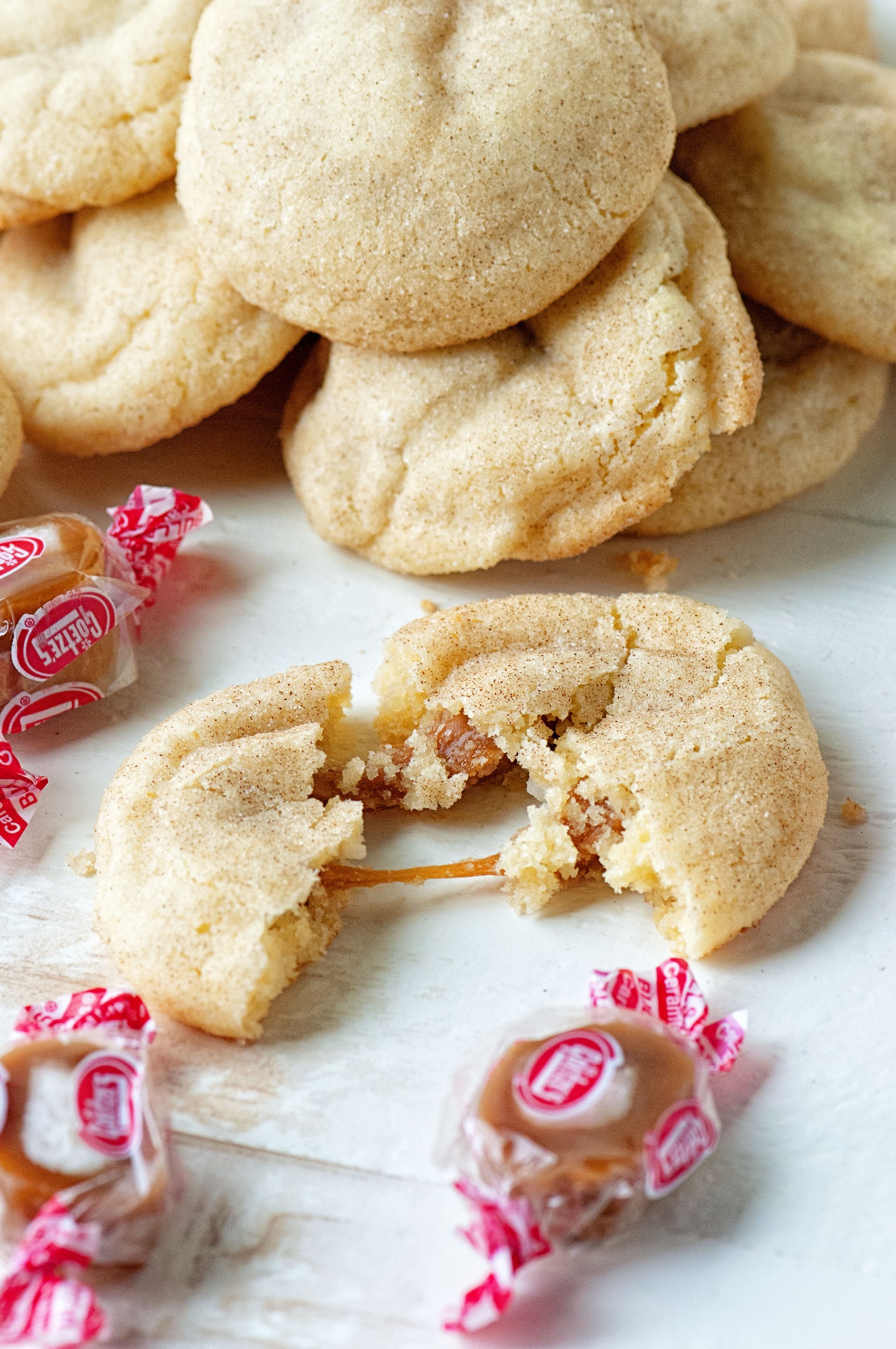 Vanilla and caramel are one of my favorite flavor combos. Growing up I loved I just called them Target candies but in reality, there were called Caramel Creams…and you can get them in a non-cut version called Cow Tails.
I rarely buy them because I have been known to just sit and eat and eat the bag mindlessly. In next pants size up news…when I ordered this candy I could get 1 pound of it for $10 or 4 pounds for $17…so yeah, I have 4 pounds of them. Well, by the time you are reading this I probably have like 1 pound of them left (I have been a very bad low carber the last two weeks). 😀 <p>
There are quite a few bloggers who have stuffed a cookie with caramel so this is not anything new. I will say in reading a couple of the recipes, I was really surprised that none of them suggested freezing the caramels. This is a super important step in my opinion. If you don't freeze the caramels they tend to ooze out of the cookie but by freezing them by the time the cookie bakes it just starting to melt.
I had someone ask if the caramel candy hardens while baking, it does not. It will get warm (and too hot to eat) and the vanilla center will look like it disappears when hot but once it cools down again you will have a regular ol' Caramel Cream candy sitting in the middle of your cookie. Your inner fat kid will love you so much for making these.
If you didn't see the first recipe in Snickerdoodle week be sure and check it out!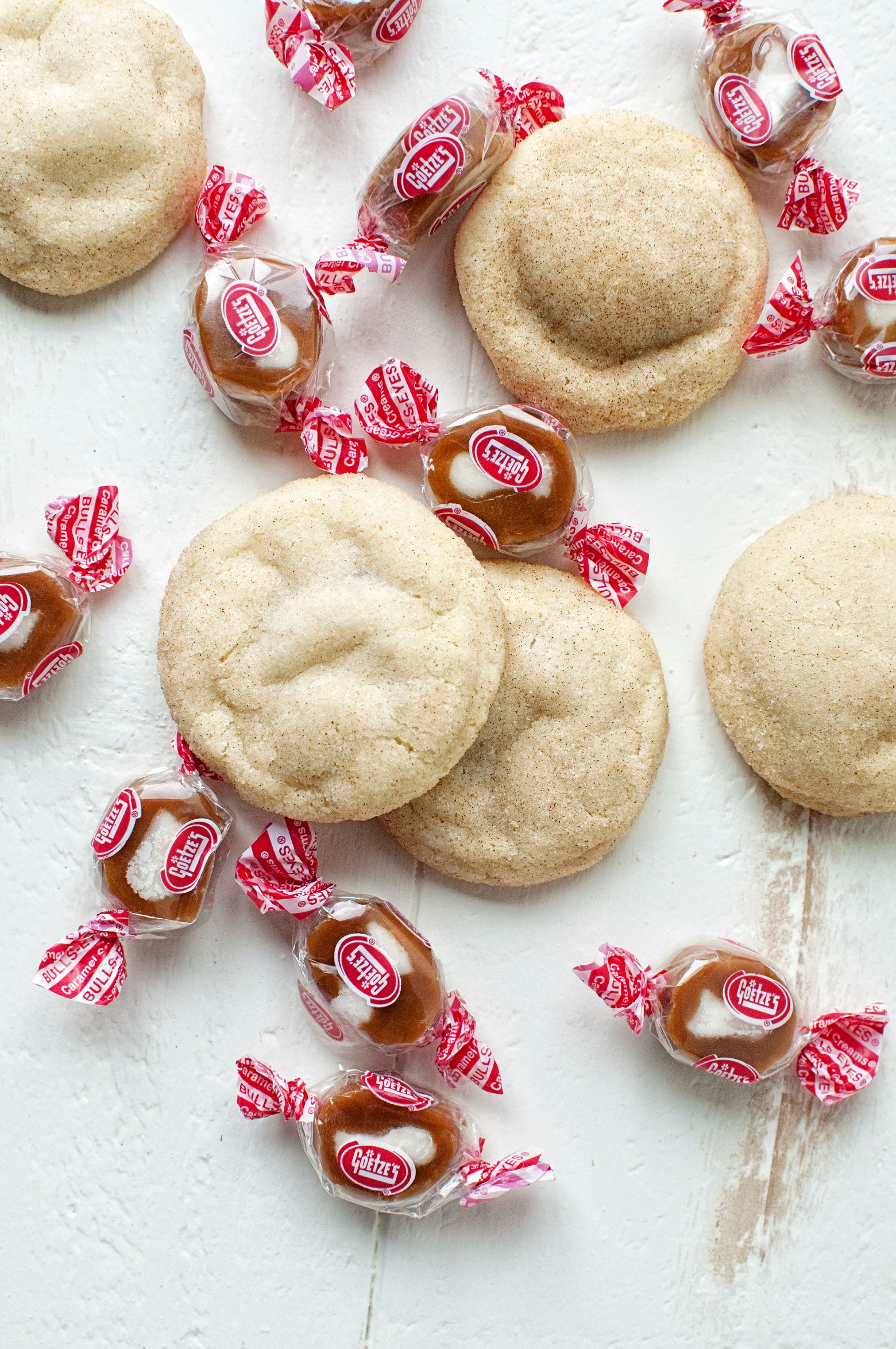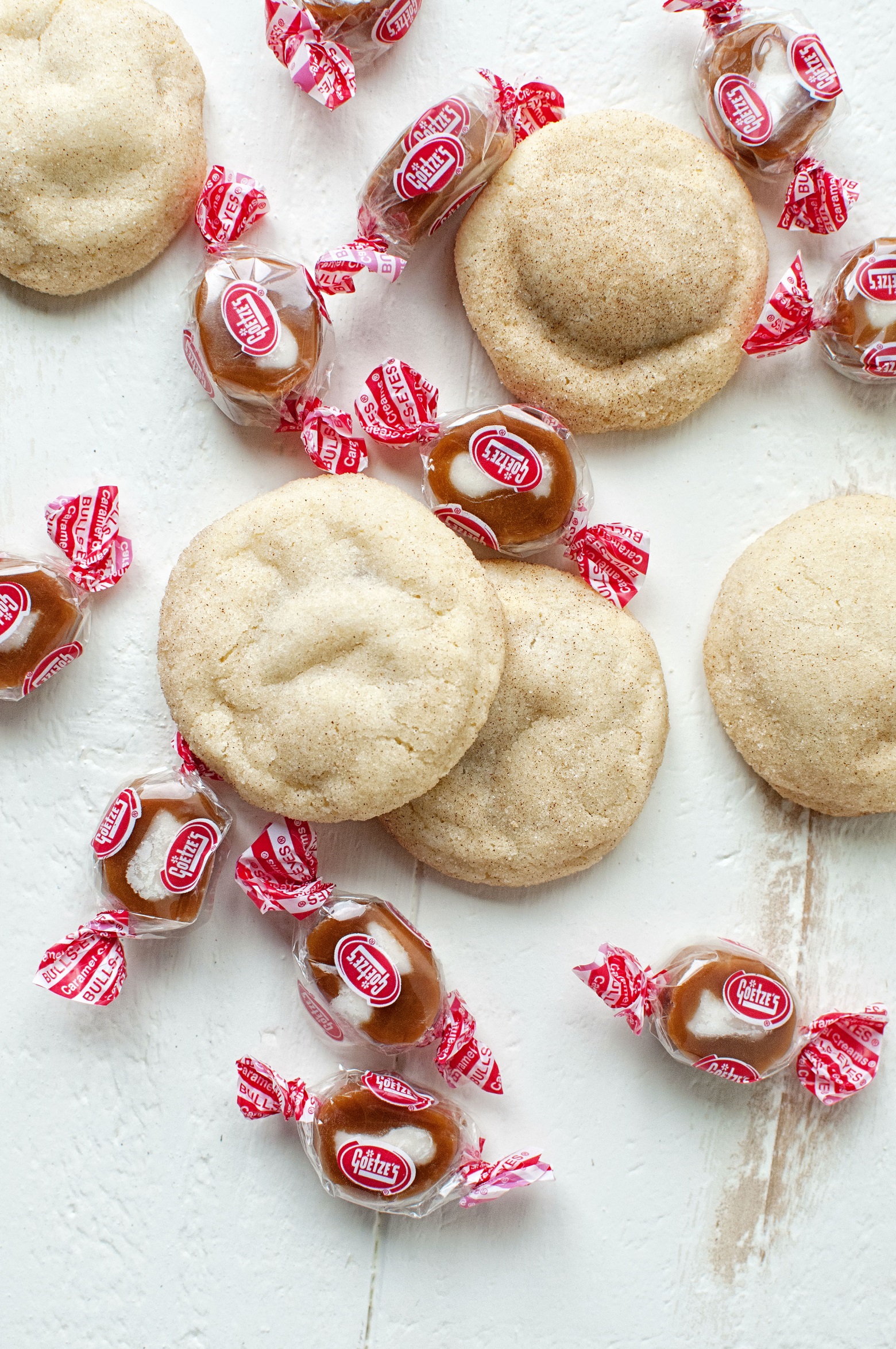 Caramel Cream Filled Snickerdoodles
Author:
Ingredients
1 cup unsalted butter , at room temperature
1 1/2 cups granulated sugar
2 eggs
2 ¾ cups all-purpose flour
2 tsp. cream of tartar
1 tsp. baking soda
¼ tsp. salt
½ tsp. freshly ground nutmeg
Cinnamon sugar for rolling cookies in
36 Caramel Cream Candies
Instructions
Unwrap Caramel Cream candies and place in freezer for an hour.
Heat oven to 375F.
Using a stand mixer with a paddle attachment, cream the butter and sugar until light and fluffy, about 3 minutes.
Add eggs, one at a time, scraping down the bowl after each addition.
Add the flour, baking soda, cream of tartar, salt, and nutmeg with the mixer on slow until all ingredients are fully incorporated.
Cover with plastic wrap and let sit for an hour in fridge.
Roll the cookie into a ball.
Flatten the ball with your hands to a flat disc.
Place one frozen Caramel Cream in the center.
Wrap the dough around the candy making sure no candy is visible.
If needed, you can add more dough to the cookie to cover the whole caramel.
Roll back into a ball and roll in cinnamon sugar.
Place on a baking sheet lined with parchment paper.
Bake for 12 minutes.
Let cool on cookie sheet for a few minutes and then remove to a wire rack.
When hot the caramel will be hot and the frosting disappears. But once cooled it returns back to a soft caramel and cream center.