These Snickerdoodle Pumpkin Cream Cheese Blondies have a snickerdoodle blondie base with a pumpkin cream cheese swirl throughout.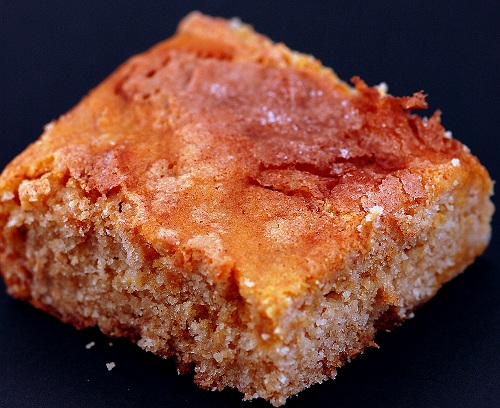 Why are some people so awesome and other people bring suck ass to a new level?
Seriously I just don't get it.
And what is even sadder is that it seems that the nice people always end up being trampled by the sucky people.
Sometimes I really believe no good deed goes unpunished. 🙁
One of the nice people of the world, my mom, is down and out for a little bit as she recovers from her hernia surgery she had on Monday.
It got me thinking about her and her favorite thing from my blog.
My mom is who I get my love of all things snickerdoodles from.
She loves and makes often my snickerdoodle blondies from back in 2009.
So I thought I would remake them with a twist into Snickerdoodle Pumpkin Cream Cheese Blondies.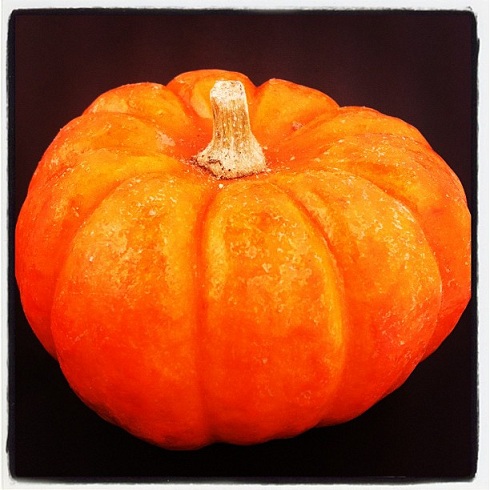 We had a very fall day around here, I'm not sure we got out of the 50's and we had lots of rain.
It screamed bake something and so I did.
And since I promised few people I would be doing a lot of pumpkin recipes on the blog I decided to throw in some pumpkin to these babies.
Good stuff.
They weren't meant to swirl as I knew the batter is just too thick, but I wanted the cream cheese mixture to be somewhat separate.
So just do your best to swirl it around.
I had to get a spatula and kind of reshape them, but you know what, who cares, these were yummy!
The idea came from my ever popular time suck Pinterest.
Seriously I love that site.
It's all the outfits, vacations, jewelry, etc I can never afford.
But the food, the food I can make.
Feel free to pin any of my stuff I will extra love you if you do. 😀
Quick healing to you mom…and if you live in my mom's town, make these for her and bring them to her please.
P.S. It's a great day to buy my cookbook Holy Sweet!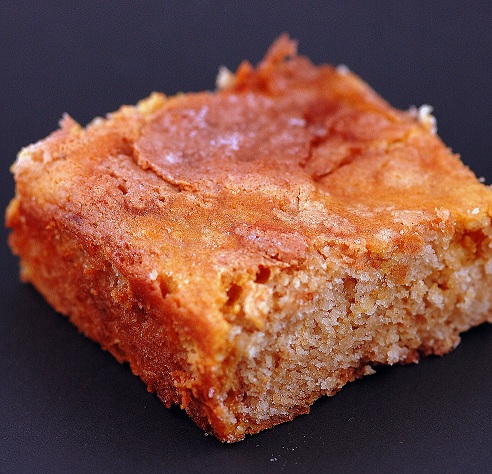 Want more Bar recipes?
Strawberry Lemonade Lemon Bars
Chocolate Chunk Churro Cookie Bars
Butterscotch Walnut Meringue Bars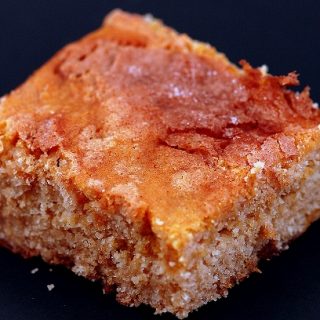 Snickerdoodle Pumpkin Cream Cheese Blondies
Ingredients
For the Snickerdoodle Blondie:
8 ounces (two sticks) unsalted butter, at room temperature
1 cup granulated sugar
1 cup loosely packed light brown sugar
3 ounces Mascarpone cheese, at room temperature
2 eggs
1 tsp. vanilla extract
½ tsp. baking powder
1 tsp. baking soda
Pinch of salt
¾ tsp. cream of tarter
¼ tsp. freshly grated nutmeg
2 cups all-purpose flour
Cinnamon Sugar for coating (about 1/3 cup)
For the Pumpkin Cream Cheese Filling:
8 ounces cream cheese, at room temperature
½ cup solid packed pumpkin
½ tsp. pumpkin pie spice
½ tsp. vanilla extract
1 egg
2 TBSP flour
½ cup granulated sugar
Instructions
Preheat oven to 350F.
Butter a 9 by 13-inch pan. Sprinkle cinnamon sugar and move pan around to make sure that the bottom and sides are coated. Set aside.
In a medium bowl, sift together the flour, baking powder, baking soda, salt, nutmeg, and cream of tartar.
Using a stand mixer, cream together the butter and sugars. Beat for three minutes. Scrape down the bowl.
Add the Mascarpone cheese and beat until fully incorporated.
Add eggs, one at a time, scraping down the bowl after each addition.
Add the vanilla and beat for another 30 seconds.
On low speed add the sifted flour mixture. Mix until fully incorporated.
Spread mixture evenly into prepared pan. This will be hard as it is a thick batter. I found it easiest to just wet my hands a little and press the batter into the pan. Then even it out afterwards with a spatula.
Using a clean bowl, cream together on medium high speed cream cheese and sugar until light and fluffy, about three minutes.
Add the pumpkin and beat another minute until fully incorporated.
Add vanilla and egg, and beat until incorporated.
Add pumpkin pie spice and flour and beat until incorporated.
Pour on top of snickerdoodle batter. The best you can swirl it around, they are very different consistencies and so this will be hard to do. Don't worry, you aren't trying to show the swirl, just get it in there. You might have to move some snickerdoodle batter back into place. Just press down with a spatula.
Sprinkle more cinnamon sugar on top of the batter.
Bake for 30-35 minutes, check your oven starting at around 25 minutes.
Remove from oven and let cool on a wire rack for 5 minutes. Cut into squares and serve.