This Maple Bacon Monkey Bread is a salty sweet twist on classic monkey bread with a whole pound of bacon in it.
I'm not totally sure how it started but someone suggested I run for President.
I said no thanks that I had too many skeletons and it wasn't a very fun job anyway.
Then someone else piped up that I should just run for Congress then, as they are allowed to have skeletons. 🙂
We had some lovely slogans all centered around my joke that I stay larger so people can see me better. 😛
We had things like "there's more of me to love thanks to bacon" and "vote for Peabody I have more cushin' for pushin'".
That last one coming from my bff in California who hates overly skinny women. 🙂
To ensure I keep up with my figure to run for Congress I best figure out how to eat more bacon in my everyday life.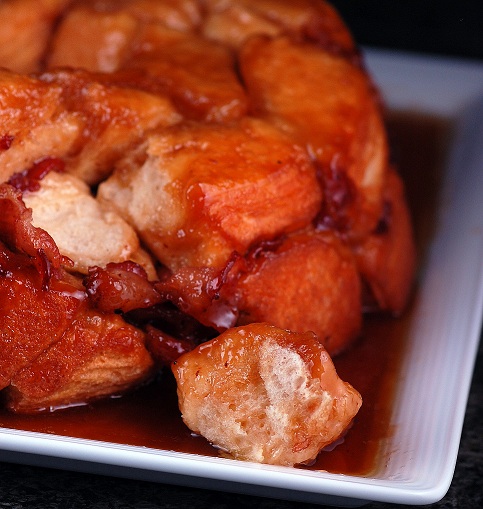 We were discussing on my Facebook page how restaurants and recipes don't call for enough bacon.
You will notice this Maple Bacon Monkey Bread recipe calls for a pound of bacon.
You can use more or less but I didn't want to skimp after we just had a discussion about it.
These are a diet killer in every way possible.
In the words of people I was sharing this with "why can't I stop eating this?".
The answer is because I'm evil.
And a genius.
And an evil genius.
Moderation doesn't really exist with these unless you eat this with a lot of people.
Then it becomes a death match to get the last pieces.
P.S. It's a great day to buy my cookbook Holy Sweet!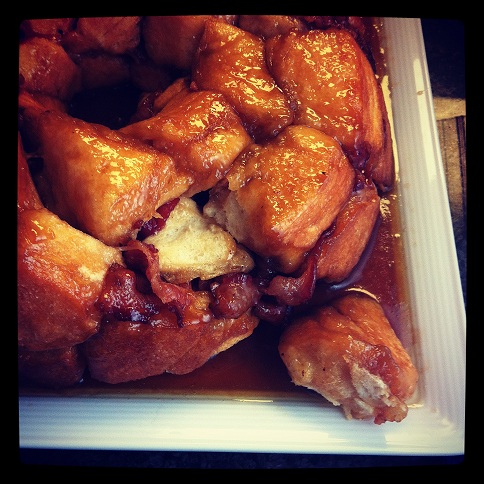 Want More Monkey Bread Recipes?
Pineapple Upside Down Cake Monkey Bread
Pumpkin Brioche Whisky Caramel Monkey Bread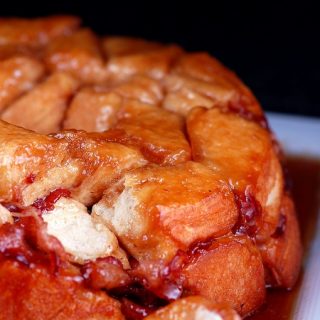 Maple Bacon Monkey Bread
Ingredients
About 1 cup brown sugar
2 cans (16.3 oz each) Pillsbury® Grands!® Homestyle refrigerated buttermilk biscuits (or any fridge biscuit)
About 1 ½ cups pure maple syrup
1 pound center cut bacon, fried, toweled for oil, and chopped into pieces
1 cup firmly packed brown sugar
3 TBSP maple syrup
3/4 cup salted butter, melted
Instructions
Heat oven to 350°F.
Lightly grease 12-cup fluted tube pan with cooking spray.
In a shallow bowl add 1 cup brown sugar (you might need more). In another shallow bowl, add maple syrup.
Separate dough into 16 biscuits; cut each into quarters.
Dip each piece into maple syrup and then into brown sugar.
Arrange in pan, adding bacon among the biscuit pieces.
In small bowl, mix brown sugar, 3 TBSP maple syrup, and butter; pour over biscuit pieces.
Bake 28 to 32 minutes or until golden brown and no longer doughy in center (this is hard to tell).
Cool in pan 10 minutes.
Turn upside down onto serving plate; pull apart to serve.
Serve warm.