This Pumpkin Brioche Whiskey Caramel Monkey Bread is made with pumpkin brioche mixed with a whiskey caramel sauce to make monkey bread.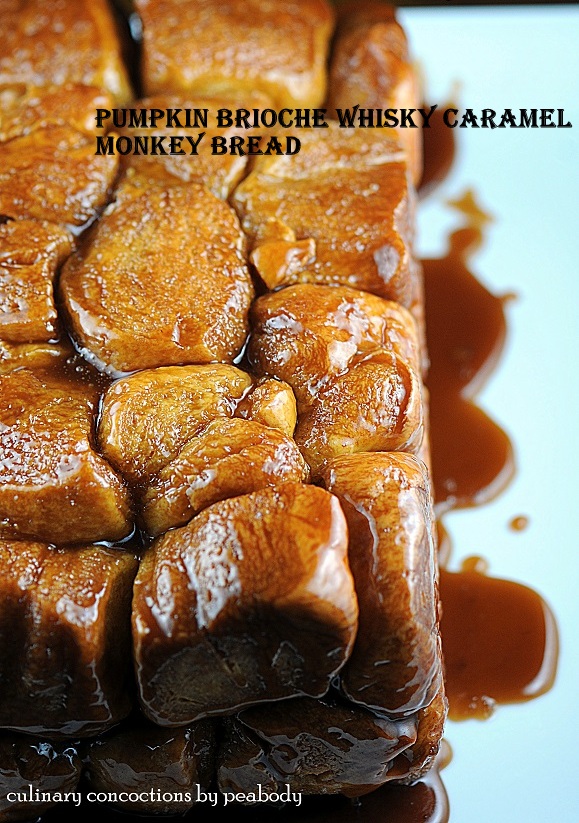 This Pumpkin Brioche Whiskey Caramel Monkey Bread is definitely a show stopper.
It's they type of dish you serve when you want to impress someone when hosting brunch.
However, the actual name monkey bread isn't all that appetizing.
Especially considering the fact that monkey bread gets its name because of monkeys.
More so what monkeys do.
Monkeys groom each other.
Which looks like they are picking things off of their buddy…because they are.
And so someone thought to name a breakfast treat after it.
Because you pull it apart like the monkey's groom.
So as you can see…it's a stupid choice to name it after that.
Yet, they did.
This particular monkey bread starts by making a pumpkin brioche.
Which is yummy all by itself.
But you ball up the dough instead.
Throw in some yummy whisky caramel glaze.
Bake it all up.
And get this pumpkin yummy magic.
P.S. It's a great day to buy my cookbook Holy Sweet!
Want More Monkey Bread Recipes?
Pineapple Upside Down Cake Monkey Bread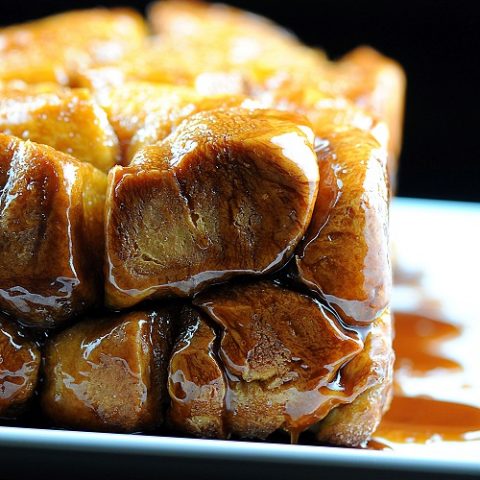 Pumpkin Brioche Whisky Caramel Monkey Bread
Ingredients
1/2 recipe Pumpkin Brioche
1 cup brown sugar
1/2 cup unsalted butter
2 TBSP honey
1 tsp. salt, divided
1 cup granulated sugar
2 TBSP Pumpkin Pie Spice
3 TBSP Whiskey
Pumpkin Brioche:
For the Sponge:
¼ cup whole milk, at room temperature
2 ½ tsp. active dry yeast
1 cup pumpkin puree
1/3 cup sugar
1 cup bread flour
For the Dough:
5 cups bread flour
2 tsp. salt
6 large eggs, lightly beaten
½ lb. (2 sticks) unsalted butter, softened
Instructions
For the Sponge:
Combine the milk and yeast in the bowl of a standing mixer fitted with a paddle attachment ans whisk until the yeast is dissolved. Let stand for 5 minutes, then stir in the pumpkin puree, sugar, and flour, forming a thick batter. Cover with plastic film and let rest in a warm environment until bubbles form, 30-40 minutes.
For the Dough:
Add the flour and salt to the sponge, then add the eggs. Mix on low speed for 2 minutes, or until the eggs are absorbed. Increase speed to medium and knead the dough for 5 minutes. The dough will begin to slap around. Hold on to the mixer when necessary.
On medium-low speed, add the butter, 2 TBSP at a time. Stop the mixer and scrape down the sides of the bowl occasionally.(Recipe did not say to, but I switched to the dough hook at this point). Knead until the dough is shiny and smooth, about 5 minutes. Scrape out the dough, wash and dry the bowl, and coat it lightly with oil.
Place dough in the oiled bowl and turn it so that the top is coated with oil. Cover with plastic film and let rise at room temperature until doubled in volume, about 2 hours.
After the dough has doubled in volume, press down to deflate, folding one half into the other. Cover with plastic film and refrigerate for at least 4 hours or overnight. This is the second rise.
Remove brioche dough (that has chilled overnight) from the fridge.
Divide evenly into 20 pieces.
Shape each piece into a ball and allow to proof on the bench for 1-2 hours in a warm place, covered loosely with plastic wrap.
Make the caramel:
Combine butter, honey, brown sugar, and 1/2 teaspoon salt in a small saucepan over medium heat.
Whisk the mixture as the butter melts completely.
Continue whisking until the sugar has melted and the caramel is homogenous. Remove from heat and add whiskey.
Grease a loaf pan with butter and pour about 1/3 of the caramel into the bottom.
Preheat the oven to 350F.
Once the dough has proofed (the pieces should feel light, like soft, fragile pillows filled with air), combine sugar, spice, and 1/2 tsp. salt in a large bowl.
Gently toss the balls of dough, a few at a time, in the sugar mixture.
Place 10 of them gently into the bottom of the prepared pan, taking care not to squeeze them too close together.
Sprinkle about 1/2 of the sugar mixture over the tops, then pour 1/3 of the caramel over them. Repeat to form a second layer of dough balls and top with any remaining sugar mixture and caramel.
Place the pan on the center rack of the preheated oven on a sheet tray to catch any overflowing caramel.
Bake for approximately 50 minutes, until the top crust is nicely browned, and a thermometer inserted in the center reads 210 degrees Fahrenheit.
Cool in the pan for 20 minutes, and invert only a plate to serve.
This bread is at its best if consumed shortly after baking, and may need to be placed in a 350°F oven for 10 minutes if it has cooled too much, to loosen the caramel.