This Pineapple Upside Down Cake Monkey Bread has all the flavors of the cake but now can be eaten as a breakfast treat.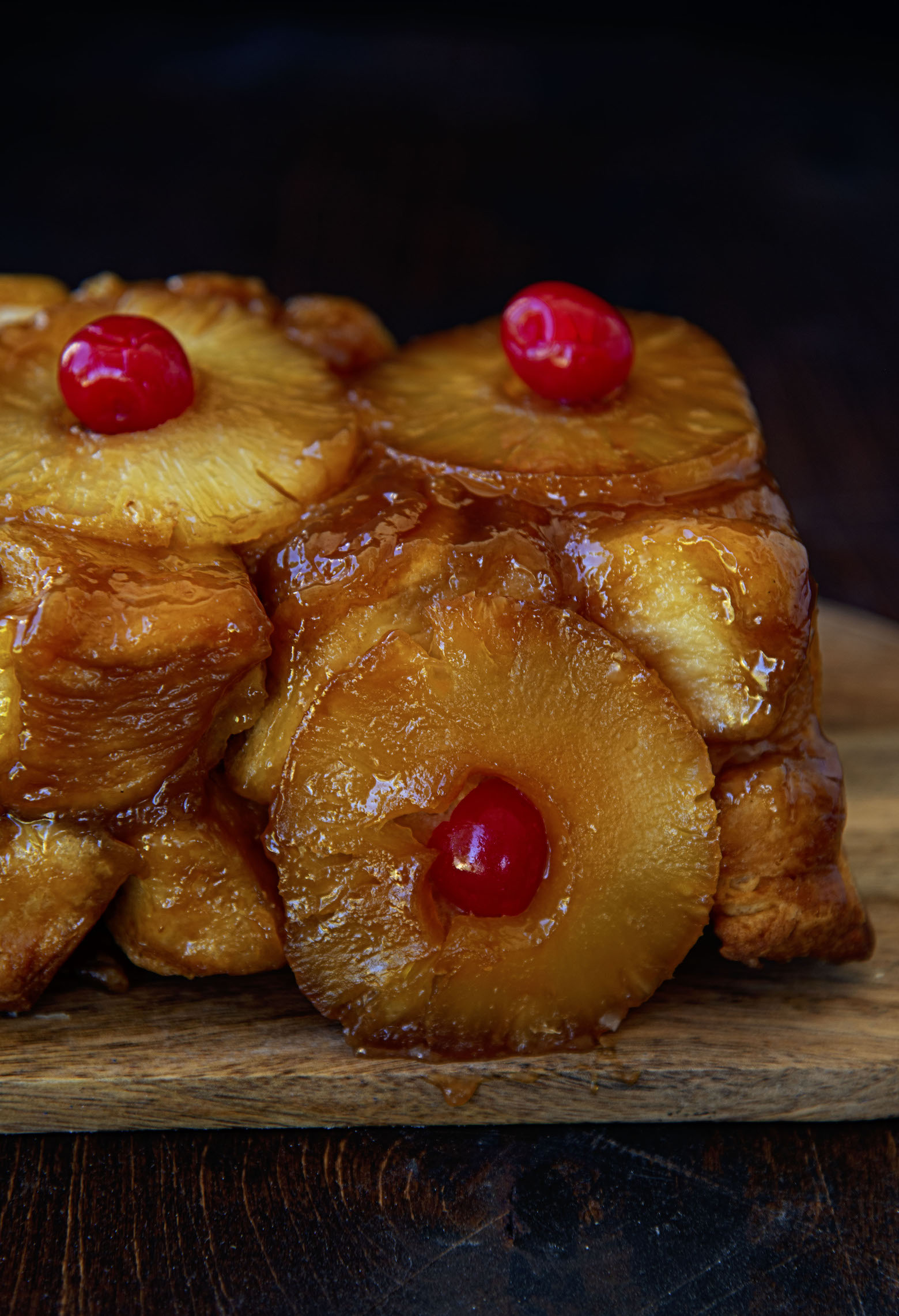 So you can probably tell by the pictures that this Pineapple Upside Down Cake Monkey Bread is pretty much the greatest breakfast treat of all time.
Or at least darn close.
Look at that caramelization.
I have been on a bit of a pineapple upside down cake kick as of late.
And I don't see it going away anytime soon.
So prepare yourself. 🙂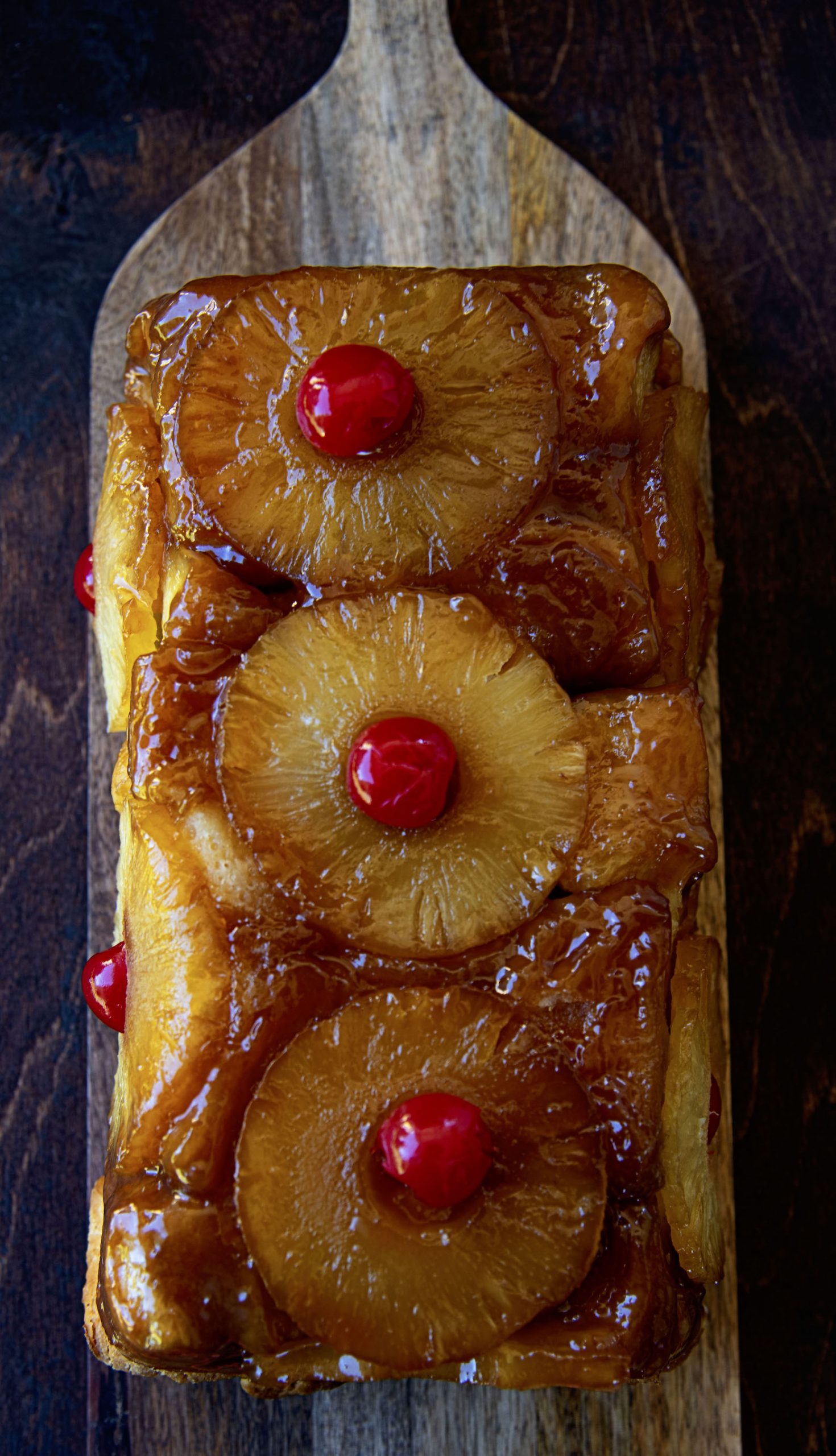 This is a pretty easy recipe actually.
Monkey bread is if you use canned biscuits.
I have made monkey bread from scratch and from biscuits and honestly both work great.
For this, I chose to make mine in a loaf.
Mostly for picture reasons.
If you go the loaf route know that you will only use one and a half cans of biscuits.
I mean, you can use them all, but you will have a major spill over.
And you don't want that.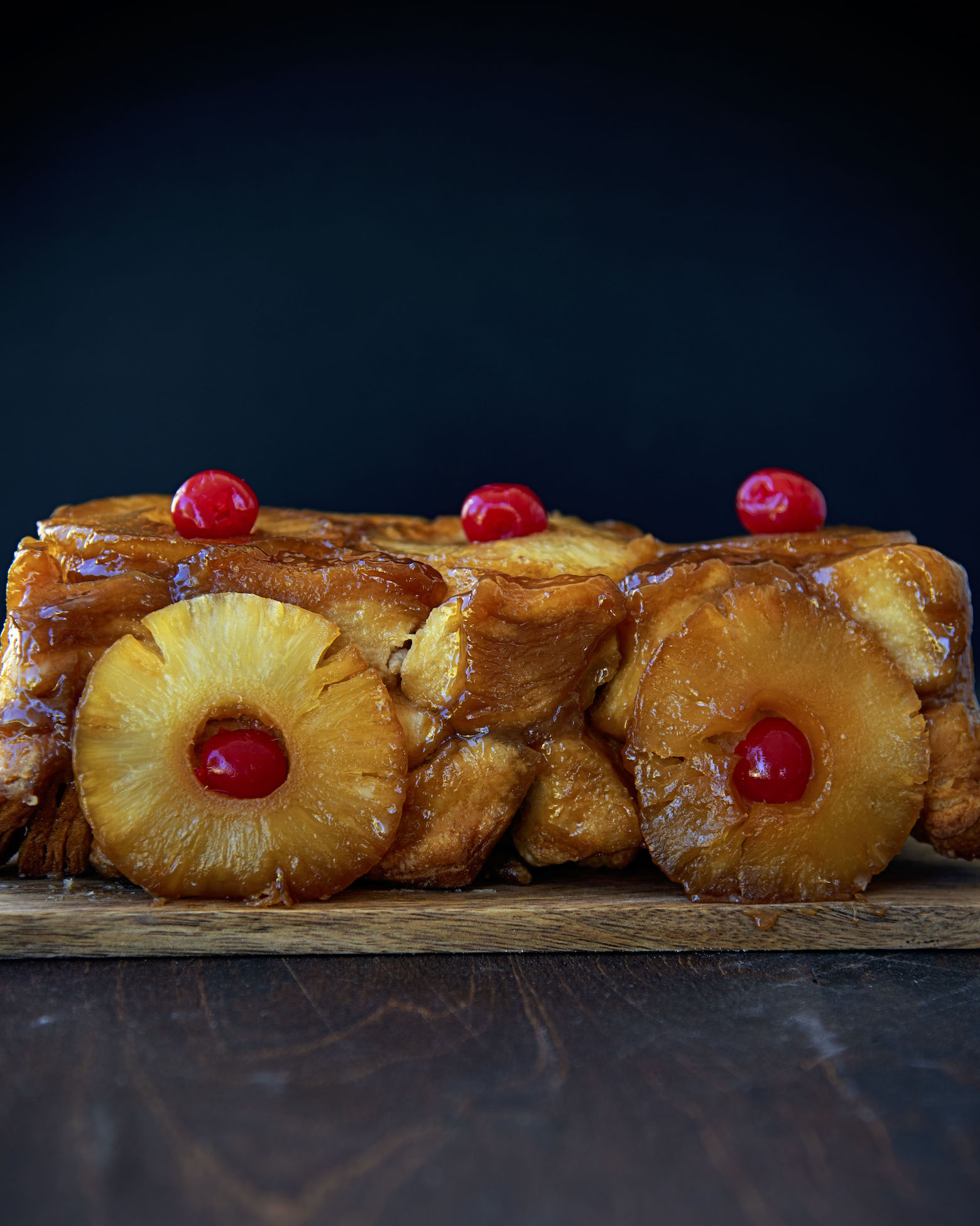 If you choose to use the Bundt pan you can use all the biscuits.
As for the extra biscuits you get if making the loaf, we just baked ours up separately and ate them with soup.
And if you end up using the Bundt pan you may want to use more pineapple rings and cherries on the side.
But again, that is up to you.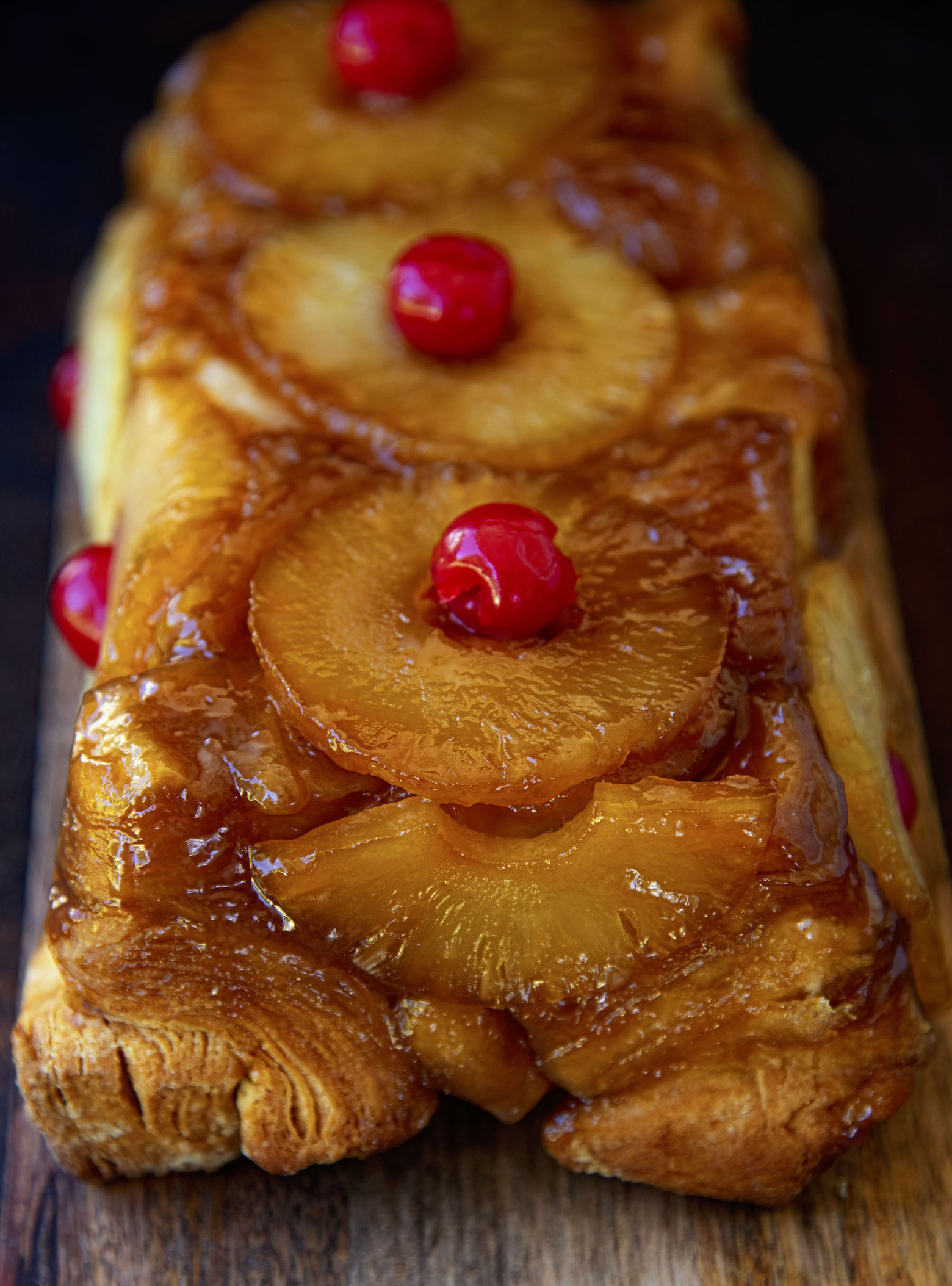 Traditional Monkey Bread has you dipping the biscuit pieces in brown sugar and cinnamon.
I have you dipping them in yellow cake mix.
It works out nicely as you get a hint of the cake flavor without overpowering the biscuits.
But I use the traditional sauce of butter and brown sugar.
Because that's what pineapple upside down cake uses too.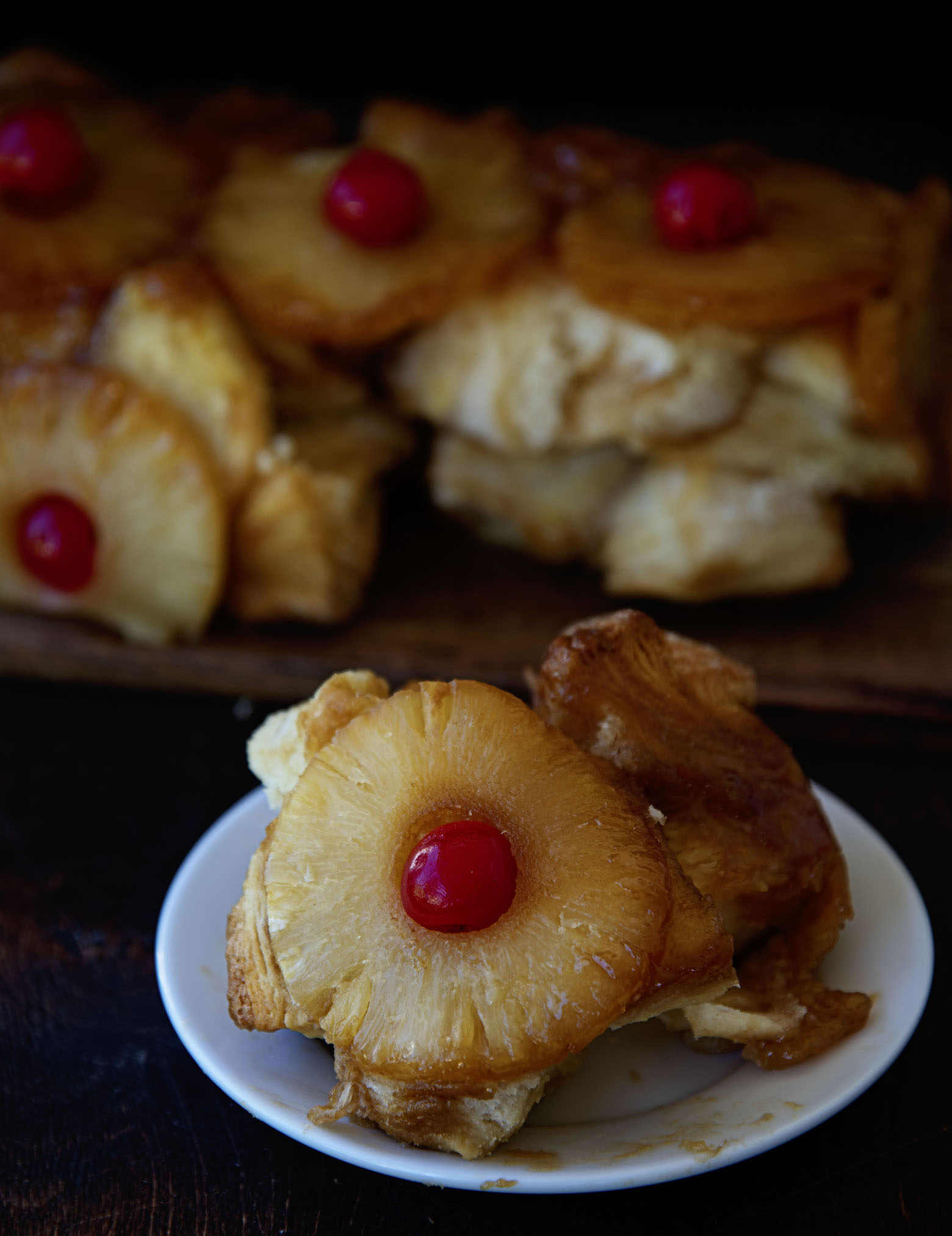 See, these two were meant to come together.
You end up with a lovely caramelized pineapple top and sides.
If it starts to get too brown on top you can top it with foil during the baking process.
I also like to bake mine with a pan underneath just in case there is spillage.
Which seems to happen with Monkey bread.
It's a great day to order my cookbook.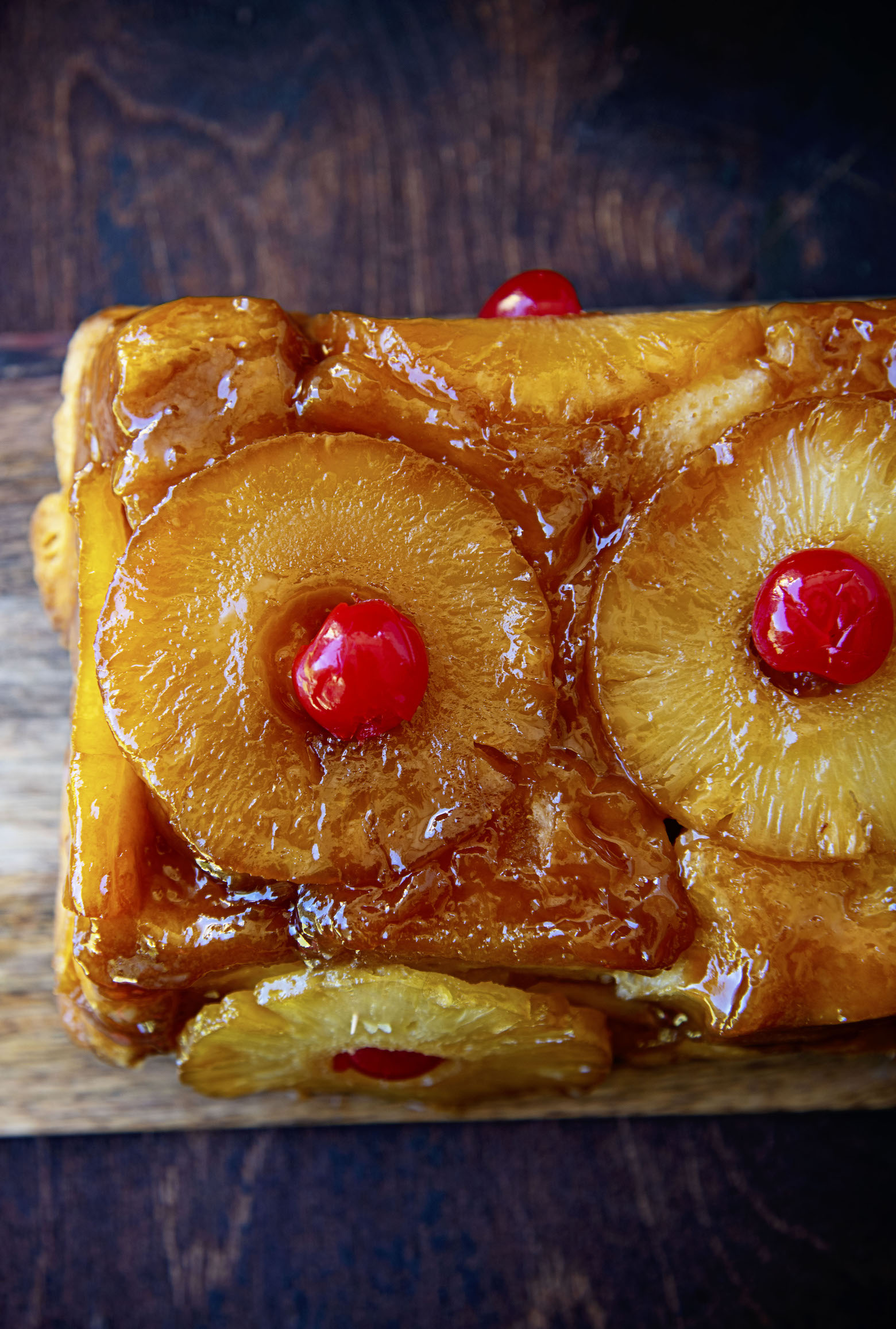 Want More Pineapple Upside Down Cake Recipes?
Pineapple Upside Down Jello Mold
Hawaiian Punch Pineapple Upside Down Cake
Pineapple Upside Down Sticky Buns
Yummy Pineapple Upside Down Cake Fudge
Pineapple Upside Down Cake Pudding Shots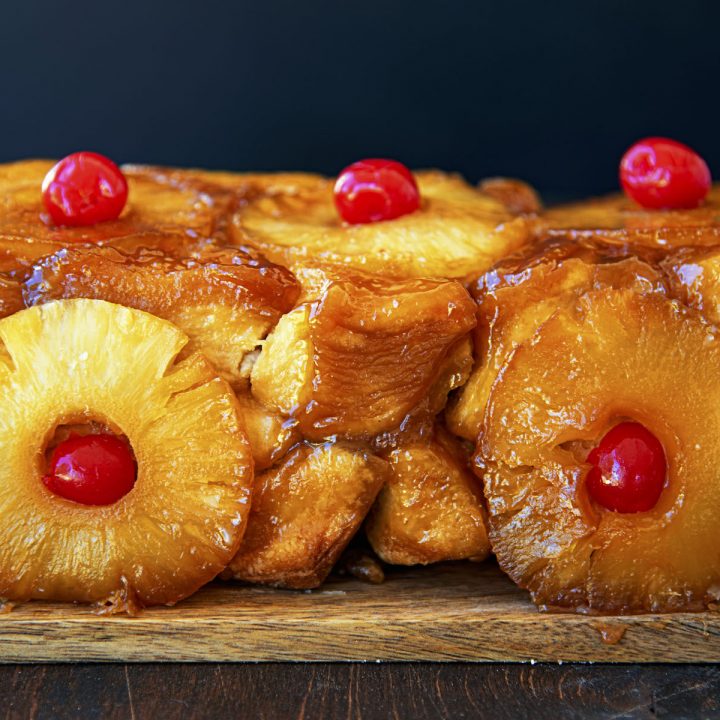 Pineapple Upside Down Cake Monkey Bread
Ingredients
8 pineapple rings
8 maraschino cherries (no stem)
3/4 cup yellow cake mix
2 cans (16.3 oz each) Pillsbury Grands Flaky Layer Biscuits (If using a loaf pan you will only use about 1 1/2 cans)
1 cup brown sugar, firmly packed
3/4 cup butter
Instructions
Preheat oven to 350°F.
Lightly grease 12-cup fluted tube pan or a large loaf pan with butter.
If using a loaf pan arrange three pineapple rings on top, two on each side, and a half on the end. Place a maraschino cherry in the center of each pineapple ring. If making in a Bundt you will get about 5 pineapple rings on the bottom and you can have the remaining rings and cherries on the side if desired.
In a large ziplock bag add the dry yellow cake mix.
Separate dough into 16 biscuits; cut each into quarters.
Dip each biscuit piece into the yellow cake mix making sure each side is covered in the mix.
Arrange 1/3 of the biscuits in pan.
In small bowl, mix brown sugar and butter. Pour one third of the brown sugar mixture over the biscuits.
Add another 1/3 of the biscuits and 1/3 of the brown sugar mix.
Add the remaining 1/3 biscuit pieces and add the last 1/3 of brown sugar mix.
Bake 35-45 minutes or until golden brown and no longer doughy in center.
Loosen edges of pan with metal spatula or knife.
Cool in pan 5 minutes.
Turn upside down onto serving plate; replacing any biscuit pieces and caramel from pan.