This S'mores Cheesecake has a graham cracker crust, milk chocolate cheesecake filling, and is topped with a toasted fluffy marshmallow meringue.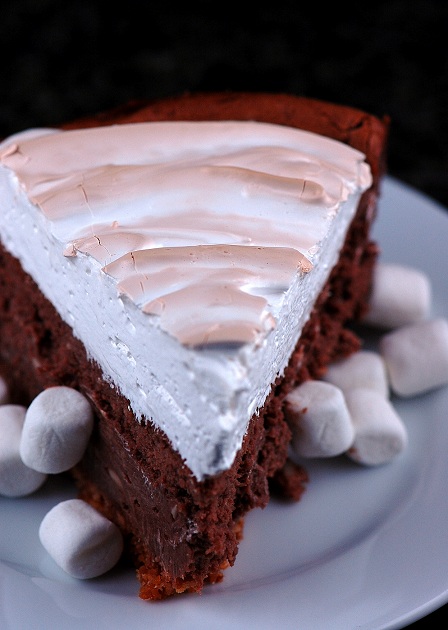 First off Groundhog Day is tomorrow! I'm hoping for 6 more weeks of Winter…with snow. 🙂
It's February…ahhhhh.
Slow down time, slow down.
Crazy Cocker Spaniel gained four pounds in 2 months.
She is on a diet.
And she is very, very pissed off about that.
It leads her to eat any and all things she finds on the floor.
Mmmm lint, the breakfast of champions.
I should not drink a Red Bull at midnight and expect not to be wide awake at 4am.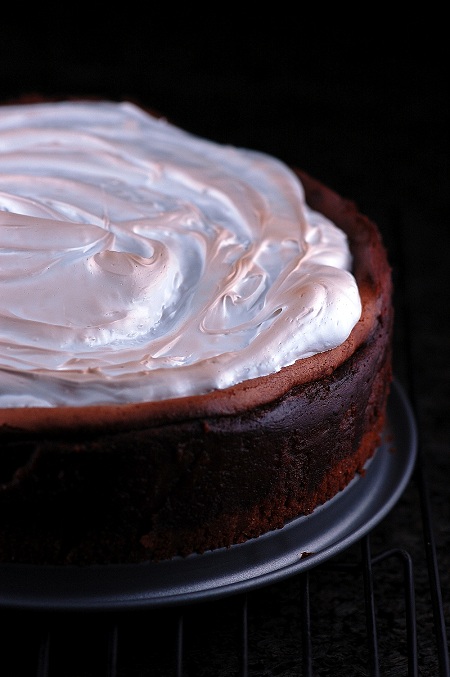 I went to an old stomping ground for one of my favorite treats…deep fried tater tots.
They still had those but changed the whole menu (not for the better) and now served the tots with this very gross Organic Ketchup.
No, no, no.
Deep fried food deserves high fructose corn syrup!
Highly upsetting and apparently if I ever go back I must bring my own condiments now.
I won $8 in the lottery.
My time is coming I feel it.
It's amazing when you clean and organize things how many missing things get found. 😀
And lastly Happy Birthday to my BFF!!!
That's his birthday cheesecake there.
It's an S'mores Cheesecake that I found in my Bon Appetit file a while back and have just been holding on to it as it does take a little effort.
But for someone's birthday you should probably put in a little effort.
It's not so much hard as it is just multi steps and you need to plan ahead.
Last but not least…it's a great time to order my cookbook. 😀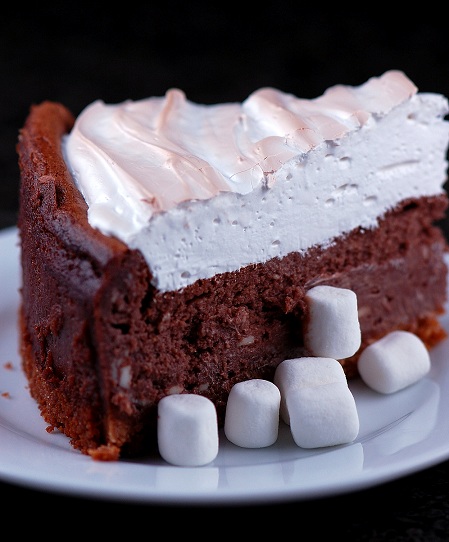 Want More Cheesecake Recipes?
Cinnamon Roll Caramel Apple Cheesecake
Pumpkin Salted Caramel Swirl Cheesecake
Caramel Apple Toffee Cheesecake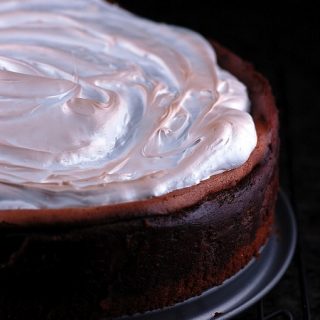 S'mores Cheesecake
Ingredients
For the Crust:
1 1/2 cups graham cracker crumbs (about 9-10 whole crackers)
3 tablespoons sugar
6 tablespoons unsalted butter, melted
For the Filling:
9 oz milk chocolate, chopped
2 8-oz packages cream cheese, at room temperature
3/4 cup sugar
1/8 teaspoon salt
3/4 cup heavy cream, at room temperature
3 large egg, at room temperature
For the Topping:
1 cup sugar
2 large egg whites
3 tablespoons water
1 teaspoon cream of tartar
1/8 teaspoon salt
12 large marshmallows, cut into quarters with wet kitchen scissors
1/2 teaspoon vanilla extract
Instructions
To make the crust:
Preheat oven to 350 F. Spray a 9-inch springform pan with nonstick cooking spray.
In a medium bowl, stir together the graham cracker crumbs and sugar.
Pour the melted butter over the mixture and stir until the crumbs are evenly moistened.
Press into an even layer in the bottom of the prepared springform pan.
Bake for 12 minutes, or until set.
Transfer the pan to a wire rack and cool to room temperature.
Reduce oven temperature to 325 F.
To make the filling:
Add the chocolate to a microwave-safe bowl and heat in 30 second intervals at 50% power, stirring in between each interval, until the chocolate is melted and smooth. Cool until just barely lukewarm, stirring occasionally.
Combine the cream cheese, sugar, and salt in the bowl of your food processor and pulse until smooth.
With the machine running, pour the heavy cream through feed tube and process just until blended.
Again, with the machine running, add the melted chocolate and then the eggs, one at a time, blending and scraping down the sides of the bowl after each addition until the mixture is smooth.
Pour the batter over the cooled crust.
Bake for about 55 minutes, or until the outer edge is slightly puffed and the center is barely set (the center will jiggle slightly when the pan is gently shaken). Transfer the pan to a wire rack. Run a small sharp knife around the cake to loosen it from the pan.
Let cool slightly then refrigerate for at least 8 hours. (I left mine uncovered in the fridge until it was cold, then used plastic wrap to cover the pan.)
To make the topping:
In a large metal bowl (I used the bowl for my stand mixer), combine the sugar, egg whites, water, cream of tartar and salt.
Set the bowl over a pan of simmering water and whisk constantly until the sugar dissolves and the mixture feels hot to the touch, about 3 minutes. Remove the bowl from the pan and add the marshmallows; let stand for a few minutes until the marshmallows soften.
Place the bowl back over the pan of simmering water and beat the topping with a hand mixer for 4-5 minutes, or until stiff, shiny peaks form. Beat in the vanilla.
Let the topping cool just slightly (don't wait too long or it'll set and you won't be able to spread it).
Meanwhile, remove the sides of the pan from the cheesecake.
Transfer the topping onto the cheesecake; use a spatula to spread it to the edges.
Let stand for about 15 minutes, or until set. Use a kitchen torch to toast the topping lightly. (You could also do this under your broiler but keep a VERY close eye on it, it'll go from brown to burnt quickly.)
Transfer the cheesecake to the fridge and chill well before serving.