Since I cannot for the life of me come up with a blog post here is a little review of 2011:
1. What did you do in 2011 that you had never done before? Had teenagers living with me every other weekend.
2. Did you keep your New Year's resolutions, and will you make more for next year? No I did not keep mine. Every year I set a goal to gain 16 pounds. I stayed the same this year. Next year's resolution is to gain 16 pounds.
3. What would you like to have in 2012 that you lacked in 2011? Financial stability
4. What's your biggest achievement of the year? Winning the Better Homes and Gardens Home Farm Challenge
5. What was your biggest failure? When I accidently added a ¼ cup of salt to a pie when I wasn't paying attention. Luckily it was just for me and not others to eat.
6. Did you suffer illness or injury? My white cells thought it would be cool to eat my red cells. Fractured toe. Pinched nerve.
7. What was the best thing you bought? I think we all know that was my new Kitchen Aid!
8. Whose behavior deserves merit? My BFF J. Good solid guy who sadly gets the short end of the stick all too often because he is too nice and people take advantage of that.
9. Whose behavior made you appalled and disgusted? Anyone who is close to me knows this answer. It's the person I am modeling my life to be the exact opposite of.
10. Where did most of your money go? Food, shelter, bills
11. What did you get really, really excited about? Winning the BHG contest, my mixer, my 13 cup Food Processor, and my pink Hello Kitty Vans.
12. Compared to this time last year are you?
a)happier or sadder? happier
b)fatter or thinner? The exact same weight amazingly…to the ounce
c)richer or poorer? Poorer
13. What do you wish you had done more of? Hung out with friends
14. What do you wish you had done less of? Waste time trying to deal rationally with and irrational person
15. What was your favorite TV program: The Big Bang Theory hands down.
16. What did you want and get? The mixer was pretty sweet. 🙂
17. What did you not want and not get? A silver necklace and an injury free year
18, What was your favorite film this year? Bad Teacher
19. What did you do on your birthday and how old were you? I played in a one day hockey tournament…age 39. Which means you know what this year is.
20. What kept you sane? Hockey and Cake Flavored Vodka. 🙂
21. Which celebrity/public figure did you fancy the most? Ryan Reynolds still looks good shirtless. 🙂
22. Who was the best new person you met? Not the best new person I met, because I knew of her but I became super close with a food blogger friend.
23. Tell us a valuable life lesson you learned in 2011. That you cannot reason with irrational people who think there way is the only way.
There you go…a little introspective. Hope 2012 is being kind to you. If not make your rain into rainbow…cupcakes that is. 😀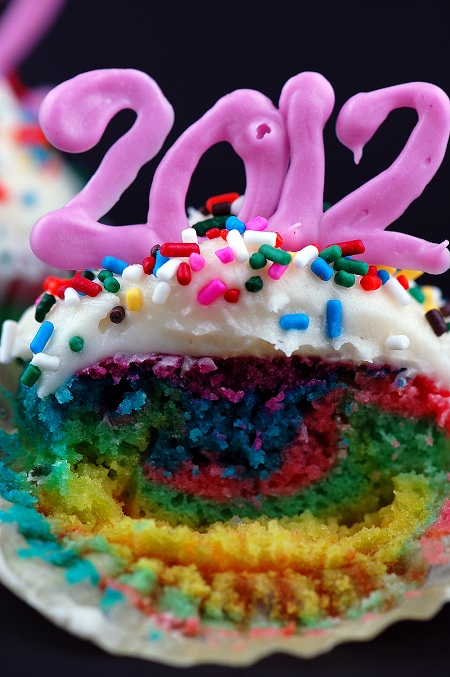 New Year's Rainbow Cupcakes
3 cups cake flour, (not self-rising)
1 1/2 cups all-purpose flour
3/4 teaspoon baking soda
2 1/4 teaspoons baking powder
1 1/2 teaspoons coarse salt
1 cup plus 2 tablespoons (2 1/4 sticks) unsalted butter, room temperature
2 1/4 cups sugar
5 large whole eggs plus 3 egg yolks, room temperature
2 cups buttermilk, room temperature
2 teaspoons pure vanilla extract
Preheat oven to 350 degrees. Line standard muffin tins with paper liners. Sift together both flours, baking soda, baking powder, and salt.
With an electric mixer on medium-high speed, cream butter and sugar until pale and fluffy. Reduce speed to medium. Add whole eggs, one at a time, beating until each is incorporated, scraping down sides of bowl as needed. Add yolks, and beat until thoroughly combined. Reduce speed to low. Add flour mixture in three batches, alternating with two additions of buttermilk, and beating until combined after each. Beat in vanilla.
Divide batter out evenly in a bowl for every color you want. I did 5 colors so I needed 5 bowls. Add food coloring to each bowl. Start with whatever color you want and start layering very thinly, as you want the finished cupcake to only be three-quarters full. Bake, rotating tins halfway through, until cupcakes spring back when lightly touched and a cake tester inserted in centers comes out clean, about 20 minutes. Transfer tins to wire racks to cool 10 minutes; turn out cupcakes onto racks and let cool completely.
From Martha Stewart.com
Cream Cheese Buttercream Frosting
14 TBSP unsalted butter, at room temperature
4 ounces cream cheese, at room temperature
1 tsp. vanilla extract.
3-4 cups powdered sugar
Milk to thin
Using a stand mixer with paddle attachment, cream together butter, cream cheese, and sugar for three minutes on medium-high speed.
Add vanilla and beat another minute.
Add the powdered sugar on cup at a time until desired consistency is reached.
Top with sprinkles and 2012 chocolate signs.
To make the 2012 just melt white candy melts and add a food coloring of your choice. Pipe them out on wax paper and set in freezer for a few.