This Pina Colada Tiramisu has a coconut rum mascarpone filling, fresh pineapple, pineapple juice, and lady fingers.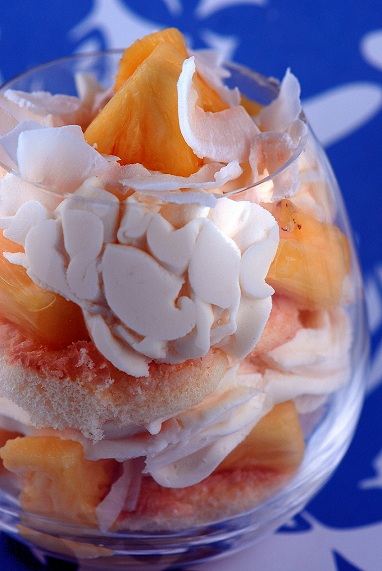 Several people keep asking me what I have bought with the prize money and are sad to hear the answer of nothing.
"Nothing? That's no fun".
I explain to them that I didn't have the check yet and therefore there was no reason to go buy anything yet, if at all.
"Oh but you are going to get the money so just put it on credit card?"
Because again, until a check is in my hand and cleared through the bank I don't even have it.
I won a food photography contest way back at the end of July.
They contacted me and told me I won.
And had me fill out paperwork, get it notarized and back to them.
Had me give a picture and write a little paragraph.
Told me great, you should get your prize in 7-10 days.
It's going on mid-September now without my prize in site.
Now that is not to say this will be the case with BHG/Triscuit as they have been nothing but a dream to work with.
I'm just saying I don't have it yet.
My former friend C applied for a job (she is former because of this story).
She told everyone she had aced the interview and that they all loved her.
Her friend worked for the company and told her the same thing as well, though this friend was not even in the interview with her.
She was told she would hear back from them in a week.
Before she heard back she went and bought herself a new wardrobe for the job and traded in her car for a newer car and a new payment to match her soon to be better salary.
She didn't get the job.
She freaked out.
The clothing all got returned, but the car and the payment she was now stuck with.
Luckily her boyfriend had talked her out of giving notice at her then current job or else she would have been out of a job as well.
We are former friends because of the fact that she just would go on and on about poor me.
How they told her she did so well and she was a shoo-in and how crazy it was that she didn't get the job and she now couldn't afford her car.
She didn't like my answer back, which of course was that it was crazy for her to go buy stuff on money she didn't have yet.
Needless to say she was less than nice to me ever again.
Oh well.
When the money comes I am doing the very boring putting it away for a rainy day.
I see a few up ahead possibly and it's nice to have a little in the bank.
I know most people were hoping I would buy from the Sur la Table catalog…ah, that would have been nice.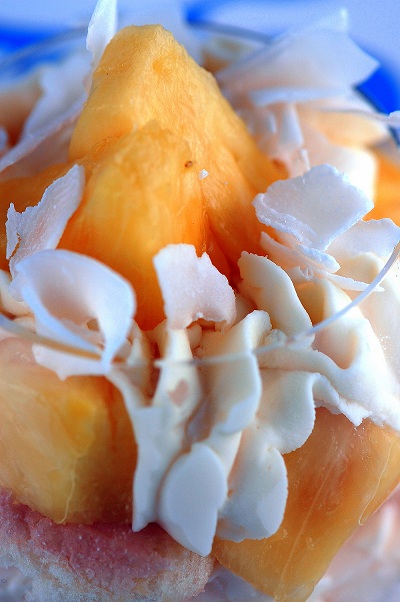 But nope, I'm going the conservative route.
Though I'm sure I will spend a little of it on a celebrator drink or two.
While my celebrator drink will probably be a beer but I wasn't in the mood for beer this week.
Well, not the type of beer I drink.
This week has been hot and that is more of a Corona kind of week…and I don't do beer like that.
So instead I went the pina colada route.
Pina Colada Tiramisu.
Which would have been fine other than the fact that to this day I still have the song stuck in my head…and you will too now.
This is a take on Tiramisu…though the pick me up isn't coffee, it's rum. 😛
Feel free to omit the rum if you are going family friendly.
Also feel free to add more rum if you would like. 🙂
The best thing about this dessert is that it is no bake. It may be September but there is a heat wave over here…well heat wave for us.
P.S. It's a great day to buy my cookbook Holy Sweet!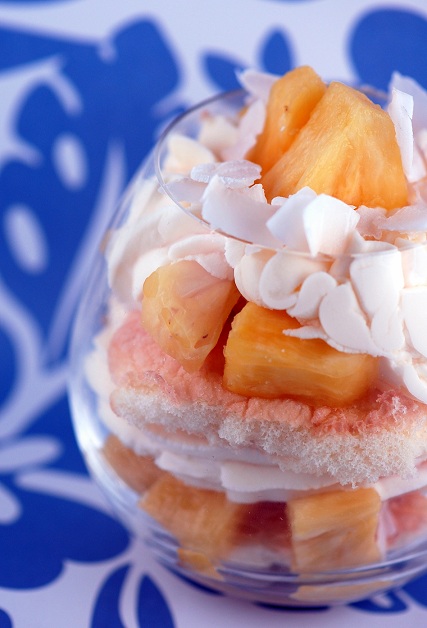 Want More Recipes Like This?
Coconut Mocha Tiramisu Cupcakes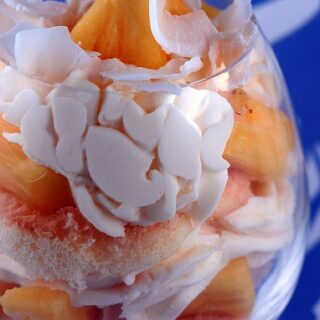 Pina Colada Tiramisu
Yield:
Makes 10 servings.
Ingredients
For the Coconut Rum Filling:
3 cups heavy whipping cream
8 ounces Mascarpone cheese, at room temperature
1 cup powdered sugar
3 TBSP Malibu Rum (it's got coconut flavor to it)
½ cup unsweetened shredded coconut
For the Tiramisu:
3 4.40-ounce packages Champagne biscuits (or lady fingers)
5 TBSP pineapple juice
2 cups fresh pineapple, chopped to whatever size you want
Extra coconut for garnish
Instructions
Use an 8-x-8-inch pan.
Using an electric mixer, whip the cream until stiff peaks form.
In a mixing bowl, fold 2/3′s of the whipped cream into the Mascarpone cheese, along with the powdered sugar, and rum.
Blend until cream is fully incorporated.
Fold in coconut.
Lay the lady fingers at the bottom of dish.
Brush lady fingers with pineapple juice.
Spread 1/3 of the cheese mixture over the lady fingers.
Scatter 1/3 cup fresh pineapple and coconut (if using) on top of the cheese mixture.
Repeat the procedure until all of the lady fingers and cheese mixture are used.
Spread the reserved whip cream over the top of the tiramisu.
Allow the cake to set, about an hour.
Garnish with fresh pineapple.
To make Parfait style:
Break up 4-5 lady fingers.
Put about 5 pieces at the bottom of a clear glass of your choice.
Brush with juice.
Add pineapple and coconut.
Pipe in Mascarpone filling.
Repeat layering till you hit the top of your glass.