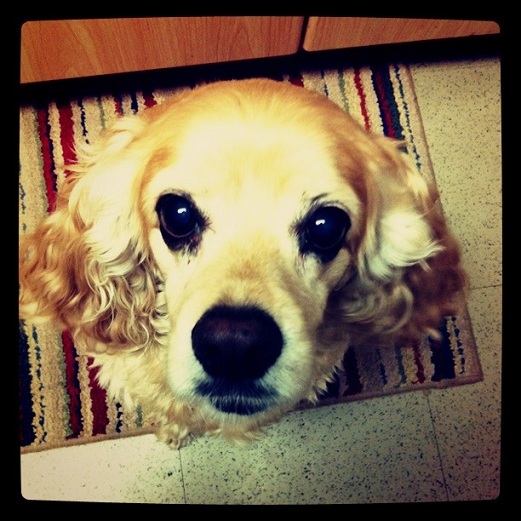 His name was Butter. He was half pit bull and half Shar Pei and was literally the color of butter. He was a docile dog that you could mold around in your lap like a rag doll and could be moved around in any direction you wanted. He was even a therapy dog at one point and we had the paperwork from his elderly owner who had to go into nursing care. It was love. But at the time that I was volunteering at the no kill shelter I lived in a one bedroom apartment and felt that having a dog wouldn't be a good fit. I did however foster all the bunnies, iguanas, chinchillas, rats, etc. that came our way…I was like Ace Ventura minus the talking out of my butt kind of thing. 😛
But week after week Butter was still there. Other than the fact that he was half pit bull I did not understand why no one wanted him. And each week he slowly chipped at my heart. So I decided that if no one took him that day, then the next week he would be mine.
My shift ended at 2pm and I got a call from the woman in charge of the dogs said that Butter had been adopted right after I left. And my heart sank just a little. She said are you sure you don't want a dog? I said I will tell you what "you find me a female, buff colored cocker spaniel under the age of one that doesn't come from a traumatic experience and I'll take her." In my 7 years volunteering we had never had a pure breed cocker spaniel so I thought nothing of it.
Two weeks later, there she was… Crazy Cocker Spaniel. She put on quite the act. All calm, docile, the I am scared please take me home act. Her owner had had a stroke and could not keep care of her, she was buff in color, and she was 5 months old. I thought to myself, damn, I'm taking a dog home today. I owned nothing. I had no leases or dishes or food and hardly any money to do so. The dog cost me $34, the going rate for volunteers. Luckily her owner was a millionaire (literally) and left a large box that came with food, toys, everything needed.
I had wished so hard for that other dog that wasn't meant to be. And he wasn't meant to be because my very loyal, lovable, afraid of shower curtains, used Q-tip eating, tissue shredding cocker spaniel was who was meant for me. I bring this all up because my ex-husband is now volunteering at a shelter. He, like me had found a dog that spoke to him. And had decided that if no one took the dog, he was going for it. The dog's owner came and found him right about the time the picky eater had decided he truly wanted him. I know my ex is happy that the owner found him yet bummed all the same. This post is for him. To give him hope to know that just wasn't the dog for him. Even if he thought it was.
It so true with so many things in life. We are so sure something is the perfect job, only to get it and find out it isn't. Or the perfect boyfriend/girlfriend that you secretly hoped liked you back and it never worked out. Or the house you wanted so badly but didn't get. There is a reason everyone I swear. Just look into the CCS eyes and tell me you disagree.