These Snickerdoodle Cheesecake Bars have a cookie bottom layer, topped with creamy cheesecake, studded with snickerdoodle cookies.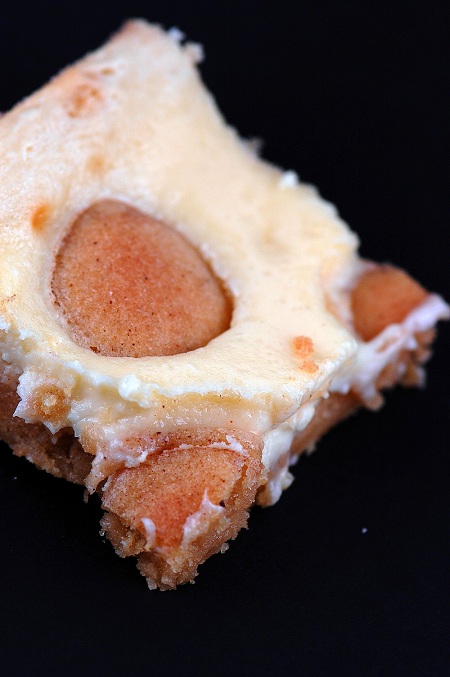 Lately I have had a few friends with teenagers wanting to kill them.
I usually advise not to kill them, but to simply injure them instead.
Far less jail time, and hey, you never know your kid might grow up into someone you eventually can tolerate.
If you are insisting on the hurting your teenager route, might I suggest that you turn to the government to help.
Idea number one is to promise your child a trip to wherever they have wanted to go (within reason of course) then before you get on through TSA, be sure to plant something on your child.
Point out that you fear said teenager has something on them.
They get a roughing up and you miss your flight.
Double bonus for you.
Or idea number two, tell them your teenager might be a terrorist.
He'll get a little talking to that might be what you are looking for.
When they find out he is not and come after you, claim you thought Farmville was code for something else.
Playing dumb is the way to go. 😛
I, of course, recommend neither of those ideas but do fully endorse messing with your teenager.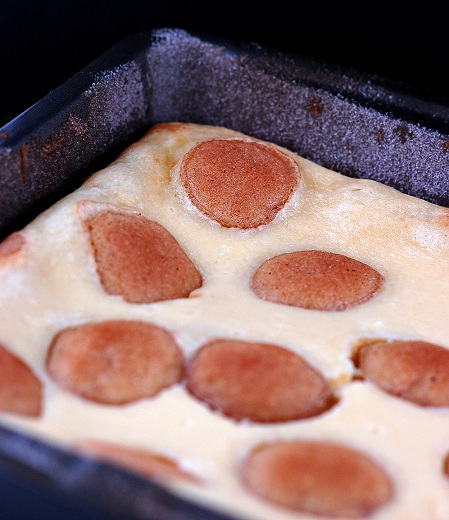 Whenever I would have an 8th grader who was doing their best to make my life and classroom less than pleasant, they would get the Ms. G. special.
This usually started with me eating lunch next to you.
They had to sit at tables and there was nothing they could do about me coming and joining them.
Then follow them around all lunch recess.
Doing things like complimenting their outfit usually along the lines of "great shoes, I am pretty sure my dad owns those, glad to see they are back in style".
This usually only takes a couple of days.
They will ask you to stop doing that and you in return reply that when they stop being a jerk in class, then I stop being their new BFF.
Works like a charm as their alone time with their friends is their favorite.
Then there is the make a fresh batch of whatever their favorite cookie/dessert is and then in front of them give it away to the neighbors.
When they whine tell them that the neighbors are nice to you and they are not.
When they are nice, they get rewarded with treats….just like my dog. 😛
My Snickerdoodle Cheesecake Bars would be a great one to torture your teenager with.
Snickerdoodle cookie bottom topped with cheesecake filling and extra cookie drops.
Yummy, yummy for my tummy.
If your kids aren't of teenager years yet, get ready.
Hormones will often make your once great child into something you want to chuck a water bottle at.
Just remember though, the great child is still in there…it's just being held ransom by a teenager for a while. 😀
P.S. It's a great day to buy my cookbook.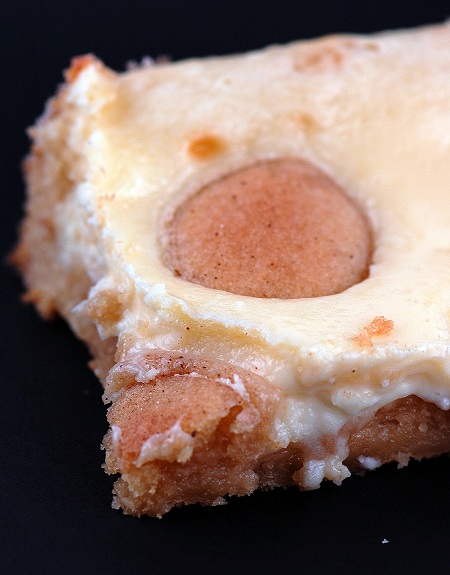 Want More Cheesecake Recipes?
Sugar Cookie Cheesecake Cheeseball
Sprinkle Sugar Cookie Cheesecake Bars
Cinnamon Roll Caramel Apple Cheesecake
Caramel Apple Toffee Cheesecake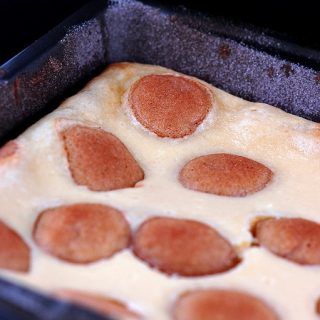 Snickerdoodle Cheesecake Bars
Ingredients
For the Base Layer:
½ cup unsalted butter, at room temperature
¾ cup granulated sugar
1 egg
1 1/3 cup all-purpose flour
½ tsp. baking soda
Pinch of salt
1 tsp. cream of tartar
¼ tsp. fresh ground nutmeg (optional)
For the cinnamon sugar:
2 tsp. cinnamon
¼ cup granulated sugar
For the cheesecake layer:
8 ounces cream cheese, at room temperature
½ cup granulated sugar
1 egg
½ tsp. vanilla extract
2 tsp. all-purpose flour
Instructions
Preheat oven to 350F.
For the cinnamon sugar: Mix in a bowl until cinnamon is fully incorporated into sugar.
Butter an 8-x-8-inch baking pan.
Use 1/8 cup of cinnamon sugar, place at the bottom of the pan, then rotate the pan around so that the cinnamon sugar sticks to where the butter is.
Whatever cinnamon sugar is left, put aside.
Using a stand mixer with a paddle attachment, cream the butter and sugar until light and fluffy, about 3 minutes.
Add egg and beat until fully incorporated.
Scrape down bowl and beat for another 30 seconds.
Add dry ingredients and mix until fully incorporated.
Divide cookie dough so that ¾ of the dough goes into the bottom of the pan, the remaining ¼ will go on top.
Place the remaining ¼ dough into another bowl and clean out the mixing bowl to use for cheesecake.
Press the cookie dough into the pan to make an even bottom layer.
Sprinkle with the remaining cinnamon sugar from when you prepared the pan.
For the Cheesecake Layer:
Using the stand mixer, beat cream cheese and sugar on medium-high speed until light and fluffy, about 3 minutes.
Add the egg and vanilla, and beat until fully incorporated and smooth.
Add flour and beat until fully incorporated and smooth.
Pour cheesecake batter on top of cookie dough in prepared pan.
Take the remaining cookie dough and roll into small balls.
Roll them in the remaining cinnamon sugar and place them randomly on top of the cheesecake batter but make sure they are not touching.
Bake for 25-30 minutes.
Remove from oven and let cool on a wire rack to room temperature.
Then put in fridge for 1 hour.