This Orange Honey Ricotta Cheesecake has a creamy honey orange ricotta filling all on top of a spicy gingersnap crust.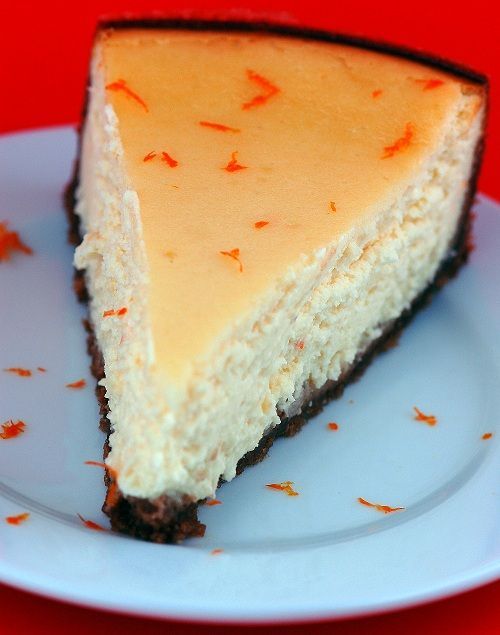 Try as college might, there is no real prep for teaching, until well, you teach.
I think this is true for most jobs, but really you just can't plan for things.
Who knew I would ever have to deal with a kid stabbing another kid with a protractor and peeing on him.
No, this didn't happen on my watch, I just had to be the one to deal with it.
Or how about turning on the lights after watching a movie only to find some 8th grade boys mouth on some 8th grade girl's breast?
Again, not on my watch…but that became legend at our school and the reason why we always watched movies with at least one light on.
And I got to choose who you sat next to.
Or how about a parent/teacher conference where the mom is drunk and had no teeth, wearing purple spandex, 4-inch red heels, and a black lace see-through bra?
I know the bra was see-through because that was the only top she was wearing.
Oddly enough, the kid was not doing well in school.
But to her credit, she did show up to every conference.
Teaching can be a way more stressful job than anyone who isn't in the industry thinks.
Several of my friends commented that I should just be taking any sub job that comes my way.
For the record, I do not.
I pass on things like middle school shop class…can you say missing finger?
I passed on AP German.
All I could do is teach them how to make German Chocolate Cake.
Or perhaps discuss German beers (oh, wait).
I have come to learn that most people seem to have the theory that you go in and basically babysit.
How hard could that be, right?
Um, yeah no.
I won't sub any subject I can't actually get a job for.
As a substitute teacher I feel it is my job to accomplish what the regular classroom teacher was supposed to be teaching that day.
If I don't speak the language or know anything about American History…which for the record, I don't…boring.
Besides, if History repeats itself, I will just catch it this time around, eh?
I'm not going to do a very good job of teaching that class.
It's not fair to that teacher.
Nope, I am certified to teach Elementary Education (at least in this state), mathematics, and physical sciences and so that is what I stick with.
Kids know when you don't know the subject matter.
They smell it, just like fear.
And the minute that happens, they become sharks when blood hits the water.
Now, this clearly does not happen as much in the younger ages.
No, you are too busy trying to get them from underneath the table.
Get them to stop pulling their skirt up over their head.
Or my all-time little kid stumper…trying to get a 1st grader from sucking on a "sucker" he found in is older sister's purse.
You know that "sucker" as a tampon.
Ugh.
Good times, good times. 🙂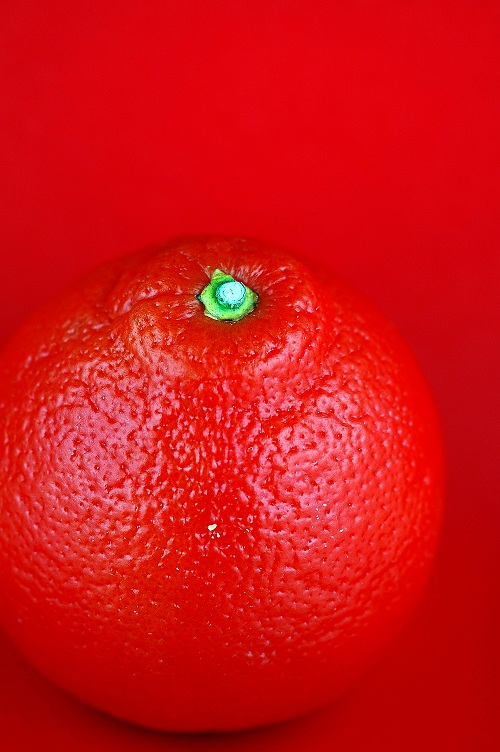 On days when the stress got a little much the other teachers in my junior high and I would simply say "vodka or cheesecake?"
Now if it were a weekend night, chances are vodka.
If you ever want an interesting dose of people watching, go find a bunch of teachers at happy hour on a payday Friday.
But if it were a weeknight, the chances were most likely cheesecake…well, food.
The other day that I realized that I had not made a cheesecake in forever.
I went back through the blog to prove that.
I figured with all my Rice Krispie Treats and Funfetti, perhaps I should try for a little more sophisticated dessert, you know to mix it up a little.
This here Orange Honey Ricotta Cheesecake is a version of my ricotta cheesecake that was actually published in a book.
This time around though it has a gingersnap crust and a honey-orange flavor.
Ricotta cheesecakes are lovely.
They are creamy but without being super, sit in your stomach like oatmeal heavy.
Which is sometimes nice.
Though every now and then I want the sit in your stomach cheesecake…or vodka? 😛
Last but not least…it's a great time to order my cookbook.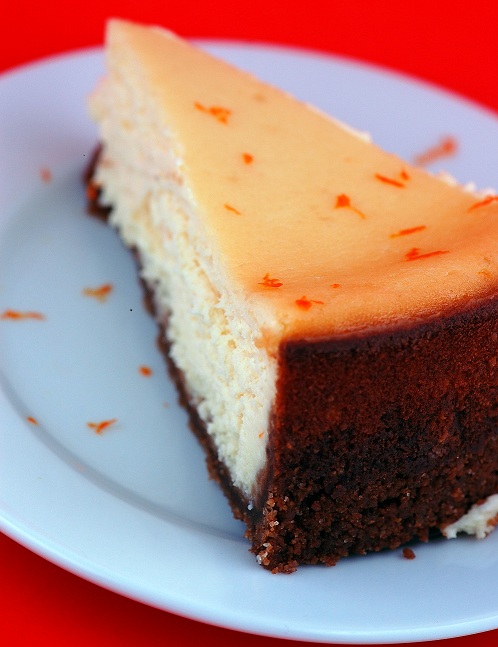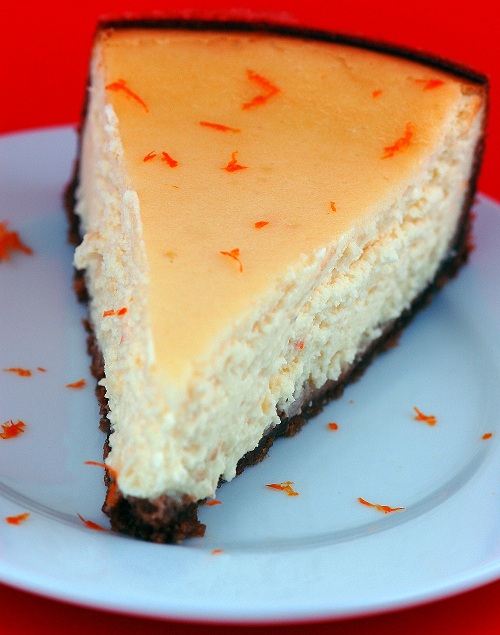 Want More Cheesecake Recipes?
Cinnamon Roll Caramel Apple Cheesecake
Pumpkin Salted Caramel Swirl Cheesecake
Caramel Apple Toffee Cheesecake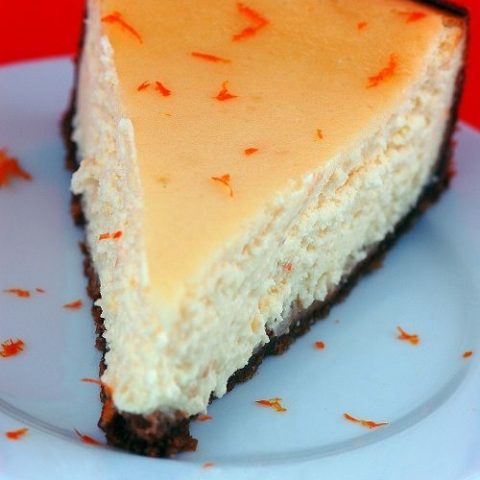 Orange Honey Ricotta Cheesecake
Ingredients
For the Crust:
2 cups crushed gingersnap cookies
¼ cup sugar
¼ cup melted butter
For the Cheesecake:
12 ounces cream cheese, at room temperature
16 ounces Ricotta cheese
1 3/4 cups sour cream (the full fat kind)
1 ½ cups granulated sugar
¼ cup orange juice
½ cup all-purpose flour
5 eggs
¼ cup honey
2 tsp. orange zest
1 TBSP vanilla extract
Instructions
For the Crust:
Combine ingredients in a food processor.
This makes for a thick crust. If you want less crust, half the recipe.
Press mixture down flat into a greased 10-inch springform pan.
Preheat oven to 350F.
Bake crust for 12 minutes. Set aside.
For the Cheesecake:
Reduce oven heat to 325F.
Cream the cheeses on medium speed until soft and blended.
Add the sugar and mix well, about 3 minutes.
Add the sour cream, honey, and orange juice and mix for another minute.
Reduce speed to low and add flour.
Add eggs one at a time, scraping down the bowl after each addition.
Add zest and vanilla extract.
Pour batter into prepared pan.
Bake in a water bath for 1 hour and 15 minutes.
Check cheesecake after one hour.
When cake is removed from oven, remove it from water bath. Let cool on a wire rack for 20 minutes.
Then refrigerate for at least 4 hours, overnight works best.