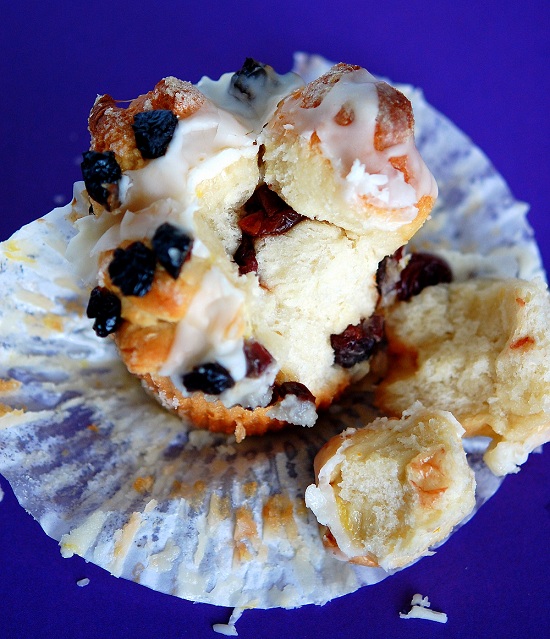 Often I read other bloggers after losing someone in their life talk about the fact that their blog was like therapy. And though I did not lose someone in the form of death, it is still a loss. And as you can see through my major posting, the blog is in a sense like therapy to me. Though I have real life friends who are amazingly supportive, the support of my readers is also important to me.
I guess that is why in a way I have been working on trying to build more of a community of sorts on this blog. I will never be a juggernaut (nor do I have the desire to be). I like being that off-beat blog that people come by and say hi, like I'm Norm from Cheers. 🙂 Which is why I have been pushing the Facebook Page as of late. It's purely therapeutic for me. I love interacting with my readers on a more personal level. I love discussing silly things like me getting excited about 3 boxes of unsalted butter for $5 (because really, who wouldn't!!!) or asking people what great food finds they have found as of late. Yes, I could do that on the blog, but it is really more instant there. Many people often comment that they wish they were my neighbor (though I know that is purely for the baked goods :P) but the Facebook Page is a really good way to interact, be my virtual neighbor (cue Mr. Rogers…though no weird puppets please and if you stop by I'm wearing sweats, not a sweater). Besides you can learn how really boring and mundane my life is. 😛
If you were my neighbor, I might have you over for breakfast. If you like to eat breakfast at 10-11am. Mornings aren't my thing. On days I sub, the getting up part is brutal, especially when one is score keeping hockey until 12:30 the night before. Anyway, if you were over for breakfast this week, you might actually be getting one of these beauties. I had several people sad that when I had a picture of the Panera Cobblestone that there wasn't a recipe. It's probably best I don't have that recipe. 🙂 So I figured I would come up with my own version of sorts. But instead of cinnamon and apples, I went with orange and dried cherry. Yeah, these were yummy as well.  You could easily use dried cranberries as well, but there is something about dried cherries that just make me happy, and well, they were in the cupboard.
I know there is yeast and that scares the crap out of some of you but really, give it a try. The most important thing for you to remember is to not add your yeast until your milk is the temperature it needs to be. If it is too hot, then your yeast goes flat…just like men's junk in a hot tub. 😉
Again, thanks for all your kind words and support as I go through this "growing" time in my life. It's simply making me a better person (or something like that 😛 ).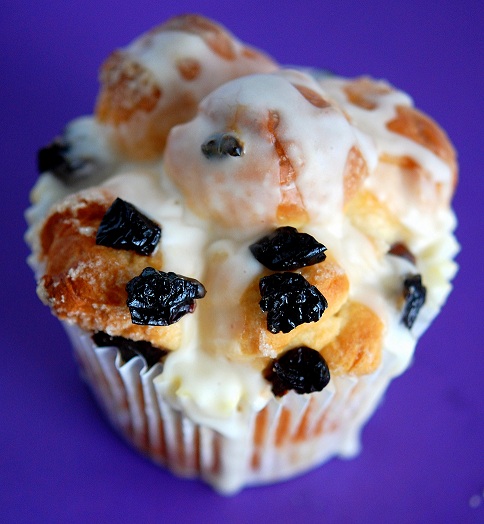 Orange-Dried Cherry Cobblestones (Rolls)
2 cups plus 3 TBSP milk
6 TBSP granulated sugar
2 tsp. salt
1/4 cup unsalted butter
1 egg, slightly beaten
2 1/2 tsp. active dry yeast
6 cups all-purpose flour
1 cup dried cherries
For orange sugar:
1 cup granulated sugar
Zest of two oranges
Place cupcake liners into large muffin (the oversized ones that only hold 6 muffins per pan).
Make the orange sugar. Rub the sugar and zest together in a small bowl. Set aside.
Place 2 cups of milk in a saucepan over medium heat and bring just to a boil.
Combine 6 TBSP of the sugar, the salt, and the butter in a large bowl, pour the hot milk over it, and let cool to 110-115F.
In a small bowl, mix together the egg and yeast.
Add to the cooled milk mixture, and mix well. Add the flour and mix until the dough is soft.
Transfer the dough to a well-floured board and knead until very smooth and elastic, about 5 minutes. Yes you can do this in your mixer with the dough hook, I did. If you use the hook, add about ¼ cup flour to the mix.
Place the dough in a large, well-greased bowl, cover with plastic wrap, and let rise until doubled in volume, about 1 hour.
Punch the dough down, place on a well-floured board, and roll it small balls, about the size of a ping pong balls. Roll the dough balls into the orange sugar and coat well. Place 5 balls into the bottom of the muffin cup. Sprinkle some cherries in there. Throw a few more dough balls, then more cherries, until you are about 2/3 of the way up. It will make about 9 of them. Cover with plastic wrap and let rise one more time, until doubled in volume, about 1 hour.
Preheat the oven to 350F.
When the rolls have risen, bake until golden brown, about 25-30 minutes (watch them…it's so hard to tell with my crappy apartment oven!) Let cool for about 5 minutes. While rolls are cooling, prepare the icing(recipe follows). Drizzle the icing over the orange rolls and serve warm.
Orange Glaze
2 medium oranges
2 cups powdered sugar
Combine the powdered sugar, and orange juice. Whisk to make sure all is incorporated.
Source: Adapted from Caprial's Desserts by Caprial Pence and Melissa Carey