These Chubby Hubby Cookies are a malted milk cookie with peanut butter filling, dipped in chocolate rolled in crushed peanut butter pretzels.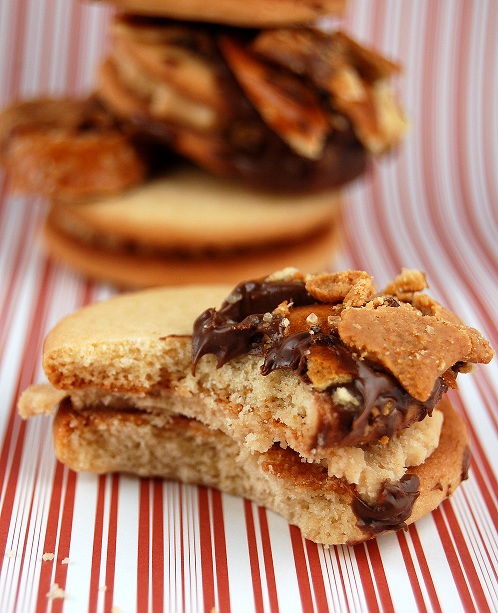 So most people know the number one thing people tell me is that I am an evil genius.
But the thing I am told the most by people is "You make the best Stoner food ever".
Of course, these statements are made from my stoner friends and teammates.
If you are saying wow, you are too old to have stoner friends, I think you might be surprised to find out how many people you know who are.
Now this is not a debate about me saying getting stoned is okay or not.
For the record, I don't get stoned.
Never have.
Now, drunk on the other hand. :D.
I digress.
Most of the time I am bringing weird Rice Krispy Treats, like Pumpkin Spice White Chocolate with Gingersnaps (those were good) to hockey.
Or brownies.
Or cookies.
The hockey team doesn't get elaborate baked goods as they do not travel well.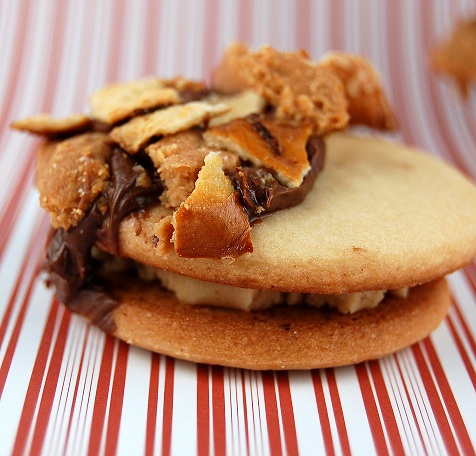 This week I pay homage to my favorite ice cream of all time…Chubby Hubby.
It's a Ben and Jerry's flavor…the ultimate stoners.
The flavor is malted vanilla ice cream, with ribbons of peanut butter, chocolate and pieces of chocolate covered peanut butter filled pretzels.
Makes for a chubby hubby…and wife.
So when I saw that the new Baked Cookbook had a malted milk cookie in it…I started thinking.
What would a stoner eat?
No, not really.
But it did get me thinking about the ice cream.
So that's how I came up with these Chubby Hubby Cookies.
Malted milk cookies with a peanut butter filling, dipped in chocolate, and then rolled in crushed up peanut butter filled pretzels.
The cookie dough alone is worth it.
I love the malt flavor in them.
And I actually plan on using in place of regular sugar cookies for Christmas Cookies this year.
I think it will go well with a nice vanilla buttercream frosting on top! Yum.
Reminder if you make them and you liked to get stoned…just make sure to bake them before you get stoned. 🙂
P.S. It's a great day to buy my cookbook Holy Sweet!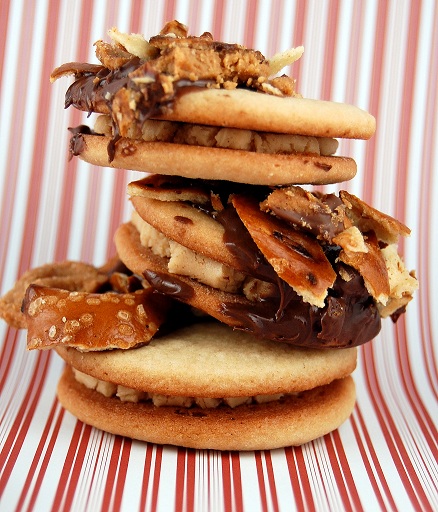 Want More Cookie Recipes?
Roll Out Shortbread Sugar Cookies
White Chocolate Chip Creamsicle Cookies
Vanilla Bean Caramel Thumbprint Cookies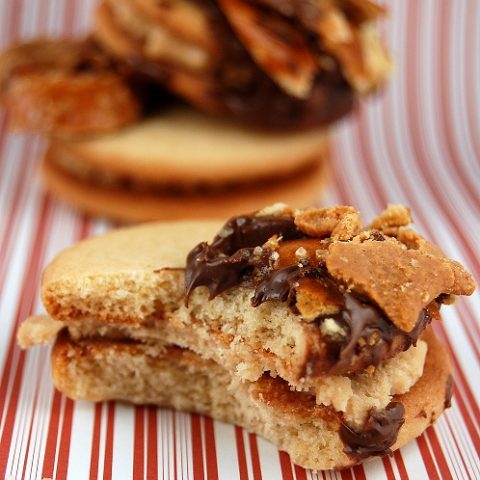 Chubby Hubby Cookies
Ingredients
What You Need:
One recipe Malted Milk Cookies
One recipe Peanut Butter Filling
One recipe Milk Chocolate Coating
12 ounces Peanut Butter Filled Pretzels, crushed, but still in decent size pieces
For the Malted Milk Cookies:
4 cups all-purpose flour
3/4 cup malted milk powder
2 teaspoons baking powder
1/2 teaspoon baking soda
1/2 teaspoon salt
2 sticks unsalted butter, at room temperature
1 cup firmly packed dark brown sugar
1 cup granulated sugar
2 eggs
1/2 cup sour cream
2 teaspoons vanilla extract
For the Peanut Butter Filling:
4 ounces vegetable shortening, at room temperature
3/4 cup natural peanut butter
3 1/4 cups powdered sugar, sifted
1/2 tsp. salt
1 tsp. vanilla extract
For the Milk Chocolate Coating:
12 ounces milk chocolate
2 TBSP vegetable oil
Instructions
For the Malted Milk Cookies:
In a large bowl, whisk together the flour, malt, baking powder, baking soda, and salt. Set aside.
In the bowl of a standing mixer fitted with the paddle attachment, beat the butter and sugars together until light and fluffy.
Scrape down the bowl and add the eggs, one at a time, beating until each is incorporated.
Add the sour cream and vanilla and beat until just incorporated.
Add half of the dry ingredients all at once and beat for 15 seconds.
Again, scrape down the bowl, then add the remaining dry ingredients and beat until just incorporated.
The mixture should come together almost in a ball. (This didn't happen for me, it stuck together when pressed, but not on its own.
)Loosely shape the dough into two balls, wrap them tightly in plastic wrap, and refrigerate for at least 3 hours or overnight.
Preheat the oven to 350 degrees F.
Line two baking sheets with parchment paper.
Divide each dough ball in half, to make four portions.
Place on portion on a lightly floured work surface and return the other three portions to the refrigerator.
Roll out the dough to about 1/4 inch thickness.
The dough will be sticky, so you may have to flip and lightly flour it a few times while you work.
Use a 2-inch round cookies cutter (or the top of a drinking glass if you're without one, I did) to create the sandwich tops and bottoms, transfer them to the prepared baking sheets, leaving about 1 inch of space around each cookie.
Extra dough scraps can be refrigerated and re-rolled, if desired.
Bake the cookies for 10-12 minutes or until they are slightly browned. (12 minutes for a crispy cookie, 9-10 minutes for a chewy one.)
Allow the cookies to cool on the pan for a few minutes before transferring to a wire rack to cool completely.
For the Peanut Butter Filling:
In the bowl of a stand mixer, beat the shortening and peanut butter until lump-free and smooth.
Add the sugar in three parts mixing after each addition.
Add the salt and vanilla and beat for 10 seconds.
The filling should be thick but spreadable. You can add a few drops of water here and there if it's too thick.
Using a small spoon or a 2-tablespoon cookie scoop, spoon the filling onto the flat side of one cookie.
Place another cookie, flat side down, on top and press down slightly so the filling spreads to the edges of the cookie.
For the Milk Chocolate Coating:
In a double boiler, combine chocolate and oil.
Stir until chocolate is smooth and dip-able.
Dip cookie into chocolate.
Immediately roll in crushed pretzels.