These Key Lime Pie Crinkle Cookies are a twist on a classic crinkle cookie with tart key lime and rolled in graham cracker powdered sugar.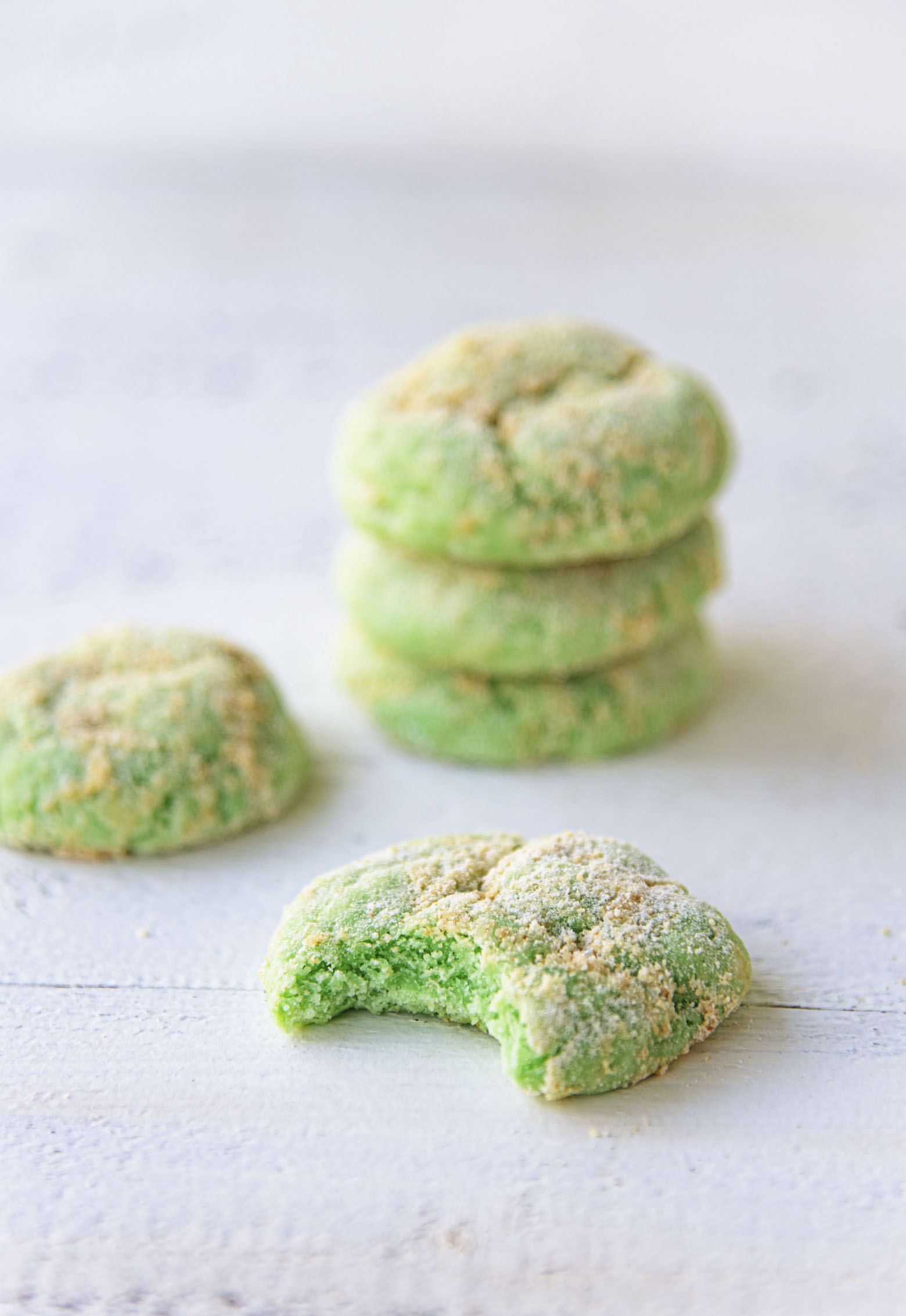 These Key Lime Pie Crinkle Cookies came about from a class I took back in January.
I use the word class loosely.
When I take baking classes it's rarely to learn the technique.
Not to sound snobby but at this point I already know how to make most things in the baking realm.
But what I do want to learn in the chef's process.
I'm always interested in how people form their ideas.
So I signed up for a chef/baker who a lot of people compare me too.
Her baked goods are based on nostalgia and she uses candy bars and what not.
So similar.
Now, I'm used to classes from places like William Sonoma that are live but I have taken classes where it's pre-recorded.
And while they are pre-recorded the person (or a person) pops into the chat rooms and answers questions and gives feedback.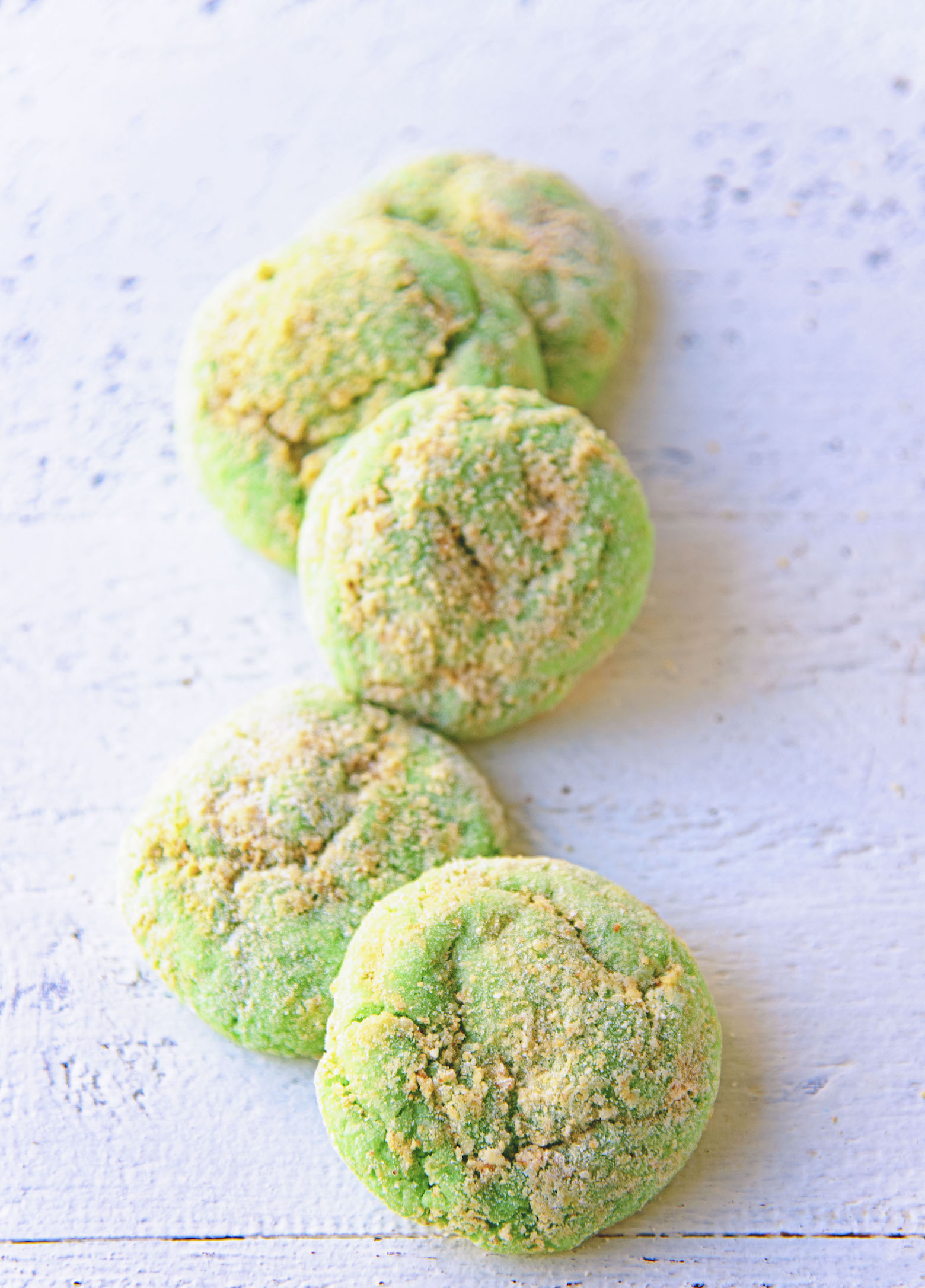 This class was pre-recorded.
Which fine, I get it.
But we then were put into peer groups which had mostly beginner bakers.
Which again, is fine.
Except no one came to answer people's questions.
It was up to the peers to do so.
That ended up being me and another guy who had baking experience.
And then it hit me….I paid a lot of money to be the one having to answer questions and figure out what went wrong with their baked goods.
So after the first week I stopped participating in the peer group.
Because I didn't have time.
The other issue was the teacher was WILDLY out of touch.
She did the class in her commercial size kitchen.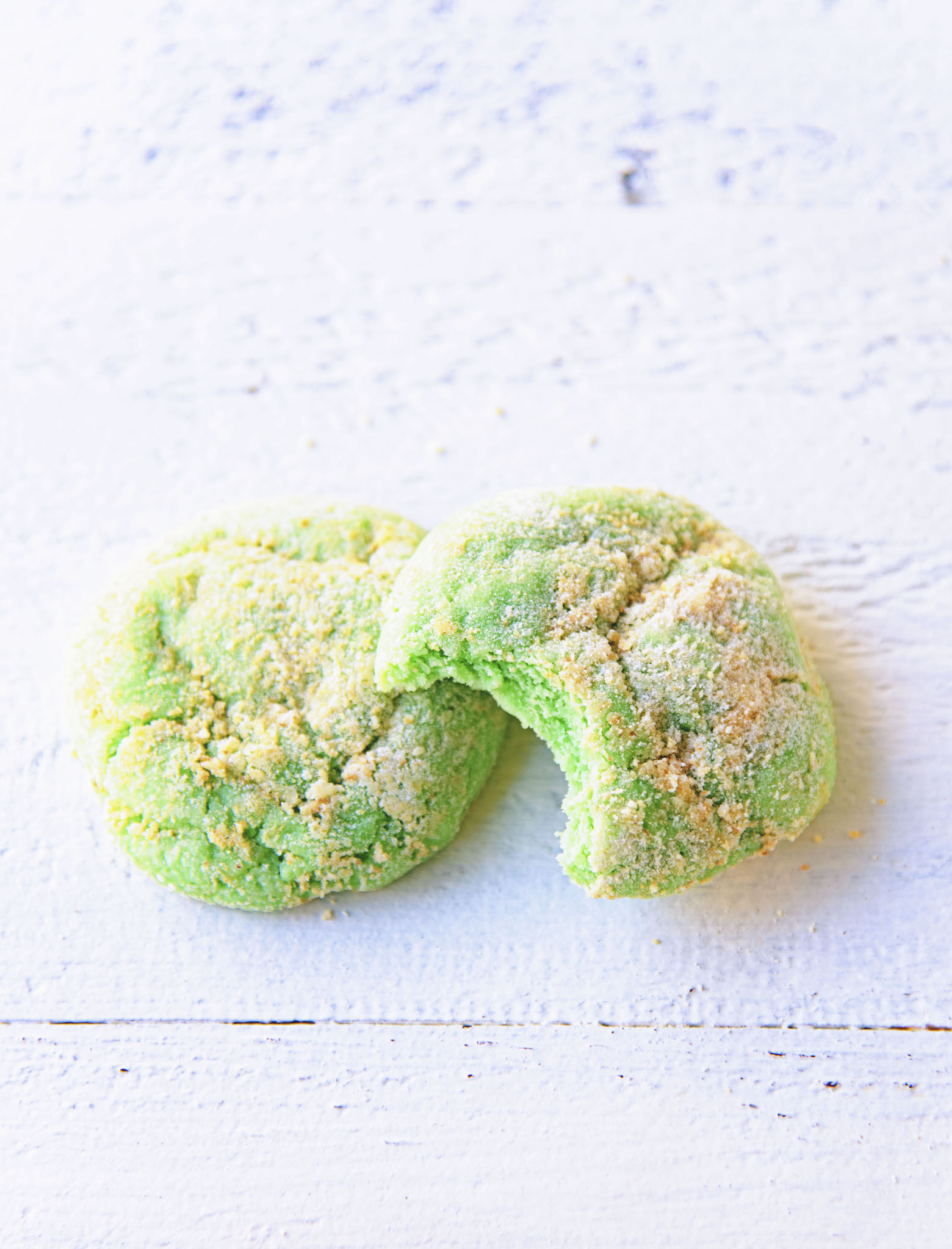 We spend 9 days on creating a cookie.
Which she wanted us to create 4 to 5 cookie dough bases and keep them in our fridges for days.
We also had to have about 30 different mix in options out on our counters as well.
My kitchen is 81 sq ft.
And I have zero counter space usually and my fridge is filled with you know…food.
While I didn't stay in the peer group I did do all the assignments.
One was creating a cookie.
I decided to go key lime since I love key lime everything.
Crinkle cookies sounded fun.
I use food coloring but you don't have to.
P.S. It's a great day to buy my cookbook Holy Sweet!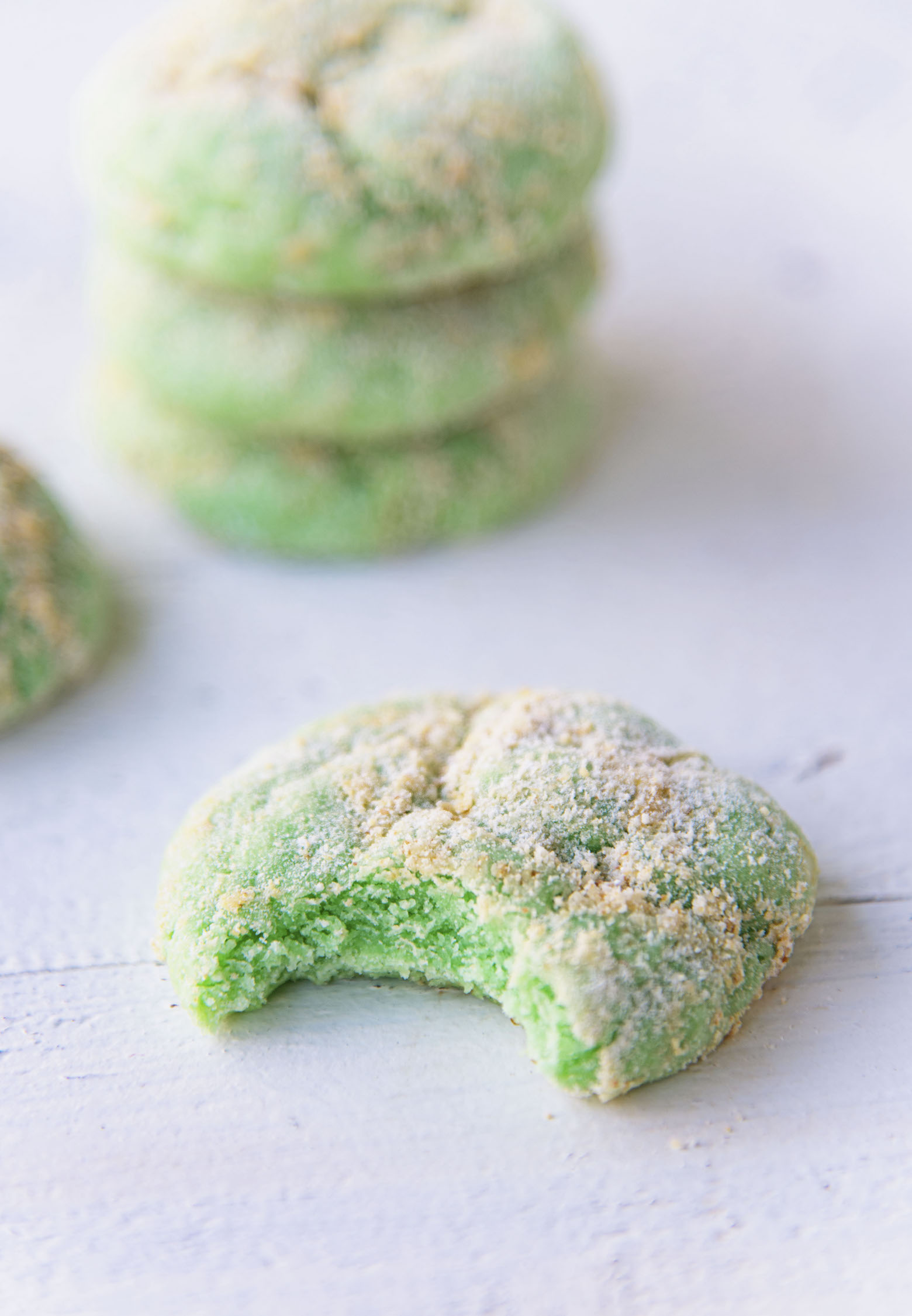 Want More Cookie Recipes?
Roll Out Shortbread Sugar Cookies
White Chocolate Chip Creamsicle Cookies
Vanilla Bean Caramel Thumbprint Cookies
White Chocolate Dried Pineapple Salted Macadamia Nut Cookie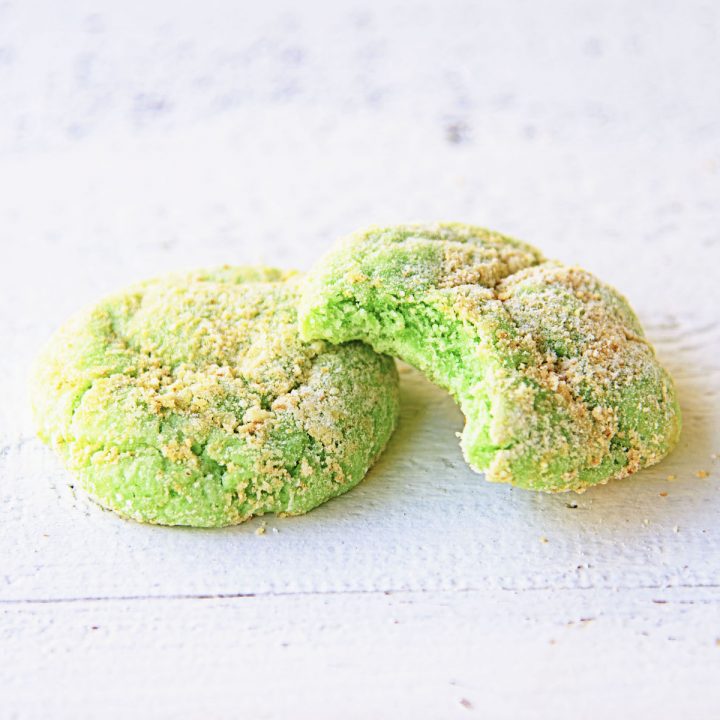 Key Lime Pie Crinkle Cookies
Ingredients
1 cup unsalted butter, at room temperature
1 3/4 cups granulated sugar
2 large eggs
2 TBSP key lime juice
1 TBSP lime zest
1 tsp vanilla extract
3 cups all-purpose flour
1 tsp baking powder
1/4 tsp baking soda
1/2 tsp salt
2-5 drops green food coloring (optional)
1 cup powdered sugar
1/2 cup finely crushed graham crackers
Instructions
Using a stand mixer with a paddle attachment beat together the butter and sugar until light and fluffy, about 3-5 minutes.
Scrape the sides and bottom of the bowl with a rubber spatula.
Turn the mixer on low and beat in the eggs, key lime juice, lemon zest, and vanilla. Scrape the bowl again.
Then on low, mix in 1 cup of flour, baking powder, baking soda, salt, and food coloring.
Once combined mix in the remaining 2 cups of flour, just until smooth. (Do not overmix the dough!)
Cover and chill the dough for at least 30 minutes. (The longer you chill the dough the better for puffy cookies.)
Preheat the oven to 375 degrees F.
Line several baking sheets with parchment paper and set aside.
Once the dough has chilled, set out a small bowl and mix together the powdered sugar and graham cracker crumbs.
Use a 1 tablespoon cookie scoop to portion the dough into balls.
Roll each ball in powdered sugar graham cracker mix, then set on the baking sheets, 2 inches apart. (Make sure the cookies have a generous coating of powdered sugar. Do not shake them off.)
Bake for 9-10 minutes, until the edges are just golden brown, and the center looks slightly underbaked.
Cool on the baking sheets so the centers continue to bake as they cool.
Notes
Adapted from A Spicy Perspective