These Roll Out Shortbread Sugar Cookies make for a perfect cookie to go with tea or coffee. Topped with buttercream frosting they are sure to please.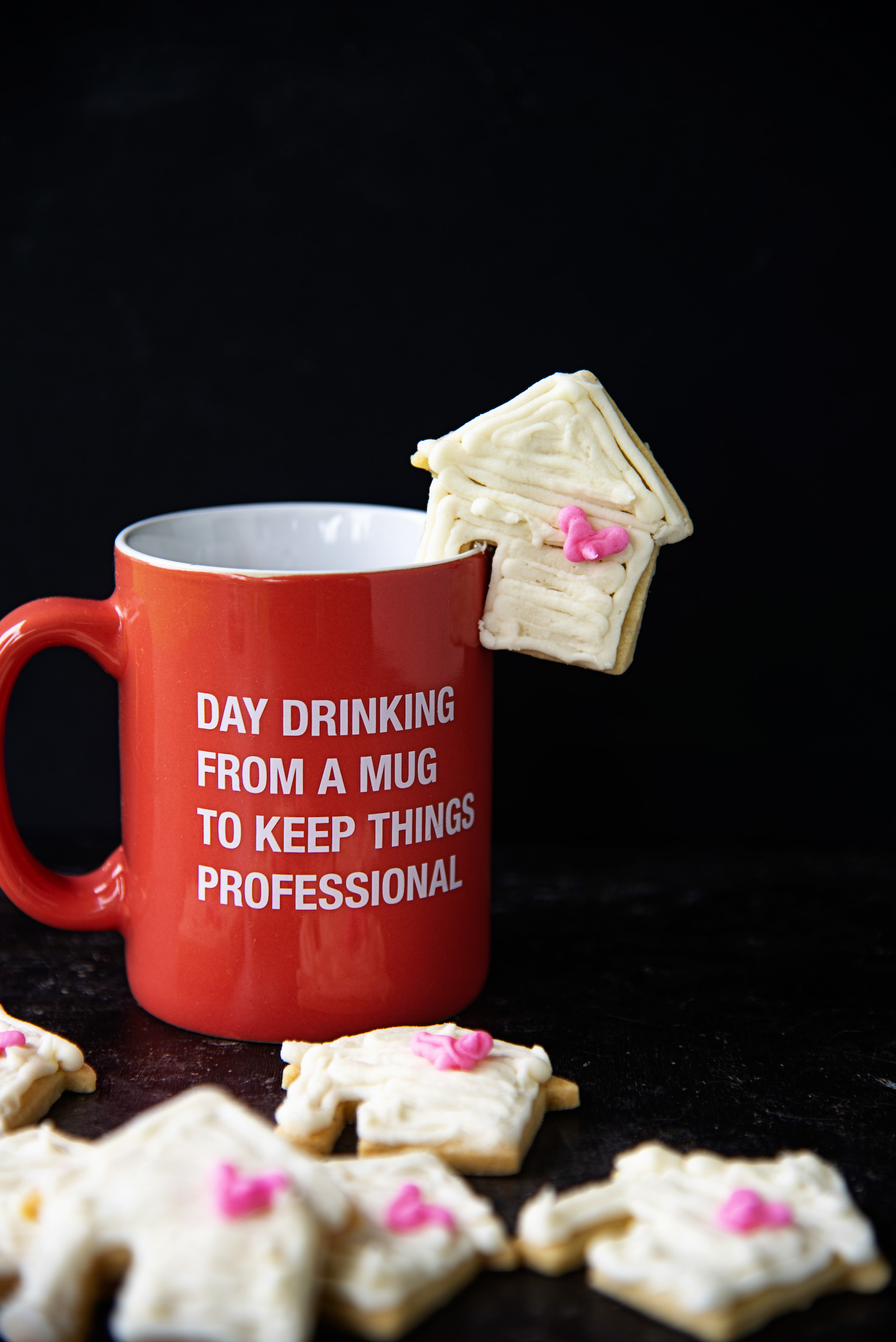 So our state has extended our stay at home order.
But at the same time we started phasing into reopening.
We are one of the few states actually following the federal government/white house guidelines to opening up.
Yet now our president is just saying open up. Ummm.
I was not always a homebody.
As a teenager and young adult I traveled extensively.
I was also single and lived in tiny apartments (though with bigger kitchens then I have now).
Don't get me wrong, I always loved to bake and cook.
But back then it was more in the form of entertaining.
And yes, I still love to entertain.
But as I got older and my autoimmune issues progressed I was more and more at home.
Because I had a home.
And a husband.
Plus a lot of spaniels.
During flu season I don't go out as much because I try not to catch the flu as it can be severe for me.
So you can imagine what COVID can do to me?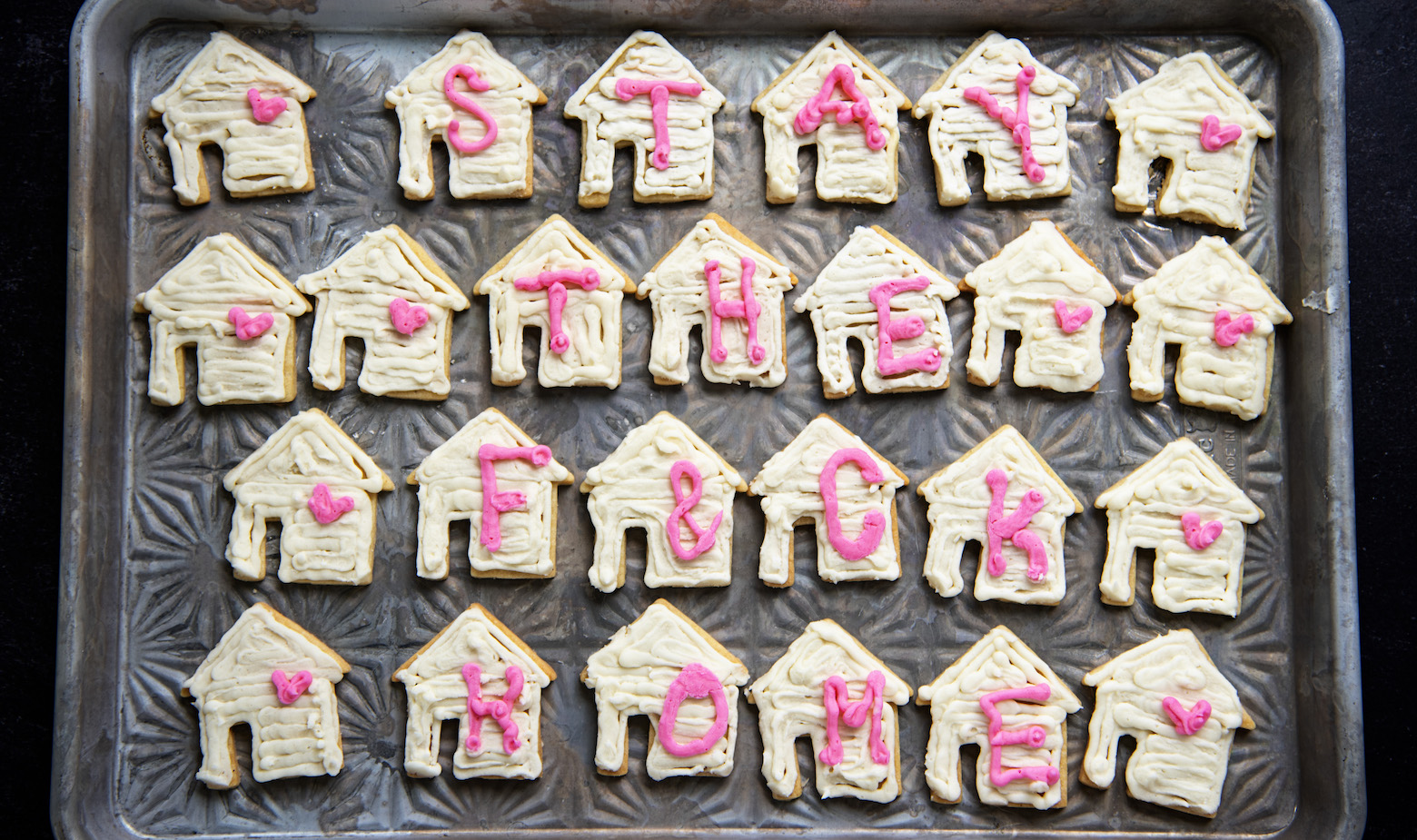 While you see people storming our capital in protest the majority of our state does understand the importance of staying in if we can.
Also, what is up with these guys?
They look the same in every state.
White, overweight, with their guns and ammo strapped on them, with either a Confederate flag, MAGA hat, or a Nazi flag.
I just want to say that as a gun owner…we are not all like this.
Boy, what a time to be alive.
What I don't get about these guys is they are the ones who have been stockpiling ammo and beans for years.
Preparing for the apocalypse.
But a few weeks into shelter in place and they are freaking out about their wives hair roots and that they can't sit down and eat in a Red Lobster.
Good luck surviving the apocalypse guys.
I get the economic devastation. I really do.
My income has taken a large hit and I lost my two side jobs which pays for my pups medical care.
So yeah, it sucks.
But I have found it harder to keep care of my dogs when I'm dead.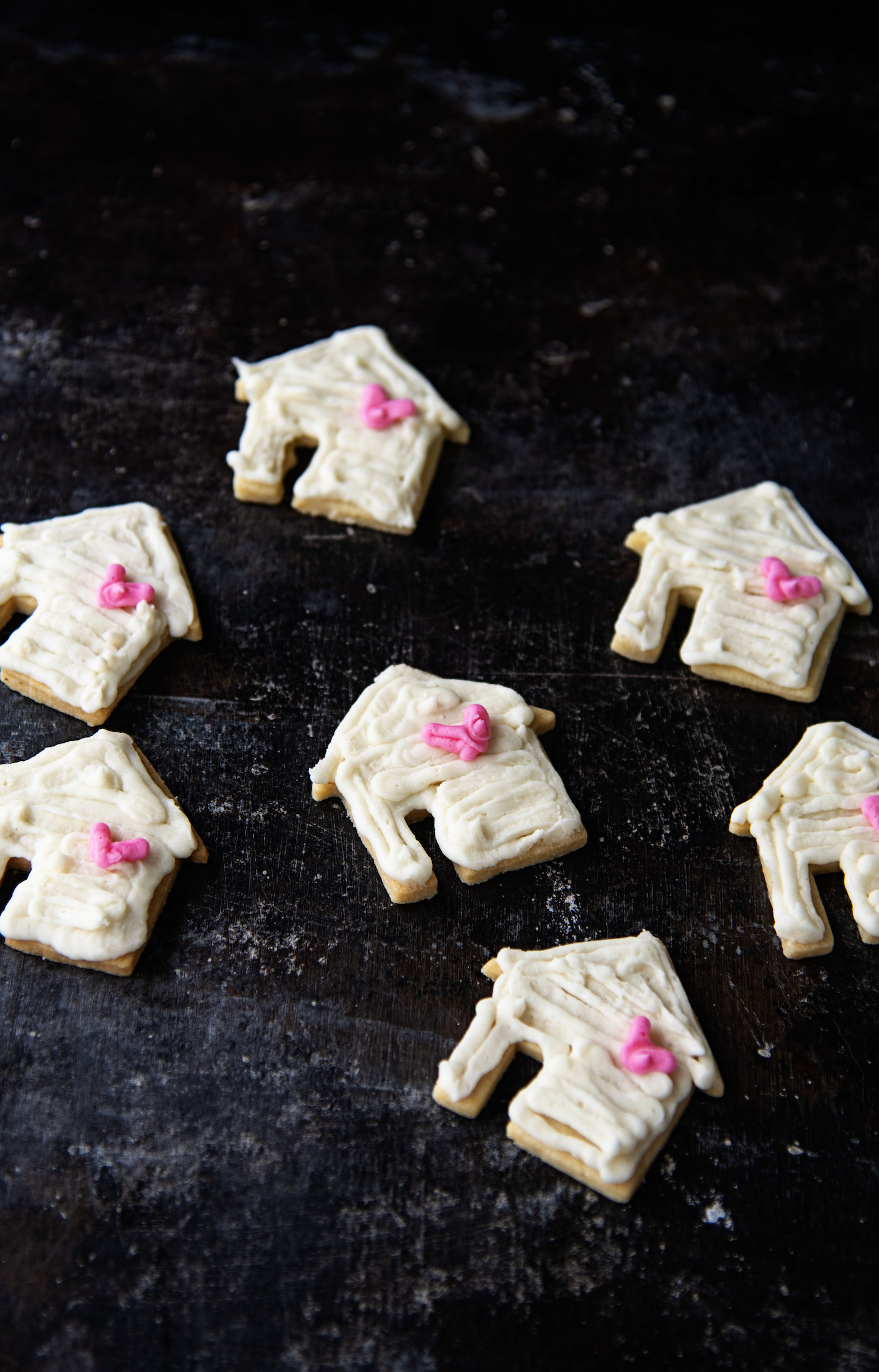 So I will stay at home, not because I'm a sheep, but because I understand science.
And I care about my fellow Americans.
While at home I have been making all of my comfort food favorites.
Sugar cookies are one of those.
At Christmas time I found these house shaped cookies that fit on your mug.
Decided I needed to make some homebody Roll Out Shortbread Sugar Cookies.
There are a lot of great things about these cookies but number one is that you don't have to chill the dough before you roll them out.
They are also buttery and yummy.
So friends, stay home if you can.
Make some cookies.
Do some day drinking. 😀
And as always it's a great day to order my cookbook.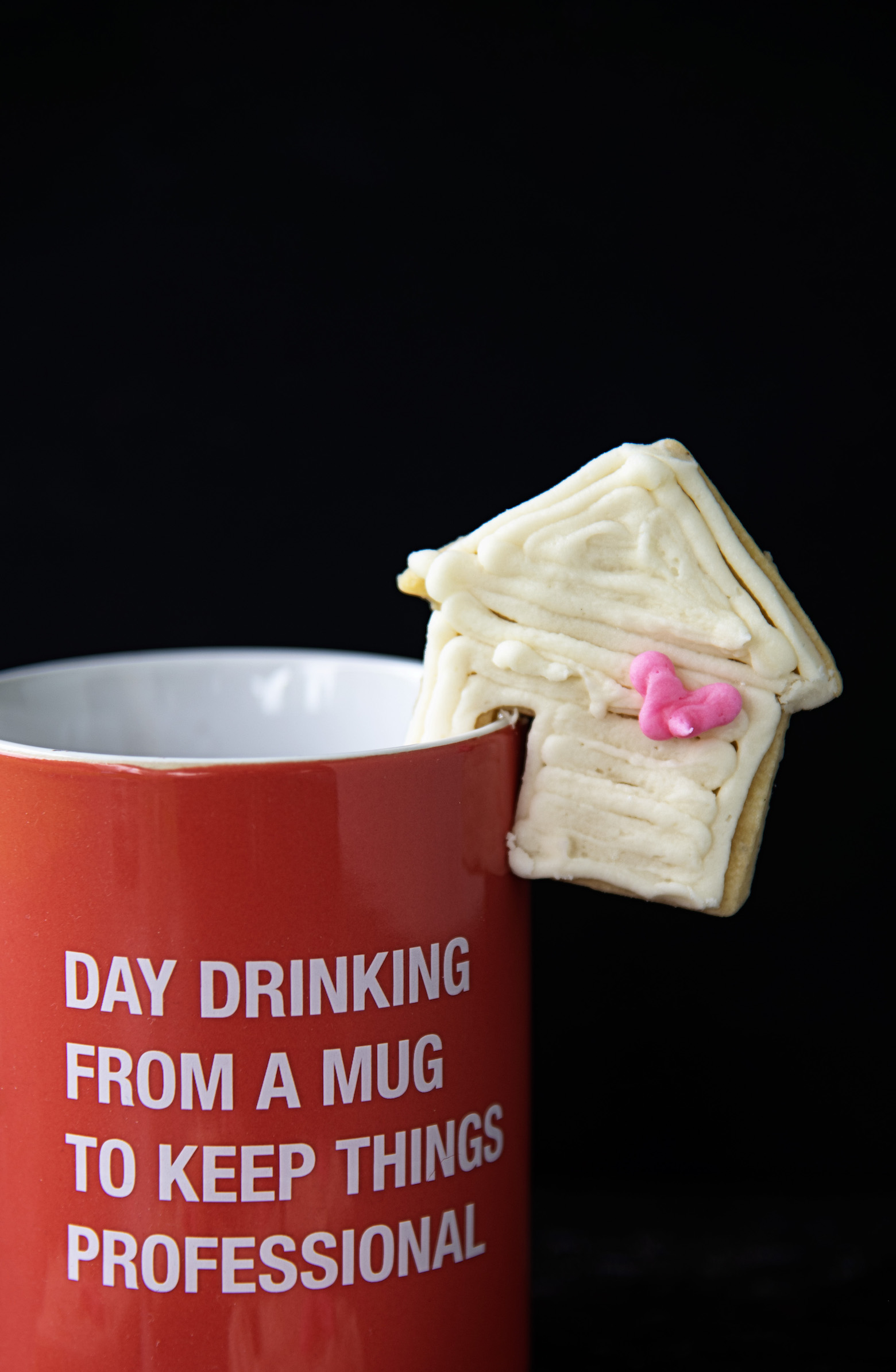 Want More Cookie Recipes?
White Chocolate Chip Creamsicle Cookies
Vanilla Bean Caramel Thumbprint Cookies
White Chocolate Dried Pineapple Salted Macadamia Nut Cookie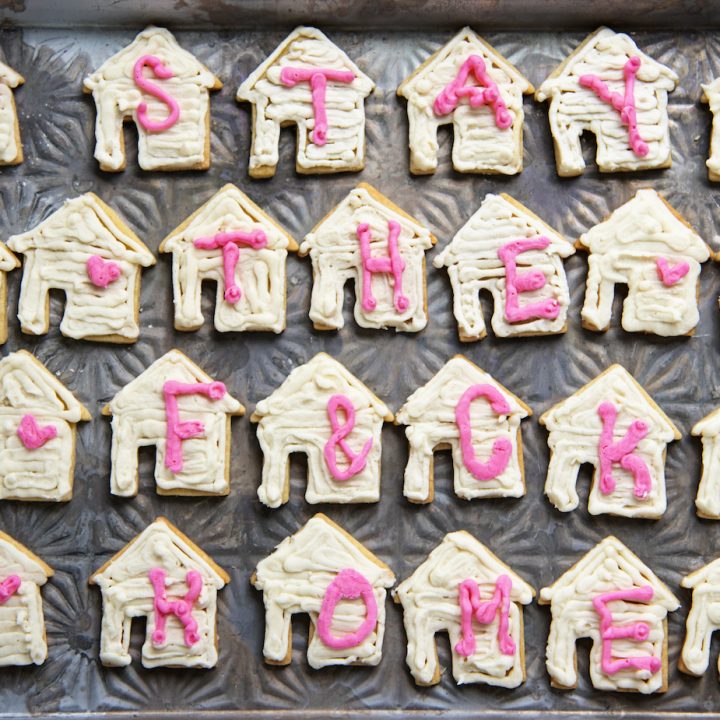 Roll Out Shortbread Sugar Cookies
Ingredients
For the Cookies:
1 cup unsalted butter, at room temperature
½ cup granulated sugar
2 tsp Vanilla Bean Paste (I used Rodelle)
2 cups all-purpose flour
1 TBSP cornstarch
For the Buttercream:
1/2 cup unsalted butter
1/2 cup vegetable shortening
3 3/4 cup powdered sugar
1 tsp vanilla extract
1 1/2 TBSP milk
Instructions
For the Cookies:
Preheat oven to 300° F.
Using a stand mixer with a paddle attachment cream together the butter and sugar until light and fluffy, about three minutes.
Add the vanilla bean paste and beat for another 30 seconds.
Add in flour, ½ cup at a time with mixer on low.
Repeat until all the flour is gone.
Add cornstarch and mix until combined.
Let mixer run on low until dough forms.
Divide dough in half.
Sprinkle flat surface lightly with flour.
Roll out the cookie to ¼-inch thickness.
Cut with floured cookie cutters.
Place 1 inch apart on ungreased baking sheets.
Bake for 20-22 minutes.
Combine the butter and vegetable shortening in the bowl of an electric mixer; using a paddle attachment, beat on medium speed until smooth, about 2 minutes.
Add half of the powdered sugar and continue beating on low speed for an additional 2 minutes, or until the mixture is creamy, scraping the sides of the bowl with a rubber spatula as needed.
Add the remaining powdered sugar, vanilla and milk, and beat until the frosting is creamy and fluffy, about 2 minutes more.
Add any food coloring at this time, if using, and beat on low speed until light and fluffy.