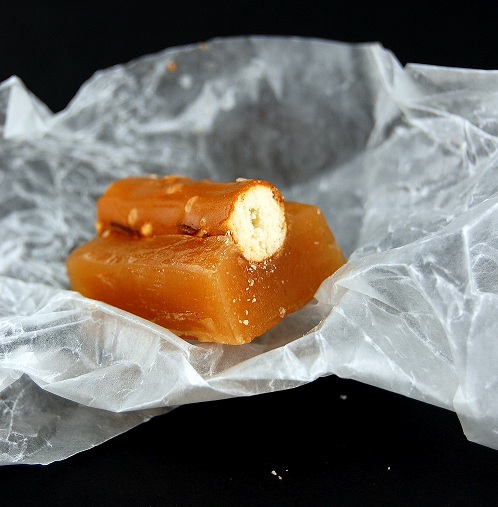 The good news is that I finally injured myself doing something injury worthy. No more walking and breaking my foot crap or injuring it in Tai Chi. This time I stopped a slap shot instead. 😀 So at least it's a cool injury. Albeit an injury that hurts like a &*)*&*#$%.
I am currently sporting an awesome hairline fracture up by my big toe. Good news is that they didn't cast it because it's in a spot where it can't move. And I can do whatever I want on it….including hockey (which I am not doing right now…get out of mom mode with the lecture you want to give). The bad news is that it hurts. But it's an awesome shade of purple.
Much beer has been consumed to help with the pain. 😀 This promptly reminded me that I had seen a recipe for ale and pretzel soft caramels a couple months back. I am not a candy maker. I have bought a ton of candy thermometer and that doesn't seem to help me all that much either. Though I actually did well with these. I did put these in the fridge before photos to stiffen up a bit for photos. They do soften out…which means they have to be wrapped.
Sadly the alcohol is burned out of these…or else I could eat ale caramels for my aliments. Ha! Bad, I know.

Ale-Pretzel Soft Caramels
Yield: 75+ caramels
1 12 oz. bottle pale ale (I used an Orange Cream Ale), divided
2 cups sugar
1 cup firmly packed brown sugar
1 cup unsalted butter
1 cup heavy cream
1 cup light corn syrup
1 8 oz. package pretzel rods (can use pretzel sticks too)
1 roll of wax paper
Scissors
In a small saucepan bring 1 cup of ale to a simmer and cook until reduced and syrupy. This will take about 20 minutes and yield about 1 tsp. of concentrated ale flavoring. Set aside.
Butter a 13 x 9 inch pan or 2 -9×9 inch pans and set aside. Combine remaining beer and all other ingredients except ale reduction in a heavy 4-5 quart pot. Cook over medium heat, stirring occasionally. Butter will melt and mixture will begin to boil.
Continue to cook until candy thermometer reaches 244 degrees, this will take about 30 minutes. You can test your caramel in a bowl of ice water to check the consistency. It should form a firm ball.
When the correct temperature has been reached, stir in the ale reduction and remove from heat. Pour into prepared pan(s) and top with pretzel rods. Let cool for several hours or place in fridge until firm. Remove from pan and turn pretzel-side up on a cutting board (if refrigerated, let caramel block warm up a little for easier cutting). Cut between pretzels and then into 1″ pieces. Cut wax paper into approx. 5 x 5 inch squares and wrap caramels.
NOTES: Caramels must be wrapped or they will lose their shape over time. Use silicone pans for easy removal.
From this awesome website: Sprinkle Bakes