Candy Corn Pound Cake: Cream based pound cake that has candy corn infused into the cream in both the batter and the icing. A must make for candy corn lovers.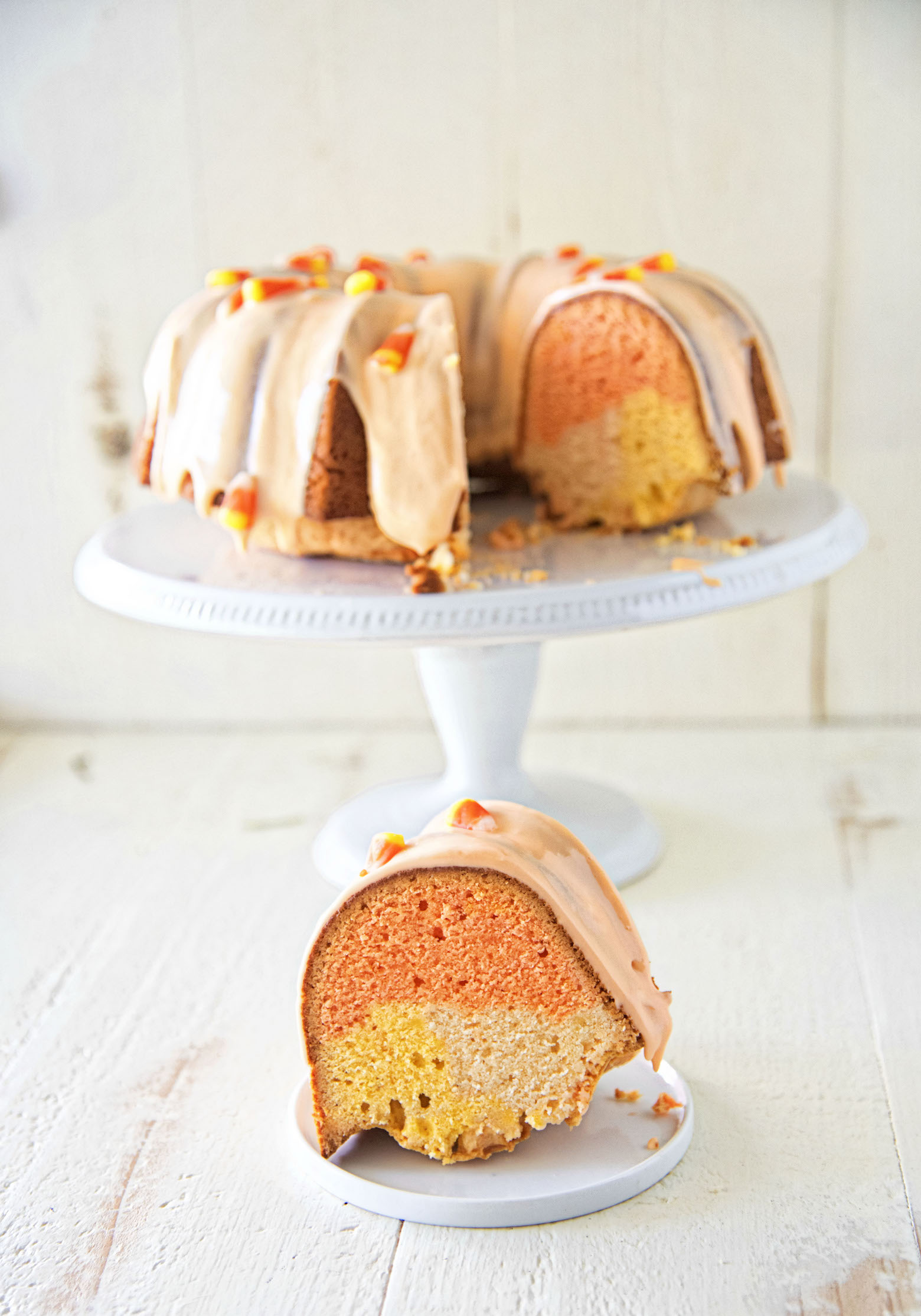 This post and recipe was created for #HalloweenTreatsWeek!
I was sent products by some of the sponsor companies but as always opinions, bad grammar, and overuse of emojis are 100% mine.
In this post I used Dixie Crystals Sugar granulated sugar which was sent to me free by the company for participating in #HalloweenTreatsWeek.
To finish off #HalloweenTreatsWeek I made a Candy Corn Pound Cake.
Just like all the desserts I make that are candy corn…I make sure to used actual candy corn in the recipe.
I bring this up because a lot of recipes say candy corn but they just make them white, yellow, and orange.
Which I did in this cake…but I also used candy corn infused cream for the cake and icing.
As with all the candy corn treats I make, the flavor of candy corn is there, but it's not a hit you over the head sickly candy corn taste.
Just all the goodness of candy corn without the teeth hurting. 🙂
This is your basic cream based pound cake but just kicked up a Halloween notch or two.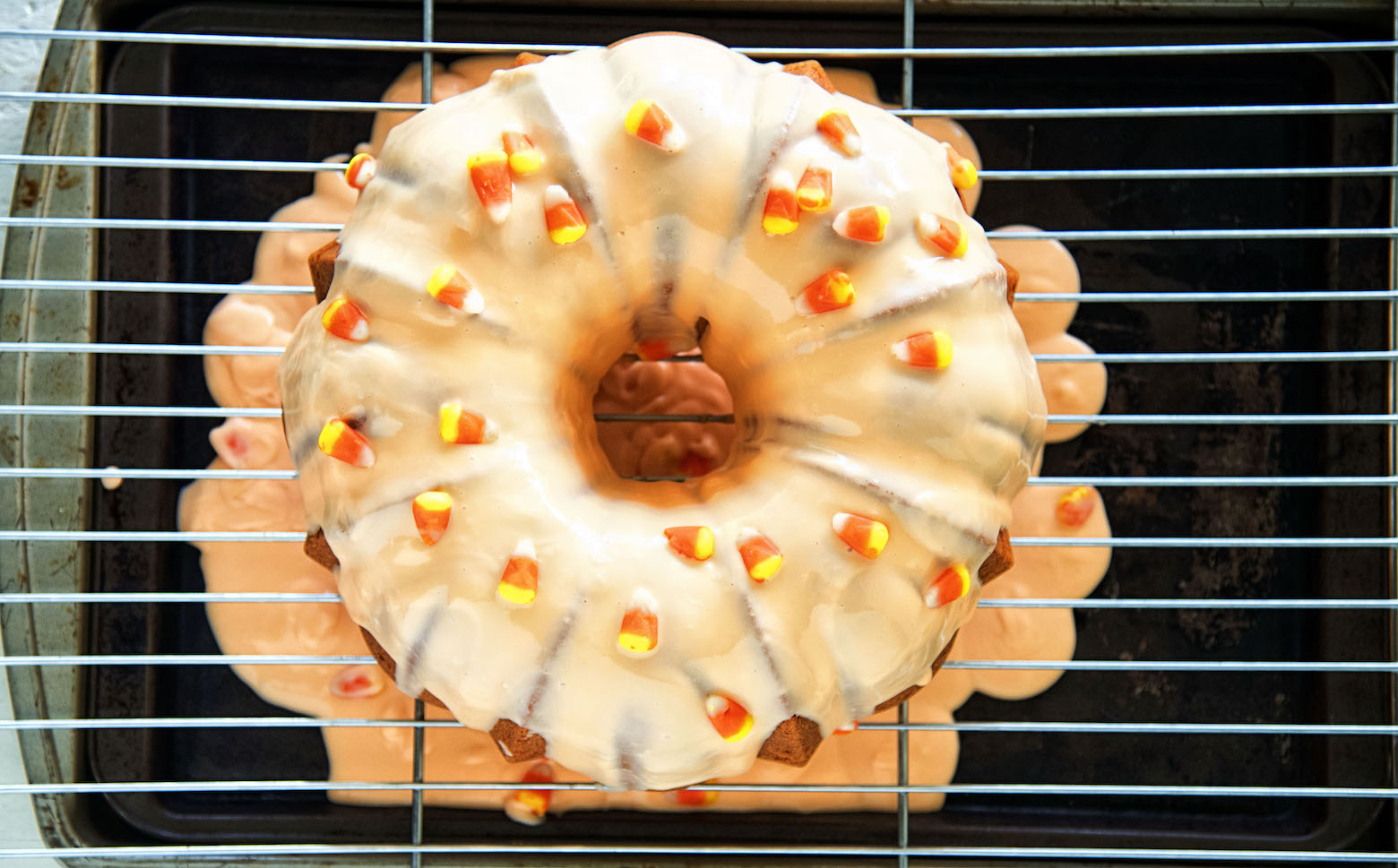 Check out the amazing #HalloweenTreatsWeek recipes from our bloggers today!
Frosted Halloween Monster Mash Brownies from Big Bear's Wife
Candy Corn Pound Cake from Sweet ReciPEAs
Halloween Scene Cake from Mrs Happy Homemaker
Super Cute Halloween Ghost Cupcakes from I am a Honey Bee
Gooey Monster Peanut Butter Cookies from The Spiffy Cookie
Mini Mummy Dogs from Karen's Kitchen Stories
Frankenstein Crispy Rice Cereal Treats from The Redhead Baker
Little Monsters Halloween Mocktails from 4 Sons R Us
Graveyard Pudding from The Beard and The Baker
Cake Mix Candy Corn Naked Cake from Southern from Scratch
Bloody Good Mini Cheesecakes from Sugar Dish Me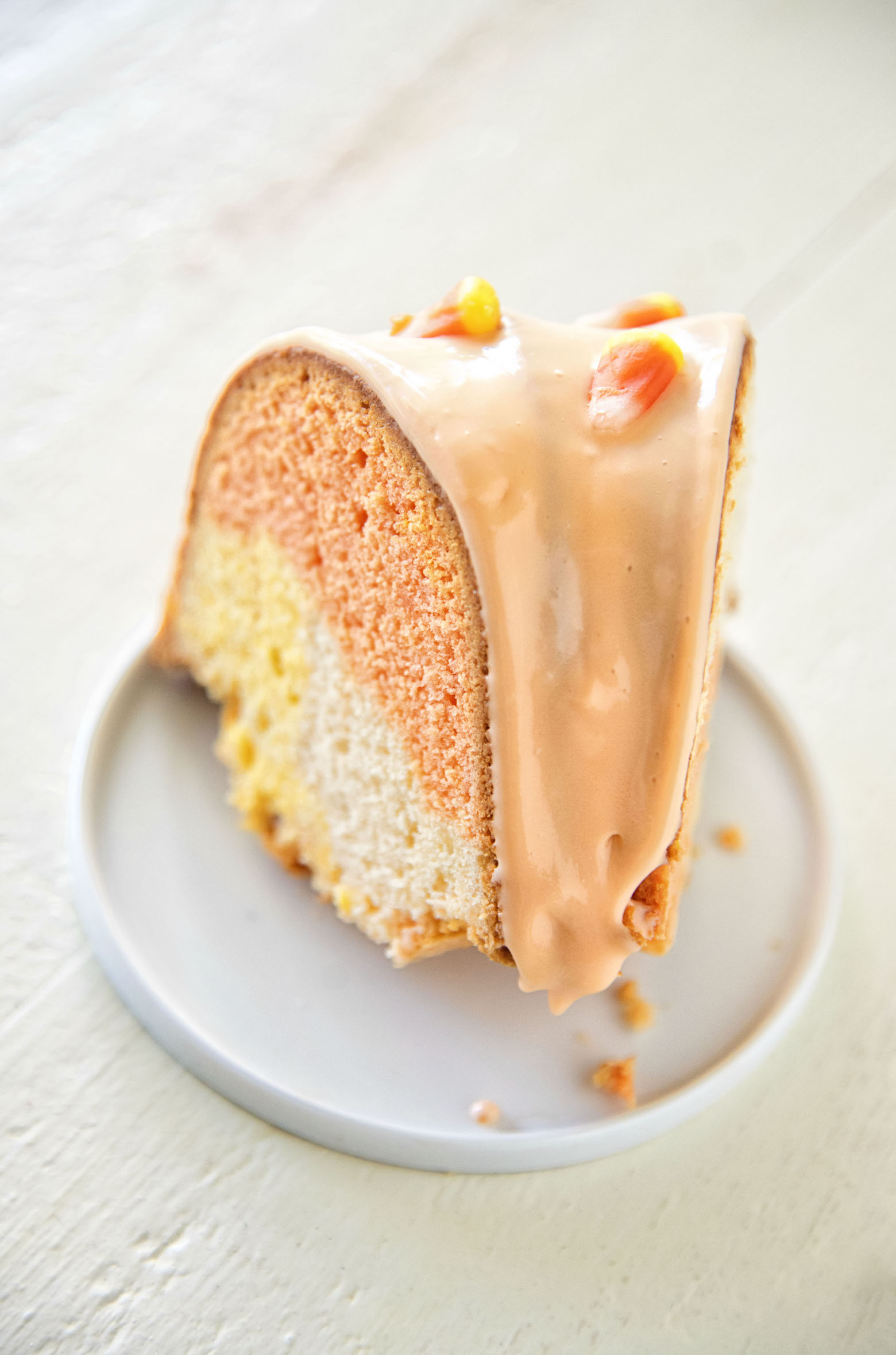 And as always it's a great day to order my cookbook.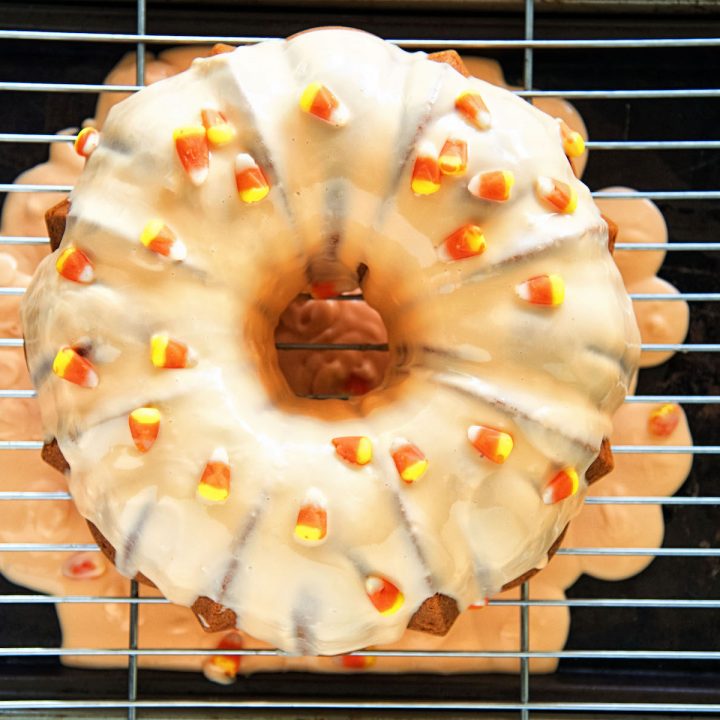 Candy Corn Pound Cake
Ingredients
1½ cups unsalted butter, at room temperature
3 cups granulated sugar
6 eggs, room temperature
3 cups cake flour, sifted
1/4 tsp. salt
2 1/2 cups heavy cream
1 1/2 cups candy corn
2 cups powdered sugar
Instructions
Using a medium sauce pan heat the heavy cream and the candy corn together.
Bring to a boil and then take off of heat.
The candy corn should dissolve.
If the candy corn does not dissolve place over heat and stir until it does. Set aside.
Using a stand mixer with the paddle attachment, cream the butter with the sugar until well combined (about 5 minutes)
Add the eggs one at a time and mix completely after each egg.
Toss in the salt and mix.
Alternate adding the flour and 1 cup candy corn infused heavy whipping cream, mixing thoroughly after each addition.
Grease and flour a 9.5 bundt pan.
If wanting candy corn colors, divide the batter into three bowls.
One bowl will remain untouched.
The second bowl add orange food coloring and mix until fully combined.
Third bowl add the yellow food coloring and mix until fully combined.
Spoon the batter into the pan picking a different color each time.
Repeat until all the batter is used up.
Place into a cold oven on the middle rack and turn the oven to 325F.
Bake for 1 hour and 20-30 minutes or until a toothpick inserted into center comes out clean.
Let cake cool in the pan for a few minutes before removing to finish cooling on a cooling rack.
For the Icing:
Mix the powdered sugar and 1 cup candy corn infused heavy cream.
If too thick, thin with more candy corn infused heavy cream.
Glaze the cake.
Top with candy corns if desired.