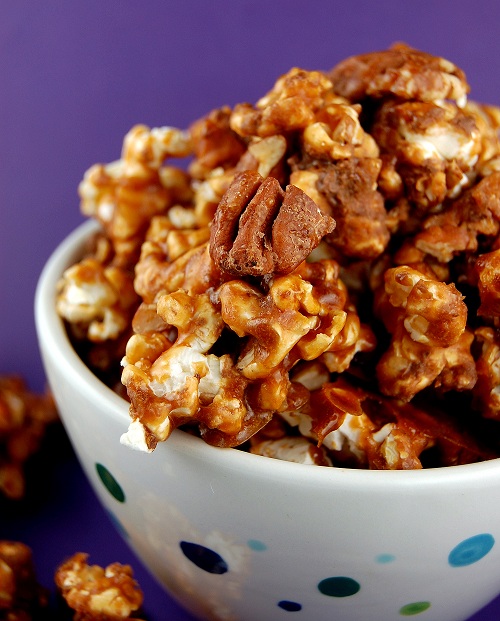 I made caramel corn to rebel against my dentist. He's annoying me as he is making me live out a Seinfeld episode. Maybe you saw it? The one where George goes to break up with a girl and she refuses to let him. Ironically I had that happen in my dating life. I broke up with a guy four times and each time he would say we weren't broken up. He would tell me I'm not thinking clearly, I must be getting sick. That when I felt better we would discuss it then. This went on for like two weeks. So finally I made one of my hockey player friends, who just happened to look like a bouncer, kindly let him know I wasn't dating him.
Anyway, what does this have to do with the dentist? I have TMJ. I'm a clincher, at night apparently. So my dentist tells me that we are going to do a bite adjustment, which they did. I needed more done. So he says I will either get a night guard or veneers. Which right away I say night guard. He tells me of course that he recommends the veneers (at $1200 apiece and I need 8, why wouldn't you). I tell him no way. He tells me we will discuss my two options at my next appointment. So I come in and tell him night guard. He tells me no, veneers. I tell him night guard. He again tells me we will discuss it the next time. This went on for the last 4 times I have been. Finally I had to simply say, my way, or no way. Needless to say I am getting a night guard.
I have yet to understand why dentist are under the impression that I am rich. Is it because I come and visit them in my ripped t-shirt and sweatpants with my hair in a ponytail. Is this my problem? Do they think because I don't dress for the dentist I must be some secretly rich person who doesn't care about their appearance? No, it's because all of my appointments are too frickin early in the morning and that's what I look like. He seems shocked that I wouldn't want to front $10,000 on my teeth. I especially love how he tells me he had TMJ and used veneers to fix his problem. I pointed out I didn't make what he makes and he kind of blank stared at me.
So needless to say I decided the best way to anger my dentist is to eat sticky, sweet food that gets up in your teeth for days. That'll show em. 😛
This is a take on one of my favorite candies, turtles. I love the combo of chocolate, pecans, and caramel. You can skip adding the extra caramel pieces if you like since it technically is caramel corn, but it's me and I have to add more calories to things whenever possible.
You want to hold out adding the caramel and chocolate till the end so they don't get too hard. This is a nice take on caramel corn. If you want something a little more Fall like you can check out the Caramel-Apple Corn I made awhile back. Either way, please feel free to make, enjoy, and seek revenge on your dentist.

Turtle Caramel Corn
16 cups popped popcorn (I use the 94% fat free Kettle Corn…it has a nice salty sweet base)
1 cup unsalted butter
1 cup granulated sugar
1 ½ cups brown sugar
½ cup Lyle's Golden Syrup (if can't find use corn syrup)
1 tsp. lemon juice
1 tsp. salt
1 tsp. vanilla extract
½ tsp. baking soda
16 caramels, unwrapped, and chopped into four pieces
1 cup milk chocolate chips
1 cup chopped unsalted pecans
Preheat oven to 250F. Spray two baking sheets with nonstick baking spray and set aside.
In a large bowl (the largest you have in the house) combine the popcorn and nuts. Set aside.
In a large saucepan over medium-high heat, combine the butter, sugars, golden syrup, lemon juice and salt. Cook, stirring occasionally, until the butter and sugars melt together.
Increase the heat to high and bring the mixture to a boil. Boil gently until the mixture reaches the hard crack stage (300F on a candy thermometer) 6-9 minutes.
Remove from the heat and stir in vanilla and the baking soda. They syrup with bubbles and foam with the baking soda is added, simply stir until it subsides.
Immediately pour the caramel over the popcorn mixture and stir with a large wooden spoon until a caramel glaze completely coast all the popped corn and nuts.
Divide the caramel corn between the prepared baking sheets and bake for 20 minutes. Remove from oven and stir and flip (I use a heat proof spatula) the caramel corn. Bake for another 20 minutes. Do the same again. This time before putting in oven, sprinkle in caramel pieces and chocolate chips. Make sure that they are on the corn and not the pan. Place into oven for another 10 minutes.
Let caramel corn cool completely. Store in a tightly covered container for up to a week.
Adapted from Sticky, Chewy, Messy, Gooey by Jill O'Connor