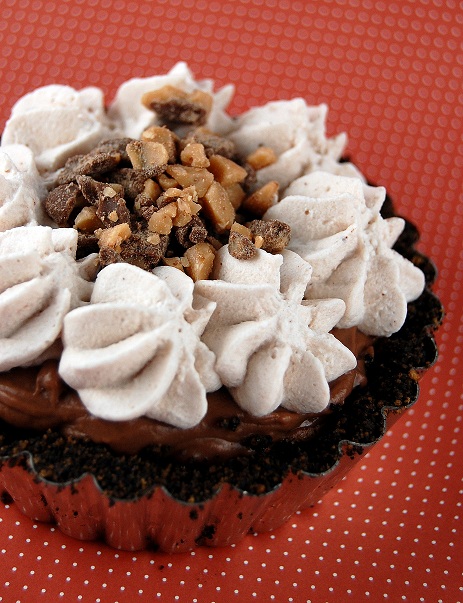 Chocolate. Chocolate. Chocolate. The first real challenge was all about chocolate. Trying to make the most decadent chocolate dessert possible. Truthfully the fact that the winner used white chocolate to me makes it null and void. I like white chocolate, but it's not chocolate. Do you think white chocolate is chocolate?
Anyway, I watched and listened as the judges picked apart the dessert. They seemed to be most impressed with the desserts that had different texture and different chocolates. The very same day I was thinking of this my much awaited copy of Baked: Explorations came out. I LOVED their last book and couldn't wait until for this to arrive on my doorstep. Inside was a Mississippi Mud Pie. Which had a cookie crust, a flourless chocolate cake bottom, and chocolate pudding. Okay, now we are talking. I had originally wanted to make chocolate meringues to crush up and put on top, but our humidity the last couple of days was making a crunchy meringue a big no-no. If I were to do it again, I would try and add an extra element of texture with the meringue.
These are not super pretty. This is know. But they are definitely chocolate overload. The thing is that making things super pretty isn't all that good for this blog. I want to have fun with these challenges but I still also want you to go and make it. And though this has a bunch of steps, overall, it's pretty easy to make. And how can you no love a Oreo Double Stuffed Cookie Crust with a Flourless Chocolate Cake baked into it! Helloooo.
I went with milk chocolate, which is different than the original recipe to add a different depth. Feel free to use whatever chocolate you would prefer. I also through on some toffee pieces as it was my excuse to open the bag and eat some. Because I really wanted some. But just opening the bag to eat them is gluttonous. But opening the bag to use for some mini tarts and eating the leftovers in the bag is just making sure I am not wasting food. Clearly, you see the way to go. 🙂
Again, I want to say, I am not doing these challenges in the time allotment. I am doing them for as little or as long as I want. This was just to spur my imagination a little and is supposed to be fun. So writing me mean emails saying it's not really a challenge if I don't do it in the same time frame just means you need to find a hobby. 😛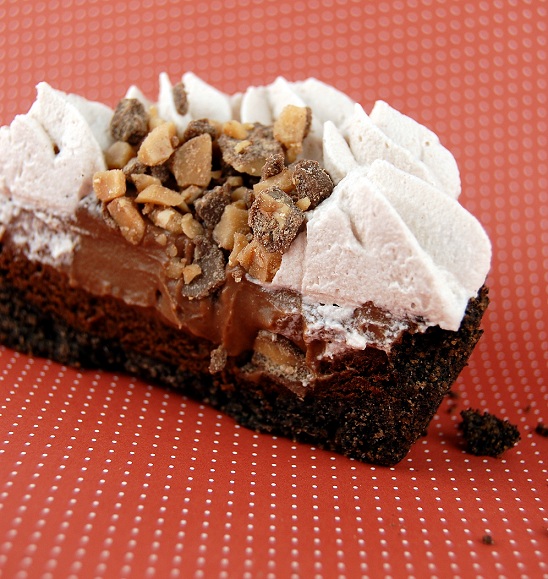 Chocolate Overload Mud Pie
Chocolate Cookie Crust:
16 ounces Oreo Cookies (it's about 35 to 40 regular, I used 30 (maybe less, some might have gone in my mouth) double stuffed)
5 TBSP unsalted butter, melted
Flourless Chocolate Cake
4 TBSP unsalted butter
6 ounces dark chocolate (60-70%), chopped
1 TBSP espresso powder
¼ cup strong coffee, at room temperature
¼ tsp. salt
1 tsp. vanilla extract
6 large eggs, separated, at room temperature
1 cup sugar
Milk Chocolate Pudding
2 TBSP granulated sugar
2 TBSP cornstarch
2 TBSP unsweetened cocoa powder
1 ½  cups whole milk
½  cup heavy cream
4 ounces  milk chocolate, chopped
1 tsp. pure vanilla extract
To make the crust:
Preheat oven to 300F.
Lightly spray a 9-inch springform pan with baking spray. Line with parchment, spray that and the sides of the pan. I chose to make these into tarts. I used six 4 ½ inch diameter tart pans.
In a food processor, grind the cookies into a fine crumb. Add the butter and pulse until well combined.
Evenly distribute the crumb among the tart pans, or place all of the crumb mixture into the pan (if using spring form). Make sure to not only get the bottom but up the sides as well.
Place in freezer for 10 minutes.
Remove and bake for 10 minutes and remove and let cool on a wire rack.
To make the flourless cake:
Increase oven temperature to 350F
Using a double boiler, melt the butter and chocolate together. Set aside to cool.
In a small bowl, whisk together the espresso powder, coffee, salt and vanilla. Set aside.
In the bowl of a standing mixer fitted with the whisk attachment, beat the egg yolks with ½ cup of the sugar until the mixture is light and has almost doubled in volume, about 5 minutes.  Add the chocolate mixture and beat until just combined. Scrap down the sides and bottom of the bowl and mix on low seed for 5 seconds. Add the coffee mixture and beat until just combined. Scrape down the sides and bottom of the bowl and mix on low for 5 seconds.
In a clean bowl fitted with the whisk attachment, beat the egg whites until foamy. Gradually increase the speed to high and add the remaining ½ cup of sugar, beating until soft peaks form.
Scoop 1 cup of egg whites into the chocolate mixture to lighten the batter. Using a rubber spatula mix the egg whites into the chocolate batter. Not too rough but not to gentle. Add the remaining egg whites but this time by folding them in gently.
Pour the batter onto the cooled cookie crust (if using mini tarts, spoon into the tarts so that it comes 2/3 of the way up…you will probably have some left over, I just made a mini cake and ate it…shhh, don't tell anyone). Bake for 39-42 minutes (minis only took about 20-24 minutes…so pay attention). You are look for the cake to be set but still jiggles slightly…kind of like cheesecake. Transfer it to a wire rack and cool completely. The cake will sink in size. That's what it does. You did nothing wrong. Once cool. Cover in plastic wrap and chill for 3 hours (which gives you time to make the pudding and chill that).
For the pudding:
Whisk together sugar, cornstarch, cocoa powder, and a pinch of salt in a 2-quart heavy saucepan, then gradually whisk in milk and cream. Bring to a boil over moderately high heat, whisking constantly, then boil, whisking, 2 minutes. (Mixture will be thick.) Remove from heat. Whisk in chocolate and vanilla until smooth.
Transfer to a bowl and chill pudding, its surface covered with wax paper (to prevent a skin from forming), until cold, at least 2 hours.
Pudding recipe from Epicurious.com
To assemble:
Stir the pudding to loosen it, then pour it on top of the cake (pie), making sure to stay inside the cookie crust boarder (if you made a tart you can pile it on).
Return cake to refrigerator for at least 30 minutes.
Top with chocolate whipped cream (make it the regular way and when you add sugar, also add 1 TBSP of cocoa powder) and crushed toffee pieces.
Overall recipe adapted from Baked Explorations by Matt Lewis and Renato Poliafito