This Cookies and Cream Bread Pudding has an Oreo custard based and is topped with a rich chocolate fudge sauce.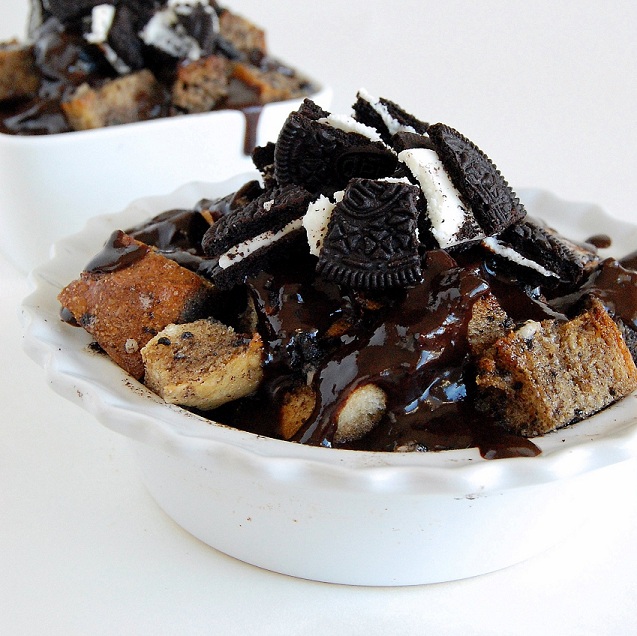 Somewhat similar to that of my wedding day the 2nd annual International Food Bloggers Conference came to an end today.
It was like my wedding because I remember talking to people, and eating, and drinking but when I go to recollect it is all a blur.
Sad and relieved all at once as my pillow is not only calling my name at this point, it's downright screaming it.
If you followed me on Twitter this weekend at all you know I consumed what one may consider to be a large amount of beer (though really that's subjective ;).
I drank with others whom I won't rat out but I think that might be contributing to my overtired self as well. 😀
I went the conference with two goals in mind.
To meet and greet people that I had been Online friends with.
And to hopefully get inspired to be a good blogger again.
As anyone who runs a blog knows the motivation wall often pops up, mine lately being the size of the Great Wall of China.
I am happy to report that both things happened.
And more importantly, I made new friends as well.
By far the most inspiration for me (as for many others) was the Penny De Los Santos, who is a food photographer for Saveur magazine.
Not only are her photos absolutely incredible, but her passion for what she does emanated with every word that came out of her mouth.
Loving the phrase that you don't take photos, you make photos.
I thought that was the best.
Honorable mention goes to Shauna of Gluten-Free Girl and The Chef who also has passion that shines through.
She also makes a mean blackberry and peach cobbler I might add.
There were a variety of topics covered.
I only skipped one session, on ethics…to drink beer.
How ethical is that?
All in all it was a very positive experience.
And God and finances willing, I will be going to the conference again next year.
Since I was tired but still inspired I knew I needed to go home and make something quickly.
Before the call of the bed won me over.
I went simple with this insanely easy, yet yummy bread pudding.
If you are an Oreo cookie dunker, this Cookies and Cream Bread Pudding is for you.
You are essentially dunking a whole bunch of cookies into the custard and letting them take a soak.
And soak.
Until they are one with the custard.
Then pour that over the bread, bake it off, and top with fudge sauce.
And with that, this food blogger is going to get very familiar with her bed (please remove mind from gutter).
P.S. It's a great day to buy my cookbook Holy Sweet!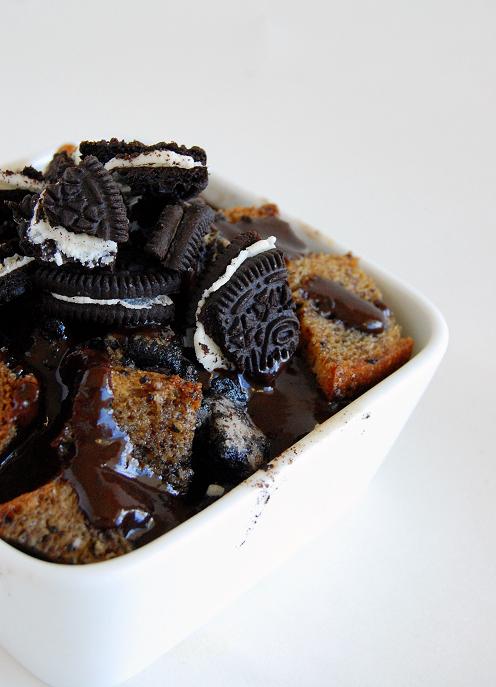 Want More Bread Pudding Recipes?
Bailey's Irish Nut Bread Pudding
Oatmeal Raisin Cookie Bread Pudding
Sticky Toffee Pudding Bread Pudding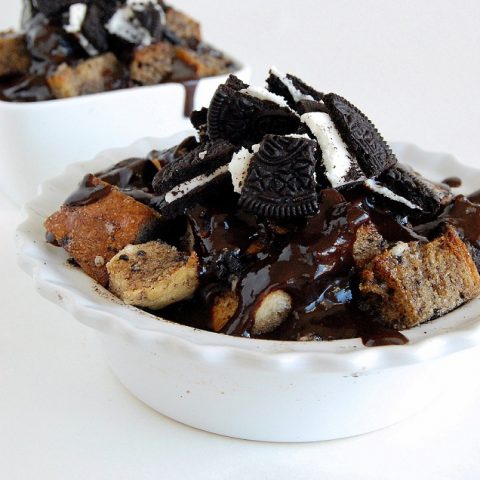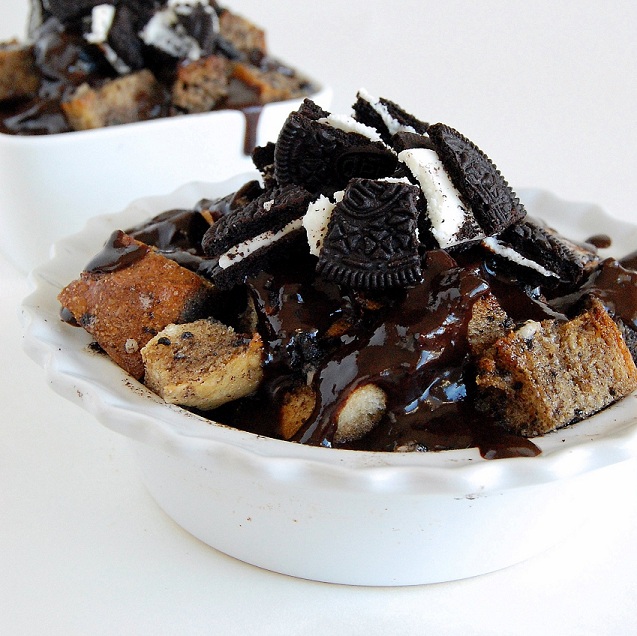 Cookies and Cream Bread Pudding
Ingredients
For Bread Pudding:
2 ½ cups heavy cream
5 egg yolks
3/4 cup of sugar
1 tsp. vanilla extract
Roughly 25 Oreo (or other sandwich cookie)…I say roughly as I got to eating a few and lost count (my bad)
One medium sized loaf of brioche bread or French bread (fresh), cut into cubes
For the Fudge Sauce:
2/3 cup semisweet chocolate chips
1/3 unsalted butter
1 heaping cup powdered sugar
2/3 cup evaporated milk
½ tsp. vanilla extract
Pinch of salt
Instructions
For the Bread Pudding:
Butter a 8-x-8-inch pan.
Pour cream into a large bowl.
Add Oreos.
Let them soak in refrigerator. A good soak. A long day at the office need time in the tub with wine soak. So about 20 minutes…or longer.
Add in egg yolks one at a time, whisk vigorously after each yolk is added.
Repeat until all the yolks are gone.
Add vanilla extract and sugar and whisk vigorously again. At this point the cookies should be pretty darn good and mushed up and easily mixable. If not, be less wimpy and whisk more vigorously than what you were doing.
Scatter bread pieces into the prepared pan.
Pour the custard over the bread.
Press down the bread pieces until the bread is soaked with the custard. You will most likely have extra custard, because some bread is more absorbent that others, don't feel like you have to use all the custard.
Place pan into another pan that will hold a water bath.
Bake the bread pudding for 45 minutes until golden on top.
Cool 10 minutes and serve warm and topped with fudge sauce.
For the Fudge Sauce:
In a large saucepan, combine the chocolate chips and butter.
Cook and stir over low heat until melted and smooth in texture.
Gradually add the powdered sugar and evaporated milk, 1/3 cup at a time.Increase heat to a boil.
Cook, stirring constantly, for 7-8 minutes.
Remove from heat, and then stir in vanilla and salt.