First off I want to say hi to all the Food Bloggers out there who are coming into Seattle for the IFBC this weekend! So excited to meet all of you…as I am sure you are excited to meet me (insert sarcastic tone here).  I promise not to wear the green sweatpants. 😉
Second, sorry haven't been around much, life is getting in the way. Apparently it has no idea who I am. If it did, it wouldn't be messing with me so! I was on CNN darn it all. 😛
I was at a BBQ the other night and a friend of mine introduced me as Peabody, then followed with she makes the most amazing desserts and is like the funniest person ever (I actually get introduced like this a lot). Yikes. Not only should my baked goods better be awesome, I somehow have to make sure I am funny. Now I know it's a compliment, don't get me wrong. It just means the pressure is on.
Let me start off by saying that I don't think I'm funny. I think I say things that other people are thinking and don't have to guts to say, and that sort of comes off as funny. It also gets you into trouble. 😛 Oh well.
For the BBQ I experimented with the Cinnamon Roll Cheesecake I had made awhile back. Having a ton of peaches from the Peach-O-Rama event I decided to try and make a peach cobbler-ish kind of version. I was a little nervous as to how it would turn out. Turned out a little too well. I didn't get any photos of it too well.
So I figured I would make it again. But then I got to thinking that with all the Food Bloggers coming in I should do something a little more Pacific Northwest. Plus, no offense to peaches, but they are kind of unattractive to photograph sometimes. So I went the cherry route. Red definitely pops more in the photos…sorry peaches (don't hate me, I still love you).
I'm calling this a breakfast treat, because if a Toaster Strudel can be a breakfast treat, so can cake. Probably the same amount of sugar…without dealing with the annoying packet of frosting that never seems to open enough and then ends up bursting and splattering all over my toasted pastry. Or I just lack all coordination. Nah.
This version is just as tasty as the peach so that was a good idea. I originally was going to add some hazelnut flour as well, only to discover I didn't have any. Typical.
I hope everyone has a great weekend…I know I will (read be jealous). You can follow me on Twitter this weekend as I tweet about it @bakerpeabody or my facebook page for CCbP.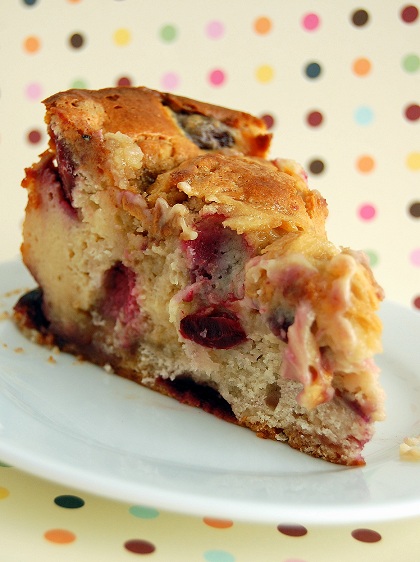 Cherry- Cheese Breakfast Snack Cake
Cherry Cake Batter:
2/3 cup white sugar
¼ cup unsalted butter, at room temperature
1 egg
½ cup whole milk
2 tsp. vanilla extract
2 cups flour
2 tsp. baking powder
1/2 tsp. salt
2 cups sliced and pitted cherries
Cheesecake filling:
2 pkg. (8 oz. each) cream cheese, at room temperature
2/3 cup granulated sugar
2/3 cup light brown sugar, not packed
1 TBSP vanilla extract
2 TBSP flour
3 eggs
Brown Sugar Filling:
1/3 cup butter, melted
1 cup brown sugar
½ tsp. cinnamon
Preheat oven to 350 degrees F.
Grease a 9-inch Spring-form pan.
Cherry Cake Batter:
Using a stand mixer with a paddle attachment (or hand mixer) cream together the butter and sugar for 3 minutes, until light and fluffy.
Add egg, milk, and vanilla. Beat for another minute. Scrape down bowl.
Sift together flour, baking powder, and salt. Combine the sifted and creamed ingredients together. Mix on low speed until thoroughly combined. Fold in cherries.
Spread half of the batter onto the bottom of the Spring- form pan. It will be sticky and thick so spray your hands with baking spray and press down. It will be a thin layer, but trust me it will rise up during baking.
For the Cheesecake Filling:
Using a stand mixer (and a clean bowl) fitted with paddle attachment, beat cream cheese and sugars for 2 minutes on medium-high speed.
Add the eggs one at a time, scraping down the bowl after each addition.
Add the vanilla and flour and beat for another minute.
Pour all of the cheesecake batter on top of the cherry cake batter that is in the prepared pan.
Brown Sugar Filling:
In a small bowl, combine the melted butter, cinnamon, and brown sugar. Mix until thoroughly combined.
Drop spoonfuls of the cinnamon filling over the entire top of the cheesecake.
Take the rest of the base batter and drop spoonfuls over the entire top of cheesecake. Once finished, take a knife to swirl the ingredients together. This is hard to do as the batter is pretty thick, just do what you can. 
Bake for about 50-55 minutes, cake will be puffy and lightly browned. Let chill for 20 minutes at room temperature and then cover and move to fridge for 4 hours. Remove cake and let it warm up to room temperature just a bit.