This Angel Food Cake French Toast is a light and fluffy version of French toast using angel food cake in place of bread.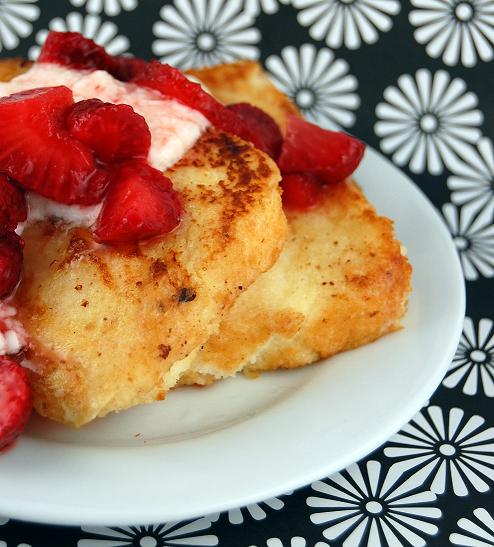 One of the most often emailed question is "if I did it this way, do you think it would turn out?"
And my usual response is, "only one way to find out?"
Now granted if they ask can I use skim milk instead of heavy cream and I know it wont turn out then I tell them right away.
But if they just want to get a little creative, I say go for it.
And that is how this little gem of breakfast treat came about.
I wanted some french toast.
Only problem was that the only kind of bread I had laying around was not the kind that would have made for very good french toast.
But what I did have sitting out on the counter was a loaf of angel food cake that I had made to help us up the large flat of strawberries I bought.
Why do I always think I can eat a whole flat of strawberries in time?
I stared at it and thought…it's shaped like bread, why the heck not.
So I sliced it up, dipped in the ol' egg and milk batter and threw it in some butter.
And WOW!
Angel Food Cake French Toast is soooooo good.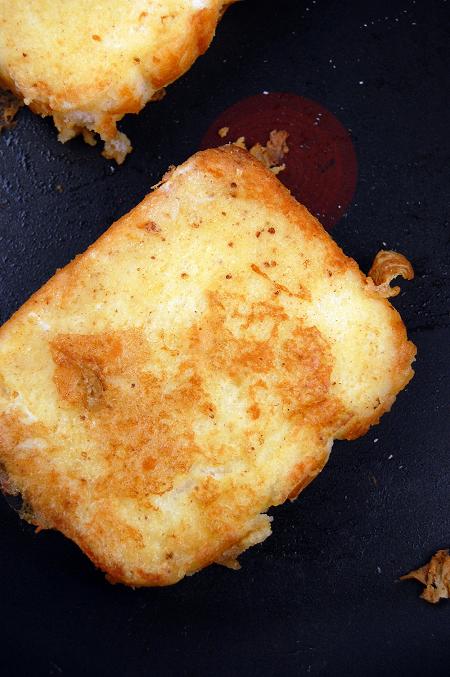 The only problem is that it is so light, that like rice krispy treats, you almost didn't know you ate it.
Which is good that you have a light breakfast but bad because you eat the whole loaf…well half.
Okay, whole.
Who am I trying to kid?
I wasn't even going to post the angel food cake recipe (most people have one).
But when I posted on Facebook that I made french toast out of Angel Food Cake, people became highly interested.
So I figured, why not put it up.
And speaking of Facebook, Culinary Concoctions has its own page on there.
The benefit for you is that sometimes I put recipes on there that don't make it to the blog…so you might want to become a fan of the page. 🙂
And lastly a quick shout out to my dad on this rainy and gray Father's Day.
I hope you had a great one Dad.
No doubt you spent the day in your chair watching TV while "resting your eyes"!
It's a great day to buy my cookbook.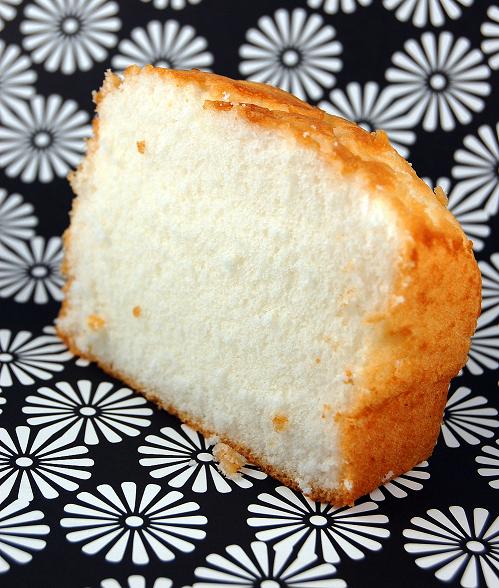 Want More Angel Food Cake Recipes?
Ruby Red Grapefruit Glazed Angel Food Cake
Cherry Cheesecake Angel Dessert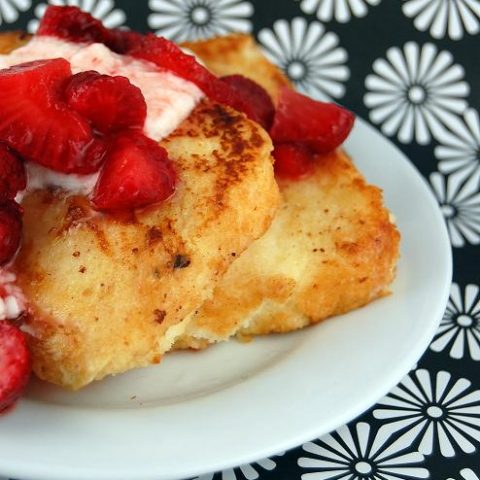 Angel Food Cake French Toast
Ingredients
Angel Food Cake:
1 3/4 cups sugar
1/4 teaspoon salt
1 cup cake flour, sifted
12 egg whites (the closer to room temperature the better)
1/3 cup warm water
1 teaspoon orange extract, or extract of your choice
1 1/2 teaspoons cream of tartar
For the French Toast:
1 loaf Angel Food Cake (you can make or you can buy...I won't tell), sliced like bread
4 eggs
1 tsp maple sugar (or just granulated if you don't have)
1 cup milk (I used almond milk because of my dairy issue and it was fine)
1/2 tsp vanilla extract
pinch of fresh nutmeg
1/4 tsp ground cinnamon
Instructions
For the Angel Food Cake:
Preheat oven to 350 degrees F.
In a food processor spin sugar about 2 minutes until it is superfine. Sift half of the sugar with the salt the cake flour, setting the remaining sugar aside.
In a large bowl, use a balloon whisk to thoroughly combine egg whites, water, orange extract, and cream of tartar.
After 2 minutes, switch to a hand mixer.
Slowly sift the reserved sugar, beating continuously at medium speed.
Once you have achieved medium peaks, sift enough of the flour mixture in to dust the top of the foam.
Using a spatula fold in gently. Continue until all of the flour mixture is incorporated.
Carefully spoon mixture into an ungreased tube pan.
Bake for 35 minutes before checking for doneness with a wooden skewer. (When inserted halfway between the inner and outer wall, the skewer should come out dry).
Cool upside down on cooling rack for at least an hour before removing from pan.
*Note that I made mine is a steel bread pan. The baking time is about the same, a little less. Check. You can bake in a regular loaf pan as well.
For the French Toast:
Whisk together the eggs, milk, sugar, extract, and spices until completely incorporated.
Over medium-low heat, heat griddle or skillet coated with a thin layer of butter.
Place the cake slices, one at a time, into the bowl or plate, letting slices soak up egg mixture for a few seconds, then carefully turn to coat the other side. Soak/coat only as many slices as you will be cooking at one time.
Transfer cake slices to griddle or skillet, heating slowly until bottom is golden brown. Turn and brown the other side. Serve French toast hot with butter and syrup. Or strawberries and yogurt. Or whatever you want.