This Ruby Red Grapefruit Glazed Angel Food Cake is a super light and fluffy cake topped with a refreshing ruby red grapefruit glaze.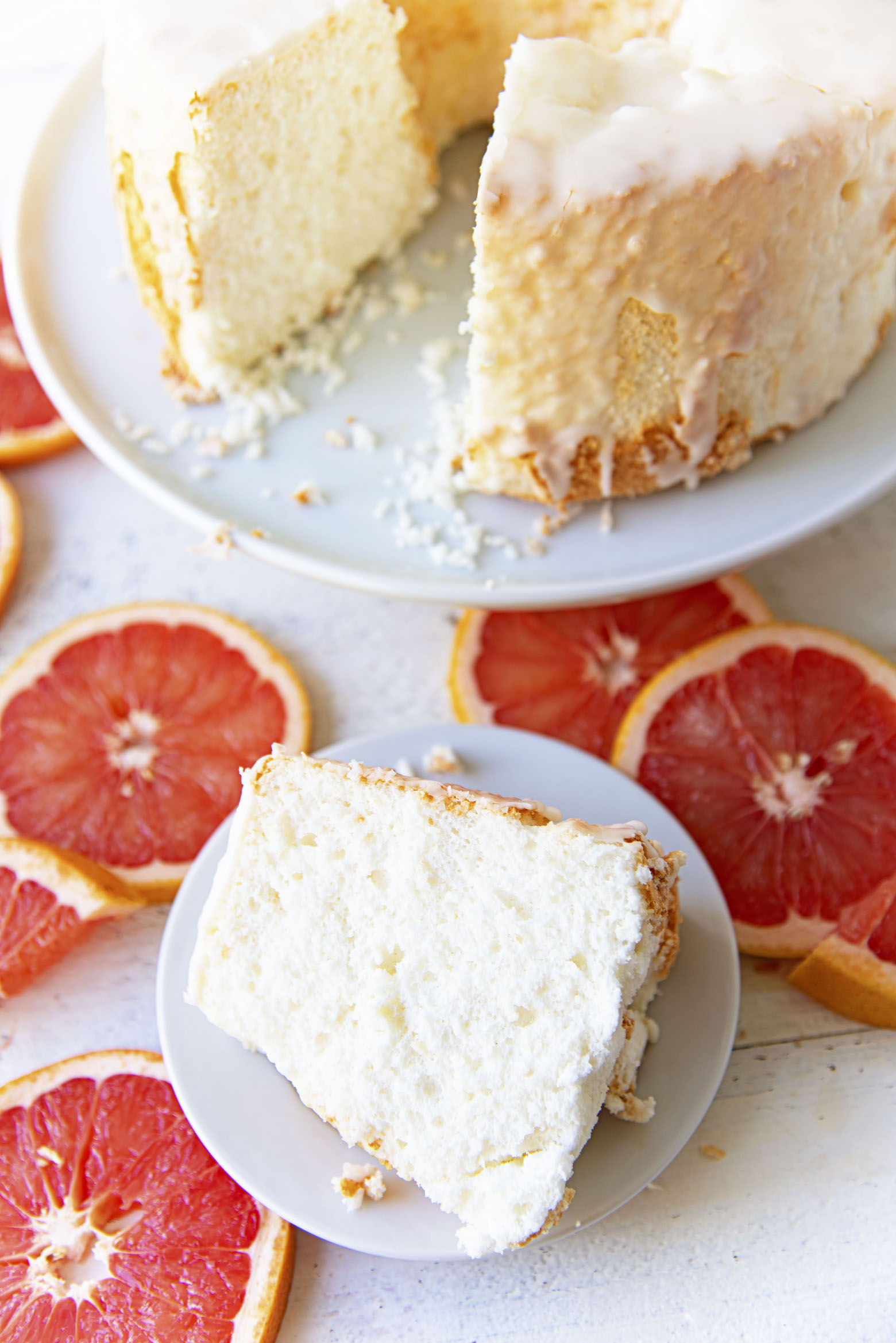 I have had a love/hate relationship with Angel Food Cake throughout my life.
I actually love everything about it. However, growing up we had Angel Food Cake when my mom was on a diet.
Which was like every other month.
When I was on a diet every other month the only cake I ate was Angel Food Cake.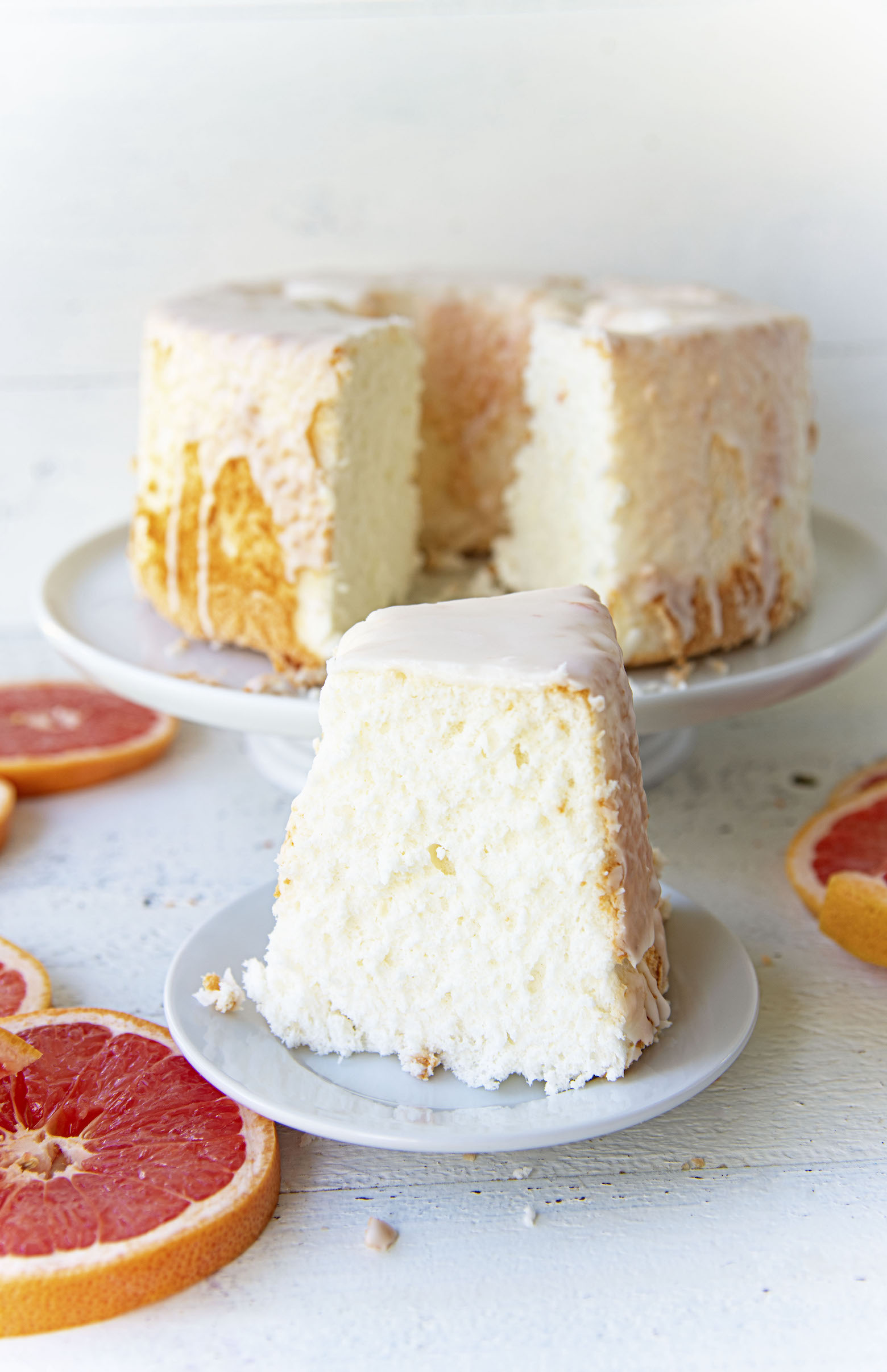 Then it switched to diet soda cupcakes.
Which don't even get me started on that.
So in some ways it triggers me to not the best memories.
Ironically the only cake my husband got growing up was Angel Food as well.
Because his mom was always on a diet.
And they weren't allowed to have too much sugar.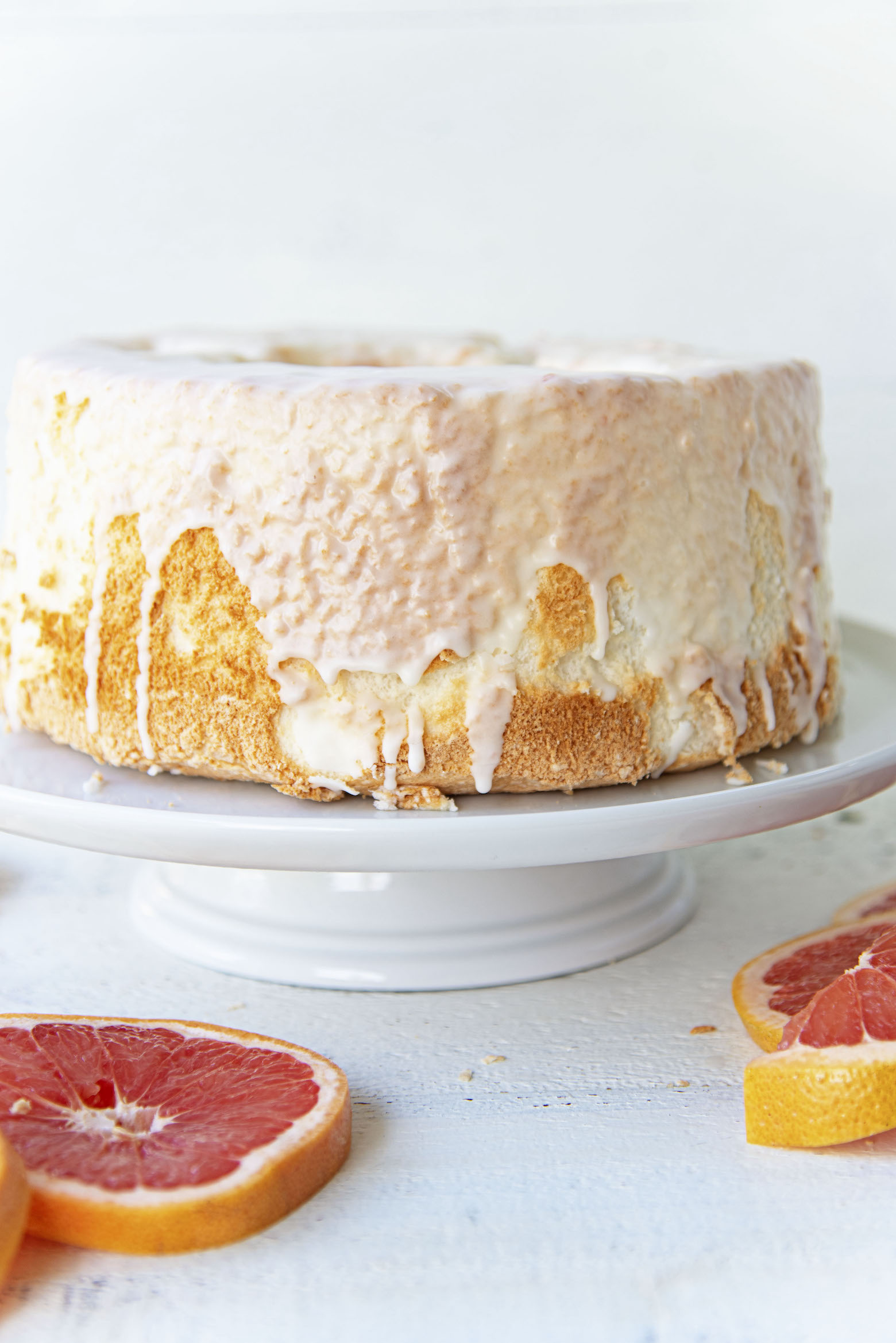 But it really is a good cake.
Especially if you glaze it.
Glaze makes everything better.
So this Ruby Red Grapefruit Glazed Angel Food Cake is better than your average Angel Food.
Because it makes it very refreshing.
It's light and refreshing.
Almost a little too light.
My husband and I polished this cake off in just one weekend.
And we never finish cakes I make.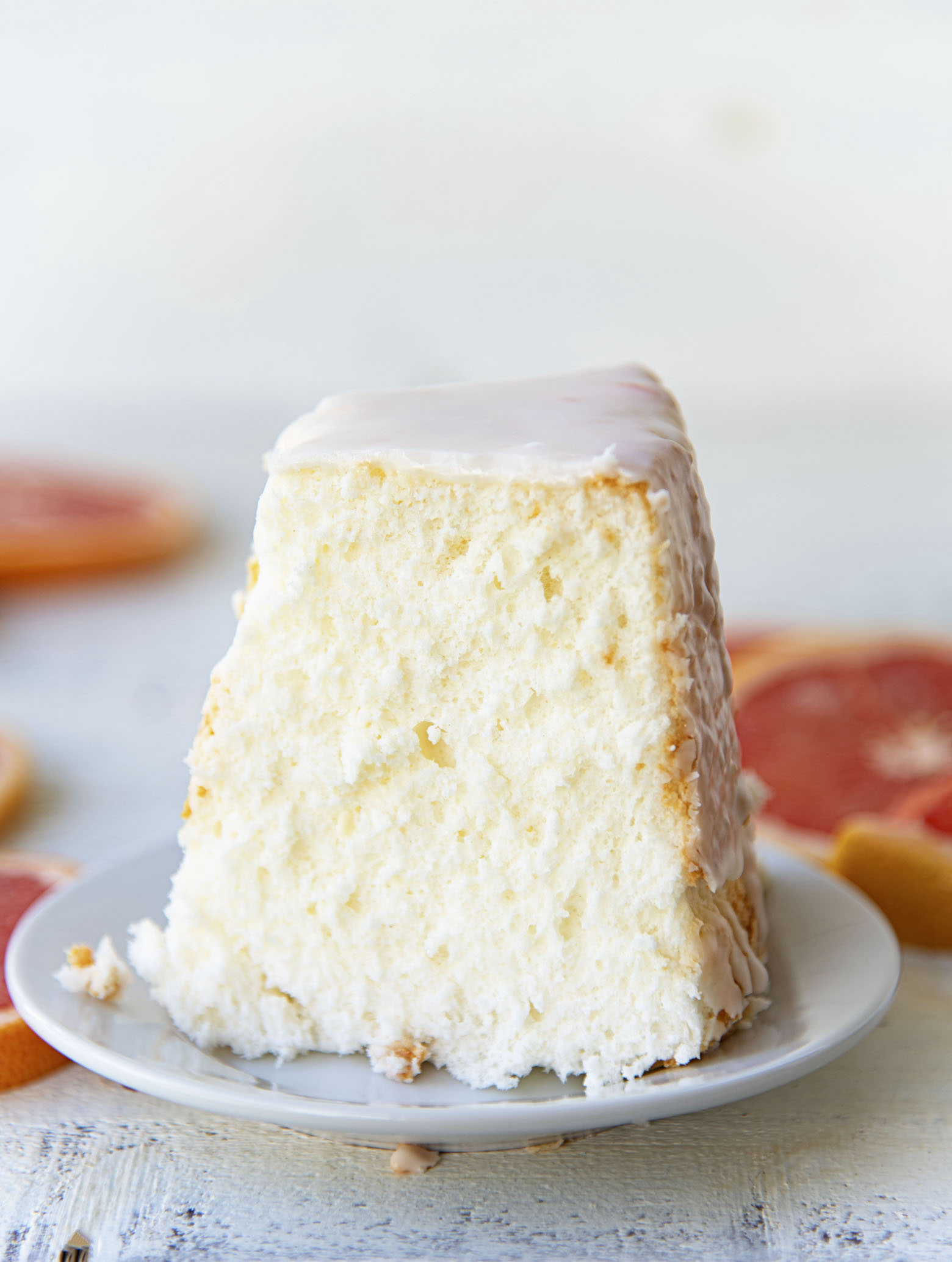 I tried to remind him of how healthy this cake is for us (ha!) but he didn't seem to believe me all that much. 😀
I mean Angel Food is the diet cake after all.
There is a lot of air in them.
If you are not a grapefruit fan this would work well with any citrus juice and zest.
It's a great day to buy my cookbook.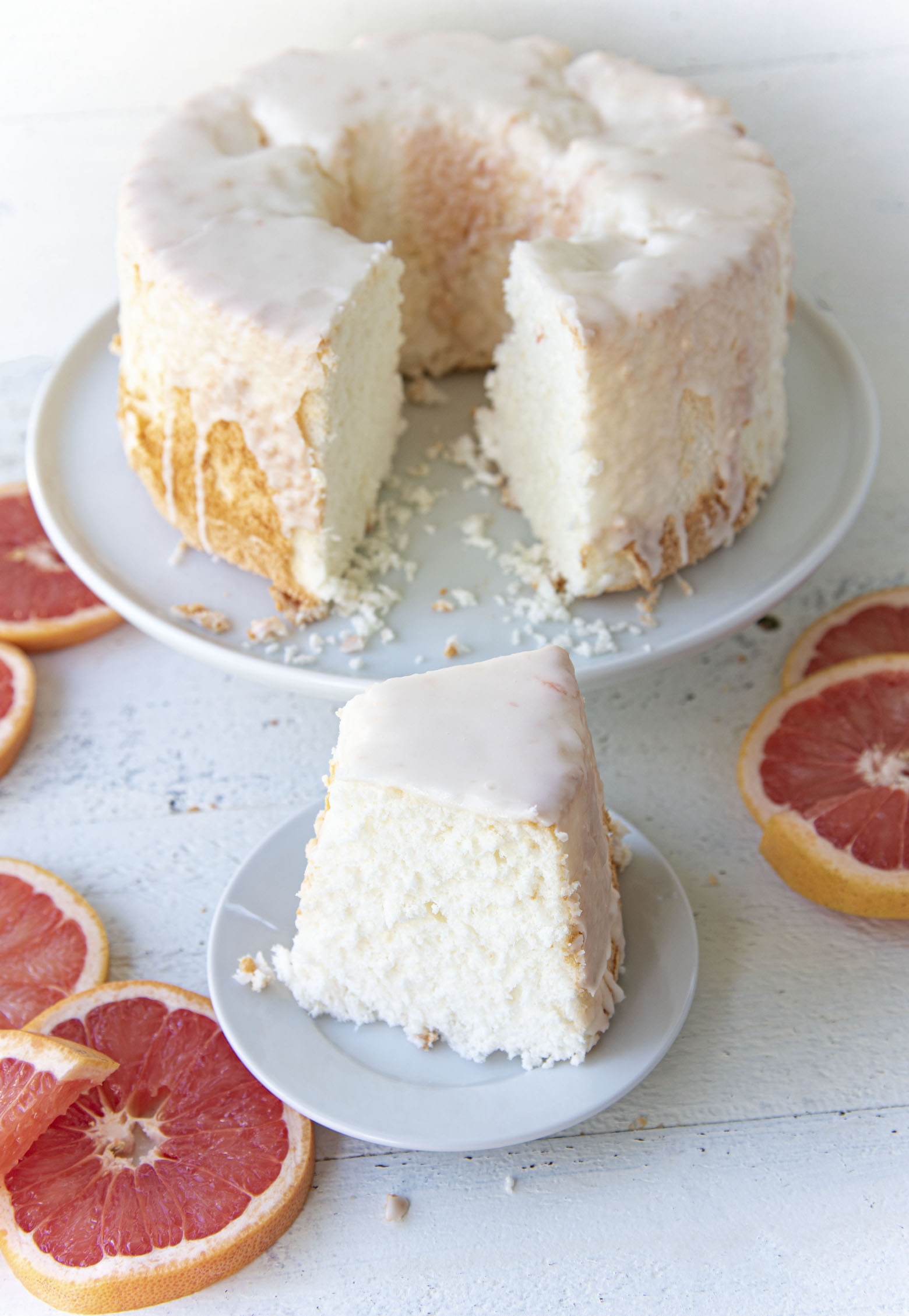 Want More Cake Recipes?
Strawberry Lemonade Layer Cake
Chocolate Peanut Butter Stout Layer Cake
Vanilla Cheesecake Funfetti Pink Ombre Layer Cake
Chocolate Salted Caramel Popcorn Layer Cake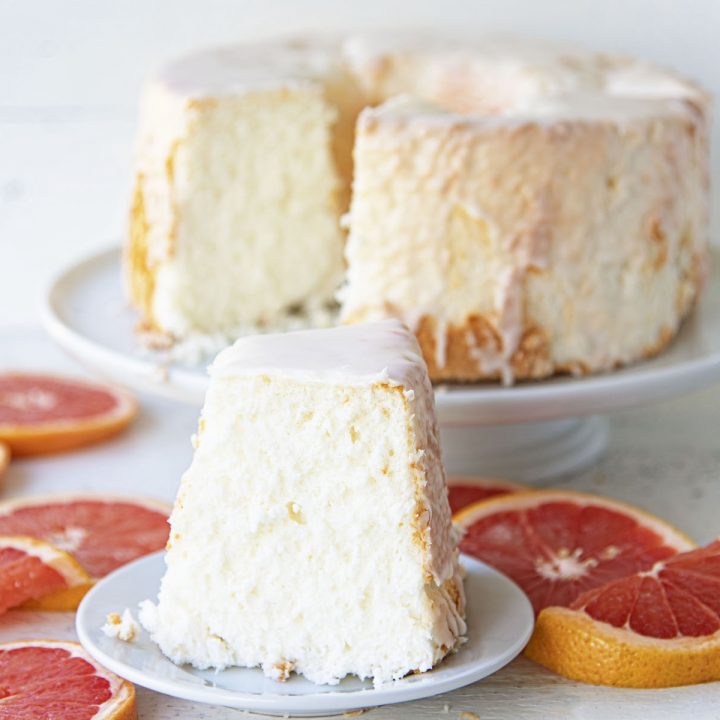 Ruby Red Grapefruit Glazed Angel Food Cake
Ingredients
For the Cake:
1 and 3/4 cups superfine sugar
1 cup + 2 TBSP cake flour
1/4 tsp salt
12 large egg whites, at room temperature
1 and 1/2 tsp cream of tartar
1 tsp vanilla extract
zest of one ruby red grapefruit
For the Glaze:
3 TBSP unsalted butter, at room temperature
1 ½ cups powdered sugar
1/3 cup ruby red grapefruit juice
Instructions
For the Cake:
Adjust the oven rack to the lower middle position and preheat oven to 325°F.
Using a stand mixer fitted with a whisk attachment, whip egg whites and cream of tartar together on medium-low until foamy, about 1 minute.
Switch to medium-high and slowly add the 1 cup of sugar one TBSP at a time.
Whip until soft peaks form, about 5-6 minutes.
Add the vanilla extract and grapefruit zest and beat just until incorporated.
In 3 additions, slowly sift the flour mixture into the egg white mixture using a fine mesh strainer, gently folding with a rubber spatula after each addition. To avoid deflating or a dense cake, don't add the flour mixture all at once. Sift and very slowly fold in several additions.
Pour and spread batter into an ungreased 9 or 10 inch tube pan. Shimmy the pan on the counter to smooth down the surface.
Bake the cake until a toothpick inserted comes out clean, about 40-45 minutes. Rotate the pan halfway through baking.
Remove from the oven, then cool the cake completely upside-down set on a wire rack, about 3 hours.
Once cooled, run a thin knife around the edges and gently tap the pan on the counter until the cake releases.
For the icing:
Whisk all the ingredients together and drizzle over the cake.
Notes
Adapted from Sallys Baking Addiction