This Key Lime Angel Food Cake is light and fluffy with all the tartness of key lime juice both in the cake and in the glaze.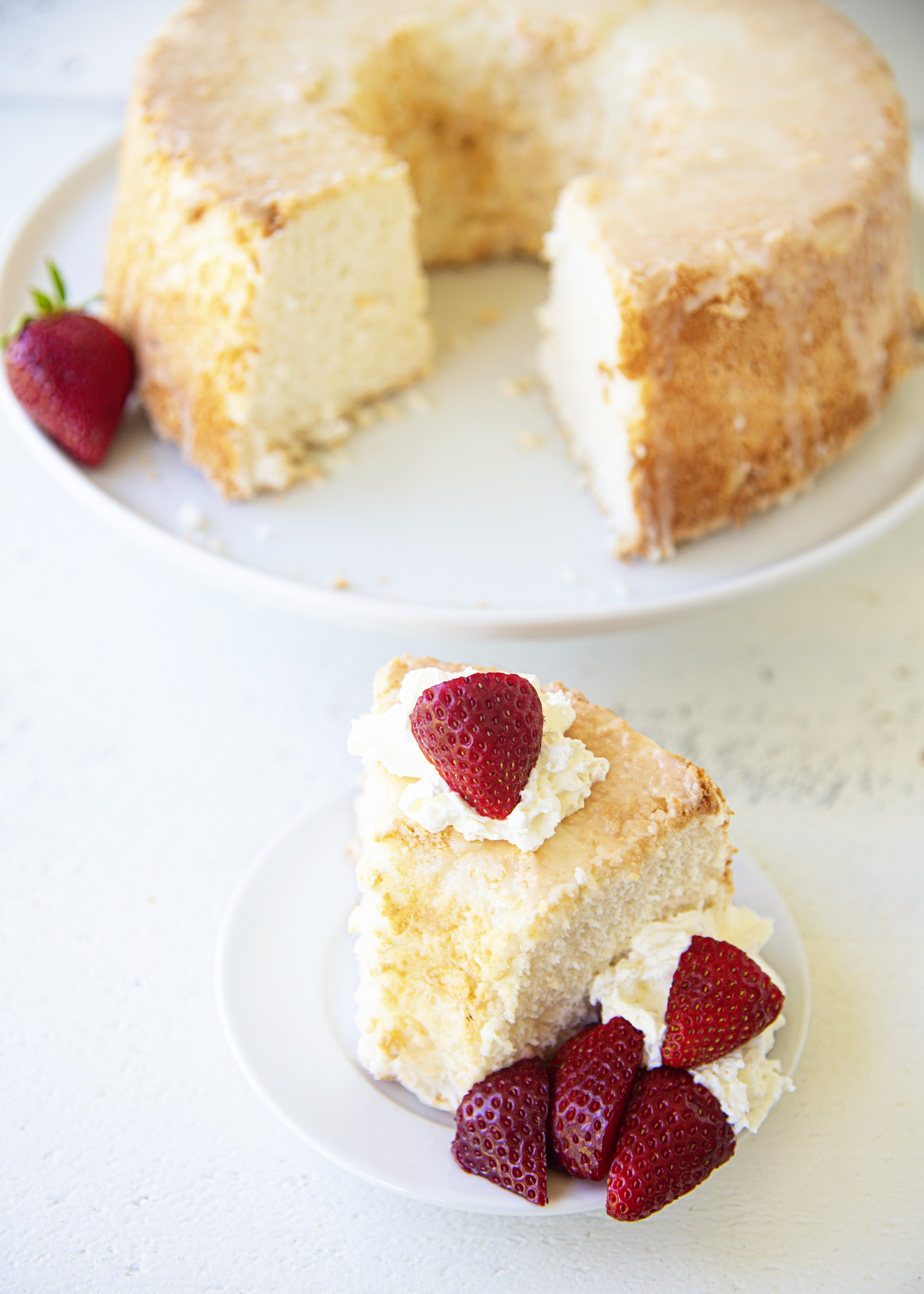 I should know better than to challenge the universe.
Because every time I do it responds.
When I was in undergrad school to become a teacher my plan was to be a high school Spanish and Physics teacher, quite the combo I know. 😀
Except they had a class called Intro to the Classroom.
In which we had to go to a classroom each class from a different grade.
Watching the high school kids be well, high school kids vs little kids coming up to hug you and give you drawings became a no brainer for me.
And so I went into the elementary program with the intention to teach kindergarten (with a physics degree…I was also Pre-Vet/Med in college).
I was all set to go student teach with a Kindergarten teacher when she got pregnant and decided not to teach that year.
So they placed me in 6th grade.
A grade I swore I would NEVER teach.
Absolutely loved it and ended up teaching 6th grade to start my teaching career.
While teaching 6th grade I had the highest math scores in the district so they kept pushing me to teach junior high so more kids could learn math from me.
I swore I would NEVER teach junior high.
Except the next year they went to rotating teaching 6 weeks of science and 6 weeks of social studies.
So that we could spend that extra block practicing for testing.
As a science nerd this did not sit well with me.
They informed me I could go teach junior high and teach math and science all day.
So I did.
And I loved it.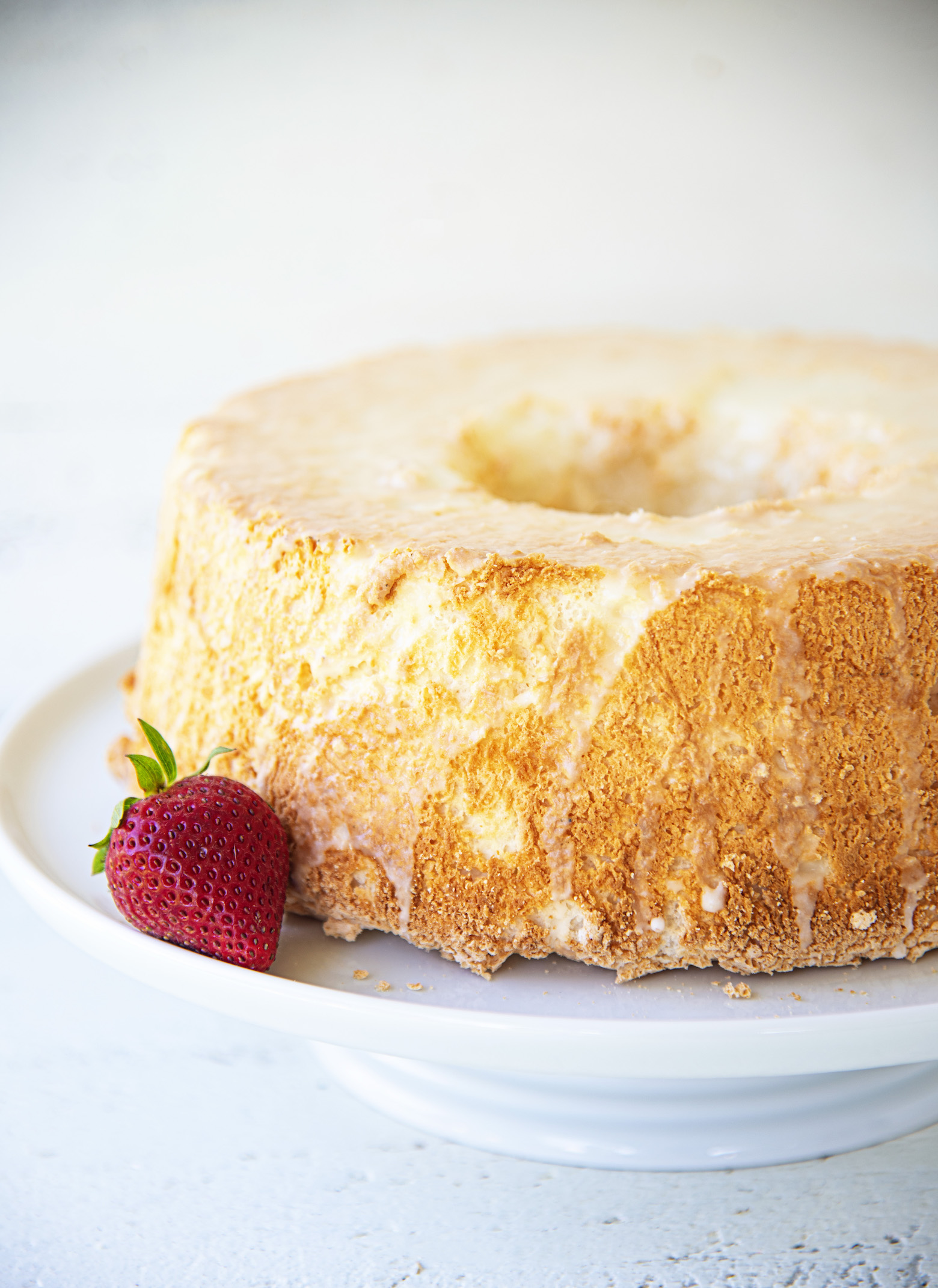 Ironically 5 days before I talked to my publisher I told a bus full of food bloggers that I had no desire to do a cookbook.
Which was true.
Because every offer I had up to that point had publishers not letting me do the book I wanted.
Then bam…a publisher who loved my idea for my book came out of the woodwork.
And so, I got a cookbook. 🙂
Then just past weekend I told my husband that Angel Food Cake was just one of those things I never feel like baking or want to bake.
Because it takes too many egg whites and can be tricky.
Except I had an idea for a key lime version of the Cherry Cheesecake Angel Dessert and needed an Angel Food Cake.
Normally I get it from the bakery…but they were out.
And I thought oh I will just use a box.
They were out.
By this point I was determined to make this dessert and so I had to make my own Angel Food Cake.
And while I always tend to say that store bought is about the same as homemade, not so in this case.
This Key Lime Angel Food Cake is definitely better than anything you can get at the store.
But both my hubby and I decided this was indeed worth the effort.
Then the hard part became stopping my husband from eating the whole cake since I needed it for the dessert I wanted to make with it.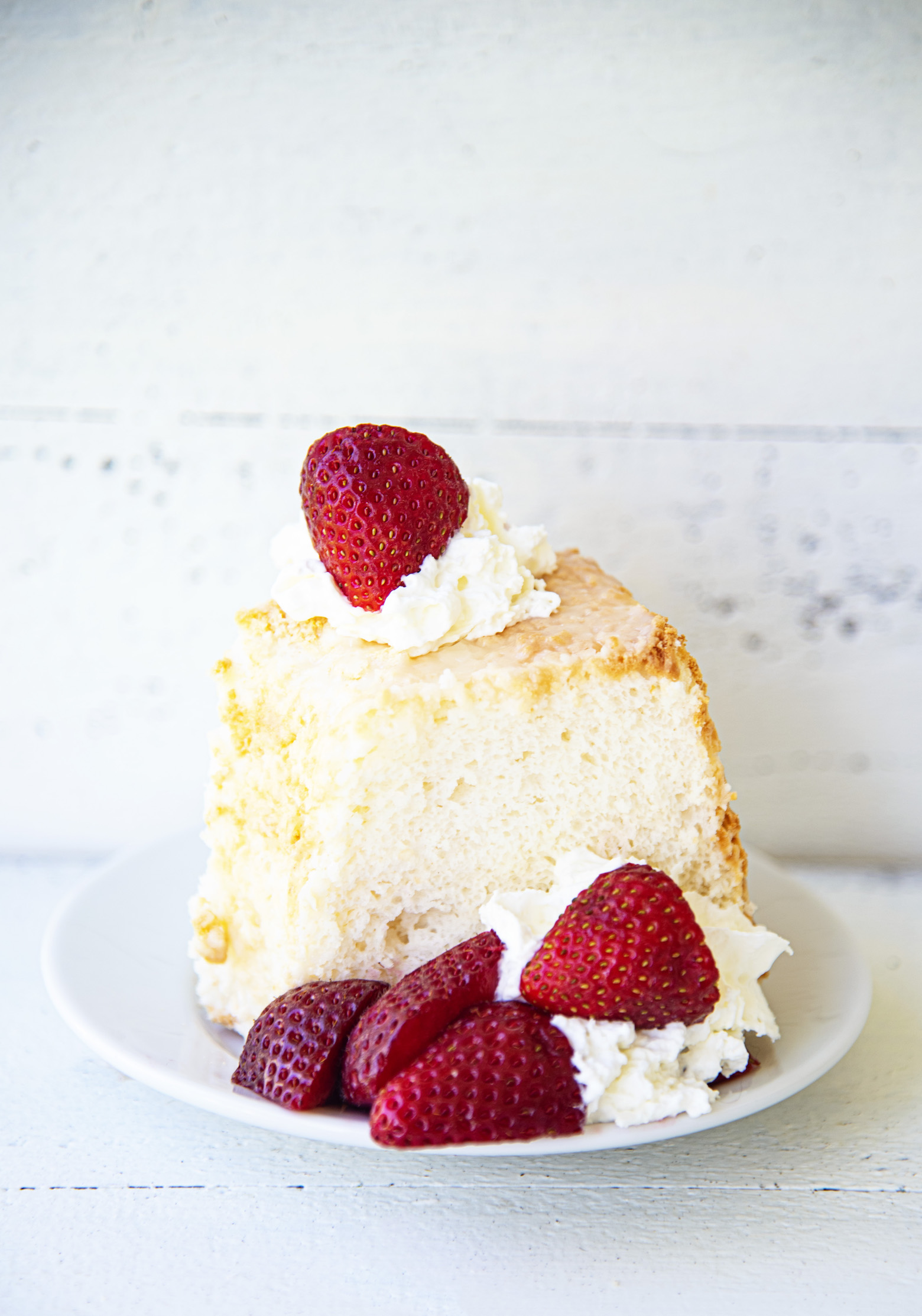 Angel Food Cake can be tricky for a lot of reasons.
Number one is you don't grease the pan.
And people really want to.
But if you do that you don't get the rise.
Second is that you have to cool it upside down because if you don't it loses its volume.
Then there is the careful-ish folding of the cake flour into the egg white mixture so as not to deflate the cake.
So yeah, there are some things that can go wrong.
But it's definitely worth taking the risk.
As always it's a great day to order my cookbook.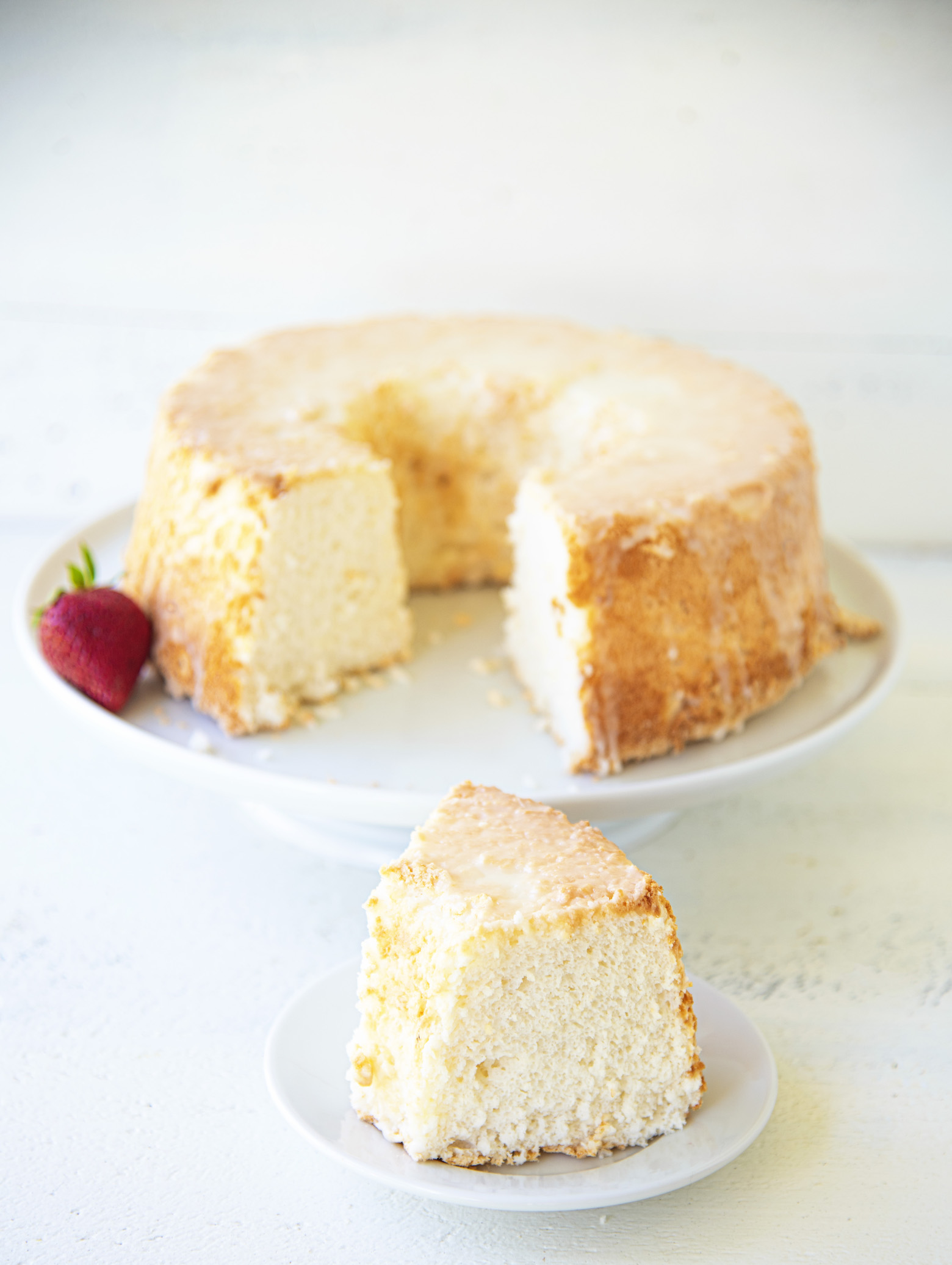 Want More Recipes?
Angel Food Cake with White Chocolate Cocoa Whipped Cream Frosting
Angel Food Cake and Strawberry Cheesecake Cheeseball
Cherry Cheesecake Angel Dessert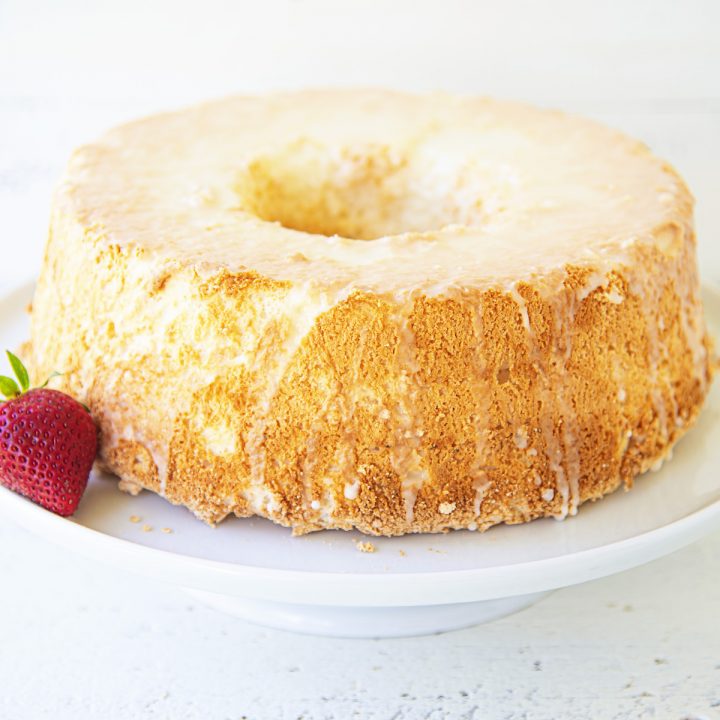 Key Lime Angel Food Cake
Ingredients
For the Angel Food Cake:
1 1/2 cups egg whites about 10-12 large eggs, at room temperature
2 TBSP key lime juice
1 1/2 tsp cream of tartar
1/2 tsp salt
1 1/2 cups sugar
1 cup cake flour
For the Glaze:
1 cup confectioners sugar
4 TBSP key lime juice
1/2 tsp vanilla extract
2 TBSP melted butter
pinch of salt
Instructions
For the Angel Food Cake:
Preheat oven to 350F.
DO NOT GREASE YOUR PAN.
Using stand mixer with the whisk attachment beat together the eggs whites, key lime juice, cream of tartar, and salt on high speed until medium-stiff peaks form.
Reduce speed to low and gradually add the sugar 1/4 cup at a time until all the sugar is added.
Using a sifter sprinkle in cake flour in four parts over the cake and then gently fold into mixture. Don't over mix.
Pour batter in a 9 or 10 inch angel food tube pan and bake for 35-40 minutes until golden brown and springs back when touched.
Cool the cake upside down. This is important as your cake will loose volume if you do not let it cool this way. When cake is completely cool run a knife around the edges of the cake pan as well as the center. Remove cake from pan.
Place cake on a wire rack to continue to cool while you make the glaze.
For the Glaze:
Whisk together all the ingredients. If too thin add more powdered sugar. If too thick add more lime juice.
Pour glaze over cake and let firm up for about 30 minutes.