This Double Stuff Oreo Chocolate Chip Shortbread is a chocolate based shortbread with pieces of Oreo filling inside the shortbread.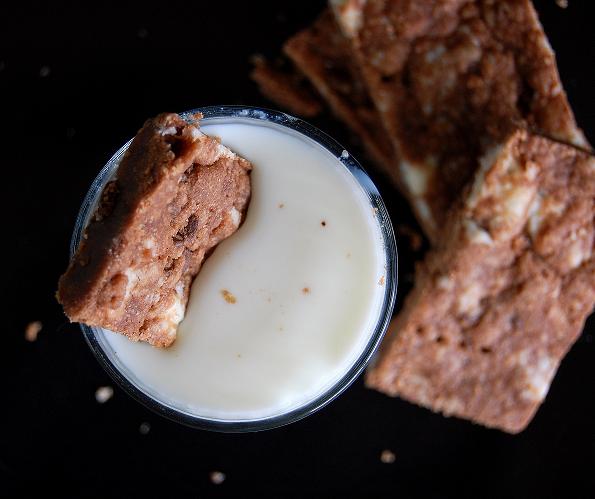 I don't know.
Those are the three most hated words in my father's vocabulary.
When growing up, if you got in trouble those were the last words my father wanted to hear.
"Why did you do it?"
"I don't know."
Now I caught on at an early age that it was actually better just to make some crap up than it was to answer with I don't know (which truly, I didn't know).
My oldest brother however did not.
We had a large backyard when we lived in Flagstaff.
One that did not have a fence.
But on one side of the yard was a rock wall.
One day after my brother did something stupid and then gave the answer of I don't know, my father had him move the rock wall from one end of our vast yard to the other.
It took him all day.
I mean ALL day.
And at the end of the day my dad told him "nice job, tomorrow, move it back to where it was".
My brother was quite puzzled at this.
When he asked why…you guessed it, my father's reply was "I don't know".
The only problem is sometimes you really just don't know.
Really.
There are so many times in my life when I just don't know.
Especially when it comes to eating out. 🙂
I get quite a few emails about how I come up with my ideas.
Some I get inspired by eating somewhere.
Some by reading a recipe.
And the main answer is….I don't know.
It's just how my brain works.
I don't know is also not an answer my readers like to hear.
But sadly, that's the truth.
Take these Double Stuff Oreo Chocolate Chip
Shortbread for example.
We were talking about why Double Stuff is better than regular Oreos because the filling is the best.
The next thing you know I am writing down on a scrap piece of paper to make chocolate shortbread with the centers of Double Stuff in it.
My friend asked me how I got that out of our conversation….
I don't know. 😀
P.S. It's a great day to order my cookbook.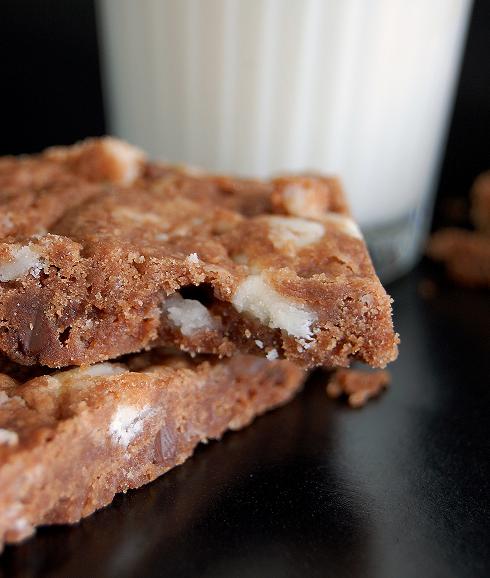 Want More Shortbread Recipes?
White Chocolate Berry Linzer Cookies
Chocolate Covered Strawberry Shortbread
Roll Out Shortbread Sugar Cookies
Chocolate Dipped Gingerbread Shortbread Men
Blackberry Caramel Thumbprint Cookies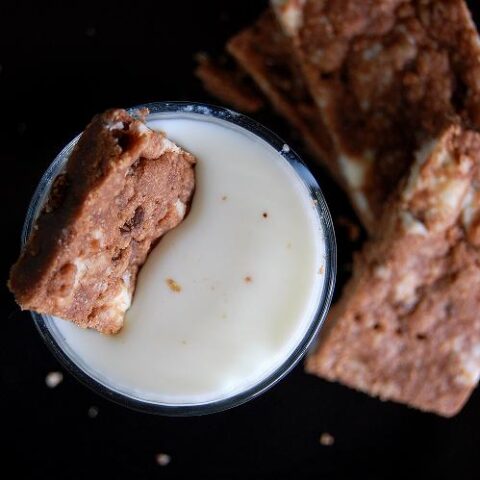 Double Stuff Oreo Chocolate Chip Shortbread
Ingredients
1 ½ sticks butter, at room temperature
2/3 cup granulated sugar
1 tsp pure vanilla extract
1 cup all-purpose flour
½ cup white rice flour
3 TBSP dark unsweetened cocoa powder
2/3 cup mini semi sweet chocolate chips
1 ½ cups Oreo Double Stuff centers (this is about 30 cookies)
Instructions
Grease and flour a 9-by-13-inch pan.
Preheat the oven to 350 degrees F.
Cream the butter and sugar together until light and fluffy, about 3 minutes.
Add the vanilla extract and mix for 30 seconds.
Next add the flours and cocoa powder and mix until the dough is smooth, about 1 minute.
With the mixer on low, add in the chocolate chips.
Mix until combined.
Then add the Double Stuff centers. You don't want to crush them too much so make sure to you don't over mix. You want to see the pieces in there.
Gently press the dough evenly into the pan.
Place the pan into the top half of the oven and bake until the shortbread is set, about 18 to 20 minutes.remove from the oven and let cool 15 minutes.
Using a sharp paring knife score the top of the still warm but cooling shortbread.
Cut in any size you prefer.
Run a butter knife around the edge of the pan and invert onto a cutting board.
Let cool an additional 10 minutes.