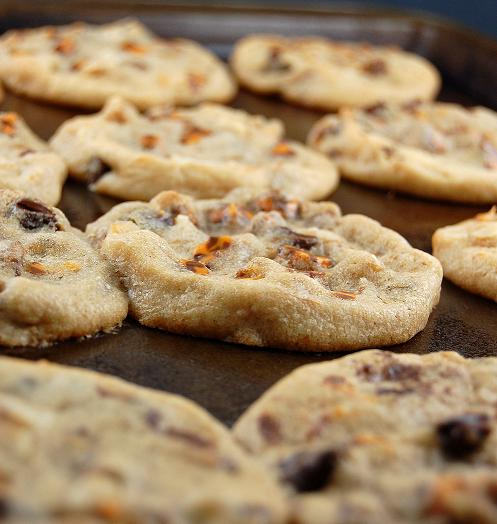 Whenever I want to feel really bad about the future of our country, I like to watch the MTV reality shows. 16 and Pregnant scares the crap out of me. I thought that one was bad until I watched the ultimate, Teen Cribs this past week. This show perpetuates one of the biggest problems in children today… Entitlement.
A large portion of children today feel that they are owed something by life, just for existing. And not just something, someTHINGS. And all things name brand. Growing up we got whatever we got (and we liked it…or else). I got Vans but only because back then Vans were dirt cheap in California and Arizona. My clothing came from Kmart half the time…because I was out growing it. I had no cell phone. No Coach purse. And truthfully, until junior high hit, it really didn't make a difference. And even then, it only mattered what jeans you wore. Nobody really seemed to give a crap about the rest of what you wore.
I watched this show in horror as they showed their houses. The tennis courts, basketball courts, home theaters bigger than my house, the petting zoos, the cars for kids who can't even drive yet, the race tracks, the Taco Bell on property, the baseball field complete with concession stand, the water slide through the house, etc…
I get that people have nice things and people can spend their money however they want. What drove me crazy is that the parents when interviewed just kept saying that they were happy because they could provide their children with these things that made them truly happy. What??? You know what made me truly happy as a kid. A large cardboard box. You know the kind your parents got when they bought a new refrigerator or washing machine. Those things rocked. And I spent hours in them. Or how about making a fort out of the living room furniture and sheets/blankets? Sleeping in those forts was the best. The only thing bad was that we didn't get to keep them up for long. Which in a way made them special. You could tell that the kids just moved on to the next thing. The kids seemed so disinterested in most of the things they had. Which is just sad.
Sometimes we get so wrapped up in things that we go overboard. In baking as well. Which is why I offer up these simple chocolate chip cookies. Well, not plain chocolate chip. I did use the Milk Chocolate and Caramel Chips (which they don't make anymore so use chocolate chips and butterscotch chips to recreate that flavor combo) that I found at the store one day. You can use whatever chocolate chip you want to. The other interesting thing is that they are rolled in plastic wrap and kept in the fridge for 24 hours. That was what made me want to make them. The same cookie, just in a different way. I like.
Plain. Simple. Often over looked, but always appreciated.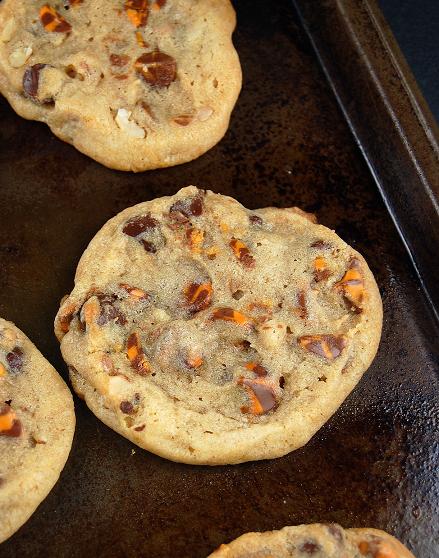 Be Thankful For What You Have Chocolate Chip Cookies
2 ½ cups all-purpose flour
¾ tsp baking soda
1/8 tsp salt
1 cup unsalted butter, at room temperature
1 cup packed light brown sugar
¾  cup granulated sugar
1 tsp vanilla extract
2 large eggs, at room temperature
1 ¼ cups walnuts, toasted and coarsely chopped
8 ounces milk chocolate chips
6 ounces butterscotch chips
In a small bowl, whisk together the flour, baking soda, and salt; set aside.
Using a stand mixer fitted with the paddle attachment (or in a bowl by hand), beat together the butter, brown sugar, granulated sugar, and vanilla on medium speed just until smooth, about 2 minutes.
Beat in the eggs one at a time until thoroughly incorporated, then stir in the flour mixture followed by the walnuts and chocolate and butterscotch chips.
On a lightly floured work surface, divide the dough into quarters. Shape each quarter into a log about 9 inches long. Wrap the logs in plastic wrap and refrigerate until firm, preferably for 24 hours (do this part for real please).
Position racks in the upper and lower thirds of the oven; preheat the oven to 350°F. Line 2 baking sheets with parchment paper or silicone baking mats.
Slice the logs into disks ¾  inch thick and place the disks 3 inches apart on the prepared baking sheets. If the nuts or chips crumble out, simply push them back in.
Bake, rotating the baking sheets midway through baking, until the cookies are very lightly browned in the centers, about 10 minutes. If you like soft chocolate chip cookies, as I do, err on the side of underbaking.
Let the cookies cool on the baking sheets until firm enough to handle, then use a spatula to transfer them to a wire rack.
Adapted from Ready for Dessert by David Lebovitz