These Chocolate Covered Strawberry Shortbread are buttery shortbread cookies studded with freeze dried strawberries and dipped in a milk chocolate.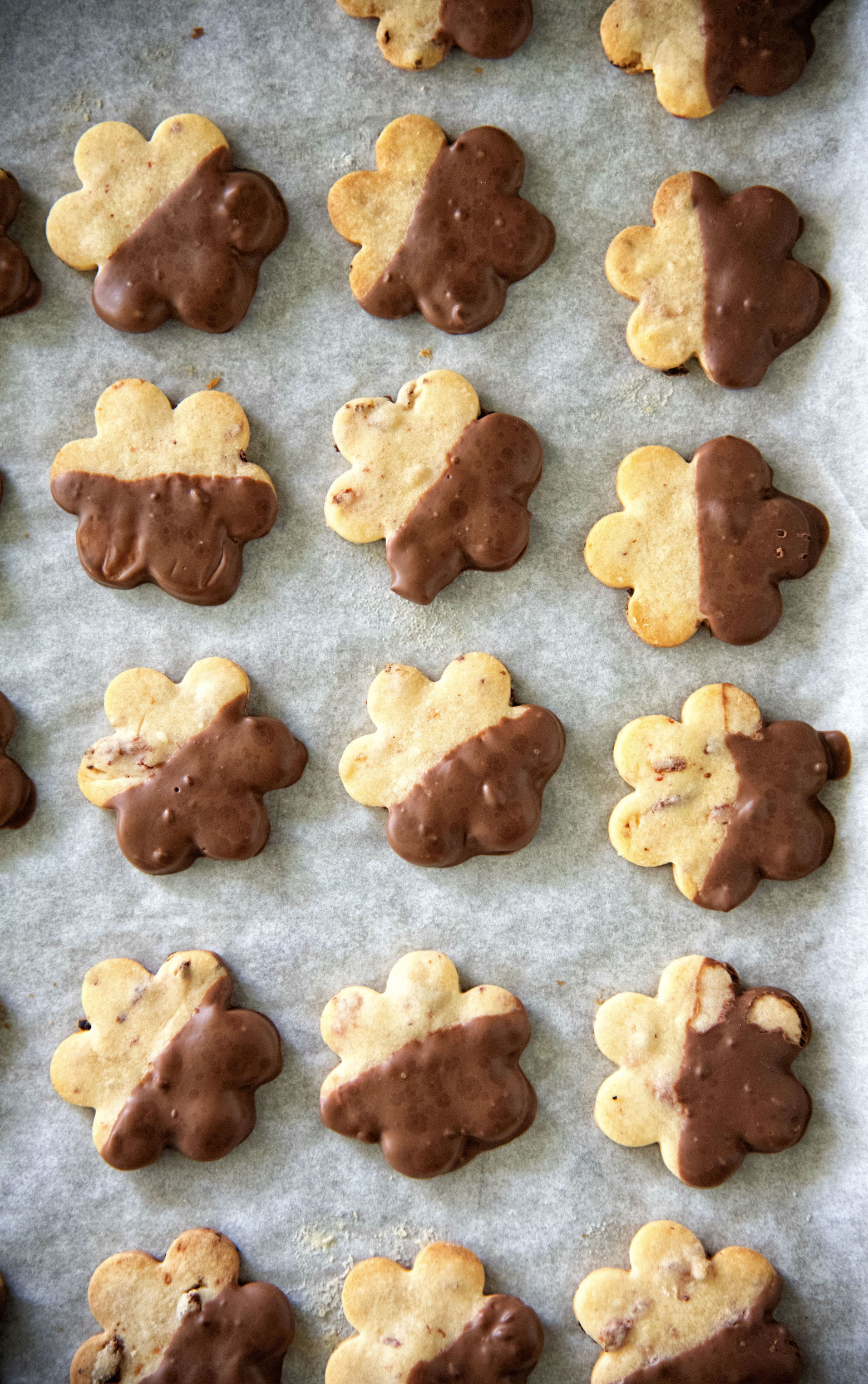 Roll out cookies always seem like a good idea to me.
Until it comes to the actual rolling them out.
I'm good for about 10 cookies. 🙂
But this ends up making about 150 cookies if you use the size cookie cutter I did.
After I did all the rolling I thought why not torture myself and dip each individual cookie into chocolate?
There may have been some swearing.
Right up until I bit into the cookie.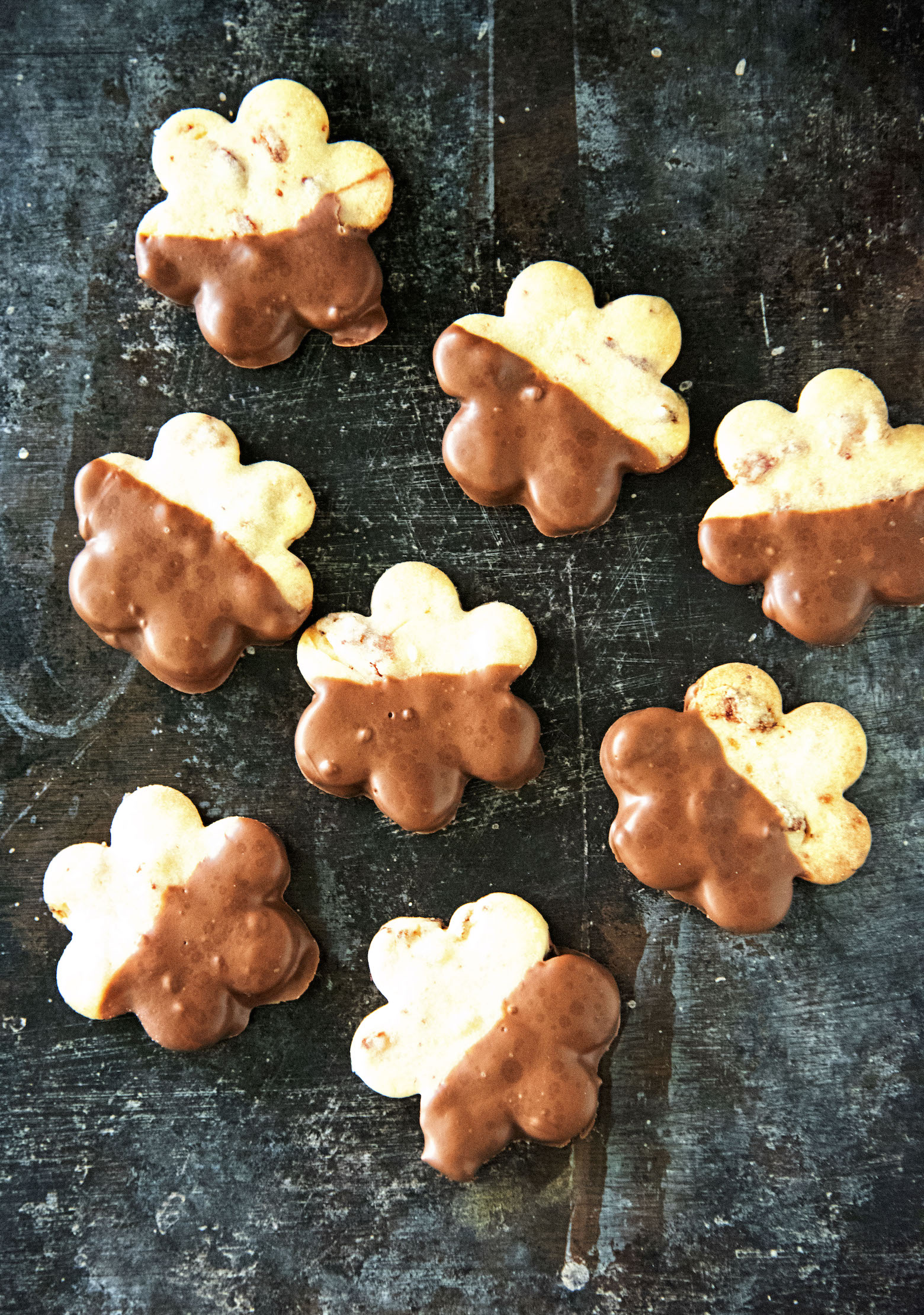 Then it seemed worth it.
The Chocolate Covered Strawberry Shortbread turned out how I had hoped.
Once again used freeze dried strawberries.
I get a lot of people leave comments or email that they don't want to buy such a large container of freeze dried strawberries.
Personally I buy them in bulk because it saves money and because I use them often.
You can find it in smaller quantities usually at Target and Trader Joes.
But you can find a ton of recipes on here using the freeze dried strawberries and you will see many more to come.
So just go buy some.
These are butter, tart, and chocolate sweet all at the same time.
Be careful not to over-mix these or they will start to get tough.
P.S. It's a great day to buy my cookbook Holy Sweet!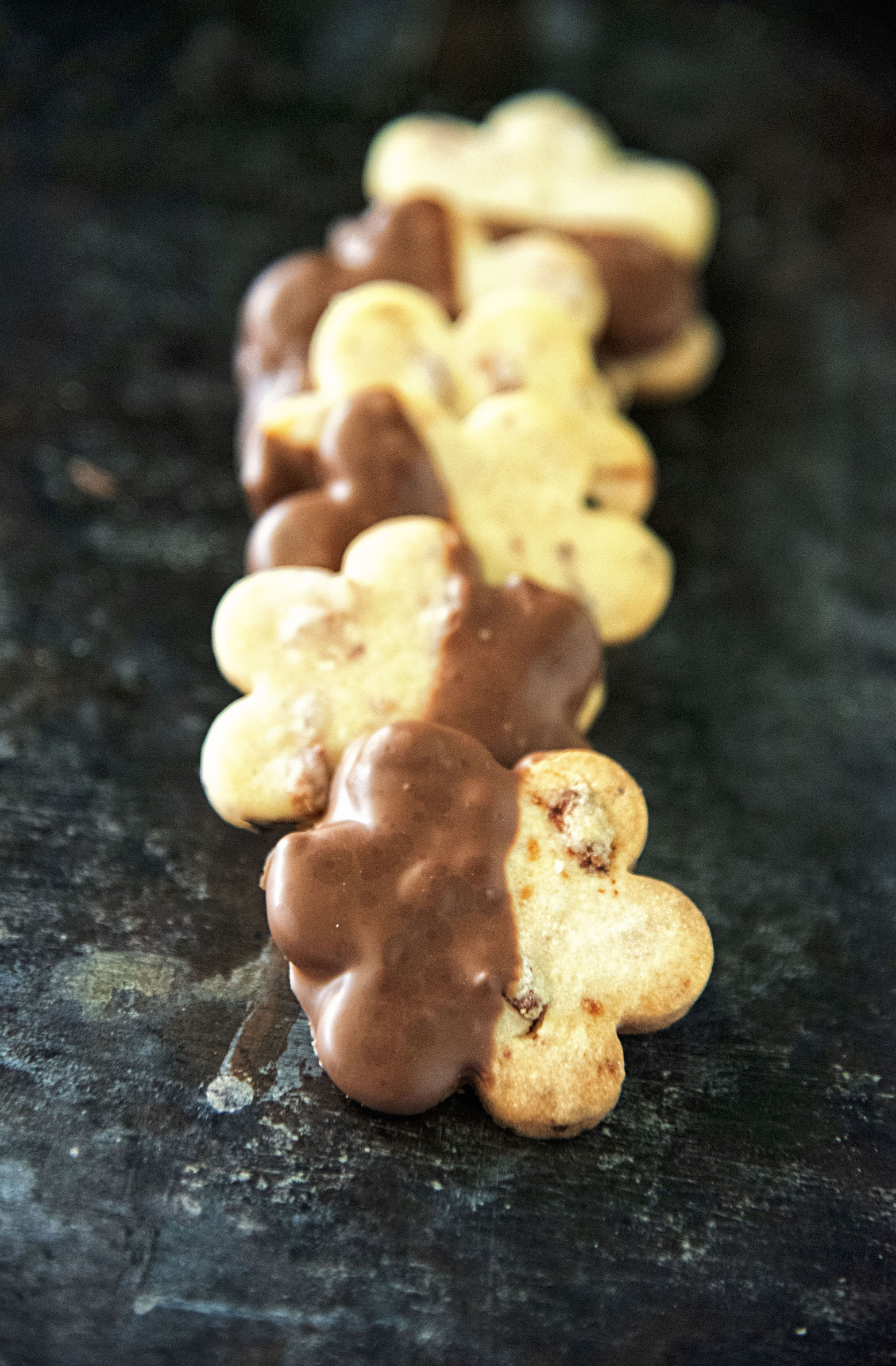 Want more recipes? Try these:
Chocolate Covered Strawberry Muffins
Strawberries and Cream Bundt Cake
Strawberry Cream Cheese Pretzel Pie
Strawberry Shortcake Layer Cake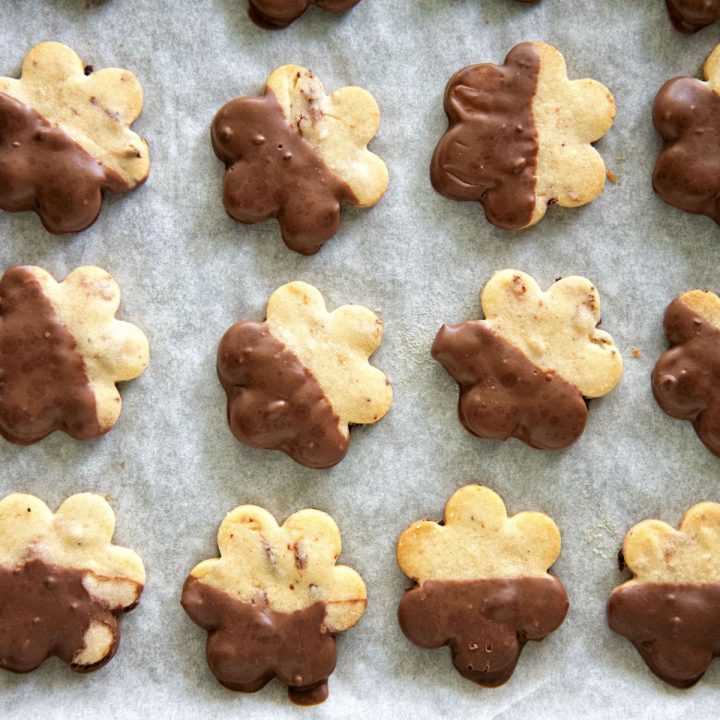 Chocolate Covered Strawberry Shortbread
Ingredients
For the Cookies:
2 cups unsalted butter, at room temperature
1 1/2 cups powdered sugar
2 tsp. vanilla extract
4 cups all-purpose flour
2 tsp. baking powder
Pinch of salt
For the Chocolate Coating:
12 oz milk chocolate
3 TBSP vegetable oil
Instructions
For the cookies:
Using a stand mixer fitted with a paddle attachment, beat the butter and sugar on medium-high speed until fluffy, about 3 minutes.
Add the vanilla and salt and beat for another 30 seconds.
In a separate bowl, sift together the flour and baking powder.
Add the flour mixture slowly to the butter mixture, stirring on low speed.
Add the freeze dried strawberries and mix until they are evenly dispersed, best you can.
Stop beating as soon as the flour mixture is completely incorporated (over-beating will produce a tough cookie).
Form the dough into a ball, cover in plastic wrap and refrigerate for 30 minutes before rolling it out.
When ready, preheat oven to 350 degrees F.
On a flat, smooth surface, roll the chilled dough out to 1/4 inch thickness.
Cut out the cookies with chosen cookie or biscuit cutter.
Use a spatula to transfer the cookies to a greased baking sheet.
Bake the cookies for 10 to 12 minutes, until light brown around the edges.
Cool the cookies for 10 minutes on the baking sheet, then remove with a spatula and cool completely on racks before dipping into chocolate coating.
For the Chocolate Coating:
Combine chocolate and oil in a medium heat-proof bowl set over a medium saucepan of barely simmering water; stir until melted and smooth.
Transfer to a small bowl, and let cool about 15 minutes.
Dip the top of each cookie halfway into the chocolate and set on a wire rack with a cookie sheet below to catch any drips.
Let the cookies stand at room temperature until the coating hardens.
Notes
I used THESE cookie cutters for the flower shape.