These Blackberry Caramel Thumbprint Cookies are a vanilla bean shortbread thumbprint cookie with a blackberry caramel filling.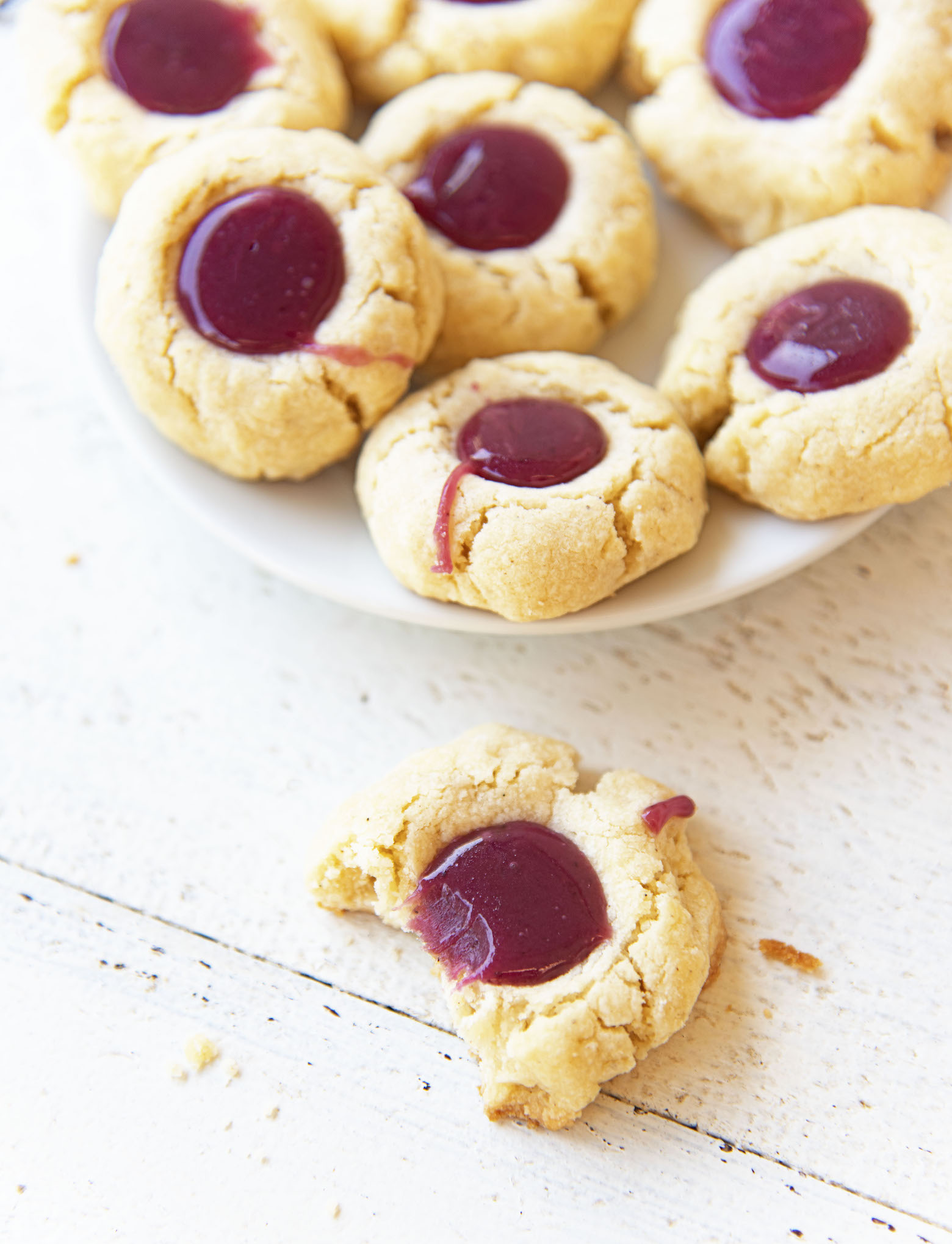 We are in the middle of blackberry season.
In the Pacific Northwest they kind of grow everywhere.
You will find people on the side of the highway picking them.
Which I've never understood because they are everywhere.
Why would you want to pick the ones getting automobile exhaust on them all day.
Plus not all blackberries are created equal.
And roadside blackberries tend to not be that flavorful.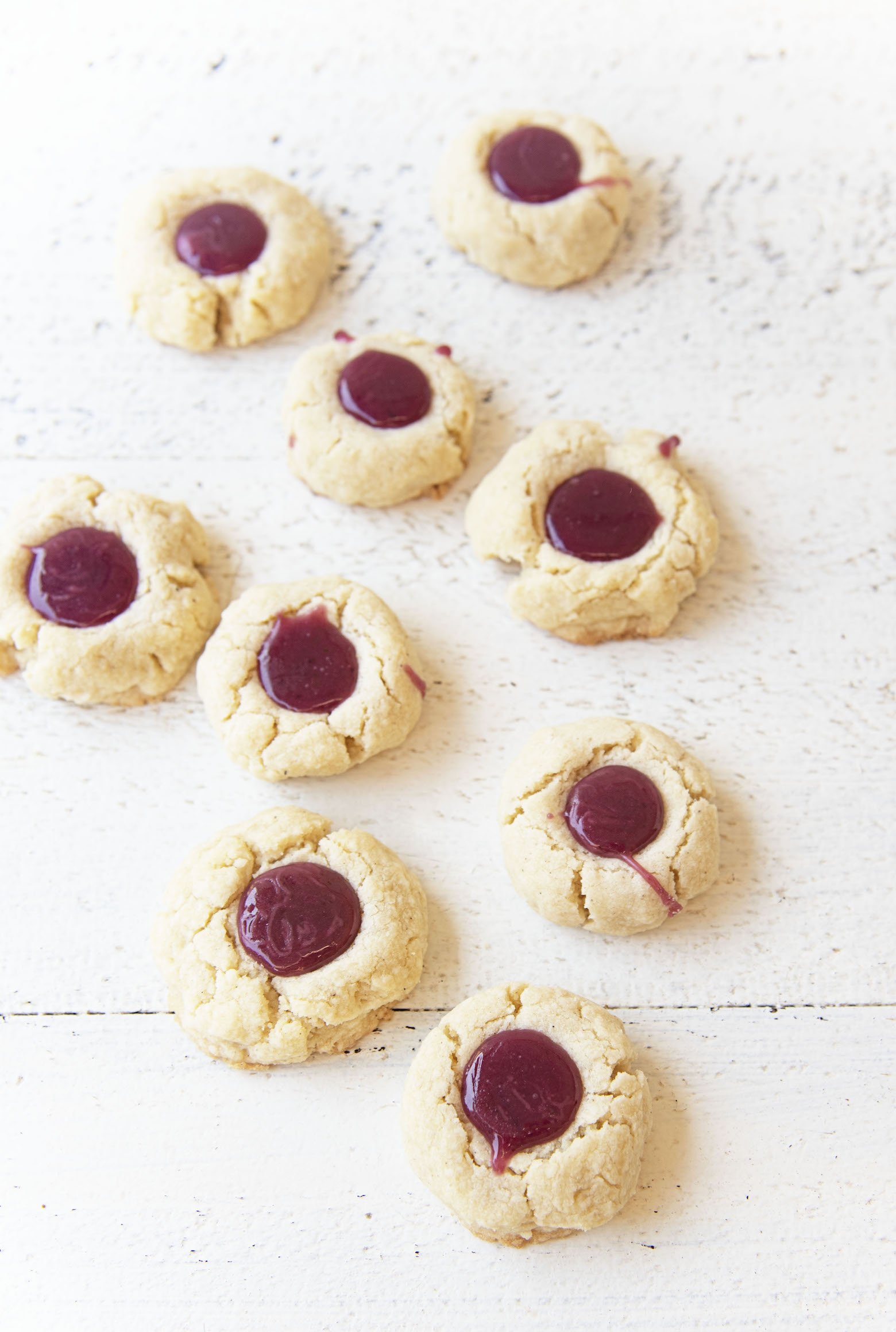 But as most of you know I do live in farm country.
So I get my pick (pun intended) of the quality blackberry varieties.
I had made the Mixed Berry Millionaire Bars and those were really tasty.
But I never tend to repeat what I just made.
So I figured I would make the shortbread based thumbprints I made a few years back.
Those were filled with vanilla bean caramels.
These are Blackberry Caramel Thumbprint Cookies.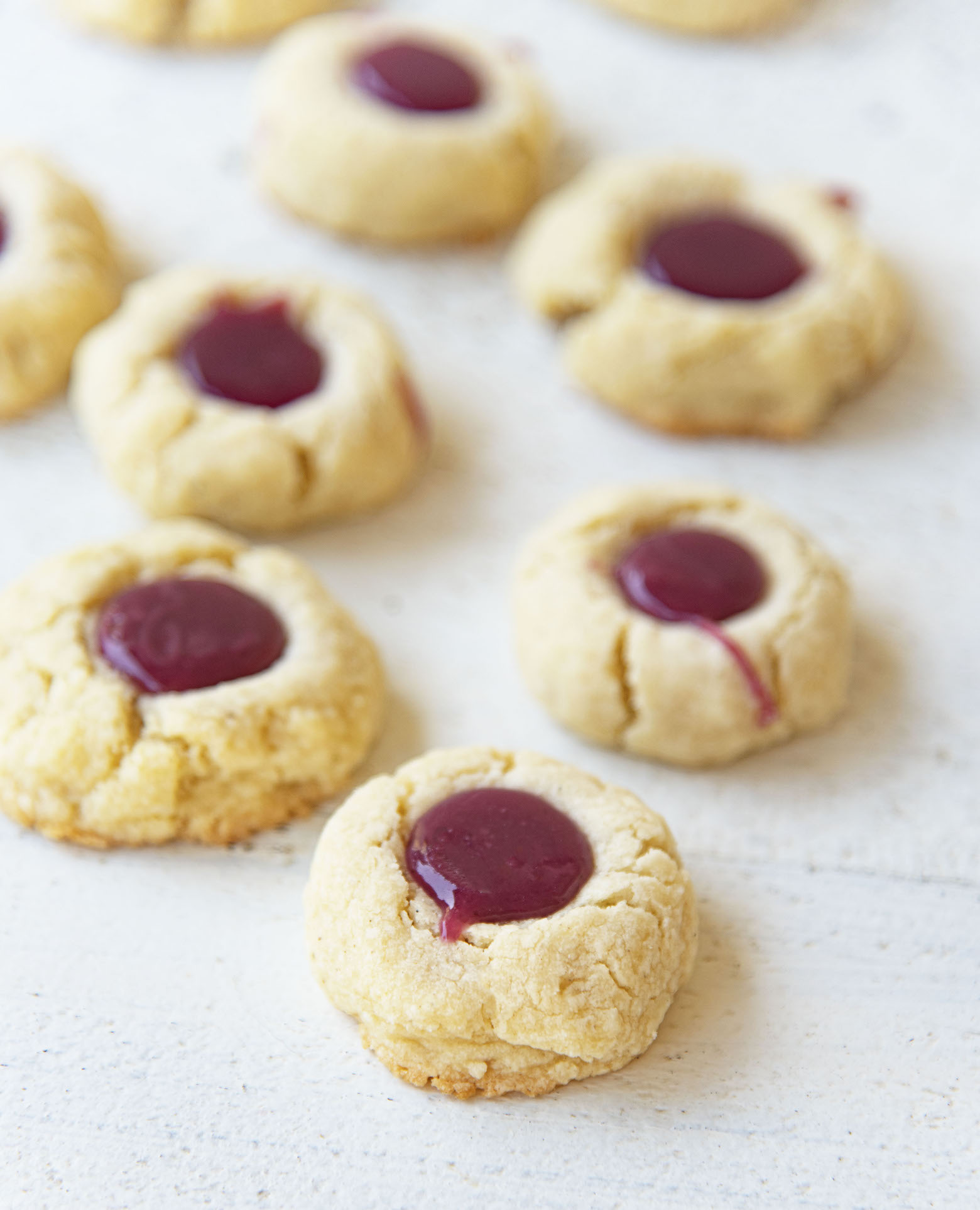 These have a basic vanilla bean shortbread cookie as the base.
Nothing fancy, just your butter, sugar, flour, salt, and vanilla combo.
Which is what you want so that you can really taste the blackberry caramel.
Yes, it does take some time to cook down the blackberry juice.
But it's worth it to get the concentrated blackberry flavor.
Tips for making successful Caramels:
1. Get a good thermometer.
There are a lot of variety of thermometers out there for candy.
I prefer a digital laser thermometer but you can use the old fashioned kind that hand on the side of the pot.
2. When making candy, especially fudge but even caramels I like to use a superfine sugar.
If you don't want to spend the extra money (like me) for the special sugar just put it in the food processor and pulse a few times.
3. Have all your ingredients out and measured before you start.
Candy making is about timing and if you have to measure out as you go there is a good chance things won't turn out.
4. Be patient. This one is hard for people.
I taught Jr. High for years so I have a lot of patience.
Candy making takes time.
5. Don't stir. You will want to but don't do it.
6. Don't scrape the bottom.
Often in the caramelization process the bottom of the pan will get a little more brown than you want.
So don't scrape that into the pan.
Just let what caramel comes out…come out.
7. Don't touch.
You may be tempted to stick your finger in there to see how it taste.
It tastes like burnt off finger if you stick your finger in there.
P.S. It's a great day to buy my cookbook.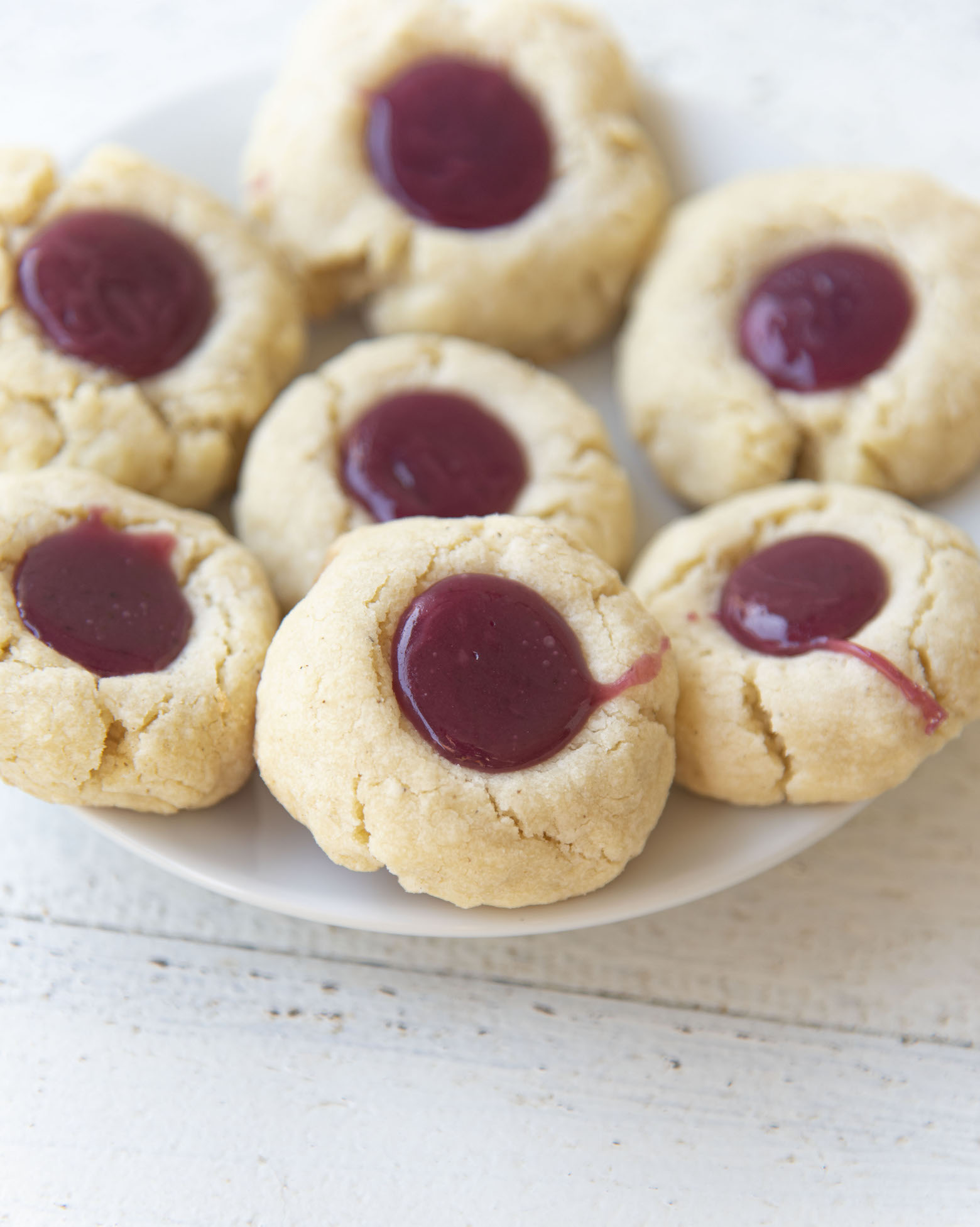 Want more Thumbprint Cookie Ideas?
Dulce de Leche- Cashew Thumbprints
Vanilla Bean Caramel Thumbprint Cookies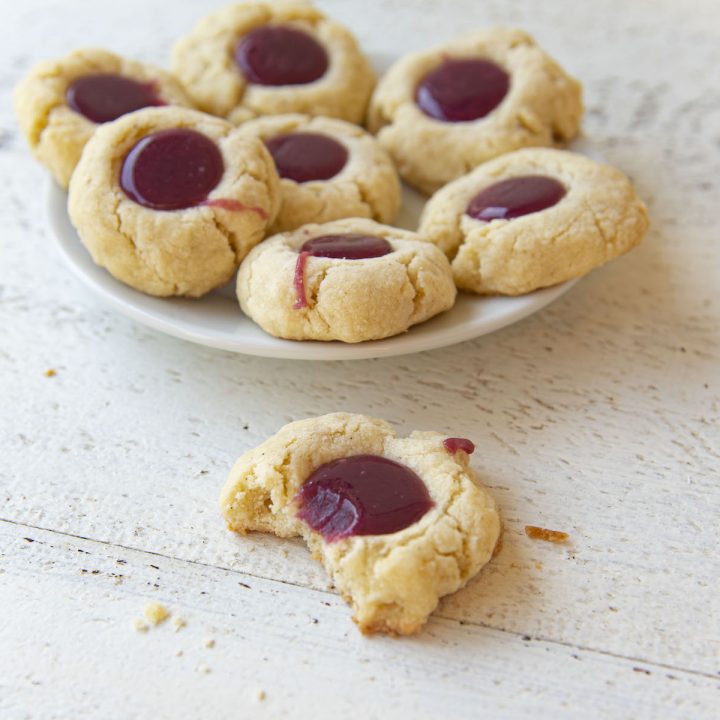 Blackberry Caramel Thumbprint Cookies
Ingredients
For the Vanilla Bean Cookie:
1 cup unsalted butter, at room temperature
1 cup powdered sugar
1 tsp. vanilla extract (I used Rodelle)
1 vanilla bean, seeds removed, pod discarded (I used Rodelle)
2 1/4 cups all purpose flour
For the Blackberry Caramel Filling:
2 cups blackberry juice
4 TBSP unsalted butter
3/4 cup granulated sugar
3 TBSP heavy cream
pinch of salt
Instructions
For the cookies:
Preheat oven to 350F.
Line two baking sheets with parchment paper.
Using a stand mixer with a paddle attachment cream together the butter and powdered sugar.
Add in the vanilla and vanilla bean seeds and mix until fully combined.
Add the flour and mix until it forms a dough.
Shape dough into 1-inch balls.
Transfer cookies to the prepared baking sheets, spacing cookies 2-inches apart.
Using a 1-tsp measure, or your thumb, make an indentation in each cookie.
Bake cookies, one sheet at a time, until the edges are set, 14-16 minutes.
I like to at this time repress my thumb or tsp measure to make the indentation really big in the cookie when the cookies come out of the oven.
Transfer the cookies to a cooling rack.
For the Blackberry Caramel:
In a 2-quart saucepan, boil the blackberry juice until it reduces to 1/4 cup, this will take awhile. It took me 35 minutes.
Once the blackberry juice is reduced, lower the heat and add the butter, sugars, and heavy cream.
Raise the heat and bring the mixture to 255F over medium-high heat. Use a candy thermometer to ensure the proper temperature.
Immediately stir in the salt.
Carefully spoon caramel into the thumbprint holes in the cookies.
Let set a room temperature for 1 hour while caramel sets up.