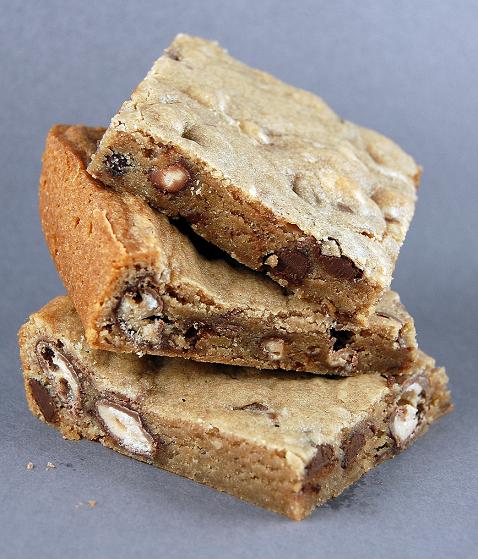 One thing that is less than awesome about food blogging is that everyone assumes you are a food snob. Now I know where they get this, there are a lot of food snobby-ish food bloggers out there. I read some of their blogs, heck I am friends with some of them. And it's all well and good. But sometimes my budget has me shopping at Walmart instead of Whole Foods. And some people live nowhere near a farmers market. We can't all afford organic, fair trade chocolate. And making my own cream soup for a casserole my husband wants is just ridiculous, especially since he wouldn't notice the difference.
But because people think this they often wont give me food. 🙁 I was out with a friend and her child awhile back and she pulled out a Little Debbie Nutty Bar and gave her kid half. She immediately apologized to me and said how she didn't have time to bake like I did, and how horrible I must think she is. You know what I was thinking? Gosh I hope that kid only eats one half of that bar so I can have the other half. That's what I was thinking.
So here are the embarrassing things I eat that some scoff at. Stove Top Stuffing (chicken flavored). Strawberry Frosted Pop Tarts (I lived off of these my first year of teaching). Little Debbie Star Crunch. Hot Pockets (multiple flavors). And truth be told on any given day, though I do love higher end chocolate (especially stuff with sea salt), I'll take a waxy chocolaty malted milk ball that is called a Whopper over that fancy stuff, no contest.
In fact, I love Whoppers so much that I actually want them to be their own food group. Grains, Dairy, Meat, Fruits and Veggies, Bacon (yes, I feel it needs it's own separate group, it's just that special), and Whoppers.
So when I came across what were originally called Brewer's Blondies and saw that they had Whoppers, I thought, Oh my yes! I ended up making several batches of these. I gave out small samples to many a person, all of whom came back and asked if I could make them more. So I did. Because sometimes I am nice (shhh, don't let that get out).
These are a great alternative to the every day brownie or blondie (not that there is anything wrong with those items).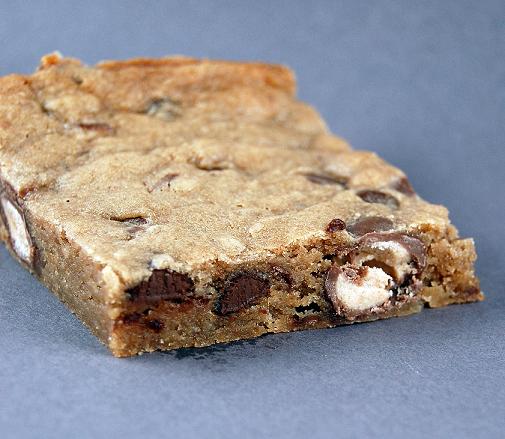 Malted Milk Goodness Blondies
Makes 24 depending on how you cut…I got 4. 🙂
2 1/3 cups all-purpose flour
1 ½ tsp baking powder
1 tsp salt
3 TBSP malted milk powder
14 TBSP unsalted butter, softened, cut into 1-inch cubes
1 ¾ cups firmly packed dark brown sugar
2 large eggs
2 tsp pure vanilla extract
1 ½ cups malted milk balls (like Whoppers or Maltesers), coarsely chopped in a food processor (I kept half of mine whole)
¾ cup (9 ounces) semisweet chocolate chips
Preheat the oven to 350 degrees F. Butter the bottom and sides of a 9-by-13-inch baking pan.
In a medium bowl, whisk the flour, baking powder, salt and malted milk powder together.
In the bowl of an electric mixer fitted with the paddle attachment, beat the butter and brown sugar on medium speed until completely combined. Scrape down the bowl, add the eggs and vanilla, and beat until combined.
Add the flour mixture in two batches until just combined. Add the malted milk balls and chocolate chips; beat until just combined, about 10 seconds. The mixture will be thick. Turn the mixture out into the prepared pan and use an offset spatula to spread it evenly.
Bake in the center of the oven for 25 to 30 minutes, or until a toothpick inserted into the center of the blondie comes out clean.
Transfer to a wire rack and let cool for 20 minutes. Once thoroughly cooled, cover tightly with plastic wrap and keep at room temperature for up to 3 days.
Adapted from Baked: New Frontiers in Baking by Matt Lewis and Renato Poliafito, (Stewart, Tabori & Chang, 2008).