These White Chocolate Berry Linzer Cookies are make with a hazelnut shortbread, filled with mixed berry jam, and dipped in white chocolate.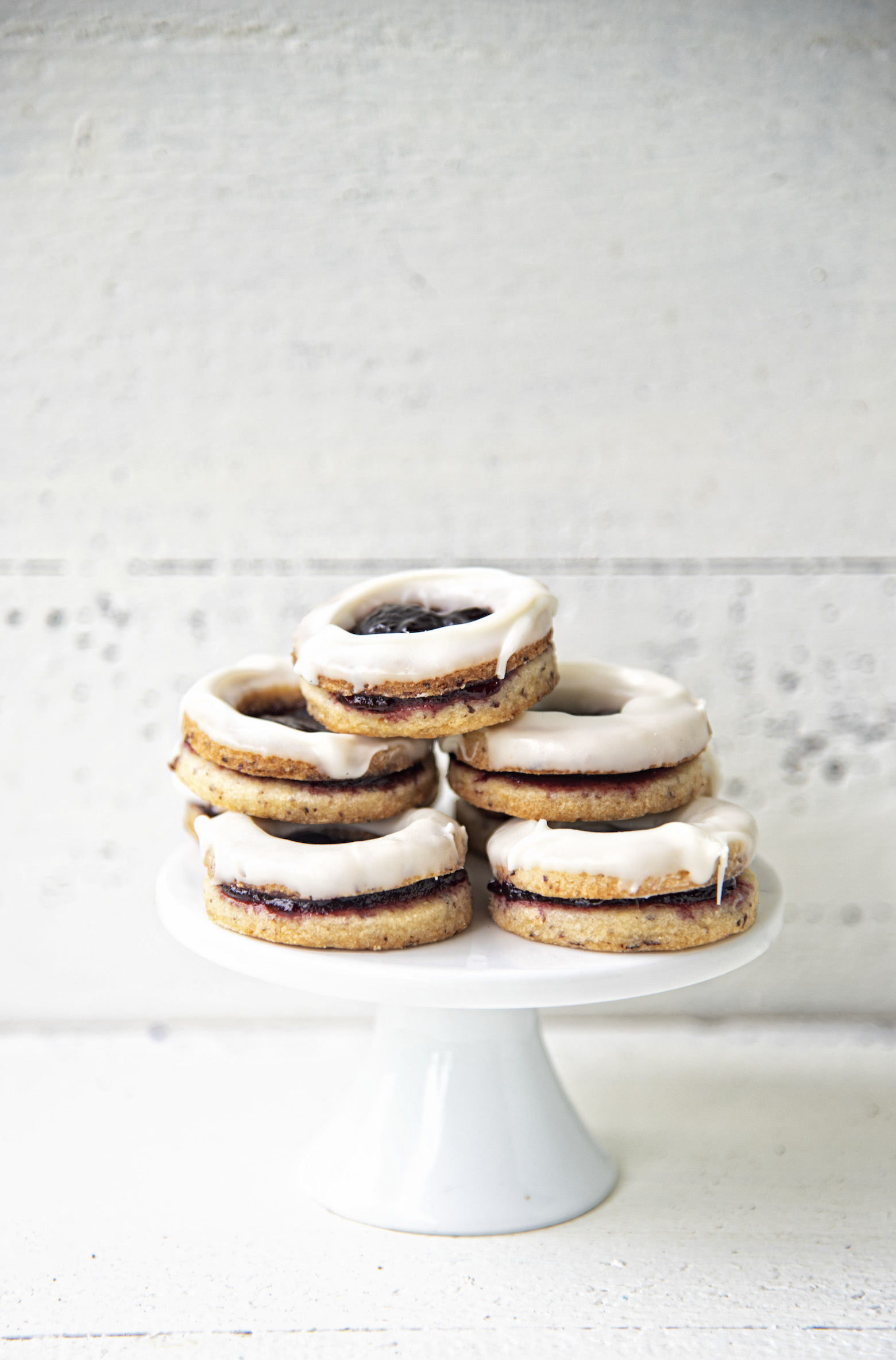 It's been well established since 2012 that I am not a best blog.
A truly crushing blow to my ego. 😀
I have known for a long time that I'm not a good blogger either.
Why am I not a good blogger?
Well, for a lot of reasons.
I used to be a good blogger before the days of social media.
When you just wrote a recipe.
Took a photo of the recipe.
And then published the recipe.
That was that.
You were done.
People made comments on the blog about the recipe.
I responded to those comments.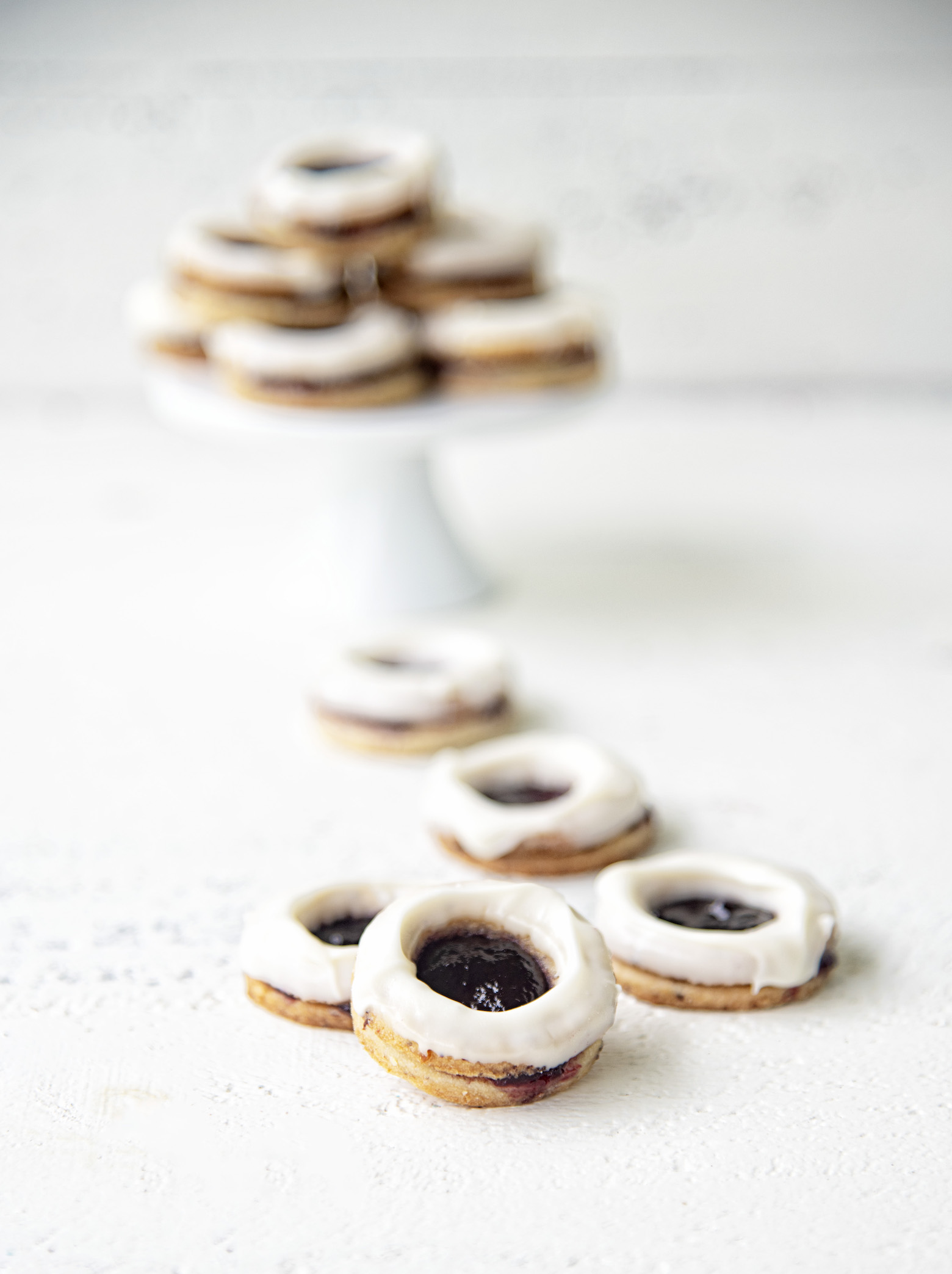 Good bloggers these days have a team.
People on their payroll who answer questions on social media 24/7.
Because blogging is 24/7.
There is no shutting down shop.
If someone across the world has a question about one of my recipes at 3am my time…it's not getting answered right away.
But good bloggers have someone who is "on call" for them.
That cost money so that's out of the question for me.
And try as I might, I have not successfully taught the dogs how to respond to blog questions.
They are only good at taste testing. 😀
Also, if I'm being honest it would be weird to me for someone else to be speaking on my behalf.
Pretending it's me answering.
I get that many bloggers think of their blog as a business.
My blog to me is still a personal thing.
Sure the IRS insist that I'm a business but in my heart I am not.
Which is another reason why I'm a bad blogger. 😀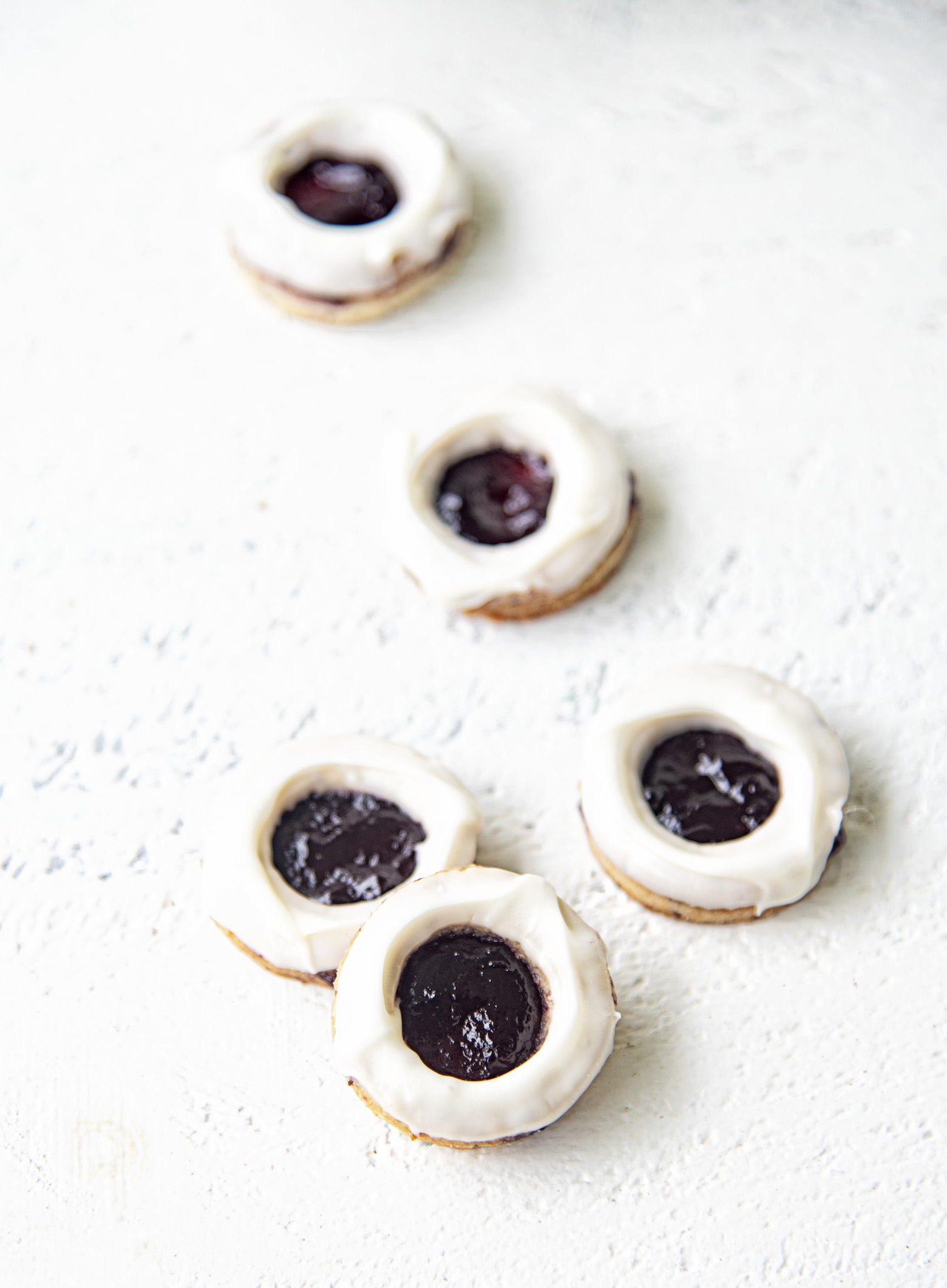 I'm bad about social media.
There is so much of it.
Like I said back when I was a good blogger you just posted and if someone had something to say they left a comment on the blog or maybe emailed.
Now, I have Instagram, Twitter, Facebook, and Pinterest.
Technically I should be making a Tik Tok as well but I just can't.
If you want to find me and truly interact on social media your best bet is Instagram.
I'm on there mostly because my dogs have an account that I have to post to several times a day or people worry something bad happened to them (they are old with health issues).
So while I'm on for the dogs I check my account.
Twitter is where you can come fight politics with me. 😀
Pinterest I'm on a lot and still use it how it was meant to be…to plan your pretend dream wedding (kidding).
But I still use it for house and party inspiration…and recipes of course.
And Facebook I'm on the least.
Mostly because if I go on I get sucked into my personal FB page and people are ugly these days about everything.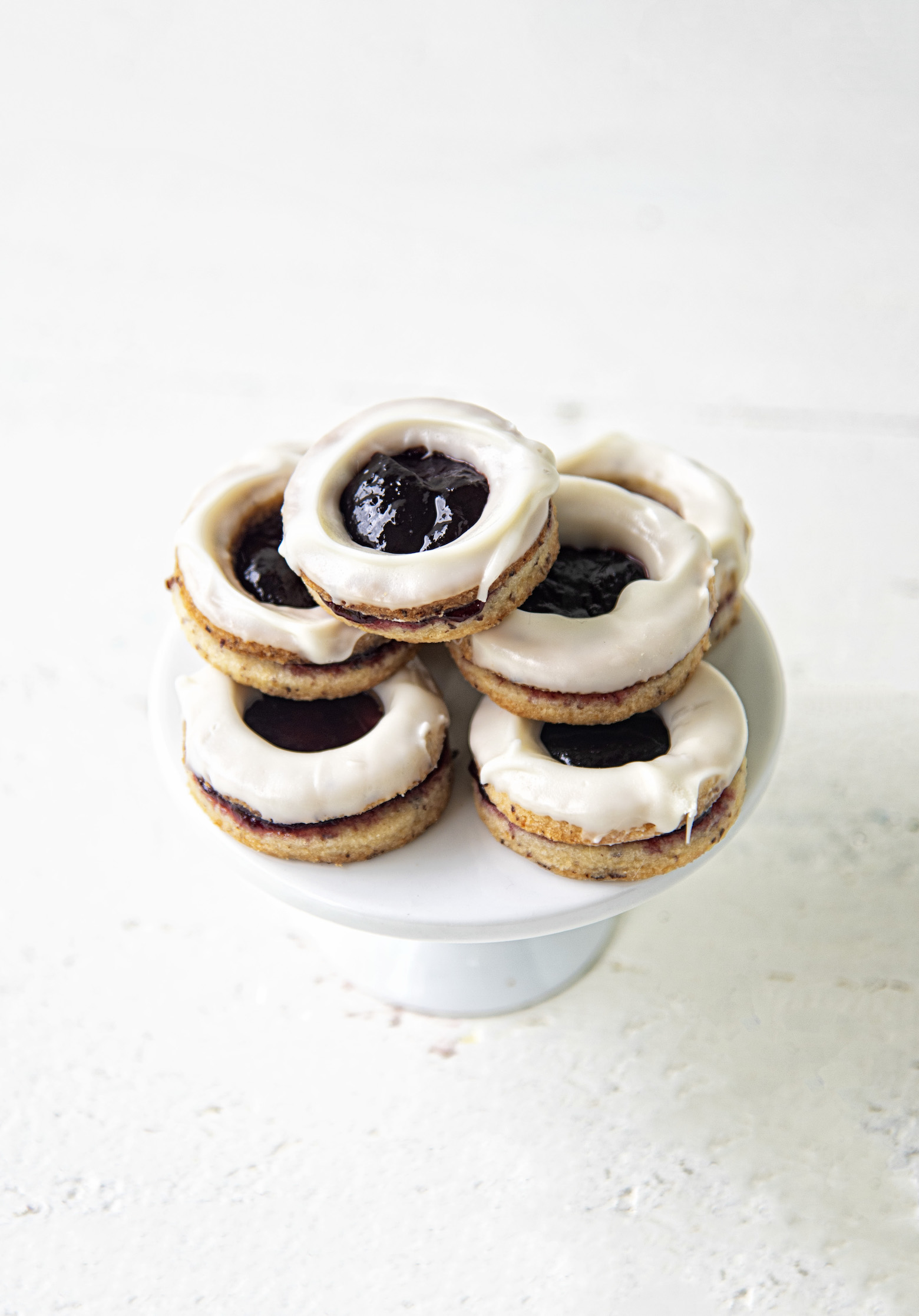 And I'm not a good blogger because of things like these White Chocolate Berry Linzer Cookies.
Why would these be a bad blog thing?
Because linzer cookies are not a summer food.
Or so I'm told.
Good bloggers pay attention to trends.
It's why almost every food blogger has a Keto or Instant Pot recipe on their blog even if they don't want to.
Because that's what's popular.
Linzer cookies are usually made around holiday time.
But I think they are a perfect summer cookie because of all the wonderful fruit you can use to make freezer jam with.
Which is what I did.
I made a mixed berry freezer jam and put it in these cookies.
They are dipped in white chocolate because I was bad about rolling them all the the same thickness so some got more brown than others.
Which, no problem, dip them in white chocolate and cover up your baking sins. 😛
And as always it's a great day to order my cookbook.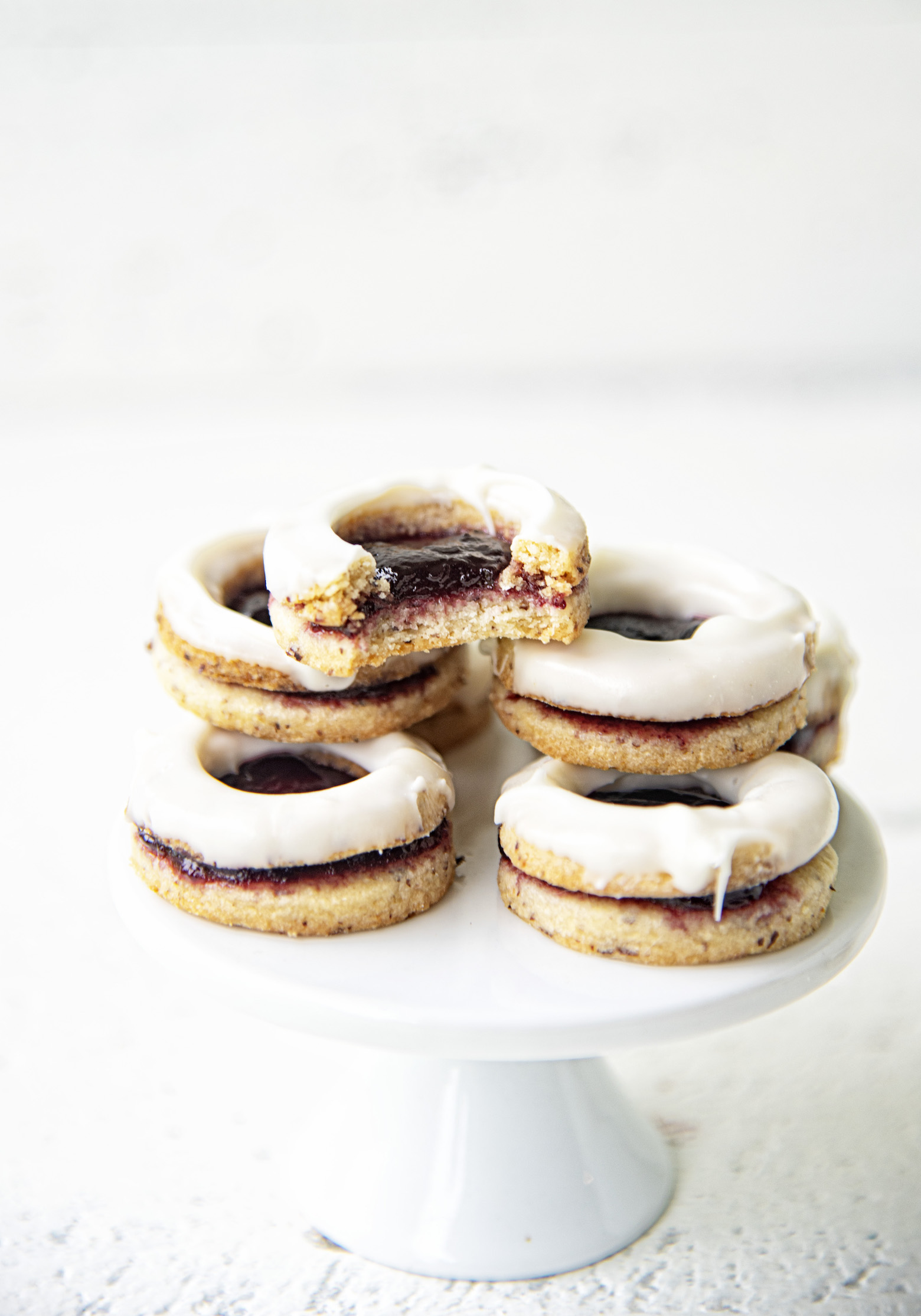 Want More Cookie Recipes?
Roll Out Shortbread Sugar Cookies
White Chocolate Chip Creamsicle Cookies
Vanilla Bean Caramel Thumbprint Cookies
White Chocolate Dried Pineapple Salted Macadamia Nut Cookie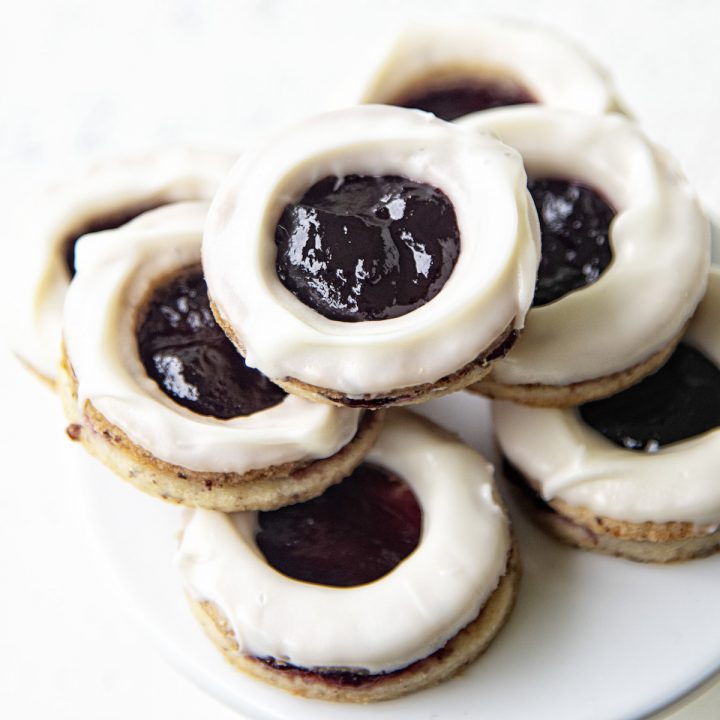 White Chocolate Berry Linzer Cookies
Ingredients
Linzer Cookie Dough:
12 oz unsalted butter, at room temperature
1 3/4 cups powdered sugar
1 egg
2 cups flour
1 cup cornstarch
2 cups hazelnut flour
White Chocolate Coating:
12 oz white chocolate, finely chopped
3 TBSP vegetable oil
Filling:
Mixed Berry Jam (or jam of your choice)
Instructions
For the Cookie Dough:
Cream the butter with the sugar until light.
Add in the egg and mix well.
Mix together the flour and cornstarch.
Add this to the creamed mixture and blend.
Mix in the hazelnut flour thoroughly.
Form the dough into a bowl and wrap in plastic. Chill for about 4 hours.
Roll out the dough to 1/4 inch thickness. Cut half the cookies with a 2 inch cutter and leave whole.
Cut the other half with a 2 inch cutter and then with a mini cookie cutter (mini ones are widely available) in the middle. You want to create a window effect.
Place cookie on a grease baking sheet.
Chill the cookies for 10 minutes and preheat oven to 325F.
Bake cookies for about 10 minutes or until lightly browned.
Cool on a rack.
Chill the cookies for 10 minutes and preheat oven to 325F.
Bake cookies for about 10 minutes or until lightly browned. Cool on a rack.
For the White Chocolate Coating:
Combine white chocolate and oil in a medium heat-proof bowl set over a medium saucepan of barely simmering water; stir until melted and smooth.
Transfer to a small bowl, and let cool about 15 minutes.
Dip the top each cooled cookie with the middle removed into melted white chocolate.
Place on waxed paper until chocolate is set, about 20-30 minutes.
To Assemble the Cookies:
Spread jam on half of the cookies (the ones that aren't cut out and have no white chocolate).
Place the other cookie on top with the white chocolate side facing up.