This Cinnamon Roll Cheesecake is the best of both worlds combining cinnamon rolls and cheesecake! Complete with cream cheese frosting.
I must admit that after goats, my favorite people to feed are the moaners and the Oh My God-ers (I'm talking about food here people…although…).
Oh and if you can find a goat that moans…WOW, you are in ultimate luck.
Call it my need for positive reinforcement , but I absolutely love when someone bites into my food and either moans, or yums, or says OMG.
Just like in other areas of your life (ummm), when someone is moaning or saying Oh My God you know good things are happening and you are doing things right. I like to do things right.
I call it my need to be an A student.
A couple weeks back I gave a referee I was working with a brownie.
I didn't get to see him eat it as I had to leave but the next few times I saw him he commented on how much he liked it.
This is also acceptable. 🙂
I happened to have some peanut butter bars with me that night and gave him one.
The other ref looked sad that he didn't get any so I gave him some too.
The one ref just stuck it is his mouth and that was that.
Not even a thank you.
The other ref however made the foodgasm noise (if you cook for people you know the noise I am talking about).
I immediately let him know that if he would just email me before he works (since I never know what ref I'm going to get) that if I had treats at home, I would bring him some the night that he worked with me.
The other ref piped up with something about what about him.
I told him that he could do that as well, but that I preferred feeding C because he seemed to really enjoy my food.
Now, I know that not everyone is vocal.
But let me tell you something, if you want to get treats from foodies, be nice and throw them a moan or two if you really like what they make.
Now don't go faking (never girls), make sure it's a genuine food moan. 😉
Be heard people…be loud and proud.
What Would You Like to See on the Blog?
From time to time I ask random people, usually while I am sitting around getting my allergy shots, what they would like to see on a baking blog/in a cookbook.
One woman told me that she loved cinnamon rolls and loved cheesecake and if I could somehow combine the two that she would erect a shrine in my honor.
Well, bust out the Swedish Fish (I want my shrine made of Swedish Fish) because here you go.
Many, many years back a reader sent me the recipe I adapted this from.
It wasn't hers.
She doesn't even know where she got it from, so I don't really know who to give credit to.
It really is half cinnamon roll and half cheesecake.
The bottom puffs up and is bread-like.
The cheesecake, is well, cheesecake.
I suggest that you use a strong cinnamon (I used Red Ape) to really get the cinnamon filling flavor to shine through.
And of course, it's topped with Cream Cheese Frosting.
Ummm, can you say foodgasm.
MMMMMMMMMMMMM.
P.S. It's a great day to buy my cookbook Holy Sweet!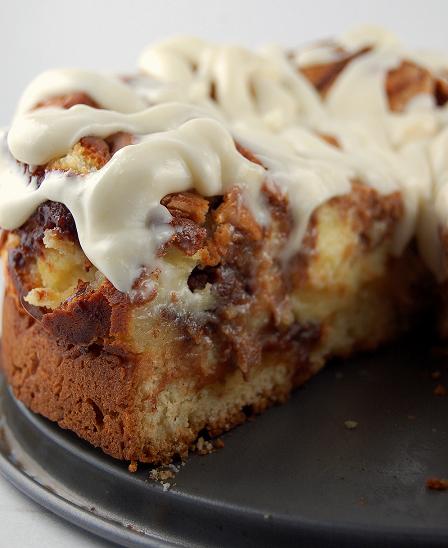 Want More Cheesecake Recipes?
Mini Bailey's Irish Cream Mocha Cheesecake Tarts
Fireball Sour Cream Topped Brown Sugar Cheesecake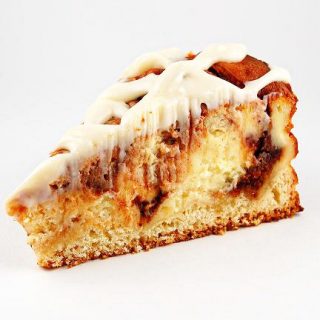 Cinnamon Roll Cheesecake
Ingredients
Cinnamon Roll Batter:
2/3 cup granulated sugar
¼ cup unsalted butter, at room temperature
1 large egg
½ cup whole milk
1 TBSP vanilla extract
2 cups all-purpose flour
2 tsp baking powder
1/2 tsp salt
Cheesecake filling:
2 pkg. (8 oz. each) cream cheese, at room temperature
1 cup granulated sugar
1 TBSP vanilla extract
2 TBSP flour
3 eggs
Cinnamon Filling:
1/3 cup butter, melted
1 cup brown sugar
3 TBSP cinnamon
Cream Cheese Frosting:
2 ounces cream cheese, at room temperature
3 TBSP unsalted butter, at room temperature
1 TBSP lemon juice
2 tsp. vanilla
1 cup powdered sugar
milk (if needed to thin frosting)
Instructions
Preheat oven to 350 degrees F.
Grease a 9-inch Springform pan with baking spray or butter and flour.
For the Cinnamon Roll Batter:
Using a stand mixer with a paddle attachment (or hand mixer) cream together the butter and sugar until light and fluffy, about 3 minutes.
Add egg, milk, and vanilla. Beat for another minute.
Scrape down the sides and bottom of the bowl.
Sift together flour, baking powder, and salt.
Combine the sifted and creamed ingredients together.
Mix on low speed until the creamed and sifted ingredients are throughly combined.
Spread half of the batter onto the bottom of the Springform pan. It will be sticky and thick so spray your hands with baking spray and press down. It will be a thin layer, but trust me it will rise up during baking.
For the Cheesecake Filling:
Using a stand mixer (and a clean bowl) fitted with paddle attachment, beat cream cheese and sugar for 2 minutes on medium-high speed.
Add the eggs one at a time, scraping down the bottom and sides of the bowl after each addition.
Add the vanilla extract and flour and beat for another minute.
Pour all of the cheesecake batter on top of the cinnamon roll batter that is in the prepared pan.
For the Cinnamon Filling:
In a small bowl, combine the melted butter, cinnamon, and brown sugar. Mix until thoroughly combined.
Drop spoonfuls of the cinnamon filling over the entire top of the cheesecake.
Take the rest of the base batter and drop spoonfuls over the entire top of cheesecake leaving some spaces where you can see visible cheesecake.
Once finished, take a knife to swirl the ingredients together. This is hard to do as the batter is pretty thick, just do what you can.
Bake for about 50-55 minutes, cake will be puffy and lightly browned.
Let chill for 20 minutes at room temperature and then cover and move to fridge for 4 hours.
Remove cake and let it warm up to room temperature just a bit.
Frost with Cream Cheese Frosting.
For the Cream Cheese Frosting:
Using a stand mixer (and a clean bowl) with paddle attachment, beat the cream cheese and butter together for 2 minutes.
Add remaining ingredients and beat until desired consistency is reached. If too thick, thin out with milk.