These I Like You A Latte Coffee and Cream Brownie Cakes are the perfect mix of espresso chocolate brownie and cream cheese swirl.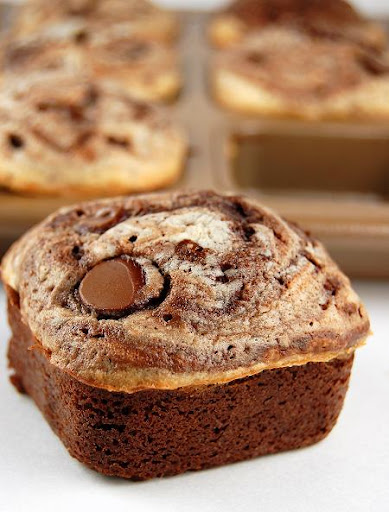 So Valentine's Day is upon us.
If your lucky to have someone in your life romantically speaking, then chances are you are pro V-day.
But if you don't have anyone special, then chances are you are anti V-day.
And though it sucks to have no one special in your life, I feel there is one more place that is harder to be at on Valentine's Day then alone….
Purgatory (it's not just for dead people anymore).
Valentine Purgatory is a killer.
My friend M asked for my advice this week.
See he is in Valentine Purgatory.
He's been on about 5 dates with the girl he is currently with.
So new, but not super new.
And just enough along that he knows he is in the shitter if he doesn't do something to recognize the holiday.
If he goes over too much he risks sending the wrong message of "I love you".
Which he doesn't.
Too little and you could risk her thinking you are not that into her.
Which he claims he is.
Well, he actually said, "She's cool. Sometimes funny, but not always.
Really nice rack, really nice.
Can I buy her something to show that off or is that rude (I'm going to interject and say thank goodness he asked me questions or I fear what she would have gotten)?
Most of the time she doesn't irritate me."
So I'm not totally sold on him liking her but I'm going with it.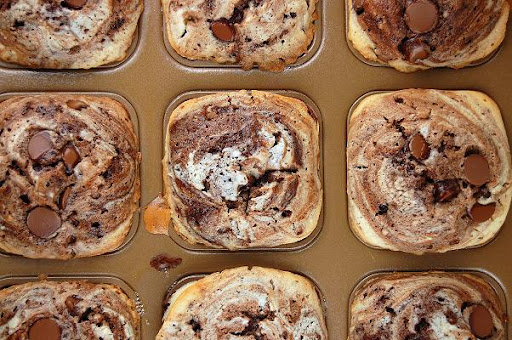 Now some say you have to spend a ton on Valentine's Day to really say something.
Out to dinner, flowers, diamonds, etc…But to be honest, to this day my most favorite Valentine cost the guy about $15.
It was my college sweetheart, so he didn't have much money (as we were saving that for beer).
What did he get me you ask?
A solid chocolate heart.
Big deal, right?
Except that this was not regular heart.
It was not something he just swung by Walgreen's to pick up on the way to see me.
This was ordered from a catalog.
And it was not just a chocolate heart, but an anatomically correct (one pound) solid Chocolate Heart (he was pre-med).
It cost him about $15 with cost of shipping.
But what was great about it besides the humor was that he had to put thought into it.
He had to think about it and had to order it in time for it to get there.
Aka, he showed he cared.
The other thing that he came with that was a poem.
Not some sappy rainbows and lollipops crappy poem (though there's nothing wrong with that if you are into it).
It was more along the lines of Dr. Seuss.
The neat thing was that it was of things we had done so far as a couple (which was only 4 months at the time).
Which was really cool because he remembered far more things than I did.
Now, as the years went on, he did more poems, but the first one was still the best.
It wasn't forced.
It's not that I forced him to write them but the first one was just so pure.
He just knew that I loved the first one and I think wanted to keep doing it.
But it was sadly never the same.
So what did I tell M to get her, flowers.
Yeah, I know, the prices are jacked up this time of year.
First off, don't buy roses.
Red ones send the wrong message.
Pink is just wimpy.
And yellow…whatever you do, don't give a girl you want to see naked "just friend" colored flowers.
Go for unique flowers.
Gerber daisies are bright and happy.
Stargazer lilies are pretty (especially a cool color like orange or something like that).
Tulips are coming into season.
Think out of the box.
We picked up a really cool little antique vase at a shop in our little area.
Since they are just an antique shop the prices were cheap and not jacked up for the holiday.
I think it was $4 for the vase, and it's a kick ass vase.
He's going with Hyacinths, Irises and Tulips.
Though there is some pink in there, it's still cool.
Clearly enough to get him laid.
To honour Valentine Purgatory I made what I am calling I Like You a Latte Coffee and Cream Brownie Cakes.
Cake-like espresso brownies with cream cheese swirl, baked into individual square muffin pans.
Hopefully you have someone you like a latte in your life to make them for. 🙂
I mean who wouldn't like Coffee and Cream Brownie Cakes?
And remember that it's not the cost of the gift that matters, but the meaning behind it.
And as always it's a great day to order my cookbook.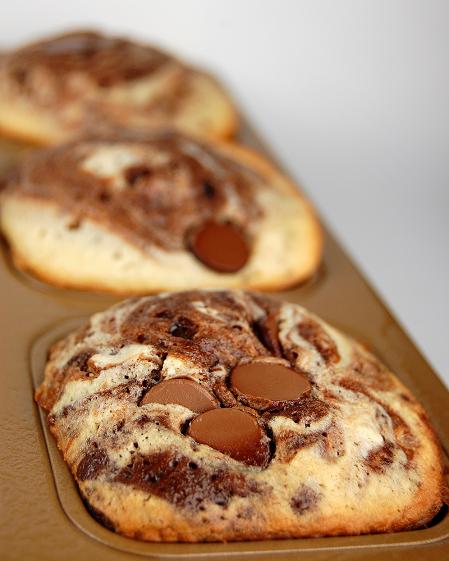 Want More Brownie Recipes?
Marshmallow Crunch Peanut Butter Brownie Bars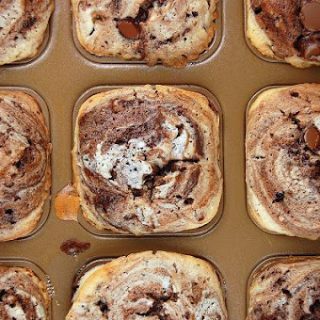 Coffee and Cream Brownie Cakes
Ingredients
For the Swirl:
3 ounces cream cheese, room temperature
2 TBSP unsalted butter, room temperature
¼ cup sugar
1 large egg
1 TBSP all purpose flour
For the Brownies:
6 ounces sweet baking chocolate (I used semisweet), chopped
3 TBSP unsalted butter, room temperature
½ cup sugar
2 large eggs
½ cup all purpose flour
½ tsp baking powder
¼ tsp salt
1 tsp vanilla extract
2 tsp espresso powder
½ cup semisweet chocolate chips
1/3 cup milk chocolate chips (for top)
Preheat oven to 350°F. Lightly butter 8-inch square nonstick baking pan or muffin pans.
Instructions
Using electric mixer, beat cream cheese and butter in medium bowl until light and fluffy.
Gradually add sugar and beat until well blended. Beat in egg. Mix in flour, and vanilla. Set mixture aside.
Stir baking chocolate and butter in heavy small saucepan over low heat until smooth. Cool slightly.
Using electric mixer, beat sugar, espresso powder, and eggs in large bowl until slightly thickened, about 2 minutes.
Mix in flour, baking powder, and salt.
Mix in chocolate mixture and vanilla extract.
Stir in semi-sweet chocolate chips.
Spread half of chocolate batter (about 1 ¼ cups) in prepared pan. Using rubber spatula, spread cream cheese mixture over chocolate batter.
Spoon remaining chocolate batter over top of cream cheese mixture.
If using muffin tins, use ½ scoop of an ice cream scoop of batter.
Spoon cream cheese on top.
Using rubber spatula, spread cream cheese mixture over chocolate batter.
Spoon remaining chocolate batter over top of cream cheese mixture.
Using tip of knife, gently swirl through batter, forming marble design.
Top with milk chocolate chips.
Bake brownies until tester inserted into center comes out with a few moist crumbs attached, about 25-30 minutes.
They take about just as long in the muffin tins as well, but check around the 22 minute mark.