Add a little more flare to your cookie plate this year with these Mini Chocolate Gingerbread Men Sandwich Cookies. Mini Chocolate Gingerbread Men cut out cookies filled with Clementine Buttercream are sure to be a crowd-pleaser.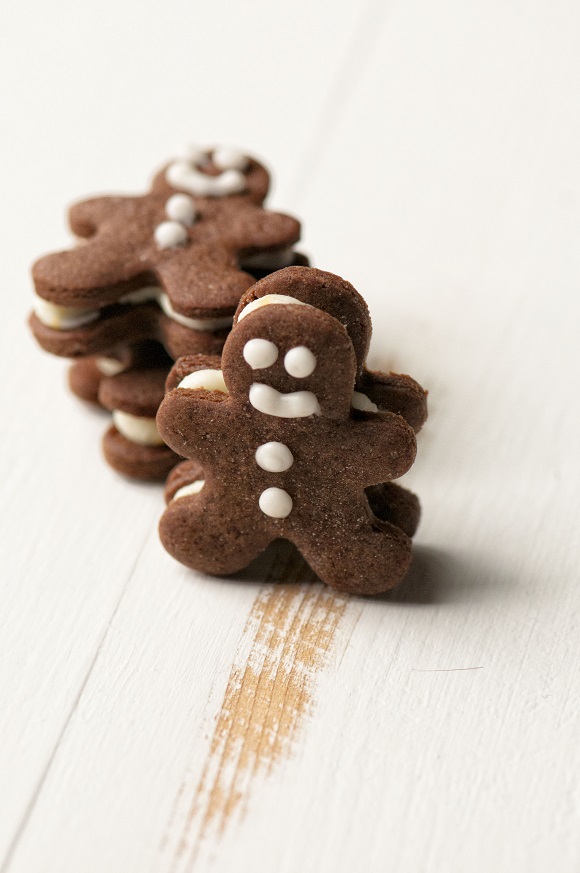 Every year during Christmas time the inevitable would happen; the cookie platter would be picked clean and all that was left were the gingerbread men. Every year my mother would not want to make them. Every year we would insist it was tradition and she had to (we like decorating them). Every year we would promise we would eat them that year and every year we wouldn't. Well, that's a lie. We would eat them when all the candy from the stockings was gone. All the other cookies were gone. They were so not my favorite as they always seemed stale…which they probably were because no one ate them until the bitter end.
Flash forward to today when I will gladly eat a gingerbread cookie and not just out of desperation. Now, I do prefer a soft molasses cookie to the harder cut out version, but the soft cookie doesn't look anywhere cute as the cut outs. They just make you smile.
This year I am once again participating in the Rodelle 21 Days of Cookies Event where all we do is make cookies highlighting a Rodelle product or two, it's a rough life I know. Last year I made Peppermint Bark Snowball Cookies. This year I have been all about the gingerbread. My mini gingerbread man cookie cutter is my favorite Christmas cookie cutter and so I knew that I wanted to use it. I didn't want just a plain ol' gingerbread man so I made him chocolate. Oh, and then I took clementine's and turned them into buttercream and filled the cookies with them. Mmmmm, buttercream. And since there is fruit in there…totally healthy. Ginger…totally healthy. Cinnamon? Super healthy. Dark chocolate. This is just a mini bites of health…like kale…but tastes way better. Ok, maybe not kale. But better for you then say a bag of glass (PSA: please do not eat a bag of glass). 😀
In case you couldn't tell from the name there will be 21 days of cookies, which means 21 cookie ideas for you if you are looking for cookie inspiration then go HERE.
Happy cookie baking!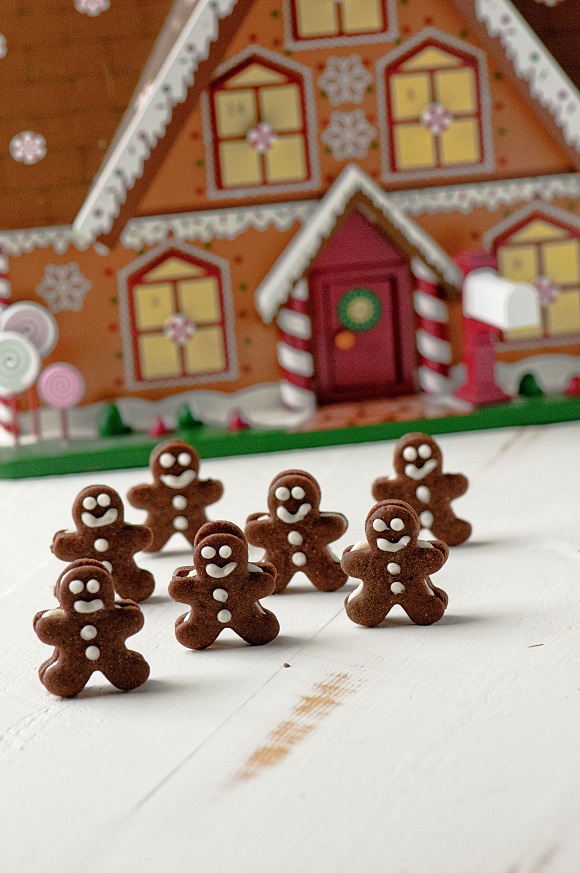 Mini Chocolate Gingerbread Men Sandwich Cookies
1 batch chocolate gingerbread dough
1 batch Clementine Buttercream Filling
Royal icing (recipe of your choice) to decorate if desired
Mini Chocolate Gingerbread Men Cookies
6 oz. unsalted butter, at room temperature
1/2 cup packed brown sugar
1 egg yolk
1/3 cup molasses
½ tsp. Vanilla Extract (Rodelle)
1 1/2 cups all-purpose flour
½ cup Rodelle Gourmet Baking Cocoa
1 tsp. ground ginger
¾ tsp. baking soda
¾ tsp. ground cinnamon
¼ tsp. ground cloves
1/8 tsp. salt
In a large bowl, cream butter and brown sugar until light and fluffy.
Beat in egg yolk, vanilla, and molasses.
Combine the flour, baking cocoa, ginger, baking soda, cinnamon, cloves and salt; gradually add to creamed mixture and mix well.
Cover and refrigerate for 4 hours or overnight or until easy to handle.
On a lightly floured surface, roll dough to 1/8-in. thickness. Cut with a floured mini gingerbread man cookie cutter.
Place 1 inch apart on baking sheets lined with parchment paper.
Reroll scraps.
Bake at 350° for 6-7 minutes or until edges are firm.
Remove to wire racks to cool.
I got about 96…I probably could have gotten a few more but got tired of rolling out cookies. 🙂 Match up pairs of cookies that are similar.
Decorate half of them with royal icing details to look like gingerbread men. While the icing dries prepare filling.
For the Clementine Buttercream Filling:
6 oz. unsalted butter, at room temperature
Zest from two clementine's (or orange)
8 oz. powdered sugar
2 TBSP clementine juice (or orange)
Beat butter and zest at medium speed with an electric mixer until creamy.
Gradually add powdered sugar, beating until well blended.
Stir in 2 Tbsp. clementine juice, adding additional juice, if necessary, to reach desired consistency.
Spread some of the icing onto half of the cooled gingerbread men; sandwich each with another cookie. If you decorated the cookie, make sure the face side is up. 🙂